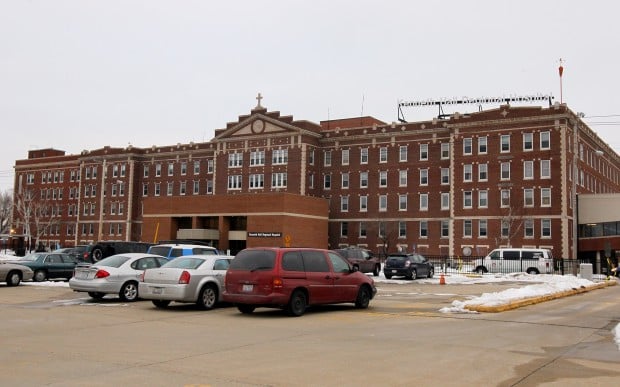 The owners of Kenneth Hall Regional Hospital in East St. Louis want to shut it down, citing $5.5 million in yearly losses.
The request comes nearly three years after the Southern Illinois Healthcare Foundation transferred most of the hospital's services to Touchette Regional Hospital in Centreville, which is also owned by the foundation.
Only an emergency room and 39 mental health beds remain open at Kenneth Hall, which could be shuttered as early as this summer.
The foundation plans to add 12 mental health beds at Touchette and open an urgent care clinic in a medical building adjacent to Kenneth Hall, according to documents filed last month with the Illinois Health Facilities and Services Review Board. The board is scheduled to consider the application to close the hospital at its May meeting.
Many of Kenneth Hall's 100 employees could be transferred to Touchette, which is five miles away. The owners are in discussions with a developer who could convert Kenneth Hall into housing units, according to a letter from Touchette's chief operating officer, Michael McManus.
Officials at other Southern Illinois hospitals expressed concern over the potential closure in letters filed with the board.
"The loss of beds and services at Kenneth Hall will further tax emergency departments," wrote Mark Turner, president of Memorial Hospital in Belleville. "There will be insufficient (acute mental illness) beds to adequately serve the needs of the area."
More than 500 East St. Louis residents traveled by caravan to the health review board's meeting in 2008 to protest the foundation's request to move most of Kenneth Hall's services to Touchette.
At the time, the owners said Kenneth Hall was losing more than $3 million a year. About 50 jobs were lost after the board approved the merger, which was intended as a last resort to keep both hospitals open.
Kenneth Hall has long struggled to maintain operations with a majority of its patients uninsured or enrolled in health programs for the poor.
The hospital also had had problems with its plumbing and heating and cooling systems. Patients had to be transferred to other hospitals for five days in August when air conditioners failed, according to McManus' letter.