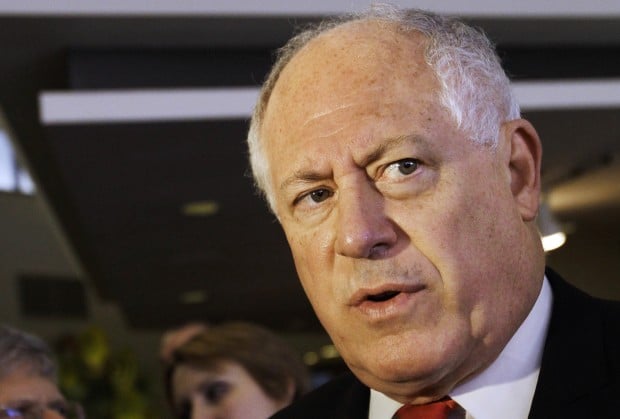 SPRINGFIELD, Ill. • Illinois officials came close to overhauling the state's costly retirement systems last month but ran into a wall of personal conflicts, policy disputes and legislative deadlines. Now they're trying to figure out what it will take to finish the job.
Gov. Pat Quinn, legislative leaders and a handful of key lawmakers plan to meet Wednesday in Chicago, knowing that the state's financial health depends on coming up with a way to cut pension costs. Bond-rating agencies have made it clear they will downgrade the state's credit, again, unless Illinois reduces the burden that pensions place on the state budget.
The key dispute is who should pay retirement costs for downstate and suburban teachers and university staff.
Right now, that burden falls on state government, but Quinn and his fellow Democrats want to shift that cost to local school districts and colleges. Republicans are concerned that a shift might trigger property tax increases.
Senate President John Cullerton, D-Chicago, wants to push forward on other pension changes that should be able to pass immediately while talks continue on what to do about teachers and university staff.
He noted Tuesday that the Senate has already passed a bill to reduce pension benefits for state employees and legislators. That idea could be sent to the governor's desk quickly if the Legislature is called back into session, he said, and it would demonstrate officials are serious about a pension overhaul.
"This is a simple, one-day fix," Cullerton said in an interview with The Associated Press.
Other officials kept their distance from his idea.
Aides to Quinn and House Minority Leader Tom Cross, R-Oswego, said they wouldn't comment before discussing the proposal in Wednesday's meeting.
Steve Brown, spokesman for Democratic House Speaker Michael Madigan, said the value of Cullerton's proposal will depend on reaction from the governor and the rating agencies that are threatening to downgrade the state's credit yet again if Illinois doesn't fix its pension problems.
A better way to deal with the situation, Brown said, would be making it clear that state government can no longer pay the retirement costs of local employees.
Illinois contributes to the pensions of hundreds of thousands of public employees, but it hasn't paid enough over the years to keep the retirement systems healthy. As a result, the money available is roughly $85 billion less than what will be needed in decades to come. Closing that gap requires state government to increase its contributions dramatically each year, leaving less money for other important services and threatening the state's shaky finances.
Officials are trying to figure out how to cut the state's annual costs. The approach that seems to have broad support among legislators — although not among the unions representing public employees — is to encourage employees to accept lower retirement benefits.
Instead of 3 percent annual cost-of-living increases, retirees would get the lower of either 3 percent or half the inflation rate. And the increases would no longer be compounded. Employees who reject that offer would face major increases in health insurance costs, and no future raises would count when figuring out their pensions.