ST. LOUIS • Only one week into the Great War, thousands of German-Americans jammed Turner Hall, at 1508 Chouteau Avenue, to defend the Fatherland and their loyalty to America. A band played waltzes and "The Star-Spangled Banner."
They demanded "fair play" in the local press for Germany's side of the conflict. Two veterans of the Franco-Prussian War in 1870-71 wore their medals proudly on the main platform during the rally Aug. 8, 1914.
Then and now, German heritage was the largest single ethnic identification in St. Louis. Thirty percent of St. Louisans either were born in Germany or had at least one parent from the old country. Many openly cheered for Germany early in the European war, and most wanted America to maintain strict neutrality.
Five months later, German societies sponsored speeches and a film, "Germany's Side of the Great War," at the St. Louis Coliseum, then the city's main arena. Profits went to war widows and orphans in Germany and Austria-Hungary.
"Germany is fighting for her national honor and very existence," former Judge Joseph Kane told the rally in January 1915.
But as the ghastly war continued — especially after a German submarine sank the British liner Lusitania in May 1915 — open sympathy for Germany became harder to maintain.
When the local German-American Alliance declined to take part in a big "Preparedness Day" parade in June 1916, former President Theodore Roosevelt denounced the group as "un-American" in a speech downtown.
Things turned uglier after America entered the war on April 6, 1917. The St. Louis School Board abolished first-year German courses. City Hall stopped publishing proceedings in local German-language newspapers. The Kaiser-Kuhn Wholesale Grocery changed its name to Pioneer Grocer after boys kept pelting its trucks with rocks.
The city lost its first doughboy on Feb. 24, 1918, when David Hickey, 38, died of shrapnel wounds on the front near the slaughterhouse of Verdun.
German-Americans rallied quickly behind the United States at war, but public campaigns whipped up hatred for the "Huns." As usual, hysteria inspired cruelty.
St. Louis streetcar motorman William Stiefer was forced to curse the Kaiser before his co-workers. East Alton shopkeeper Morris Gotler was beaten because he didn't close during a patriotic parade.
The worst crime here occurred in Collinsville, where a mob lynched Robert Paul Prager, a German-born coal miner, on the groundless rumor that he was a spy. Prager, 30, tried to enlist in the U.S. Navy and dutifully registered as an "enemy alien," a wartime requirement.
But some workers at a Donk Brothers Coal Co. mine in Maryville became suspicious after Prager asked about dynamite. Prager insisted he was "heart and soul for the good old U.S.A." His plea was fruitless. The mob grabbed him from a hiding place in City Hall on the night of April 4, 1918, marched him to a hackberry tree west of Collinsville and gave him a moment to scratch a last note to his parents in Germany. Then they hanged him.
Seven weeks later, 11 men went on trial in the Madison County Courthouse in Edwardsville. A recruiting band played patriotic music outside before a jury acquitted them in only 45 minutes of deliberation.
All told, 1,075 men from St. Louis were killed in World War I. Soldiers Memorial downtown lists all of them, including plenty of names such as Buchholz, Koenig, Schaetzel and Ziegler.
---
Hometown soldiers provide parade for American Legion's first gathering
The boys of the 138th Infantry Regiment — St. Louis' own — marched downtown in smart formation to cheers and huzzahs. Steam whistles and church bells added to the joyful racket.
"What a handsome leader," a woman shouted to Sgt. Ross Koen as he led L Company. Jimmie Dutton rushed past the police line to hug his returning brother, W.B. Dutton.
The 138th was home after having paid dearly for the honor of fighting the German army in the Argonne Forest of France. Of the 3,500 men who signed up, 230 had been killed in combat. Accidents and wounds boosted the casualty rate to nearly 50 percent.
The armistice ended the carnage in Europe on Nov. 11, 1918, but it took time for the armies to begin coming home. On May 9, 1919, the 138th stepped off trains near Forest Park and marched downtown with rifles, packs and helmets.
On 12th Street (Tucker Boulevard), they passed through pillars the city had raised as a "hall of honor" for the passing columns. By happy coincidence, the parade served as a dramatic prop for the first meeting on native soil of the American Legion.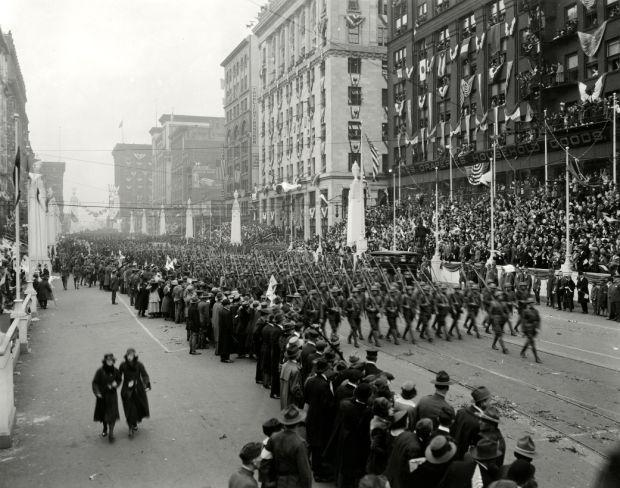 Its founders had resolved to create the organization and to convene in St. Louis. Nearly 1,100 charter Legionaires from across the nation gathered on May 8 in the Shubert-Jefferson Theater, in the Union Electric Co. building at Olive and 12th streets.
As the 138th marched by the next day, the theater entrance became a reviewing stand of sorts for the delegates.
The legion's national convention returned to St. Louis in 1935, 1953 and 2003. The old UE building was demolished in 1976. A plaque marks the spot of the original meeting, now a US Bank branch at 301 North Tucker.