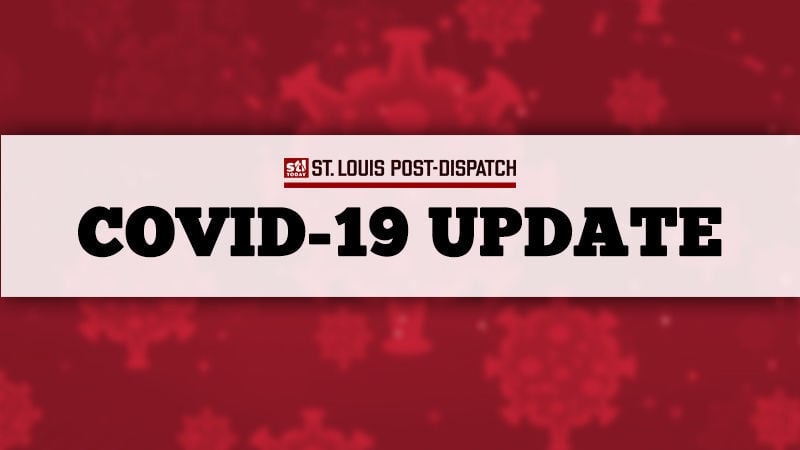 Illinois health officials warned Friday that new restrictions may be imposed in the Metro East in the "coming days" as the region's average COVID-19 positivity rate topped the threshold of 8%.
The state Department of Public Health said in a statement that the Metro East is poised to have a positivity rate of at least 8% for three consecutive days, which is the length of time before officials seek to impose restrictions.
Metro East passed the mark for the first time Friday with an 8.2% positivity rate, the highest among the 11 regions under the state reopening plan. The data represents cases through last Tuesday.
Two more days of a positivity rate above 8% would trigger additional restrictions in the Metro East.
Illinois had a statewide positivity rate Friday of about 4% while Missouri was at 11.8%.
Restrictions imposed by the state health department on the Metro East could include closing indoor bar service, limiting visits to hospitals, stricter gathering and occupancy rules, and possible closures of some gyms or personal care services.
Herb Simmons, director of the St. Clair County emergency management agency, said in a video briefing Friday that he had a feeling numbers in coming days "won't be good."
"If the next two day's numbers look like what we think they're going to look like," Simmons said, "we're going to have those three days over that 8%."
Simmons addressed the people in the region still refusing to limit social gatherings and wear masks.
"Individually we are responsible for these numbers," Simmons said, adding. "For those of you who haven't heeded the warning, pat yourself on the back because you're the big problem."
The Freeburg School District, in St. Clair County, announced late Friday that a teacher in the district has tested positive for COVID-19 and the district will switch to online-only learning, at least until through Wednesday, Aug. 26.
Statewide Friday, health officials announced 2,264 new cases of the virus, the highest daily case spike since late May. That brings the state total to 202,691 cases, including 7,721 deaths.
Gov. J.B. Pritzker for weeks has attributed some of the rise in cases in Southern Illinois to its proximity to Missouri, which reported 1,473 new cases and 10 additional deaths Friday.
The governor doubled down on that message Thursday in a social media post responding to St. Louis University research showing traffic doubled from Metro East to Missouri this July compared with July 2019. The research, first reported in the Belleville News-Democrat, relies on cellphone data tracking users' locations.
"Missouri may be more 'open' today, but if you cross the border and let your guard down, you're putting the future of the Illinois economy at risk," Pritzker said in a Facebook post.
St. Clair County's total case rate has been the highest among the regional counties at 1,770 cases per 100,000 people, according to an analysis by the Post-Dispatch.
That is followed by St. Louis city at 1,744 cases per 100,000 people and St. Louis County at 1,589.
St. Louis County's COVID-19 mortality rate tops the region at 67 deaths per 100,000 residents, followed by St. Clair in second at 60 and St. Louis at 57 deaths per 100,000.
Will Shannon, curator for the St. Clair County Historical Society in Belleville, tested positive earlier for COVID-19 and shared his family's story during the county's Friday briefing.
Shannon said both he and his wife had relatively mild cases of COVID-19 that did not require hospitalization, but they were still incapacitated for weeks.
"To those who would say that this is similar to other diseases, I would say that I can speak of my personal experience," Shannon said. "I'm 42 years old and I've never been sick like that in my entire life."
Shannon said he first thought his symptoms were allergies, but soon lost his sense of taste and smell. He later felt pressure on his chest and an intense fatigue he compared to walking around full-time wearing the lead vests used in X-ray machines.
Hospitalizations rise
Across the St. Louis metro area Friday, new daily hospital admissions for confirmed COVID-19 cases rose to 51 after staying in the 30s most of this week, according to the St. Louis Metropolitan Pandemic Task Force.
Average hospitalizations have stayed mostly stable for the last two weeks, according to the task force, a coalition of the area's major hospital systems.
The hospitals reported a seven-day average of 41 new admissions Friday. Anything above 40 is concerning to hospital leaders, task force head Dr. Alex Garza said Friday.
There were 81 COVID-19 patients in area intensive care units and 46 on ventilators, the highest in both categories since early June.
In St. Louis Friday, Mayor Lyda Krewson said that the city's difficulty getting up-to-date case data appears to be improving.
Krewson said at the end of July more than half of the test results coming into city health officials were more than two weeks old.
By Friday, most test results were lagging by no more than six days, Krewson said during a briefing.
The city health department issued an order that began Friday setting an 11 p.m. curfew for bars and restaurants that serve alcohol and capping restaurants to 50% of their occupancy rate.
Krewson said she will reevaluate the order in the days before it is set to expire on Labor Day, Sept. 7.
New county sports rules
St. Louis County Executive Sam Page on Friday released guidelines for adult sports during the pandemic, citing the "unacceptable" spread of the virus among people in their 20s and 30s.
The new guidelines are more nuanced than the previous ones issued in June. They are more restrictive in some ways, particularly when it comes to high-contact sports such as basketball. But the new guidelines move several sports to a new category, moderate-contact, where the restrictions are not as tight.
Informal pickup games are not covered by the sports guidelines, although health officials said any close contact with others without wearing masks poses some risk.
No competitions, even scrimmages, are allowed in high-contact sports such as basketball or boxing. The previous guideline allowed for competition but no tournaments.
Teams that play moderate-contact sports such as baseball and ice hockey, may hold scrimmages, but no games against other teams.
Participants in low-contact sports such as diving and gymnastics may not have performances or showcases. Only tournaments that involve individual players, such as golf, may be played.
For high-contact sports, practice drills are allowed with groups of up to 20 athletes, an increase from the previous limit of 10. And two coaches will be allowed, up from one. For moderate-contact sports, the limit is 30. Low-contact sports can have full practices, with some restrictions.
For high- and moderate-contact sport practices, each group of athletes must remain separated from other groups by at least 20 feet, and there must be a clearly demarcated barrier, such as cones or a wall.
All college sports are allowed if the governing body of the sport and conference allow the sport to be played and provide specific safety recommendations. All organized professional sports are allowed, but without spectators and provided that the owners of facilities submit their plan for operating procedures to the health department.
Full guidelines are scheduled to be posted today at stlcorona.com.
These maps and charts show the spread of COVID-19 in Missouri and Illinois.
COVID-19 Missouri: Hospitalizations St. Louis Metropolitan Pandemic Task Force
The chart below includes numbers for these hospitals in the St. Louis Metropolitan Pandemic Task Force: BJC HealthCare, Mercy and SSM Health hospitals and St. Luke's. Numbers include people who have tested positive or are under investigation
Concerned about COVID-19?
Sign up now to get the most recent coronavirus headlines and other important local and national news sent to your email inbox daily.