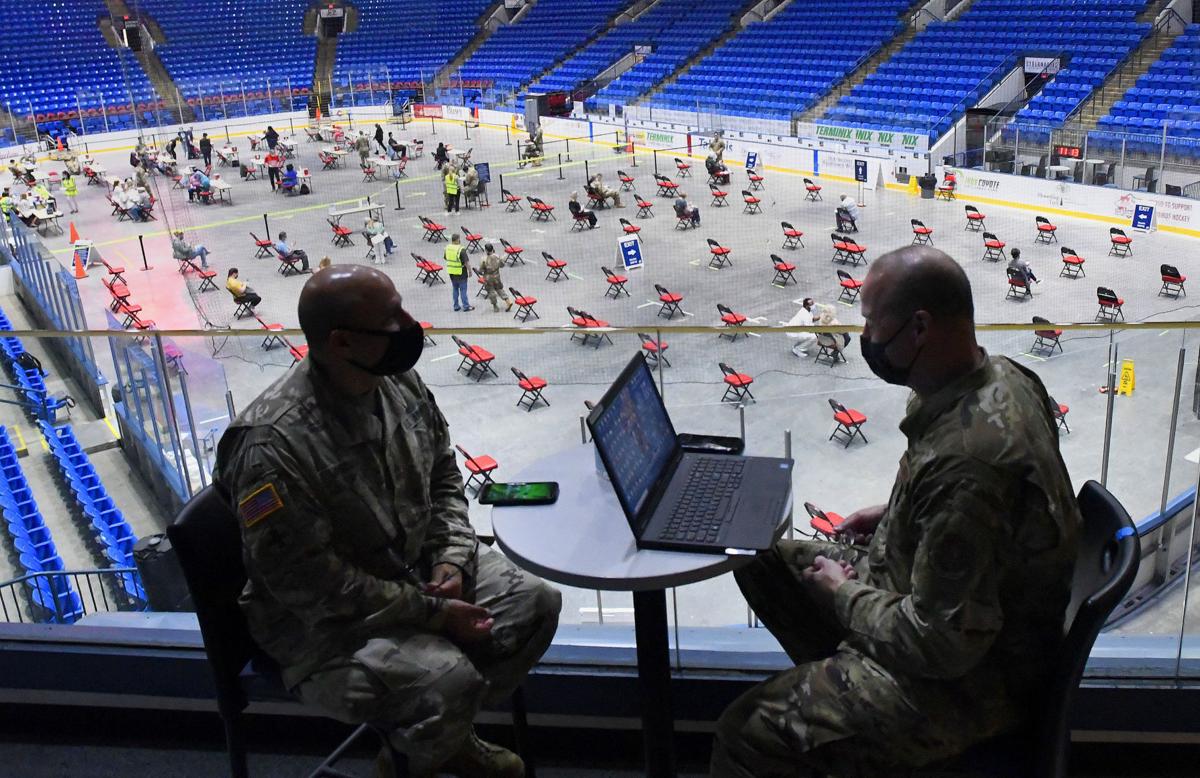 SPRINGFIELD, Ill. — In mid-December, the first dose of the COVID-19 vaccine was administered in Illinois.
Three months later, the state's vaccine rollout, which started at the pace of a slow trickle, has begun to ramp up, with the seven-day-rolling average for doses administered daily now more than 98,000 while more than 880 vaccination sites are now open across the state.
"We're very close to getting 100,000 per day now, so my expectation is that, as it has over every week since (President Joe Biden) took office, we'll have an increased number coming in really every day after the middle of March," said Illinois Gov. J.B. Pritzker, speaking to Lee Enterprises in an interview Thursday morning.
Between the increased supply of the two-shot Moderna and Pfizer vaccines and the approval of the one-shot Johnson & Johnson vaccine, state officials say they will soon have enough doses to meet their capability of administering up to 900,000 shots per week.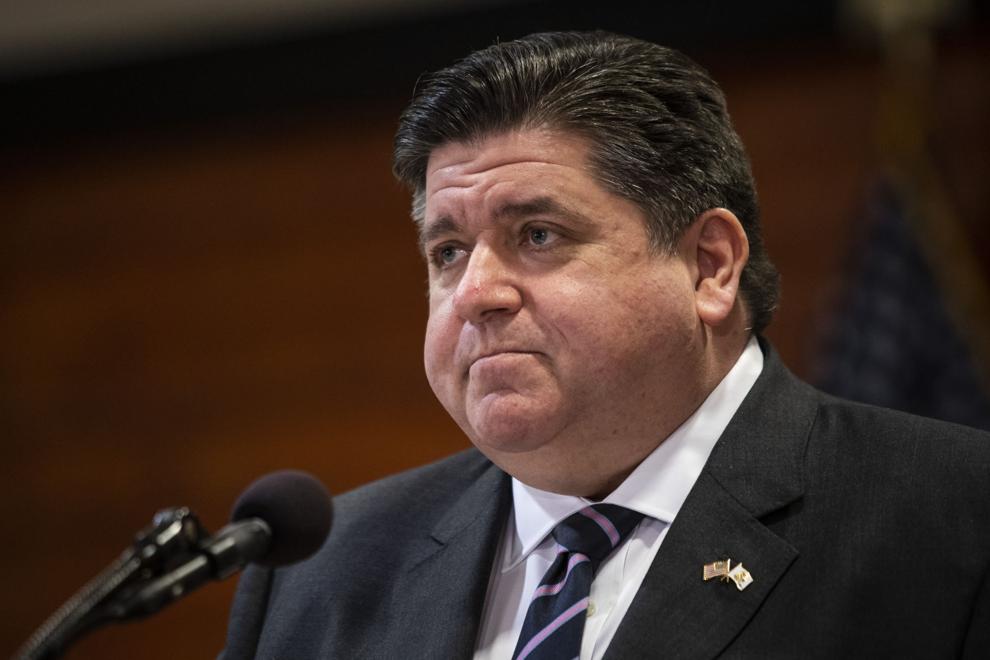 By the end of March, Pritzker said he expects the state to be "humming along with an average of certainly more than 100,000 administered every single day in the state."
The president announced Thursday evening that he is directing states to open vaccine eligibility to all American adults by May 1. The hope is that Americans will be able to celebrate a semi-normal Fourth of July together this summer. 
"Since the start of this pandemic over a year ago, the state has looked to the federal government for guidance and assistance to no avail," Pritzker said. "Thankfully that changed when President Biden took office and his administration has stepped up acting as a partner in this response. I am excited and hopeful that we can put the days of this pandemic behind us."
It's been a slow rollout to this point.
The first doses of vaccine were restricted to about 850,000 healthcare workers and residents at long-term care facilities.
The Centers for Disease Control contracted with Walgreens and CVS to administer vaccines at long-term care facilities in the United States.
Doses began to be administered in skilled nursing facilities in Illinois on Dec. 28, with the pharmacy giants nearly complete with their clinics there.
However, the companies came under fire for the slow rollout of vaccines at Illinois assisted living facilities, which did not begin until Jan. 25, more than one month after the first dose was administered in the state.
But each has picked up the pace. According to data released by each company, first doses have now been administered at all facilities they are responsible for. Walgreens has administered 92% of its second dose shots and CVS has done 97%.
Walgreens has made 48% of its third visits while CVS has made 15%. This third visit is meant for those who missed an earlier shot.
In the subsequent months, the state has opened up vaccine availability to more than 6.5 million people, first frontline essential workers and those 65 or over and, later, those 16 or older with underlying health conditions. 
But distribution to local health departments has been clunky at times. And many residents attempting to sign up for a shot were left waiting amid uncertainty over supply. 
"Our greatest challenge is that we don't have enough doses to satisfy all of the people that need it, want it, and that are eligible," IDPH director Ngozi Ezike told the Illinois Senate Health Committee in mid-February. 
Illinois Senate Republicans released a report last week highlighting what they concluded was a lack of transparency, organization and communication between IDPH and local health departments on vaccine rollout. 
State Sen. Sue Rezin, R-Morris, acknowledged that vaccine supply was a large contributor to the problems, but said that even the small supply the states had thus far was "disproportionately distributed throughout the state."
"We need a system ... where these counties know how many vaccines they'll be able to receive based off of a metric that's consistent and fair for every county throughout the state," Rezin said. 
The Pritzker Administration said that counties receive doses based on population, with some that have demonstrated an ability to manage vaccination efforts efficiently receiving more doses.
IDPH has also dispatched additional staff to counties sitting on doses longer than necessary, the administration said.
And supply has slowly built up over that time and the Biden Administration has begun offering states projections on vaccine delivery at least three weeks in advance, aiding in planning, Pritzker said. 
This increased certainty has led to speculation that the state could soon move forward with its vaccine rollout from Phase 1B+ to Phase 1C, which would likely include more essential workers not covered under previous phases. 
Chicago Public Health Director Allison Arwady, said last week that 1C could begin as early as the end of March and Phase 2, which would open the vaccine to the rest of the adult population, by the end of May. 
Pritzker did not offer a timetable for such a move, but suggested it's not that far down the road. 
"I think that Dr. Arwady's guess is not a bad guess," Pritzker said. "A lot of the discussion has been sometime either around that date, or perhaps in the couple of weeks after that date. And again, it depends on how the vaccine flows to the state because as fast as we're getting it, we're putting it into people's arms."
It is clear that more vaccine will become more widely available in the coming months. What is less clear is if demand will remain high or stall out as vaccination rates inch upwards. 
There's a lot riding on that question, from how soon the state can resume some semblance of normalcy to how well it may respond to new, more contagious variants of COVID-19.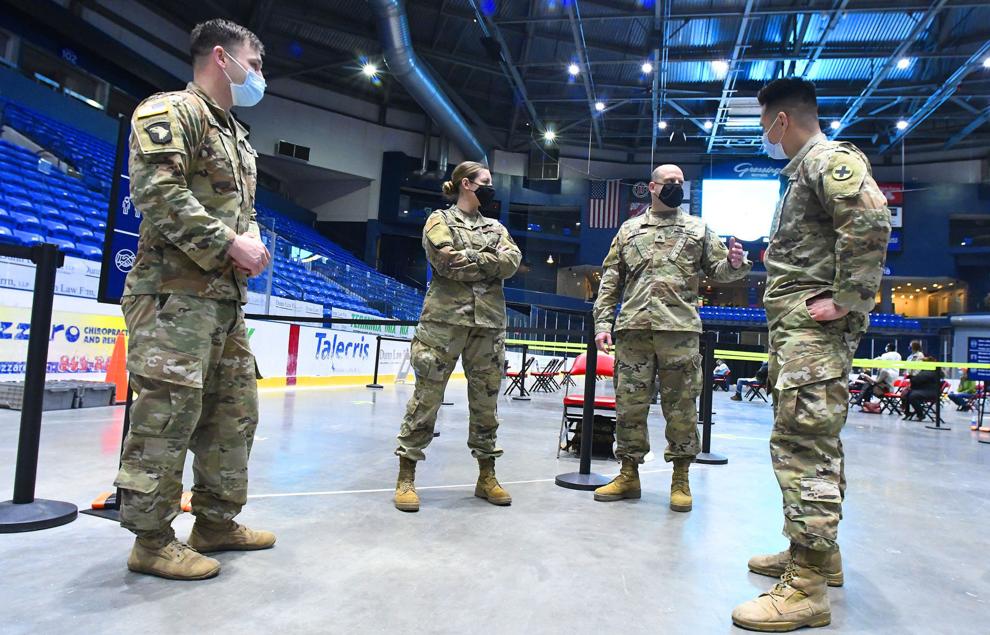 "Right now, my best guess is that if we take the rates that we've achieved over the last couple of weeks and like to continue those rates, that we may actually outrun the variants," said Jaline Gerardin, a professor of preventive medicine at Northwestern University. "But what I don't know is whether those rates are likely to change. Are we going to first vaccinate everyone that was most excited to be vaccinated, easiest to reach, and then are we going to stall out at 40%, 50%, 60%?"
"We generally know from doing these types of things in other settings that it's easiest to go the first mile right and then it's hardest to go the last mile," she said. "We just don't know when that transition is going to happen."
With case numbers down and vaccinations ramping up, Pritzker said he's "more optimistic than I have really throughout this pandemic."
"But I also don't want us to get comfortable until we really see when these other variants start to become overall prevalent whether our numbers are continuing to move in the right direction," he said.