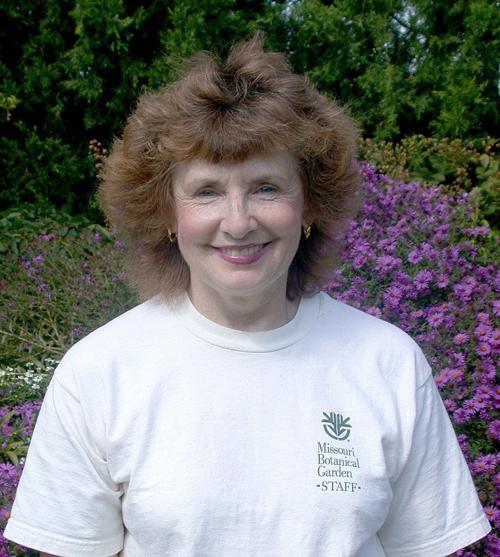 June Hutson was not of the TikTok or Instagram era, but she certainly was what those online platforms now call an influencer.
For over 40 years, she either taught St. Louis master gardeners how to teach others about the treasures they could tend successfully in their own backyards or she outright designed huge collections of plants at the Missouri Botanical Garden. Some of her later works included the elegant Temperate House displays, the dwarf conifer gardens, rock gardens and the vast teaching space that is Kemper Center for Home Gardening. All the while, she showed a generosity of spirit toward anyone and everyone who had gardening questions.
Hutson, the first woman curator and retired supervisor of home gardens at the Missouri Botanical Garden, died July 11, 2021, of pancreatic cancer. She was 79.
Hutson's botanical interests started early. And she was self-taught throughout most of her career. As a girl in the Lindenwood Park neighborhood of south St. Louis, June Clare Muffler "grew plants instead of playing with toys," says her son, David Hutson. She lost her father at a young age, and when her mother went to work, June spent after-school hours at her aunt's house nearby. She would bring home seeds of the old-fashioned four o'clock plant. A neighbor would give her irises. And she'd watch them all grow.
"My mom marveled at trial and error, what did and didn't work in St. Louis," David Hutson said. "I went to nurseries with her all the time, and she marveled at things that were available that probably would not make it here. Therein lies her real talent, born out of trial and error in her own backyard."
June Hutson's work at the botanical garden started simply enough — as a volunteer. She'd worked at a bank but one day in 1974 answered an ad for volunteers at what was then mostly called Shaw's Garden. The first employees she encountered knew nothing about volunteer work and turned her away.
"She got halfway home," said her son, "turned around and went back, walking into the Climatron, which was still fairly new and managed by a woman. 'By God, yes, I could use some help,' the woman said. My mom just started by picking up leaves off the walk. Nothing was very structured. But she just showed up. And I always tell that to my sons: 'You don't always have to be the best, but you do have to show up.'"
June Hutson kept showing up. She joined a crew headed by Charles A. Huckins, and they "kind of renovated the Climatron and made it flourish," David Hutson said. "He became my Mom's mentor; it was a really watershed moment for my mom, and she was soon offered a part-time position."
June took day and night courses in horticulture at Meramec Community College. When the botanical garden decided to renovate the old Mediterranean house, June was put in charge. When Kemper Center made it off the drawing boards, the same happened.
"June's broad knowledge extended to trees, shrubs, annuals as well as perennials," close friend and retired horticulturist Chip Tynan said.
He and his wife, Suze Stark, June and nursery owners Chris and Bill Kelley would travel around the country together — dubbed the "five amigos" by friends.
"It was amazing," Tynan said, "that we'd see something at a nursery or garden center and stand there scratching our heads, all of us but June. She'd already grown it 10 or 15 years before and not only could recite its Latin name but also give tips on whether it would survive in St. Louis. The depth of her knowledge, I can't emphasize that enough. It was just awesome."
"My mom had no ego," David Hutson said. "She shared openly and willingly, visiting other people's gardens. She just shared in their delight."
In retirement in 2017, she had big plans for the wildflower garden of the late wildflower aficionado Edgar Denison. She had purchased it years before when she bought and renovated his Kirkwood house next door.
"Her illness was unforeseen then," David Hutson said. "She had many plans. The depth of plant material and history of that garden is incredible. It's a legacy, and it's heartbreaking that she couldn't carry that out."
June Hutson is survived by her son and two grandsons, Nathan, 18, and Jacob, 14, all of Webster Groves.
A memorial service is scheduled for 5 p.m. Aug. 11 in Spink Pavilion at the Missouri Botanical Garden. In lieu of flowers, David Hutson is requesting donations be made in June Hutson's name to the Missouri Botanical Garden and/or to the Pancreatic Cancer Action Network.
Becky Homan is a retired garden writer for the Post-Dispatch.