MARYLAND HEIGHTS — Just in time for Christmas, 8-year-old Maeve Boatman got to ride her brand-new bike for the first time.
Maeve, a second grader at Fort Zumwalt's Twin Chimneys Elementary School in St. Charles County, is a voracious reader of "Little House on the Prairie" books and an expert at trampoline tricks. But for years she has had difficulty finding a bike with enough stability that she could ride and keep up with friends and family.
Maeve has split hand and split foot syndrome, a rare physical disability occurring in about 1 in 90,000 births. That leaves her hands with just one gripping finger that she's able to use to hold on to traditional handlebars.
Some helpers came to her aid this holiday season.
Variety the Children's Charity, a Maryland Heights nonprofit focused on improving quality of life for children with disabilities, has given out more than 3,700 bikes to the St. Louis-area kids it serves.
The organization's annual Bikes for Kids program has been running for 22 years, but for Maeve's wheels, the nonprofit needed to look to new technology.
Beginning last spring, Variety enlisted two designers to devise and 3D-print a handlebar adaptation perfect for the 8-year-old.
This week, Maeve finally prepared to take her first ride on the blacktop of the Variety parking lot.
She eyed the purple accents to her new wheels while her mom, Michelle Boatman, helped buckle her lime green helmet.
"Are you ready?" her mom asked, leaning down to help the girl in a purple coat and tie-dyed face mask.
Maeve, looking determined, nodded her head, yes.
The helpers
COVID-19 made Maeve's need for a better bike apparent. With schools out this spring and social distancing measures in place, her family started to take longer bike rides to get out of their Dardenne Prairie home.
Maeve was still using training wheels, and her hands would quickly cramp with the strain of trying to grip the handlebars. Maeve couldn't go on some of the longer rides with her parents and five siblings, ages 7 to 20. She, like two of the other kids, was adopted by parents Michelle and Dan Boatman into a family particularly equipped to navigate her physical needs.
Her father is an administrator at Fort Zumwalt School District in O'Fallon, Missouri, and her mother and members of her extended family are occupational therapists used to navigating adaptations for disabilities.
The bike, though, stumped the family.
"We were trying to think of everything that might help, but we couldn't do it on our own," Michelle said. "So we decided to go to Variety for help because they've given away so many adapted bikes."
It turned out Variety was ready for the challenge. The nonprofit recently began funding 3D-printed ankle braces for kids through a partnership with St. Charles orthotist Dennis Richards, whose company 3D Stability specializes in printing custom braces and prosthetics.
With funding from Variety, Richards teamed up with bike shop owner Hal Honeyman, who has provided the adapted bikes for Bikes for Kids for years.
Honeyman has owned his Chicagoland bike shop, The Bike Rack, for 46 years, and began to specialize in bikes adapted for people with disabilities after his son Jacob developed cerebral palsy. Honeyman first wanted to find a bike for his son, who uses a wheelchair, and eventually expanded it into his business.
Together, Honeyman, Richards and Maeve's mother created a one-of-a-kind design for the bike.
The final product looks much like an ordinary bike, except that one of the handlebars has a "ball and socket" mechanism. Richards 3D-printed a cylinder Maeve can wear like a glove that clips in and out of the handlebar for a more stable grip.
It was fitted exactly for Maeve. Plus, she got to design it herself.
"She kept talking about how they asked her what color she wanted," Michelle Boatman said. "Most of her splints only come in colors like tan and white, but this she could pick out."
Maeve opted for tie-dyed pink and purple with a picture of a puppy printed on top. After some Google Images research of several dog breeds, she landed a picture of a goldendoodle to get the place of honor.
"She just loves dogs of any kind, but she thought this one was the cutest," her father Dan Boatman said. "We don't have a goldendoodle, but I told her we might get her one one day when she graduates."
A first ride
Maeve had prepared for her first ride. She spent the months waiting for the custom bike learning how to ride without training wheels and learning how to fall on her elbow rather than her hands if she topples.
"She is just so resilient," her mother said.
Eventually the family got word that the bike was ready, and Maeve became fixated on the weather, hoping for a good day to ride.
On the day of pickup, she greeted the bike's designers and Variety staff members at a socially distanced meetup at the nonprofit's parking lot. There she handed thank-you notes she typed on a computer to people involved.
"I really like the bike and the dogs on the splint," her note to Richards, decorated with a clip-art bike, read. "I also really like the pink and purple because those colors are my favorite colors."
Soon, Richards helped clip Maeve in. She took off, speeding in tight circles around the blacktop to cheers from the small group of onlookers.
"I like the pink and purple the best," Maeve told a Post-Dispatch reporter after her first ride.
Maeve's is one of more than 100 bikes given by Variety to children with disabilities this year. A new child arrived at the same parking lot every 20 minutes that morning to try out their own bikes, including one little girl who wouldn't stop ringing her bike's new bell.
Variety executive director Brian Roy said he hopes Maeve's bike will be the first of many 3D projects.
"The idea is that once we up the scale, we will be able to make braces and things like this bike faster and cheaper," Roy said. "And the custom designs make them something kids really can feel proud of."
So far, other 3D braces funded by the charity have included one modeled after the movie "Frozen" and another featuring a rainbow kitten.
On Monday, Maeve got a chance to go on her first ride on the Katy Trail.
With a rare high in the 50s in December, the weather was perfect.
Photos: Nonprofit uses 3D printing to gift 8-year-old with adapted bike
Nonprofit uses 3D printing to gift 8-year-old with adapted bike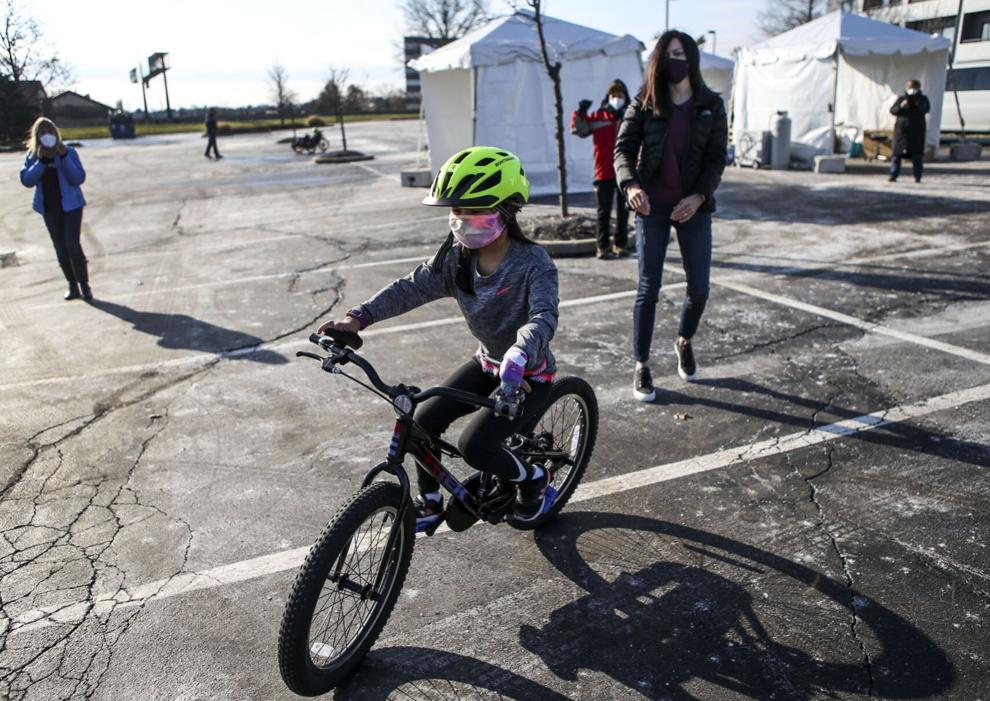 Nonprofit uses 3D printing to gift 8-year-old with adapted bike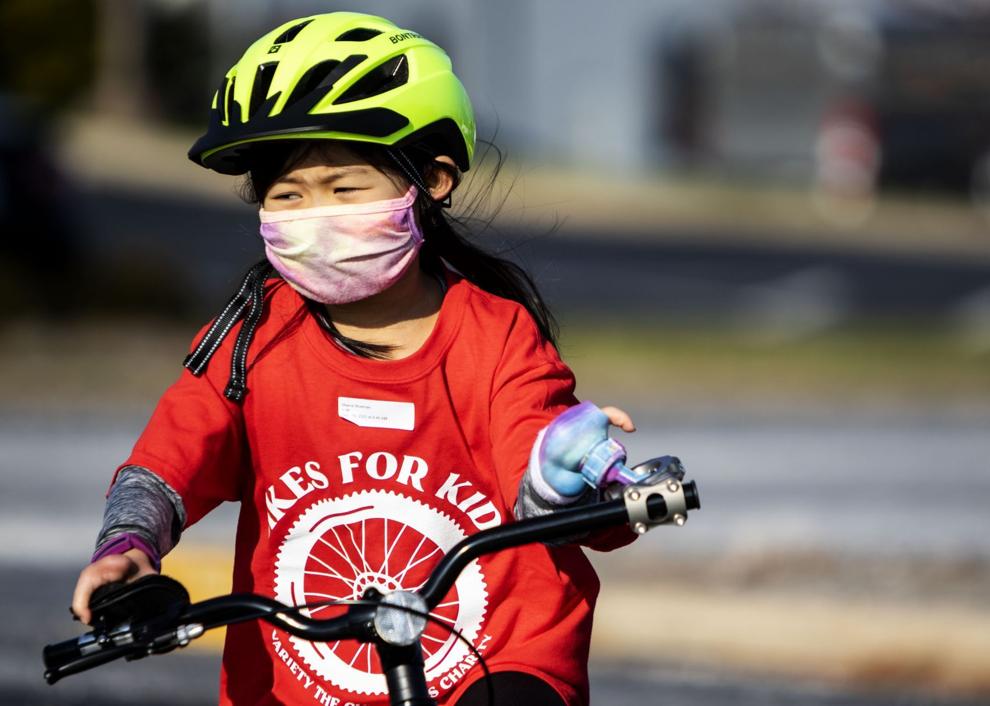 Nonprofit uses 3D printing to gift 8-year-old with adapted bike
Nonprofit uses 3D printing to gift 8-year-old with adapted bike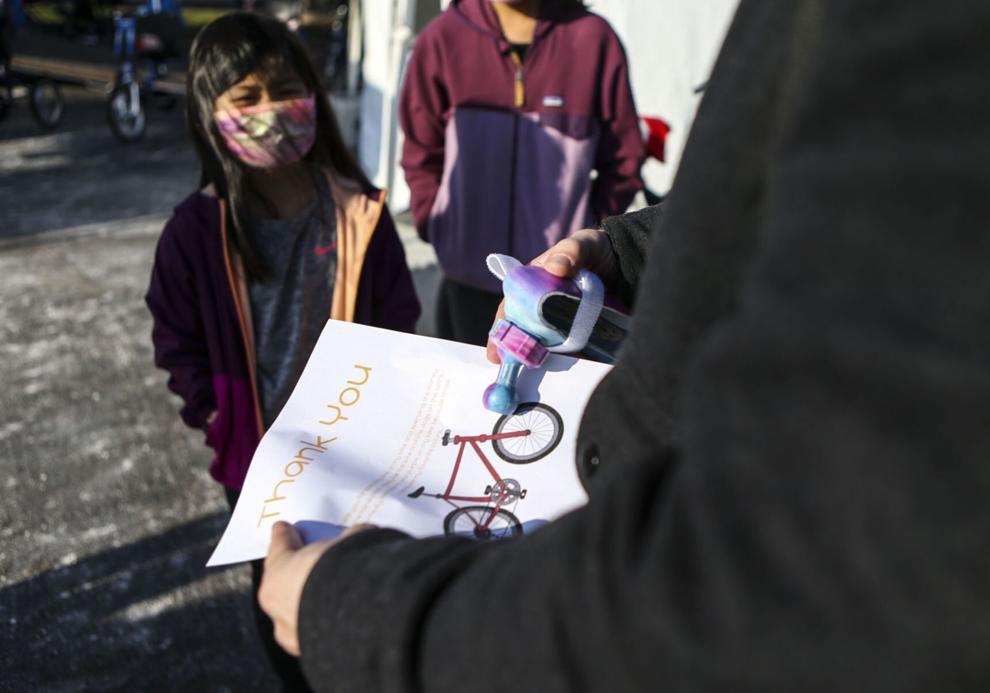 Nonprofit uses 3D printing to gift 8-year-old with adapted bike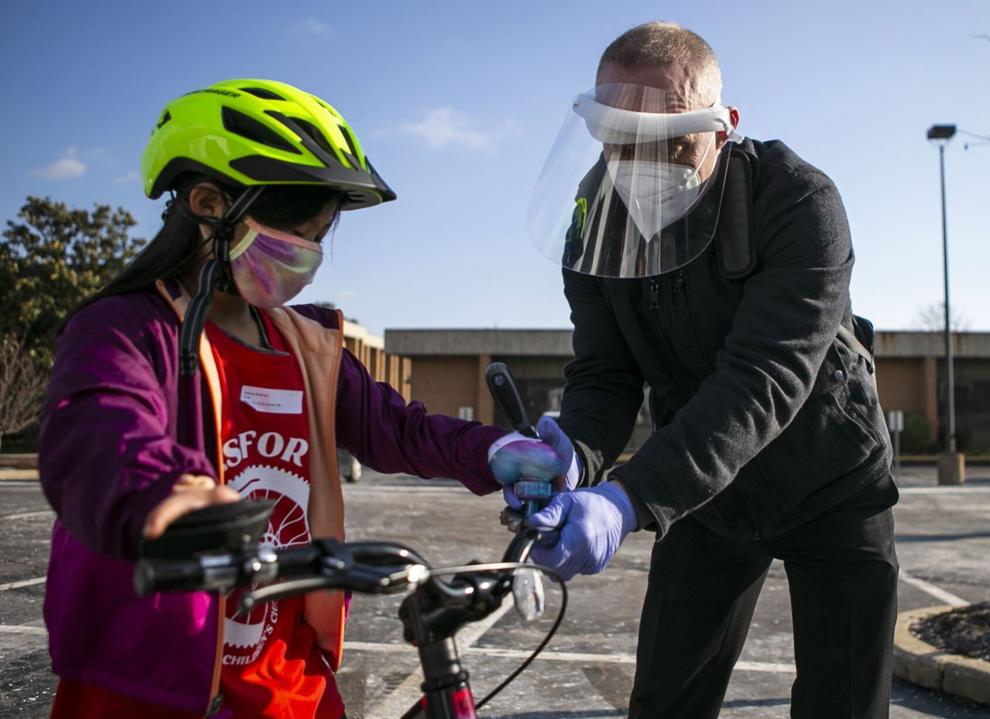 Nonprofit uses 3D printing to gift 8-year-old with adapted bike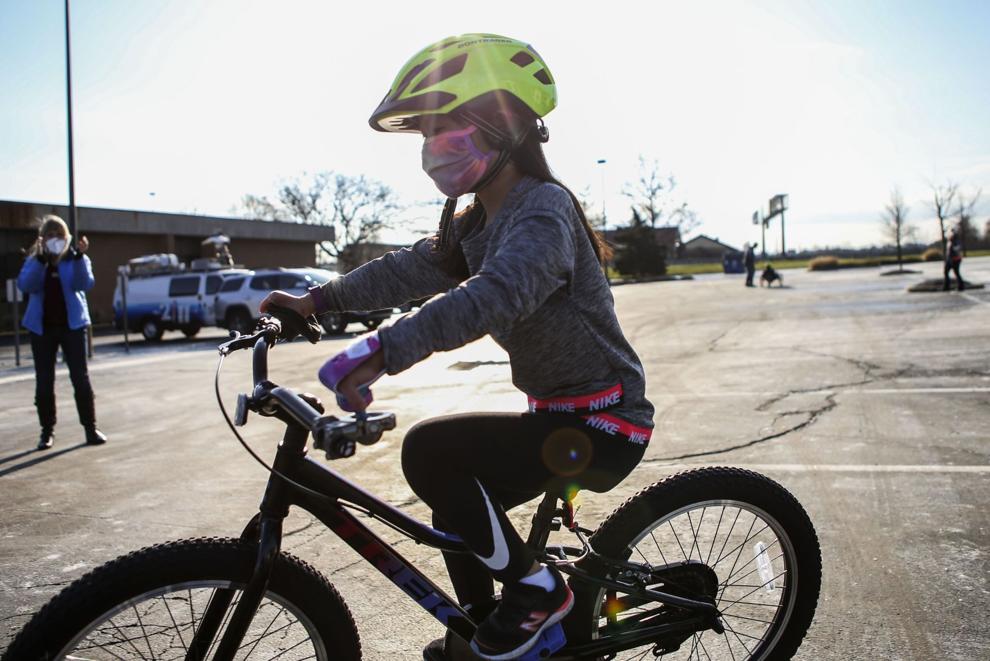 Nonprofit uses 3D printing to gift 8-year-old with adapted bike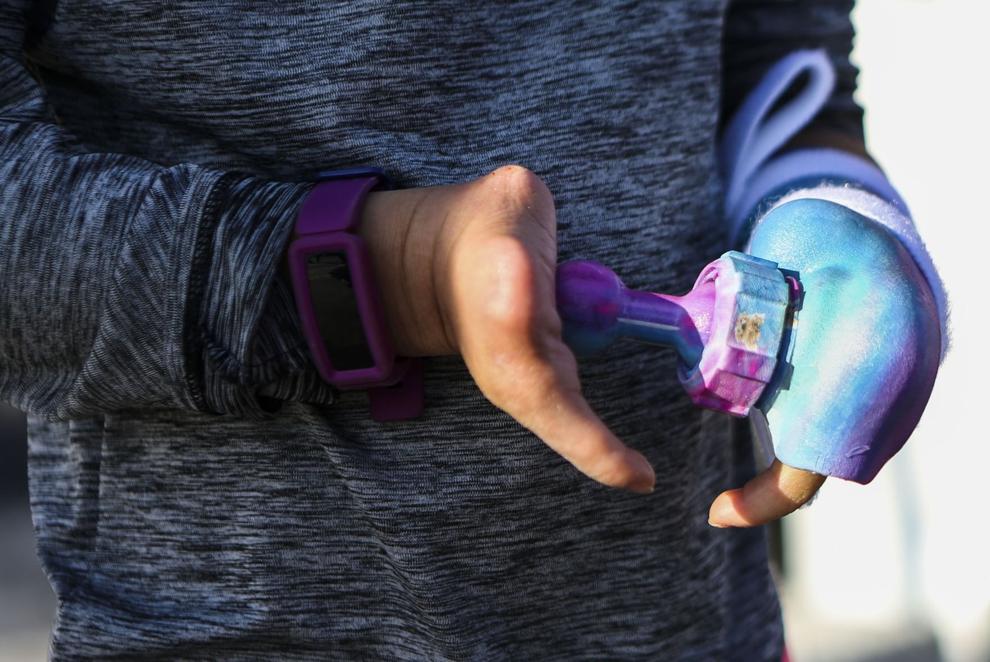 Nonprofit uses 3D printing to gift 8-year-old with adapted bike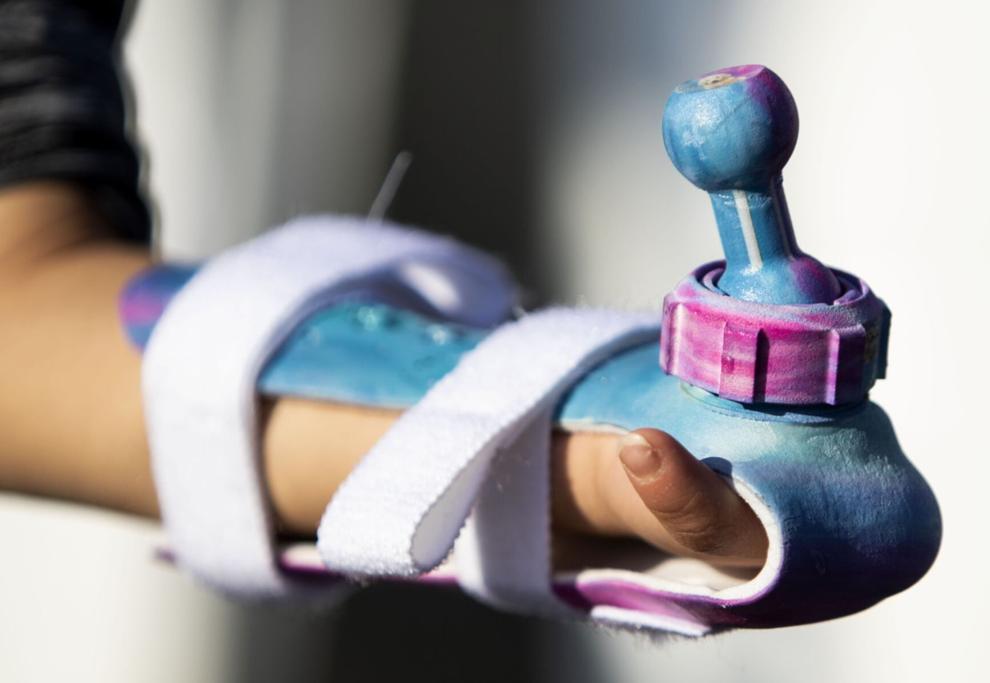 Nonprofit uses 3D printing to gift 8-year-old with adapted bike