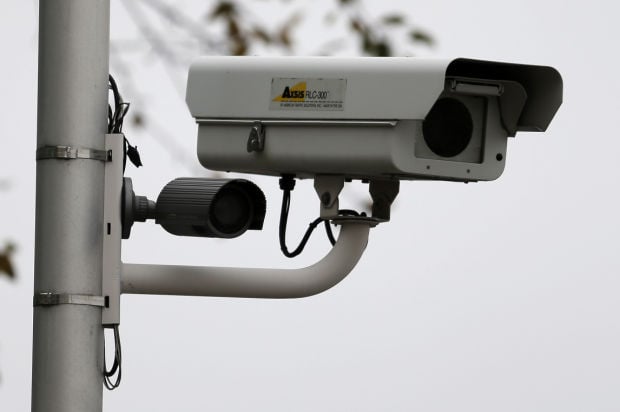 The issue is stopping drivers from running red signals, but it was a U-turn by a key Missouri court that put dozens of municipal photo-enforcement laws in a temporary freeze frame.
What some see as a major setback for automated enforcement was taken in stride by at least one major company providing the service.
If nothing else, the development prompted the city of Ellisville and its vendor, American Traffic Solutions Inc., to file an application last week to have the case transferred to the Missouri Supreme Court.
Short of a decision there, drivers will continue to wait for a definitive answer to the long-term prospects of a system both touted as a boon to safety and criticized as a money grab.
The Missouri Court of Appeals Eastern Division overruled itself in an opinion Nov. 5 on a challenge to an ordinance in Ellisville. A three-judge panel found flaws in that law, although a panel decision two years earlier has sustained similar provisions in Creve Coeur.
Ellisville attorneys wrote last week that the result left municipalities in the "unenviable position of having to defend against questions relating to the validity of their ordinances" that otherwise complied with state law.
At the heart of the issue is whether the Ellisville ordinance, and lots of others like it, are in conflict with a statute governing moving violations at traffic signals.
Many of the ordinances simply presume a vehicle's owner is at the wheel — or at least liable for a fine — when the car is recorded running a signal.
But the appellate court decision says state law limits moving violations at a signalized intersections to drivers or pedestrians.
The law also provides that "points" be assessed against a driver. An accumulation of points can result in suspension or revocation of a driver's license. Because most red-light camera ordinances do not seek points, they do not conform with state law, according to the ruling.
If sustained, the decision would require many cities to overhaul the way tickets are issued.
"They're worried," said Ryan Keane, the attorney who represented the plaintiffs in the Ellisville case. "It was a forceful opinion. It was well thought out, and it overruled the most significant appellate decision to date."
But former U.S. Attorney Edward L. Dowd Jr., now an attorney here for American Traffic Solutions, based in Scottsdale, Ariz., said the ordinances are not in conflict with Missouri statutes but supplementary to them.
In their application last week for a Supreme Court review, Dowd and attorneys for Ellisville said that although Missouri law and the ordinance regulate the same conduct — a car running a red light — there is no conflict. Cities, they argue, have authority to pass "additional rules of the road or traffic regulations."
Ellisville and other cities depended upon the Creve Coeur case to formulate their ordinances, the attorneys wrote. In addition, those cities relied on a recommendation by the Office of State Courts Administrator that red-light camera violations did not have to be reported to the Missouri Department of Revenue to have points assessed.
ATS spokesman Charles Territo underscored that the constitutionality of the red-light camera programs has consistently been upheld by state and federal courts. He added that the Ellisville ruling specifically affirmed that city's authority to regulate traffic as part of its police power.
Territo added that courts have rejected money damages to challengers of such laws.
The firm representing American Traffic Solutions has brought in Michael Wolff, a former Missouri Supreme Court chief justice and current dean of the St. Louis University School of Law, to take the lead in the appeal, a company spokesman said.
In the Ellisville case, the court said a "voluntary payment doctrine" prevents someone who has already paid the $100 red-light camera fine from seeking a refund. Under that doctrine, the court said, someone who voluntarily pays a fine "with full knowledge of all the facts" cannot use a lawsuit to recover the payment, unless there has been fraud or duress.
In the meantime, at least 11 cities throughout Missouri confirmed that they have suspended issuing citations and will wait until the dust settles around the appellate court's decision.
Ellisville City Attorney George Restovich said everything is on hold "until we are essentially guided by the decision of the Supreme Court." City officials, he added, are "trying to evaluate what is in the best interests" of its residents.
In Kansas City, which has halted use of its 28 red-light cameras, the City Council is expected to consider some ordinance changes this week to comply with the ruling, said Chris Hernandez, a municipal spokesman. That law was patterned after the Creve Coeur ordinance the court upheld in 2011.
Communities that have suspended use of cameras insist that drivers still must pay for tickets already issued.
Earlier this month, the St. Peters Board of Aldermen approved an ordinance to assess penalty points against drivers caught on cameras that photograph both the car and driver. In addition, the city has appealed a St. Charles County Circuit judge's ruling that concluded state law requires points for such moving violations.
The city of St. Louis, which has 70 red-light cameras at 35 intersections, said the Ellisville ruling does not affect its program because its ordinance is different. St. Louis, for instance, gives vehicle owners an opportunity to dispute that they were behind the wheel at the time the violation was photographed.
St. Louis officials credit the red-light cameras with reducing violations at photo-enforced intersections.
Officials in several red-light-camera cities — including Creve Coeur, Beverly Hills, Bel-Nor, Webster Groves and Hannibal — did not return multiple telephone calls from a reporter seeking comment on the status of their programs.
One legal expert said it makes sense that some cities are pausing to regroup.
"In this case, it is sensible for local governments that have ordinances that are similar to the Ellisville ordinance to take a step back and consider whether they want to continue with these programs in the absence of a higher court ruling," said Richard Reuben, a professor at the University of Missouri School of Law. He specializes in state and local government law.
Reuben added that the red-light cameras do raise questions about fairness and procedural justice, and ultimately might undermine citizen respect for public authority.
"People's willingness to comply with rules is a function of how fair they feel those rules were promulgated and implemented," Reuben said. "When they're implemented in a 'gotcha' way, it undermines people's respect for the rule of law."