ST. LOUIS — Missouri's largest health care workers union on Wednesday protested outside Blue Circle Rehab and Nursing to support employees' demands for a $15 minimum wage and better health protections.
SEIU Healthcare Missouri, which represents about 4,000 workers, has 25 members who work at Blue Circle and are six months into negotiations for a new contract said Lenny Jones, a director and vice president of the union.
But the home, located at 2939 Magazine Street in the Jeff-Vander-Lou neighborhood, has refused key demands for wage increases and the creation of joint labor-management panel to enforce health protections, Jones said.
"Nursing home workers have been deemed essential workers, high priority workers who save lives during the pandemic, who took good care of residents, and what do they get in return — nothing," Jones said.
A representative with Blue Circle Rehab and Nursing did not return requests for comment.
The home is owned by Blue Circle Holding LLC, a limited liability company registered to Mendel Brecher, of New York, according to state and federal records. Brecher also owns Big Bend Woods Healthcare Center nursing home at 110 Highland Avenue in Valley Park.
Blue Circle has offered to raise wages enough meet the state's minimum wage of $10.30 an hour, an increase from $9.45 in 2020 that was mandated by law anyway, Jones said.
The union has called for a $15 minimum wage and more worker protections a year into the COVID-19 pandemic, which has hit nursing homes particularly hard because they provide close care to groups of elderly patients most vulnerable to the virus.
As of Feb. 28, COVID-19 killed at least 3,511 Missouri nursing home residents in Missouri and 44 workers, according to the latest federal data.
The virus killed three Blue Circle residents among 21 infected, and infected seven employees.
Because of the risk they face, workers deserve better compensation, said Napoleon Osby, a certified nursing assistant who joined the SEIU protest after leaving his shift Wednesday afternoon.
"Nobody wants to go to work and take a chance of taking something home to their kids, their loved ones that can kill them," said Osby, of St. Louis.
Osby said he makes $13 an hour, but employees often work shorthanded without adequate equipment.
"When I come to work every last person has a family member that trusts me to come to work and to keep them safe, to be a friend and companion to them," Osby said. "but when you do do it, you don't even get rewarded with a decent paycheck, unless you take tons and tons of overtime."
Renee Morgan, who has worked in the laundry department for 20 years, said employees haven't received raises for years.
"We work hard everyday when we come in here," Morgan said. "We care about these residents."
The protesting workers were joined by James Page, executive director of the Downtown Neighborhood Association and a candidate running to unseat Ward 5 Alderman Tammika Hubbard, and Tishaura Jones, St. Louis treasurer and mayoral candidate.
Jones, whose mayoral bid has been endorsed by SEIU, pledged Wednesday to adopt the union's suggested reforms including a citywide panel of nursing home workers and managers to set health safety standards.
Jones, whose uncle died of a COVID-19 infection at a nursing home, said nursing home workers are "on the front lines" of the COVID-19 pandemic.
"They deserve to be protected respected and paid for a full days work."
Photos: Protesters gather outside Blue Circle Rehab and Nursing in support of employees
Protesters gather outside Blue Circle Rehab and Nursing
Protesters gather outside Blue Circle Rehab and Nursing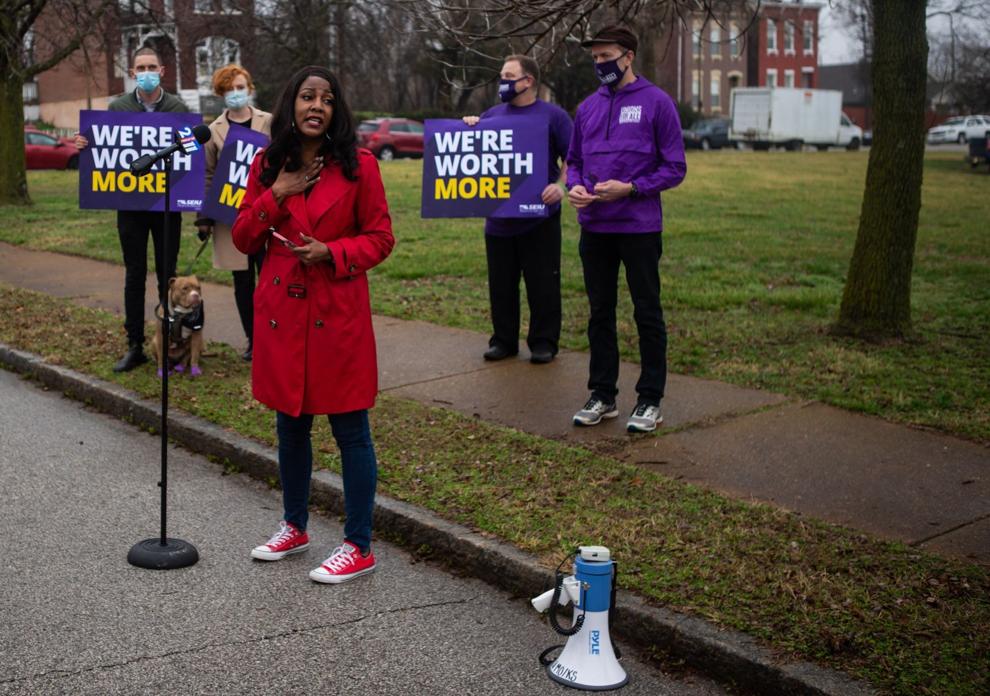 Protesters gather outside Blue Circle Rehab and Nursing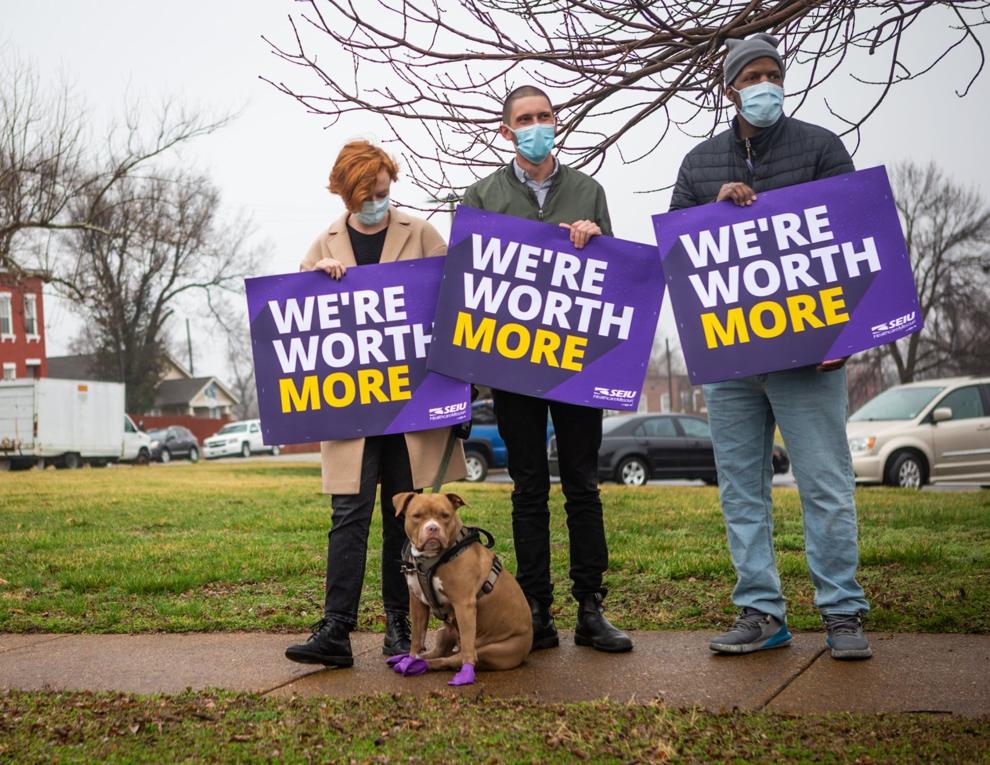 Protesters gather outside Blue Circle Rehab and Nursing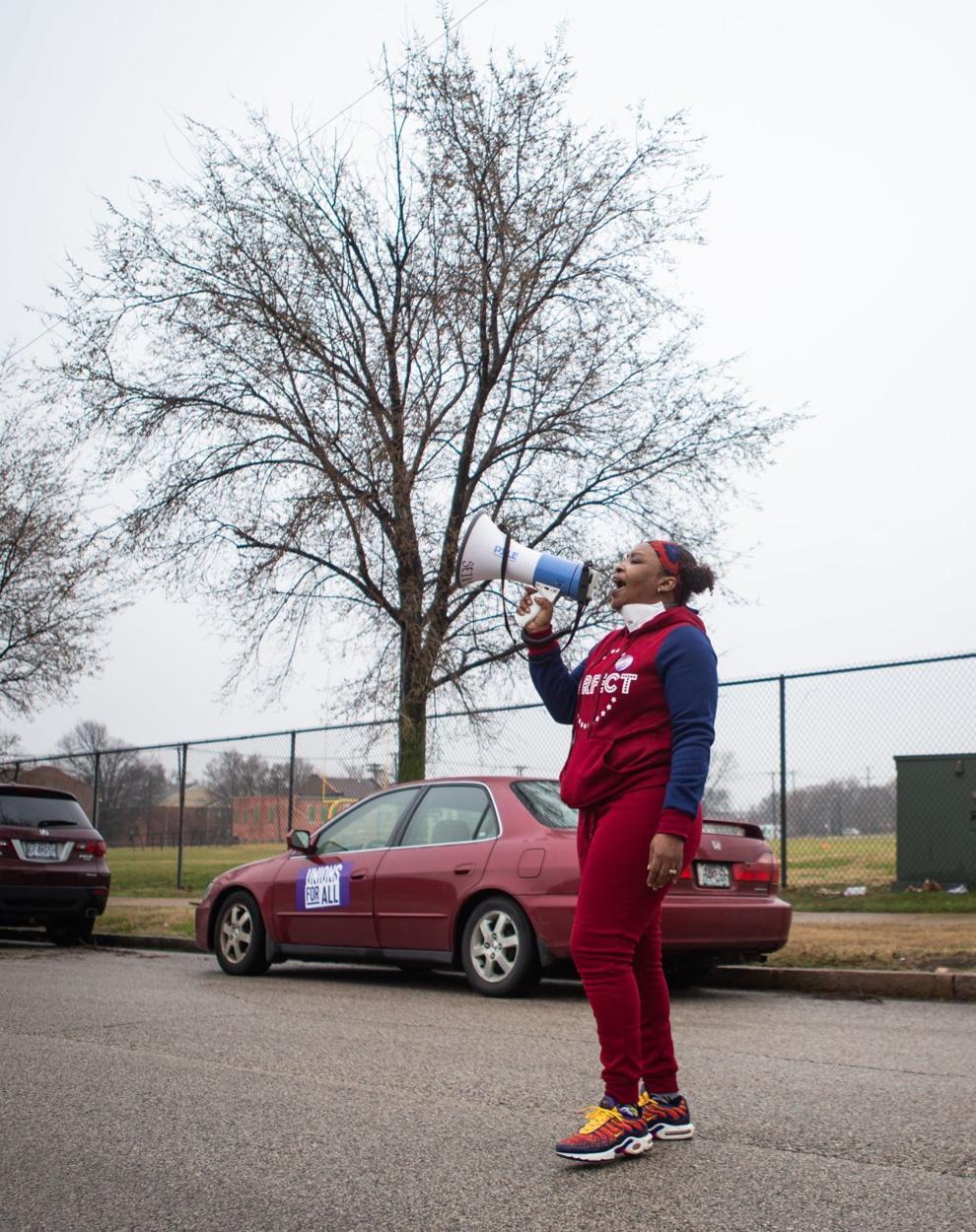 Protesters gather outside Blue Circle Rehab and Nursing
Protesters gather outside Blue Circle Rehab and Nursing