ST. LOUIS • Crowds formed outside the city's two breweries and jammed "watch parties" in hotels, restaurants and neighborhood diners. The festive bustle befitted a New Year's Eve.
Which it was, in a way. The countdown led to 12:01 a.m. Friday, April 7, 1933, when beer would be legal again after 13 long years. No more need for nasty home brew.
More than 25,000 enthusiasts kept vigil outside Anheuser-Busch Inc., South Broadway and Arsenal Street, where a revived workforce had prepared 45,000 cases of beer and was busily brewing more. An additional 10,000 people crowded Forest Park Avenue at Spring Avenue, where Joseph Griesedieck's new operation produced Falstaff, a brand name he had bought from former brewer William Lemp Jr. shortly after Prohibition began in 1920.
Griesedieck had 40,000 cases ready for midnight's stroke.
In November 1932, a nation that had grown tired of Prohibition's deprivations and frauds elected Franklin D. Roosevelt for president and a soakingly "wet" Democratic Congress, which quickly set about the mechanics of repeal. But removing the U.S. Constitution's 18th Amendment would take months. Congress quickly allowed beer with 3.2 percent alcohol content by finessing the definition of "intoxicant" in the Volstead Act, the reviled federal enforcement law.
Missouri, Illinois and 16 other states jumped aboard.
At midnight, the brewery whistles were overwhelmed by the roar of happy humans. Out rushed the first beer trucks, plus a Clydesdale-drawn hitch for show. August A. "Gussie" Busch Jr. spoke to a national radio audience, then went inside to greet his private guests. "Come and get it," he told them.
People outside had to be content with history's moment. Brewers shipped straight to the lucky holders of 3,763 new government permits allowing the sale of beer.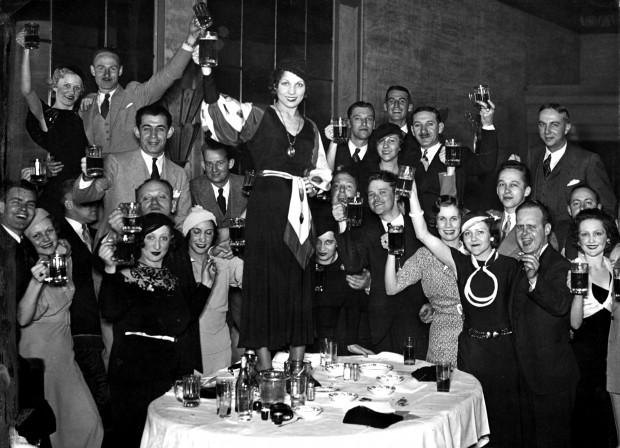 Delivery was prompt. At 12:08 a.m., a truck pulled up at the Elks Club, 3619 Lindell Boulevard, where Mayor-elect Bernard Dickmann led the first round. Customers at the big hotels snapped up 10-cent drafts. At 12:58 a.m., the taps flowed again at Krumm's Restaurant, 824 Pine Street, a popular beer joint before Prohibition.
At Delmar Boulevard and Kingshighway, police nabbed four gangsters for trying to hijack a beer truck.
Imbibers shouted "Prosit" — German for good cheer — and declared the first batch "as good as the old stuff." By noon, it was gone. Frantic calls for resupply swamped brewery switchboards.
The Anti-Saloon League filed suit in Jefferson City in a failed bid to stop the "menace." Grocery stores soon offered Budweiser at $2.75 per case, Falstaff for a dime less.
On Dec. 5, 1933, Utah became the 36th state to adopt the 21st Amendment, ending national Prohibition. Illinois immediately went full drinks, but Missouri dithered another month before allowing hard liquor.
---