ST. LOUIS • After a long decline, Eric Bearden finally hit bottom in an abandoned building on South Grand Boulevard that thousands of people pass every day.
Bearden, 28, who once dreamed of being a chef, was victim No. 11 among a class of 256 fatal overdoses that quietly tore across the city of St. Louis in 2016.
One year later, a spent syringe lay discarded in the busy alley near where he died. Windows and doors have been boarded up, but the only thing that seems to have changed is the message posted in front of nearby Fanning Middle School.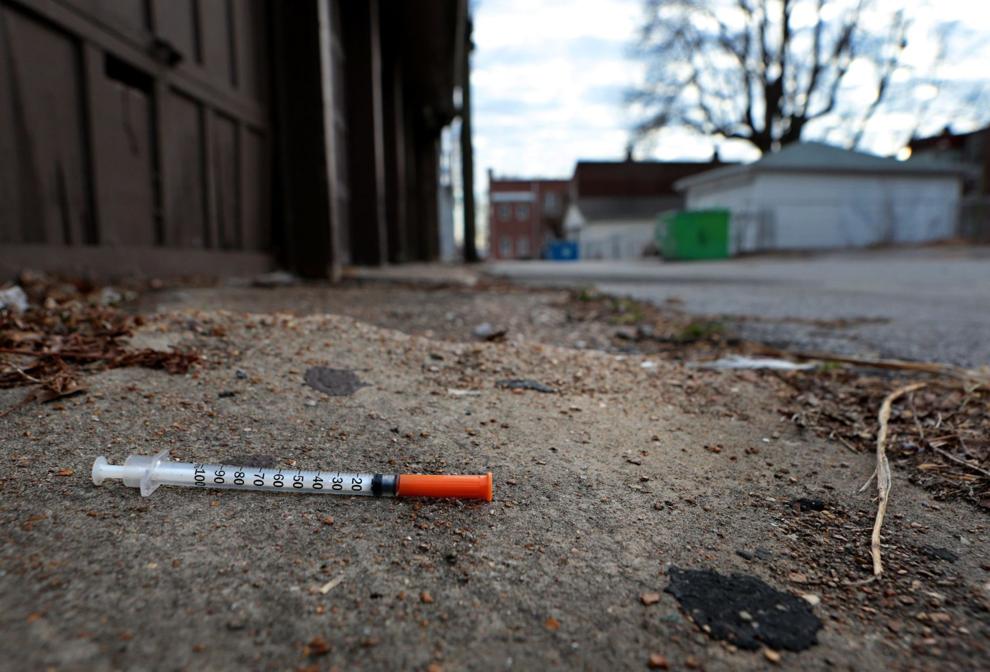 "We do so they can," the sign reads. "Every child deserves a champion."
Heroin has made that much harder, as its death grip destroys more addicts, families and communities than ever in the region.
It has always been a hard-core and dangerous drug. But today longtime addicts and new users are facing unprecedented risks.
Earlier this month, Ashley Johnston plunged a different syringe into her arm, her beating heart then pumping the dope through her pregnant body.
Johnston, 31, said two of her children had been born addicted to opioids. A third was not. She lost all of them to state custody.
Less than three months from another delivery date, Johnston suffers from a mental illness that public health advocates describe as substance use disorder.
"I am keeping it, and it's going to live with me," Johnston said of her unborn child. "It's a boy."
The region's insatiable appetite for heroin has been well documented in the past decade, especially as the drug's wrath moved out of the urban core and into the white suburbs.
Never has the drug been more deadly, nor this cheap. Purity levels have skyrocketed, while prices have plummeted on the street to $5 to $10 a button (dose).
And now, a lethal new twist has flooded the market: fentanyl. The cheap synthetic opioid is 50 times stronger than the real stuff. A little bit on the tongue can kill you.

Heroin historically has been mixed with inert substances such as baby powder and cornstarch to make it go further. Now fentanyl is thrown in the mix.
A dealer with a conscience might sell fentanyl-laced heroin with a warning: "Be careful with that." But, if anything, that only fuels appetites among buyers, driving much of the dramatic spike in the death toll.
More than 650 people died from opioid overdoses in the St. Louis region in 2016, more than four times the number in 2007. Toxicology results continue to come in.
Franklin County had 29, an 81 percent increase in one year. Jefferson County had 62, a 35 percent jump.
But while heroin is a growing crisis across the region, in the city of St. Louis it is an explosive epidemic.
The city logged 256 deaths, a whopping 94 percent leap from the previous year. Annual opioid deaths have catapulted ahead of homicides. The city's opioid death rate of 80 overdoses per 100,000 people is more than twice the rate elsewhere in the region.
The typical victims are in the prime of their most productive years. And they are diverse. The city's death pool included 183 males, 73 females; 138 Caucasian, 117 African-American and 1 Asian.
"We have a huge problem," said Michael Graham, medical examiner for the city.
'This is a marathon'
These deaths happened all over the city, most of them in homes, including a scattering of addresses that saw more than one victim — such as an apartment building in the 2500 block of Hampton Avenue where three people overdosed.
Others died in the public sphere — on a bus, in a car, in a convenience store restroom, such as the 7-Eleven at 509 Bates Avenue.
"Those are the loved ones of family members of people and those are beautiful lives that are no longer with us," said James Shroba, chief agent in charge of the Drug Enforcement Administration in St. Louis.
He said heroin plagued addicts worse than almost any other drug. The success rate for treatment was already dismal. Then fentanyl blew onto the scene.
"Just when you think you have seen it all," he said.
Fentanyl, made in Asia, has long been an effective pain killer often given to humans in the form of a patch and intravenously after surgery. There are different forms, among them a tranquilizer for rhinos and elephants.
An illicit market for powdered fentanyl has taken root in the past few years. Officials said Mexican drug cartels added fentanyl to heroin before it was shipped across the border. Meanwhile, the purity of heroin on its own has increased in the past decade in St. Louis from less than 10 percent to more than 50 percent, enough to compete with prescription drug abuse, according to the DEA.
Of the 256 opioid overdoses in the city, more than half of the toxicology reports included fentanyl, mirroring a national upward trend.
One national estimate from a decade ago tallied $193 billion in damages to society from misuse of opioids and other illicit drugs each year.
Shroba said society couldn't arrest its way out of the problem.
"We need everybody's help, because this is a marathon," he said.
Narcan counterpunch
Paramedics are running harder than anyone else. While hundreds of addicts die, emergency responders revive scores more — often multiple times — with Narcan. The drug is sprayed up the nose or injected to reverse an overdose. Last year, the St. Louis Fire Department used it 1,900 times, up from 1,200 in 2015.
Narcan is carried in city ambulances. A push to equip each firetruck with the drug has been delayed by a drug recall and training for firefighters. Police in south St. Louis, one of the worst areas for overdoses, plan to be part of a pilot program that equips officers with Narcan.
Other police, such as the St. Charles County Police Department, have already started. There were 53 opioid deaths in St. Charles County in 2015. The count for 2016 was 44, with the month of December pending.
"We are going through Narcan faster than we can put it in cars," Chief David Todd said.
Scott Gilmore, the medical director for the St. Louis Fire Department, senses the urgency, too. He rode with paramedics on a recent night. "It was incredible," he said. "Probably one out of three calls were overdose calls. That's definitely an increase."
A notable run was for a woman who had just buried a family member from an overdose.
'It's nuts, man'
Heroin distorts reason. Even though a particular batch may have killed someone, addicts sometimes see opportunity. They seek out the deadly batch.
"That's how you know it's a mental health condition," said Brandon Costerison, of the National Council on Alcoholism and Drug Abuse in St. Louis. "Who thinking clearly goes looking for the product that just killed someone? You don't go looking for the car that just blew up randomly by trying to buy that model."
Consider a cluster of fatal overdoses in the 3800 block of Louisiana Avenue last year. Terrell Whitehead, 27, lived there with his family. He went to Webster Groves High School through the desegregation program and still lived with his parents. People called him D.J. because he liked music so much.
He was next door on Jan. 7, 2016, when Cynthia McCoy, 48, died from an overdose. The experience scared him, but one week later, Whitehead died in his bathroom from the same thing.
Six months later, back next door, Nicholas Pope, 30, who had worked on towboats, died.
Curtis York, who owns Kuts by Kurtis, a barbershop on the corner, said he had seen a frightening cycle of addiction come through the neighborhood. He said 15 of his customers had died from overdoses in the past five years. He told the familiar story about how most heroin addicts started by abusing prescription medications and painkillers.
When they can't find pills, or want to chase a stronger high, they graduate to heroin, which is cheaper. First they snort it. Then they get over the stigma of the needle. When they hear about a potent supply, they come running. "They are going to get the stuff people are dying off of," said York, 42. "It's nuts, man."
'A reason to live'
Heroin's body count in St. Louis includes more than just city residents. Many victims are drawn in to feed their habit. In the process, some, like Bearden, die.
Bearden grew up in south St. Louis County and was a well-known student at Oakville High School. He attended community college for a while and then moved to Denver to study culinary arts at a prestigious school. He flunked out and returned to St. Louis, wandering homeless. Addiction overpowered his life.
"It was a long period of time where he fell off," said his brother, Andrew Bearden, 26 and an Air Force veteran. "He went through all the classes and all the therapies. He had his so-called sober moments. … There was nothing that would stop him from wanting more."
His parents had no choice but to kick him out. One of the last times his brother heard from him, Eric Bearden said he once again sought to start over, get on track. "I was wanting to believe," Andrew Bearden said.
After a short stint in jail, Eric Bearden died of acute fentanyl intoxication. His body was found Jan. 14, 2016, in an abandoned building in the 3400 block of South Grand.
Heroin has invaded more than St. Louis' mean streets. It kills in stable neighborhoods, too.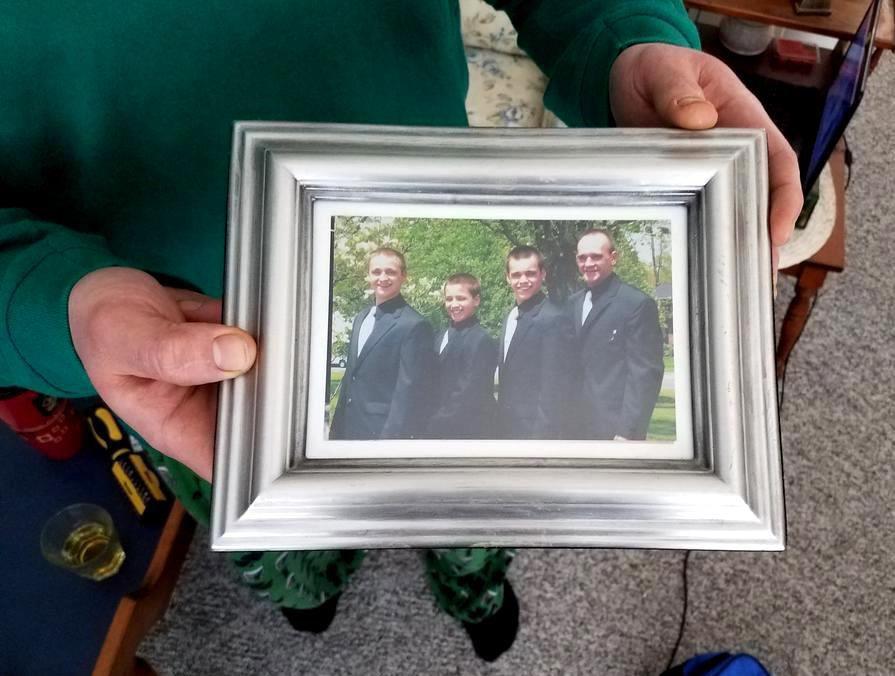 Tom Athanas, 42, died from an overdose in 2009. He lived near Hampton and Chippewa avenues in a neighborhood known for its high count of Roman Catholics and police officers.
Athanas left behind three children. His mother used to lie about his cause of death, calling it a heart attack. "I was embarrassed with my son," said Carol Athanas, of the 3500 block of Regal Place. Sadly, she's wiser to heroin now.
In 2016, the drug also claimed her grandson, Tommy, 29. He attended St. Mary's High School and went on to work in construction, when he could hold a job.
His risky lifestyle was impossible to keep secret. The family estimated he'd been in an ambulance 30 times. One day he overdosed twice. "Tommy was so far gone, I don't know if anybody could have helped him," said Carol Athanas, who now speaks of addiction as a sickness.
There were glimmers of hope through her grandson's addiction. He moved into his grandmother's basement to make a clean start. It didn't work.
He died there of heroin intoxication on June 21.
One of his brothers, Nick, also has used opioids. But he said he's been clean since Feb. 9, 2015, the day he went to jail for stealing televisions.
Now, he stays busy as a laborer setting up equipment for events and being a father to 3-year-old Jameson, who ran around on a recent day, flashing the Vulcan salute from Star Trek.
"That person has a reason to live, and you have to find that," Nick said of addicts.
That message is needed along Regal Place.
A few blocks away, a man, 30, and a woman, 24, overdosed on Oxymorphone, a narcotic pain reliever, in the same small house within a span of three days in May. A new tenant said he had no idea.
'Travis, wait'
Heroin's toll on St. Louis neighborhoods isn't measured just in bodies. Even those who are physically untouched by the drug must confront its dangers. It is an obstacle to avoid, like a slow light at rush hour, but with grave implications.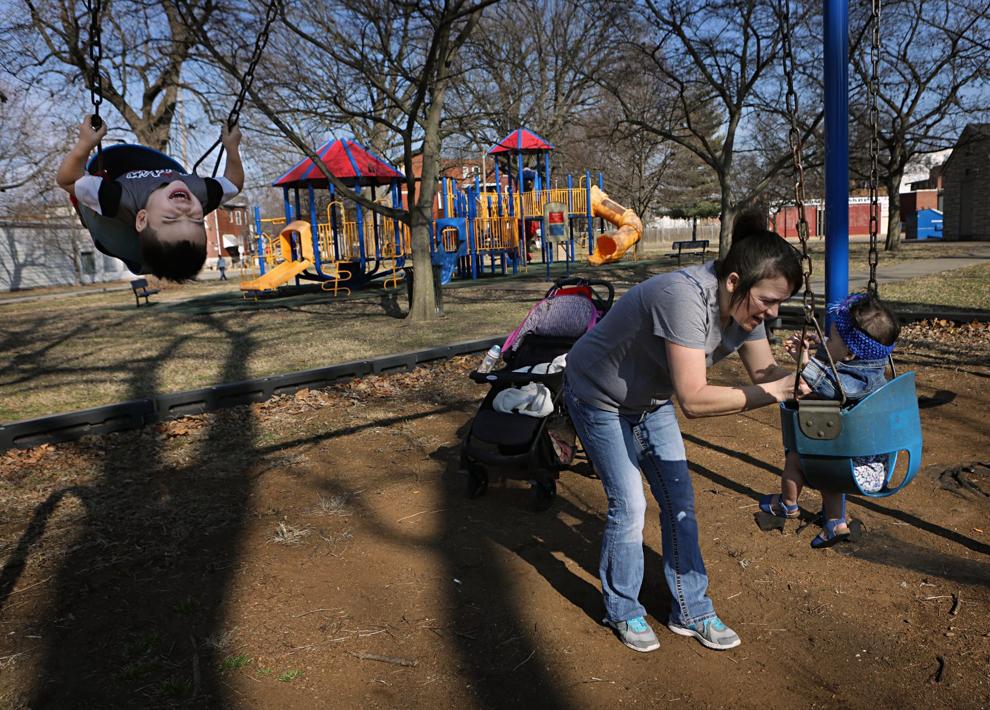 Josie Martinez didn't flinch when informed of two fatal overdoses in 2016 directly beside her home. She said police often came to the tiny, squalid apartments. She said there was recently another fatal overdose right across the street.
Martinez said she could count on one hand the people she grew up with who were not on drugs. She lives in the 7200 block of Minnesota, in far south St. Louis. "In my 42 years in this neighborhood, we've lost them either to drug overdoses or being murdered or incarcerated because of the drugs."
She said somebody would have to hold a gun to her head for her to use. "Life is a blessing, and I know it is," she said.
Especially now as she helps her niece care for two children, Amya, 8 months, and Travis, 3. The grim nature of the neighborhood didn't get in the way of going to the park on a recent sunny afternoon.
Martinez, pushing a stroller, intentionally avoided a few streets on the way to St. Louis Square Park on south Broadway.
"I always have him sit on a bench while I make sure there aren't any syringes," she said as they approached.
But Travis champed at the bit to play as Martinez quickly tried to scan the jungle gym for danger, high and low.
"Wait," she told him, continuing the search. "Travis, wait."
He couldn't any longer. The little boy flew down a covered slide and tore through the rest of the equipment.
She remarked on his observance of a boundary line.
"He knows I won't let him play in the leaves because I am scared of that," Martinez said.
'Death ain't nothing'
There is a bevy of needle tracks on Richard Skinner's stout arms. He estimated that he has known 120 people who died from overdoses, three for each year he's been alive. Still, he uses.
"Death ain't nothing to me anymore," said Skinner, 38. "Look at it. We are all born to die. It's just a matter of when and where."
He's defied the odds, but after years of addiction he has little left beyond a deep-seated craving for getting high. It's not just luck that he's a survivor. He said he tried to be a responsible addict.
But when it came time to shoot up heroin on a recent night, Skinner checked his pockets and bags, realizing he had misplaced his syringe. Ashley Johnston, 31, with whom he has a daughter, offered a replacement. Both of them said they wished they'd never started using heroin.
"I just wanted to try it," said Johnston, who has been to rehab numerous times and is still trying to break her habit with methadone. "Dumbest thing ever."
She's been using off and on for a decade, long enough to lose three children to the state and numerous friends to overdoses, including Terrence Pickard, 42, whom she described as her boyfriend. He died April 18 in an apartment in the 3900 block of Chippewa .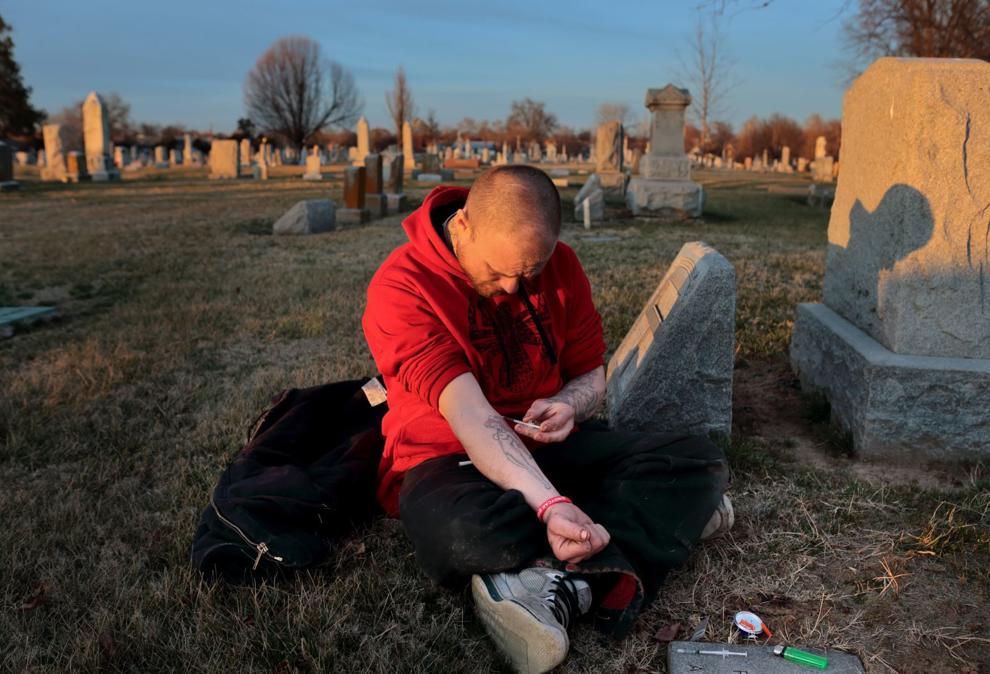 Skinner said he loved and hated heroin. He said it was the devil. "You end up with nothing," said Skinner, who is homeless and has spent a lot of time behind bars.
He's lost count of how many times he's come close to dying. He said he had to be revived a few weeks ago in a basement that he and Johnston had sneaked into.
"I told you don't call the paramedics," Skinner said.
"That's not going to happen," Johnston said. "You aren't going to die on my watch."
They recalled the incident while devouring the remnants of a leftover frozen pizza for dinner. Skinner washed it down with cola, struggling to keep his head up while high. Johnston, nearly seven months pregnant, drank milk.
"I am really doing it today because I have to be clean when I have the baby," she said. "So today is the last day I can do it."
Skinner said he spent $75 on heroin that day. He shared the treasure with Johnston and a few others, a kind gesture also laced with the security that they might help him out another day when he was having withdrawals.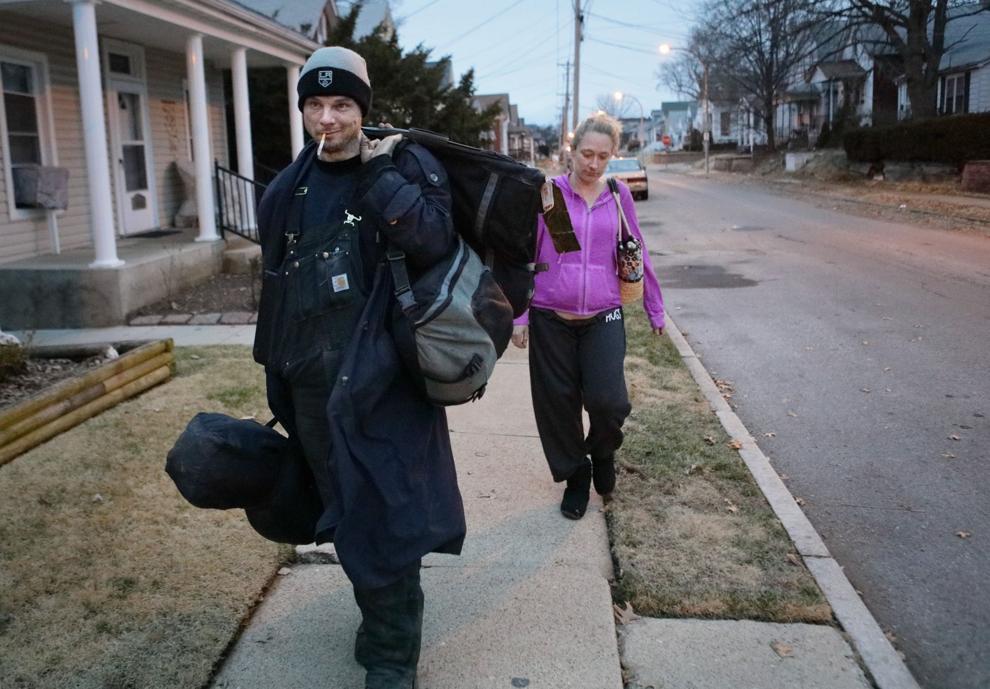 Skinner has ridden the changes of the heroin market. He said that he usually bought from people he trusted and that he relied on experience to shield himself from a deadly dose.
He said he loved fentanyl when he tried it.
"You have to take baby steps," he said. "If you are shooting up, shoot it a little bit."
He compared getting high on heroin the first time to a giant egg of euphoria being cracked over the head, warm yolk running slowly down his neck, then the rest of the body.
"It felt so warm and awesome," he said. "Just my mother's comfort. I hadn't felt that in so long."
Skinner, now relaxed on a sofa, said he was on his last rounds of heroin. He said he might use methamphetamine to come off of it.
"I am trying to control it," he said.
"Like I can. I am lying to myself. Just for a little bit longer."
---
Editor's note: This story has been revised to correct the age of Richard Skinner.