ST. LOUIS — With virus patients continuing to overwhelm area hospitals, the leaders of area children's hospitals said on Friday they have begun accepting adult patients, and Mayor Lyda Krewson announced that the city has reopened a temporary morgue.
State officials, meanwhile, said they expected even more doses of a COVID-19 vaccine, but warned that it won't be available for widespread distribution until next summer, and area leaders warned residents to stay vigilant.
The St. Louis Metropolitan Pandemic Task Force reported a total of 896 virus patients across area BJC HealthCare, Mercy, SSM Health and St. Luke's Hospital facilities — more than double the level at the beginning of November.
The region's three largest health care systems said on Friday they were sending adult patients to their children's hospitals.
St. Louis Children's Hospital took some adult patients from other BJC HealthCare facilities in the spring, and has begun doing so again in recent weeks, said Dr. Juliane Bubeck Wardenburg, division chief of pediatric critical care. And in some cases, staff from the children's hospital have volunteered to work at other BJC facilities.
Dr. Marya Strand, chief medical officer of SSM Health Cardinal Glennon Children's Hospital, said that for several weeks the facility has been sending staff to help in other hospitals. And starting this week, the children's hospital has taken some non-virus adult patients from SSM Health St. Louis University Hospital.
On Friday there were a few transferred adult patients in the hospital, Strand said, but the number is expected to grow. Of the hospital's 195 beds, 65 are for newborn intensive care, and could not be used for adults.
Strand said she expects the hospital will continue accepting adult patients through December, but it could continue even longer.
It creates a difficult scenario for children's hospitals, because adult patients require different supplies, and it takes time to adjust equipment so that it is ready to treat them, said Dr. David Wathen, chairman of Mercy Children's Hospital St. Louis' pediatrics department. The region is also getting into what is typically the busy season for pediatrics. Doctors are hoping that the precautions in place to tamp down COVID-19 will also reduce respiratory ailments and influenza.
Mercy Children's Hospital St. Louis has been accepting adult patients for almost a month, he said.
Hospital staff are fatigued, he said. They have been working tirelessly for months, and are still taking on extra shifts and caring for critically ill patients with COVID-19. "This is a daily occurrence," Wathen said.
Wathen said there are about four adult patients in the children's hospital at a given time, and the facility has seen as many as 10 at once. The facility has been accepting patients under the age of 35, and who are less likely to need multiple specialists.
Dr. Randall Williams, director of the Missouri Department of Health and Senior Services, told reporters on Friday that the state expects to receive more than 339,000 doses of COVID-19 vaccines by the end of the year, provided that the U.S. Food and Drug Administration approves emergency use authorization for the Pfizer and Moderna vaccines.
The first phase of vaccinations will go to healthcare providers and the staff and residents of long-term care facilities. In later phases, once vaccinations are available to the general public, people will be able to seek the vaccines through their doctor, their pharmacist, at drive-thru sites and federally qualified health centers.
"We feel like by July or August we will be able to vaccinate anybody in Missouri who wants a vaccine," Williams said.
Officials on Friday cautioned that there are difficult months ahead.
Krewson said during a briefing Friday that, though the city morgue is not full, St. Louis has set up a temporary morgue with capacity for 50 bodies.
"We don't need it right now, and we hope that we never need it," Krewson said.
The city previously opened a temporary morgue in April, and took it down in mid-June. It was never used, said spokesman Jacob Long. Long said the cost will depend on how long the morgue stays open. In the spring, it cost about $23,000, he said.
"Please don't let your guard down," Krewson said. "These numbers are terrible. The hospitals are more or less full."
Missouri reported 4,053 new cases of COVID-19 on Friday, and 20 more deaths. Illinois reported 10,526 new cases of COVID-19, and 148 more deaths.
Photos: Washington U. School of Med. deploys COVID saliva testing
WashU saliva COVID test deployed at Special District school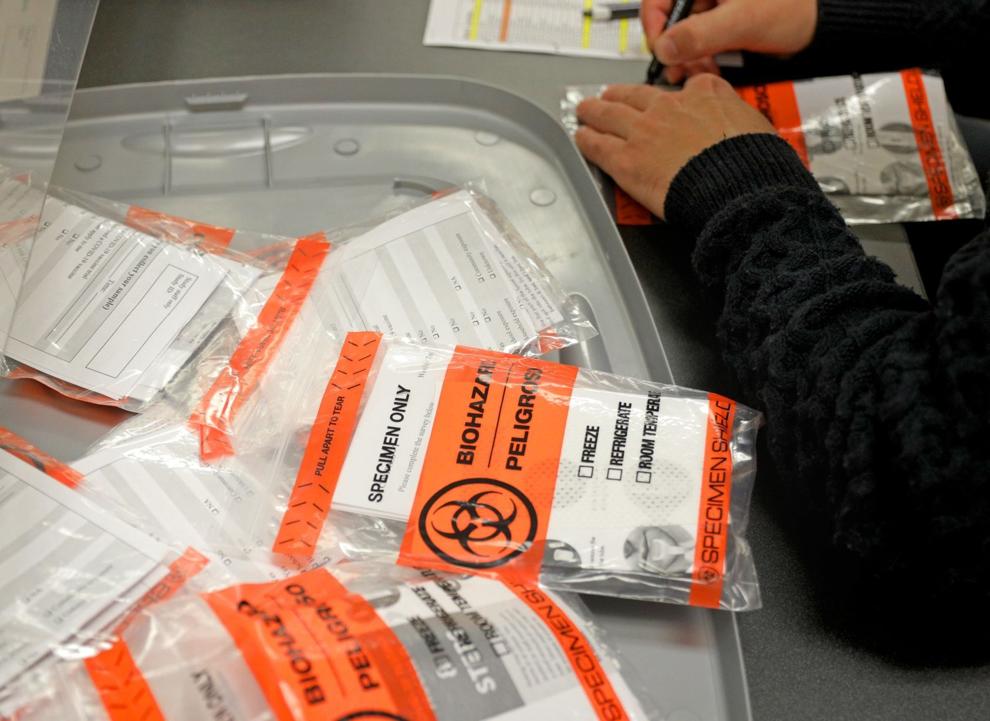 WashU saliva COVID test deployed at Special District school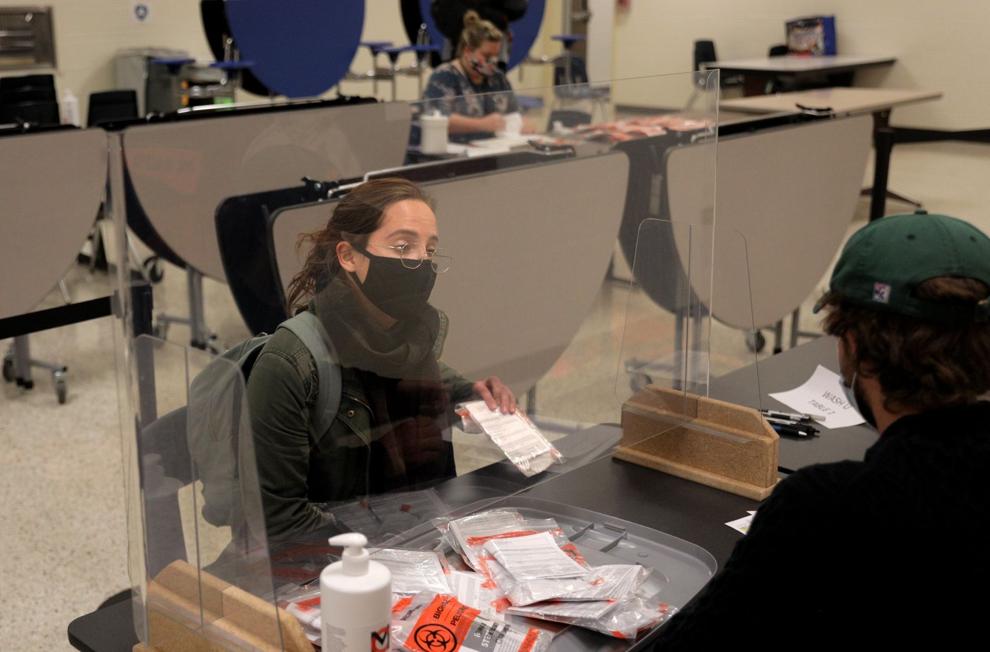 WashU saliva COVID test deployed at Special District school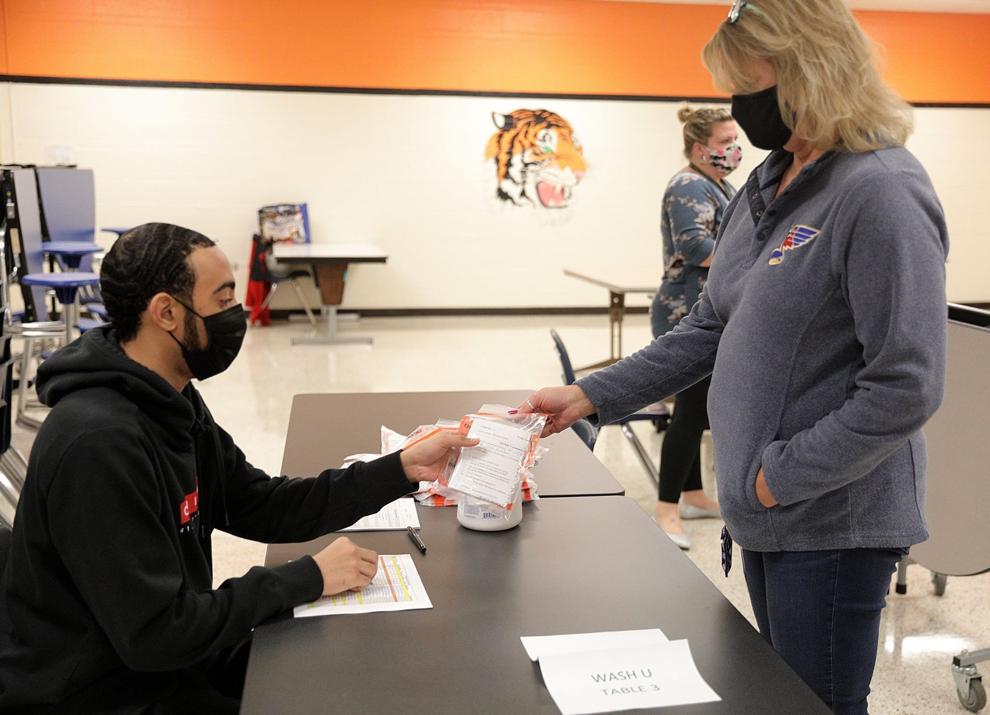 WashU saliva COVID test deployed at Special District school