FERGUSON • The 1950s ranch house with the "for sale" sign at 21 Buckeye Drive on the north side of Ferguson appeared perfect.
It had a fancy picture window off the living room divided into nine rectangular panes and a front lawn with a tree to the side. It featured an attached garage and three bedrooms: one for a son and another for two daughters. It was in the right school district. To the father who gazed at the house from his car after months of searching, it epitomized the American Dream.
In the days that followed, Larman Williams, then 34, could not get the real estate agent listed on the sign to return his inquiries.
"I called. And I called. And I called. And I called, and I got no return," Williams, now 80, recalled. "They could tell by my voice, I guess."
His voice, he surmised, gave away the color of his skin. Williams and his then-wife, Geraldine, are black.
It was 1968. The couple was trying to buy a home in a nearly all-white town. Despite laws forbidding the practice, Ferguson, along with most of north St. Louis County, had neighborhoods with restrictive real estate policies — sometimes written, sometimes just whispered — forbidding the sale of homes to blacks.
In this suburban tableau of white post-war prosperity, there was no deference to the fact that Williams had a college degree and was working on a graduate degree in education. Or that he was a principal in Kinloch's all-black junior high school. Or that his family was well regarded in nearby Kinloch, where he had grown up. Or that he was named Larman in honor of a white German manager who had given his father a job at the Universal Match Corporation plant during the Depression.
Williams was up against decades of segregated housing and zoning policies and real estate and lending practices in St. Louis.
Williams was already well-versed in that history.
In Kinloch, many of the roads leading out were barricaded at the Ferguson border. In the early '60s, Williams bought a home on Adelaide Avenue in the College Park neighborhood of St. Louis.
He was among the first black families to buy there. Williams said that within two years the entire street turned over to black owners, and services and homes went into immediate decline. He suspects the street had been "blockbusted" by real estate agents notorious for scaring whites out of neighborhoods and then selling the houses at inflated prices to African-American buyers.
The family later rented in the Central West End on Westminster Place at Taylor Avenue. The children went to a highly segregated school; any white neighbors were poor, and crime was rife.
One day, Williams said, an older boy — possibly two — chased his older daughter all the way home from school. Williams said he knew that it was a risk to buy in an all-white neighborhood, but an even greater risk to stay in a poor, segregated one.
"I had to ask, what would become of us if we stayed?" he said.
So instead of giving up on the little ranch house in Ferguson, he called his pastor, a man, it would turn out, who would change the family's destiny.
The pastor was Richard Sering, a white Lutheran minister and graduate of Concordia Seminary. And he happened to live on Buckeye Drive.
As a seminarian, Sering had made an audacious request: He asked to lead the flock at St. Michael's Lutheran, a "colored" church on Booker Avenue in Kinloch, a church that for two decades had not had a permanent pastor. He immediately got the assignment.
Sering, who died 11 years ago, had already been active in the civil rights movement.
Earlier in 1968, to memorialize the assassination of the Rev. Dr. Martin Luther King Jr., Sering had led a march from the church in Kinloch. His widow, Susan Sering Hughley, recalls the marchers crossing the road barriers and heading "up the hill" to Ferguson's Zion Lutheran Church on Carson Road.
Sering and his family later moved to Cleveland Heights, Ohio, where he soon led a group that painted over racial graffiti on the house of a black family who had recently moved into an all-white neighborhood. Later, he founded a successful Lutheran charitable organization there and dedicated himself to racial harmony.
But first, he called a meeting to help the Williamses with the neighbors on Buckeye. He learned the owner had been pressured by one neighbor not to sell to a black family, and others generally supported that sentiment. Larman Williams was not present at the meeting, so it may never be known what exactly was said.
But after the meeting, the seller agreed to sell and even agreed to pay some of the mortgage points on the $19,000 house so the Williamses could afford to buy it.
Williams was philosophical as he stood with a reporter on the driveway of the home on Buckeye.
"Fear can cause you to act and react in a way that does not necessarily demonstrate the true person you are," Williams said. "Once you overcome your fear you can do things that are spiritually sound."
A few years after moving in, Williams and his wife testified about their move to Ferguson at a hearing of the United States Commission on Civil Rights.
Then they went on to raise their three children in the little house: Vallary, Larman Jr. and Tandra.
Vallary Hunt, the oldest child, was 11 when they moved to Buckeye. She remembers a next-door neighbor who refused to let his daughter play with her and had put in for a work transfer to move.
But six months later, Larman Williams Sr. said, the man unexpectedly called out to him over the backyard fence. The neighbor said he had been watching a PGA golf match where Lee Elder, who was black, lost in a dramatic playoff to Jack Nicklaus. The neighbor said he had been observing their family for months and now realized he had committed a terrible wrong by shunning them because of their color.
"He was in tears," Williams recalled. "He wanted to confess his bigotry."
Williams' children remember mostly idyllic childhoods on the street. The older children said they struggled occasionally with racial slurs and other issues in the then mostly all-white schools.
But the Williams children said they made instant, even lifelong, friends. Together they biked as far as Goodfellow Road. They tooled around in the neighborhoods around Airport Road and went to the Frostwood I.G.A. looking for famous St. Louis Cardinals who had settled there to be close to the airport.
"We were out on the street all the time, playing ball, and the sisters were beautiful," recalled childhood friend Mark Russo, whose voice instantly warmed when asked about the Williams family. He and Larman Jr. remain best friends.
Larman Jr. grew up to be an airplane technician and has worked for Boeing and private contractors, including one in Saudi Arabia. He said things would have turned out badly if his father had not moved the family to Ferguson.
"I probably would have went to jail or been dead," he said. "I've kept in touch with some families from the city, and either the guys have gone to jail or been killed."
In the 1970s, Larman Williams Sr. headed the Ferguson Parent Teacher Association. During that time he also rose to principal at Wellston's high school, just a few miles from his home in Ferguson.
As principal, he watched Wellston flip from 70 percent white residents to nearly all black and poor.
Some of the black residents came after they had lost their homes in the city. The segregated Mill Creek Valley neighborhood in Midtown St. Louis had been cleared for redevelopment. In addition, the notorious Pruitt-Igoe public housing project in St. Louis had failed, sending black residents elsewhere.
In Wellston, Williams said, the migration caused the whites to flee. Many of the businesses in the once-prosperous shopping district on Kienlen Avenue and St. Charles Rock Road closed. With the resources gone, the schools struggled. The state shut down the school district in 2010 because of academic failure.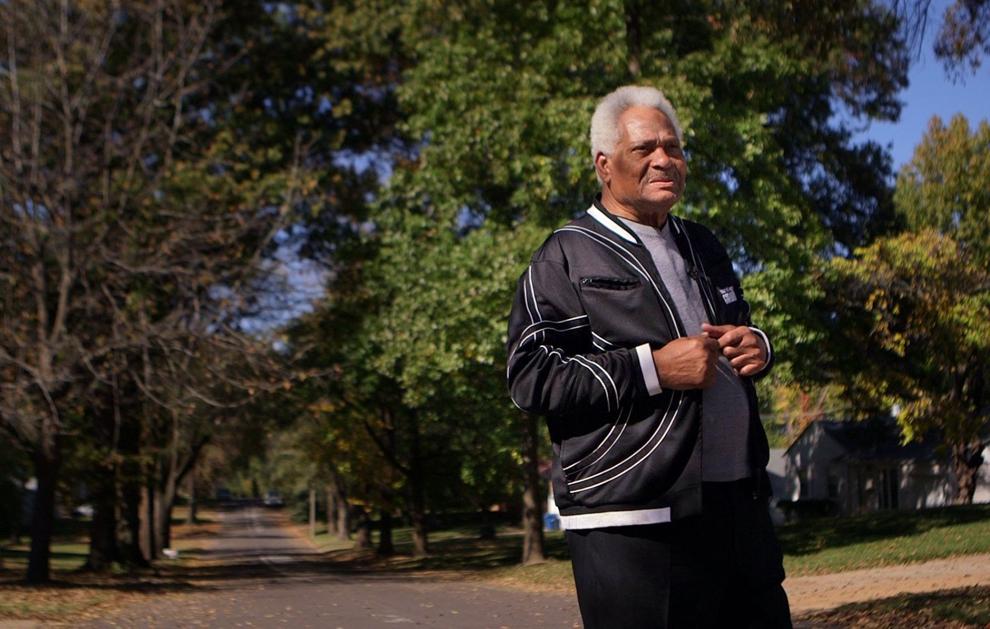 Last week, Williams visited the now-abandoned high school on Sutter Avenue, with its dark and lifeless windows.
"Just like Solomon said in the Bible, history merely repeats itself again and again and again," Williams said.
That day he also toured Tuttle Avenue — his boyhood street in Kinloch. A few boarded-up houses remained, with debris in the yards. A pile of rotting mattresses lay on a nearby street. He directed a reporter to drive away.
It's a stark contrast to the well-kept ranch houses that still line Buckeye Drive.
Ferguson is now under international scrutiny for race relations after the fatal police shooting of Michael Brown. The city is about two-thirds black and a third white, and everyone wonders if the delicate racial balance and the businesses will hold under the stress.
Either way, Ferguson is moving forward without Larman Williams Sr. He's now a resident of St. Andrews of Jennings, a nearby senior living center.
Geraldine Williams, his ex-wife and the matriarch of the family, still lives in the house on Buckeye. Today, most of her neighbors are black.
In addition to the knickknacks she keeps in the picture window, she's added a new accent to the front lawn: a now iconic "I Love Ferguson" sign with a heart.