When Colleen Kelly Starkloff's husband, Max, died in 2010, she stowed his powered wheelchair in the basement.
She also kept the van with a lift, and stayed put in the large Central West End house with an elevator that the couple had labored over to make fully accessible for him.
With Max's death, Starkloff's friends suggested she sell the house and van, and give away the wheelchair. But they were all reminders of her husband of 35 years and the work they had done to make St. Louis and the rest of the country more accessible to the disabled.
"They were part of Max's life," she would say. Besides, the van was paid for, and if any of her disabled friends needed transportation, she wanted to be able to provide it.
As for the wheelchair in the basement, it was an extension of Max. A liberator for a man who became a quadriplegic after an auto accident. And, as Starkloff would glibly tell her friends: "You never know when I might need it."
On May 1, 5½ years after Max's death, Starkloff was thrown from her horse, breaking her left leg near the hip.
"My surgeon and internist both said: 'Colleen, you have to stay home for two months. This is a bad fracture.' Immediately my brain switched to: 'How can I do what they want and keep my life moving forward?'"
She had a relative retrieve the wheelchair from the basement and called a friend to get new batteries for it. She had the van lift serviced, and even hired the driver that had worked with Max for years. But after a seven-week stay at her daughter's house in Wildwood, she moved back home and began taking MetroLink from the Central West End to her downtown office.
For four decades, she stood next to Max as they fought to create an independent world for the disabled. From bus lifts to curb cuts to crafting of the Americans with Disabilities Act, the Starkloffs were in the thick of the fight-for-rights movement. But only now is she seeing the improvements and remaining challenges from the vantage point of her late husband and others who rely on a wheelchair.
"This experience brought me even closer and central to the issue I've fought my whole life," said Starkloff, 66.
The lived experience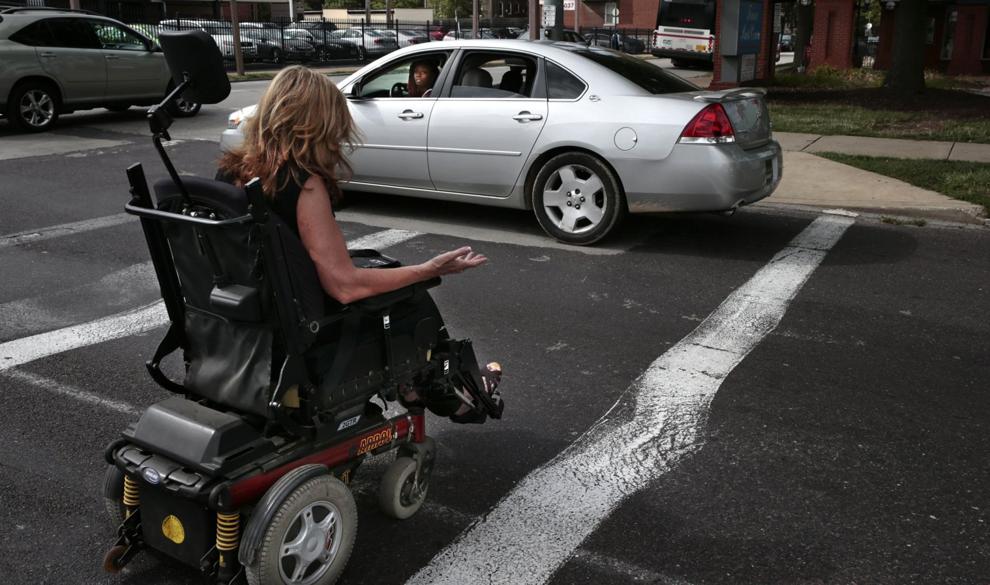 In the wheelchair, she encounters cracked, uneven sidewalks and curb cuts that are not flush with the pavement. One such rough patch disabled the tilt function on her wheelchair.
She now gets why some wheelchair users favor taking to the streets, something she has rallied against, especially after a disabled woman was struck and killed by a motorist on Delmar Boulevard near Jefferson Avenue 11 years ago. The woman's family won a $250,000 judgment from the city for not maintaining the sidewalk.
"It makes me less frustrated but not less worried," Starkloff said of seeing wheelchair users on the street.
Long before there was an Americans with Disabilities Act, signed into law in 1990, Starkloff and her husband, Max, were on the front lines in the fight for disability rights.
The $3.3 million facility will open in June
Together, the Starkloffs built Paraquad, one of the first 10 federally funded independent living centers in the nation, into a St. Louis-based agency that now serves more than 3,000 people a year.
As Colleen Starkloff likes to say of founding Paraquad in 1970: "It was about emancipation."
Today, there are nearly 500 independent living centers.
The Starkloffs, who helped St. Louis become the first city in the country to have lift-equipped public buses, parted ways with Paraquad in 2002 and began the Starkloff Disability Institute, an agency she still heads. The focus of the new endeavor: creating more employment opportunities for the disabled.
In her office on South 11th Street last week, Starkloff moved about with ease in Max's wheelchair.
"This is my legs now," she said. Disability rights advocates call it "the lived experience" — briefly stepping into the shoes of those with mobility issues to better understand day-to-day challenges.
Starkloff is able to move between the wheelchair and a walker. By next week, she hopes a cane is her primary assistant.
'Not an oddity anymore'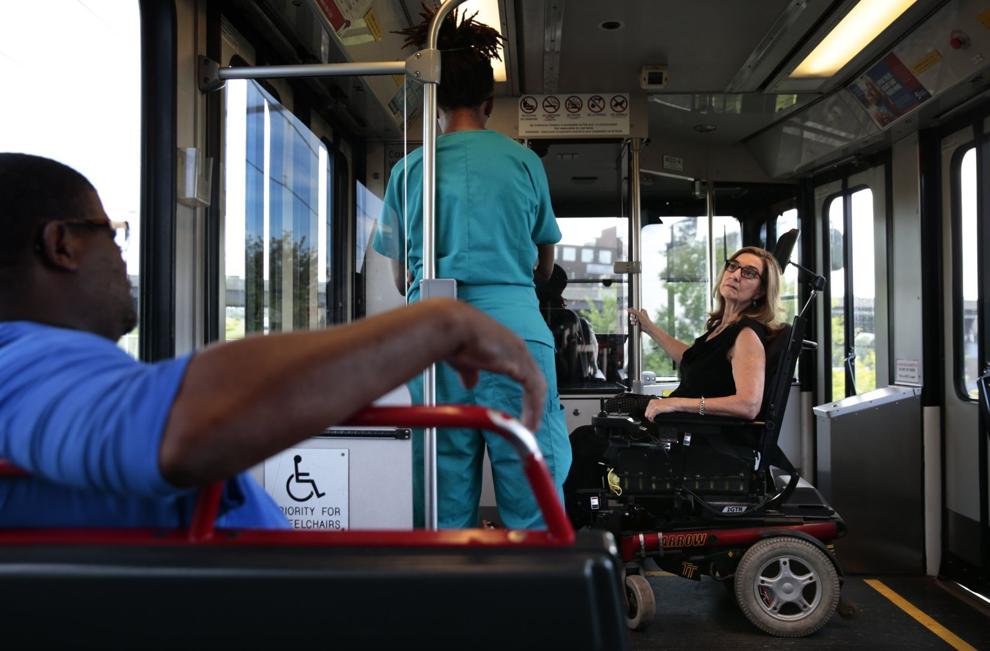 For the past two months, Starkloff has been getting the glances her husband used to get. The looks of pity. Curiosity. Discomfort.
They remind her of when she and Max began dating in 1973. She was a physical therapist working in the nursing home where Max lived for 12 years.
It was the Christmas season. They were at the old Famous-Barr in Clayton and agreed to part ways for a bit to buy gifts for one another. Colleen bent down to kiss him. A woman walked by, her eyes locked on the couple. She fell into a display case.
"Get used to it," Max said of the stares. Two years later, they were married, and the prolonged looks still came. At that time, it was still unusual to see in public a person in a wheelchair. But with the strides made in independence for the disabled, "it's not an oddity anymore," Starkloff said.
Advocates praise progress, but say employment efforts have failed.
Still, she has noted a difference in the way people look at her and treat her when she is using a wheelchair. And the way she has responded.
"The first couple of days when I was getting on the train, I was apologizing because I had this feeling of being in the way," Starkloff said. "And some people go out of their way to talk to me. What is interesting is they are not doing the same to anyone else. I don't know what to do with that."
On the flip side, she has had people ignore her. When she struggled with a heavy door at a shop, the guy at the front desk inside ignored her. But someone on the street volunteered to assist. There, Starkloff found herself in a situation that brings familiar complaints from those who are disabled.
"Sometimes people help without asking, and end up getting in the way, but if someone asks: 'Would you like help?' or 'Can I help you with that?', that sends a different message," she said.
Starkloff, the longtime advocate, would certainly have preferred that her Missouri Fox Trotter, Woody, not "catapulted" her onto the asphalt during a trail ride in Innsbrook. But that incident is providing her insight she never had.
And as she sits in Max's wheelchair, the one she refused to give up after her husband's death, the stories he shared with her over and again resonate more than ever. Navigating curb cuts and public transportation, she thinks of the work she and Max did together. And how the chair has helped her continue that work.
"He still takes care of me," Starkloff said. "He's gone. But he's not."