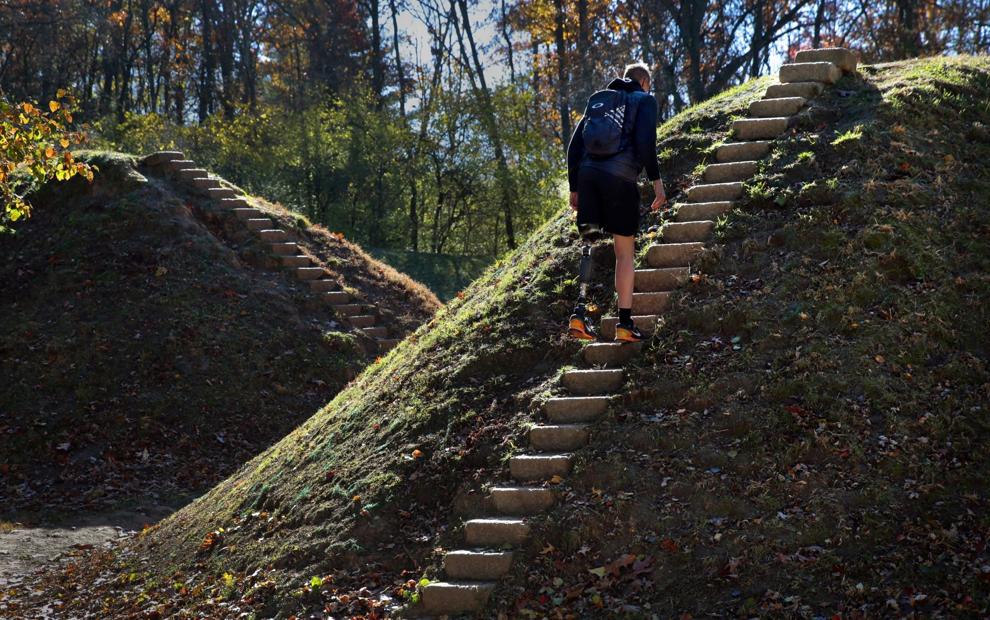 After enduring nine knee operations and ongoing pain for over two years, Dave Cummings was done. A 2019 skateboarding accident had shattered the Crestwood man's left knee beyond repair, and he knew it was time to move to the next step: an above-knee amputation.
What he didn't know was that his luck was about to change. Only weeks before his scheduled amputation, set for May, Cummings learned of a research trial at Massachusetts Institute of Technology to test "bionic" prosthetics designed to operate and feel like a normal limb, responding to signals from the brain. An experimental type of amputation was part of the study. Cummings felt a surge of hope.
Before his accident, Cummings, 51, was a racing cyclist, a runner and a former amateur skateboard competitor who still enjoyed the sport on occasion. Vacations were spent running, biking and hiking — often in the mountains — with his wife, Wendie. Losing his leg was not part of the game plan.
But after so many disappointing surgeries, Cummings was ready to reclaim his life.
Researcher is amputee
The clock was ticking as his amputation loomed, Cummings dove into research. He learned that the lead researcher on the trial, Hugh Herr, is himself a double amputee. In several TED Talks, Herr describes a future in which disabilities are nonexistent, thanks to prosthetics with microprocessors that talk to muscles through surface electrodes or tiny needles.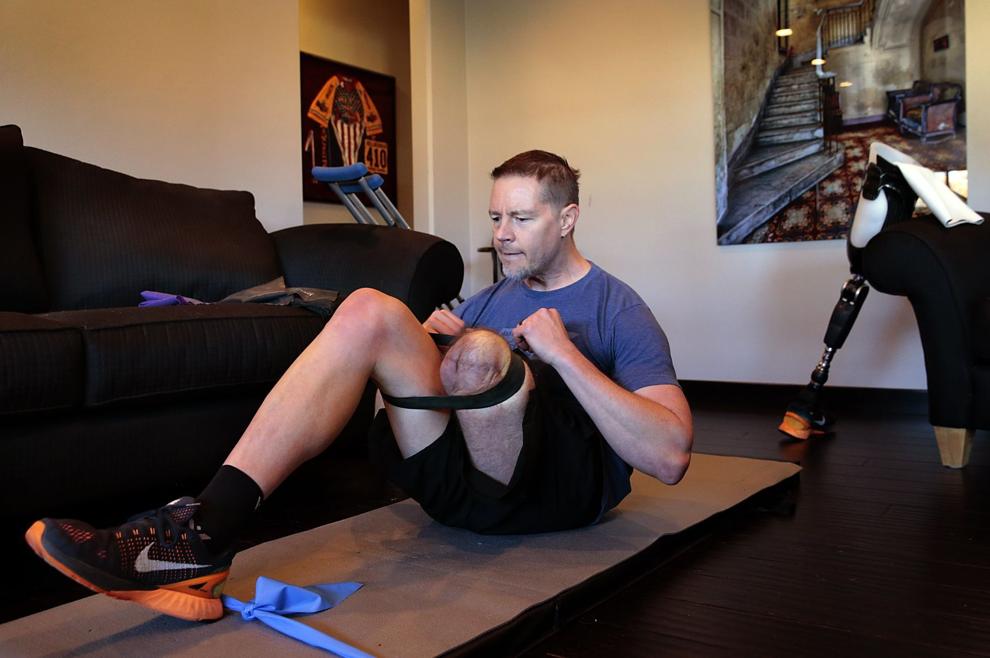 Herr also envisions bionic appendages that deliver superhuman abilities such as lifting extremely heavy objects and flying; he believes this can happen by the end of the century. Comparisons to "The Six Million Dollar Man," the 1970s TV show, are common. One of Herr's presentations is titled "How we'll become cyborgs and extend human potential."
Today's prosthetics have improved over clunky models of previous decades, often including a microprocessor for a specific activity such as biking, running or playing golf. However, the user cannot feel the position, speed or torque of their prosthetic joints without looking at them, making it difficult to control their movement.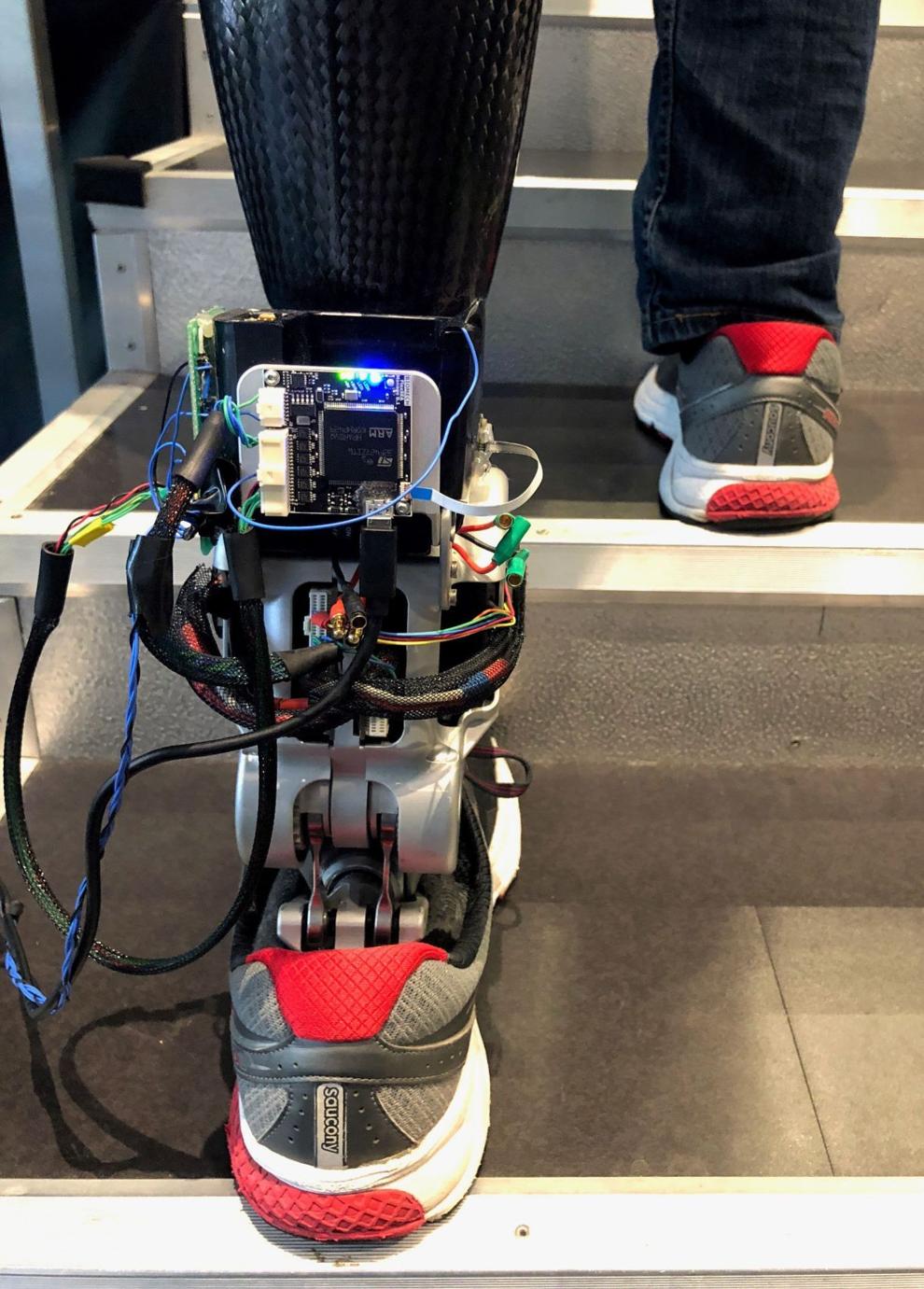 With bionic technology, the user experiences natural sensations of ankle-foot positions and movements, without consciously trying to move the bionic limb. The bionic prosthetic functions as part of the body rather than as a separate device that provides no feedback about the position of the leg or foot, Herr explains in a TED Talk.
Eager to learn more, Cummings called the MIT Media Lab, where the research is being conducted. Herr answered the phone.
"I told him I'm 51 years old, but I'm not your typical 51-year-old. You're not going to find a better candidate because I'll bury myself to get myself back," Cummings said, noting that "bury" is a term used in cycling to do everything possible to achieve a goal.
He was approved for the study, which begins with the experimental amputation known as agonist-antagonist myoneural interface, or AMI, that preserves muscles and nerves so they can hook into a bionic prosthesis.
Amputation, recovery
The surgeon who developed AMI in collaboration with MIT, Matthew Carty, operated on Cummings in July at Brigham and Women's Faulkner Hospital in Boston. Over the last few years, as part of the study, Carty has performed 30 below-knee AMI amputations. Cummings was only the sixth person to undergo above-knee amputation.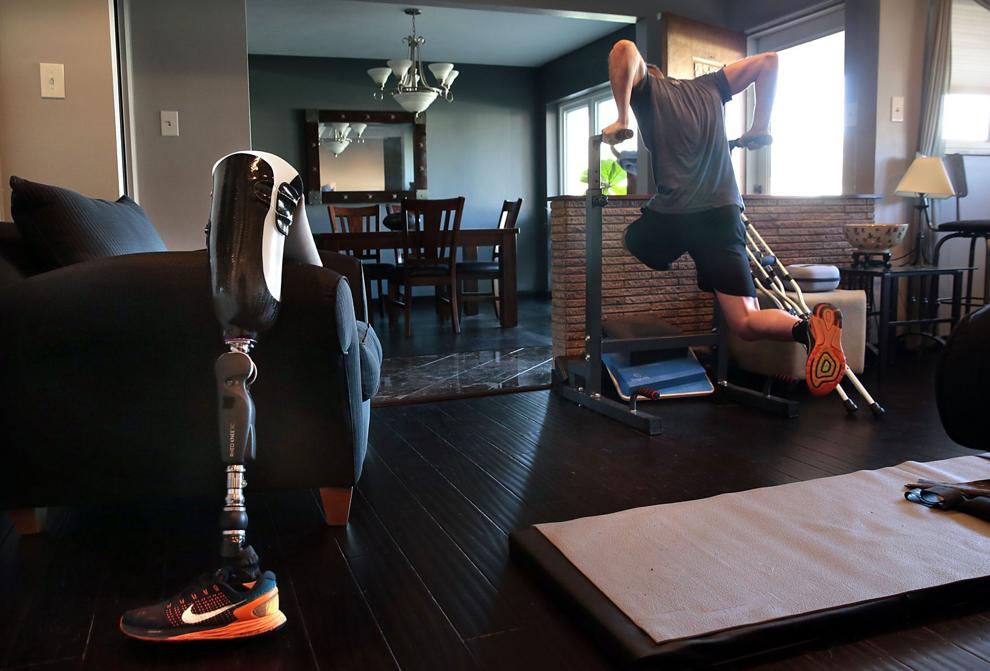 "Dave was a great candidate" for the AMI procedure, Carty said. "He's an inquisitive, smart, totally motivated guy in superb health. He aspired to restore himself to a very high level of function that he couldn't achieve by keeping his leg."
Following surgery, Cummings stayed in Boston for recovery and two months of physical therapy. He was fitted with a loaner prosthetic and, with his trademark tenacity, set about learning to walk and climb stairs. Within a few weeks he was shooting baskets and hiking on gravel trails.
"Most people don't do that after surgery, but that's who I am," Cummings said. "I walked 4.5 miles one day after not walking for two years. I would walk 10 miles if I could."
He did have some bleeding at the wound so he slowed down to allow healing.
Next up for Cummings: a January trip to Boston to follow up with his surgeon, and a separate meeting at MIT. Cummings will travel to Boston a few times a year for the next four years to test the prosthetic models with MIT staff.
Cummings doesn't know if MIT will have a working model by January. The research for below-knee devices has been underway for quite a while, but above-knee models are in early stages.
"The bionic leg is probably five years down the road. I know it's not going to be cheap, but it will be a game changer. Just because I'm in the clinical trial doesn't mean they'll give me one," he said.
'I want to ride'
For now, Cummings is working with a local prosthetist for a device for everyday use and a special one for cycling. "I want to get the best microprocessor knee possible. I don't want to be held back in any area," he said.
Health insurance, though, could put a wrinkle in those plans. He's waiting to hear what will be covered. For the study, MIT is covering travel and hotel costs, but all medical services are being billed to Cummings' insurance.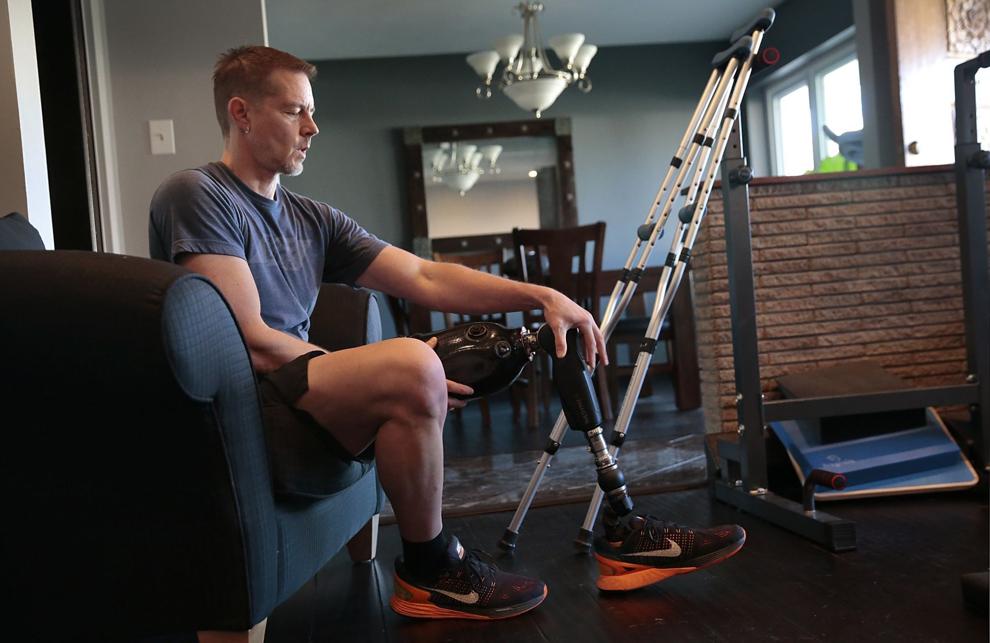 He's not sure if he'll be able to return to his job as an occupational therapist because of the active nature of that type of work, including being on his feet for hours at a time.
But Cummings has supporters. His cycling team friends have raised more than $46,000 through a GoFundMe page.
"I want to ride bikes again, do as much outdoors as I can with Wendie," Cummings said. "I want to be as active and as independent as possible."
Although he will have to wait several years for a bionic leg, Cummings is already benefitting from the AMI surgery. Research shows that AMI patients using a standard prosthetic leg have better stability, gait and stair-climbing than those who receive a standard amputation. One goal of AMI is to restore feeling to the area of amputation, and Cummings began noticing that for himself in October.
AMI also reduces "phantom limb" pain and restores a sense of proprioception, which is the ability to sense the movement and location of body parts. It's what allows us to move without thinking. The surgery also helps preserve muscle tone in the limb.
Carty would like to see AMI become the new standard for amputations. Rather than thinking of amputation as "the equivalent of throwing in the towel because we have nothing else to offer the patient," he said, "we're pushing to reframe amputation as a reconstruction feature that may yield a functional outcome that is better than keeping the limb. Sacrificing a limb might lead to less pain than trying to preserve it. Once we give license to think about it this way it opens all sorts of doors for patients."
The Boston Marathon bombing in 2013 was a catalyst for Carty and his colleagues at Brigham, who took care of a lot of the people injured at that event. "We had been thinking there ought to be a better way. It crystallized for me the need for a better amputation."
Keeping the faith
Since returning home from Boston in early October, Cummings has been hiking and working out daily with his prosthetic leg.
While he appreciates that the prosthetic allows him to walk and get around without crutches, it's a far cry from a fully functional leg.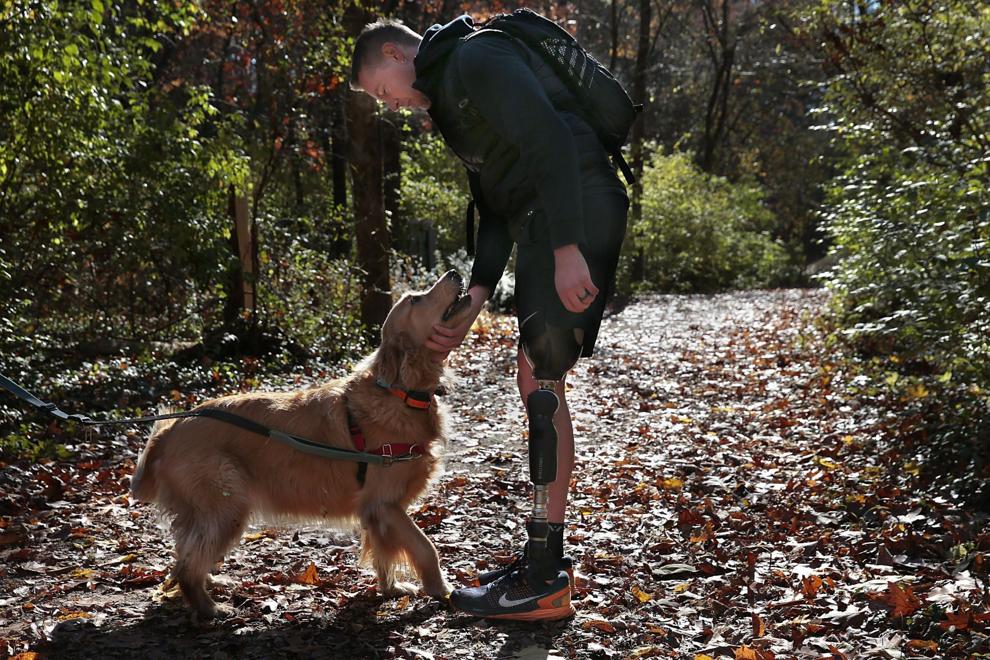 "I have to look down all the time because there is no perfect surface," he said. "I have to be aware of cracks and slopes because I don't feel them (with the prosthetic foot). My first day home, I was walking in thick grass and got stuck."
Cummings' wife, Wendie, said it's been a tough journey. "It's hard for me to see him benched and see him suffer. … With his strength and persistence I know he's going to be OK. But he wants to feel OK yesterday," she said.
A cycling friend is making a stationary bike to help Cummings work on balance and endurance. But the prosthetic socket goes to the top of his thigh, making it difficult for him to sit on a bike saddle. He's hopeful that MIT can figure something out.
Hope seems to be a theme for Cummings. Although an amputation is difficult, he doesn't regret the decision.
"You lose your pain, but you don't lose your hope."