WILDWOOD • During the day, the scariest thing you're likely to find on the Rock Hollow Trail are cyclists zooming around blind curves in this thickly wooded corner of west St. Louis County.
It's at night, so the stories go, that the 2.3-mile path earns its unofficial moniker: "Zombie Road."
Legends that have been passed around for years tell of spectral American Indians and Confederate rebels, packs of child ghosts, and the tortured souls of working men killed in industrial accidents.
It's a perfect stew of creepy stories and tall tales — especially around Halloween — to attract the curious and spur online message boards, YouTube videos and even a cable TV documentary.
Lately, though, the talk often is about who is fearless enough to ignore other kinds of warning signs — the ones that say hiking the trail after dark is punishable by fines of up to $1,000 and up to 90 days in the clink.
Indeed, there are other figures lurking on Zombie Road: St. Louis County police officers.
This year alone, police have written at least 83 tickets for late-night trespassing, and tonight will probably bring more Halloween-minded ghost hunters. Scofflaws usually are fined $300, plus $26.50 in court costs, said Patti Reust, Wildwood's court administrator. (Yes, the tickets say "Zombie Road" on them.)
Luke Backer, a sophomore at Kirkwood High School, explored Zombie Road once and wasn't enthusiastic about going back when he and about a dozen friends made a late-night visit last month. Backer said that he's skeptical about the paranormal — but that there is something creepy about the trail.
It weaves between sometimes steep ridges, and the temperature on the valley floor can seem unnaturally cool. Thanks to a thick forest canopy, the trail often is shrouded in virtual blackness. In the dark, commonplace sounds — falling branches, bird calls and the rustling of leaves — can sound strangely sinister.
On his return visit, Backer and a friend drove around while the rest of the group disappeared into the woods. "I think she thought the ghosts were going to attack her," he said. "I was just afraid of the cops."
When they drove back to the trailhead to pick up their friends, Backer said, they were happy they stayed behind.
"There were at least 13 cop cars with the lights flashing," he said. "And (my friends), they were all sitting on the curb looking sad."
Scenes like that aren't unusual, but the citations seem to be making an impact.
"There's a lot less trespassing than there used to be," said Capt. Kenneth Williams of the county police, which has a contract to patrol Wildwood.
For that, police probably can thank the Great Rivers Greenway, the regional, trail-building agency. Last year, it converted Lawler Ford Road (the real name for Zombie Road) — a bumpy, sometimes impassable forest lane — into an asphalt-paved nature trail.
Officials hoped the trail would drive a stake in the Zombie Road legend, said John Nesbit, St. Louis County's chief park ranger.
"It isn't as scary as it was when it was a dilapidated road," he said. "The ambience kind of changed."
A road well-traveled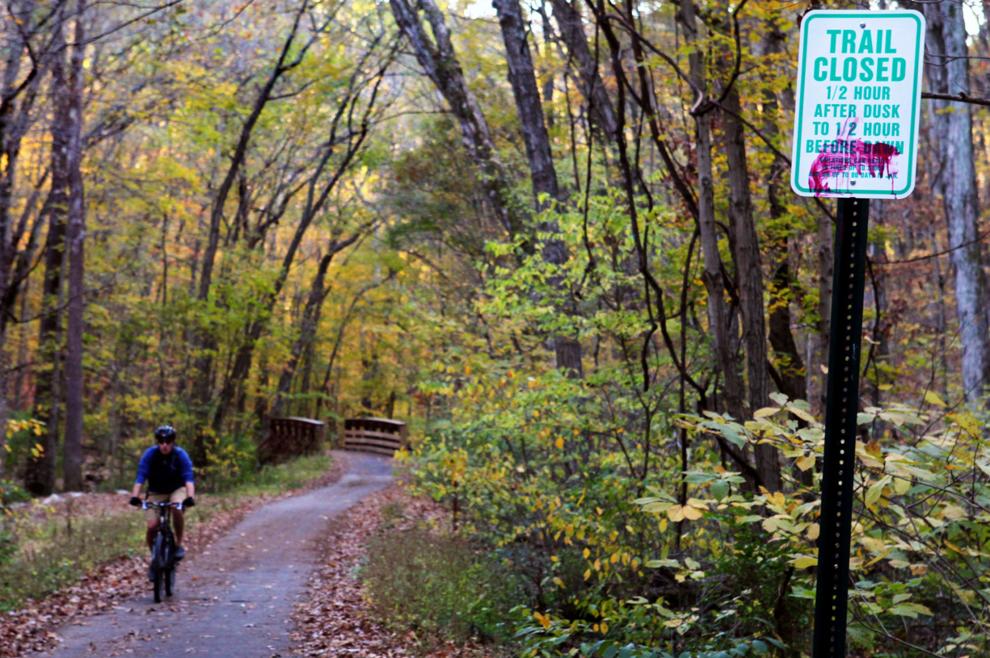 Teenagers have told spine-tinglers about the road for generations. And for just as long, they've been sneaking there at night — to hang out, drink or just give themselves a fright.
The road likely was built on top of a track used by Indians and early settlers to get to a narrow stretch of the Meramec River.
During the Civil War, it was one of the main routes from western St. Louis County to Jefferson County and a site of strategic significance, said Lynne Martin, former president of the Wildwood Historical Society.
Years later, the road was used by trucks hauling gravel dredged from the Meramec. At night, it often was a lover's lane.
Martin's family moved to the area in the early 1950s, and even then teenagers liked to tell spooky stories about the old road. Young people might not have called it Zombie Road at that point — "We didn't use the word zombie for anything," Martin said — but they'd dare each other to visit at night.
Martin doesn't think the woods along the road are haunted. But she admits she was less skeptical in 1967, when she drove a group of teenagers down the road late at night and her Volkswagen briefly stalled. "They all started screaming," she said.
By the 1970s, the gravel operation had closed and the road quickly fell into disrepair. Creeks washed out some low-lying parts, making Zombie Road impassable for most vehicles.
Legends grew, especially after the release in 2007 of a direct-to-video documentary, "Children of the Grave." It presents what it calls photographic evidence of Zombie Road's famous "shadow people," human silhouettes that follow late-night explorers along moonlit ridgelines.
After the documentary aired on the Sci-Fi Channel, packs of teens started showing up again on Zombie Road.
Those were the bad days, remembers Gary Crews, a retired St. Louis County police captain who once commanded the Wildwood precinct.
"We were getting kids going down Zombie Road by the hundreds," said Crews, who now is Wildwood's parks superintendant.
Most trespassers were just looking for harmless fun, Crews said, but some brought beer, drugs and weapons with them.
"You'd get kids going down there who are 13 years old, and they might be followed by a group of 40-year-old men," Crews said. "And it's 3 in the morning. Nothing good is going to come from that situation."
Nesbit said park rangers were surprised to read stories of the supposed history of the trail — stories that seemed to multiply online after the documentary's release.
"People were talking about abandoned insane asylums and stuff like that," Nesbit said. "And we were thinking, 'Where was that?' "
Some tales claim that, just off the trail, there once was an orphanage that was run by sadists. Hikers supposedly have discovered a forgotten cemetery for murdered children. Another story says an escaped mental patient nicknamed Zombie sought refuge and died in the woods.
"It's all fake," Nesbit said. "But that doesn't seem to stop anyone."