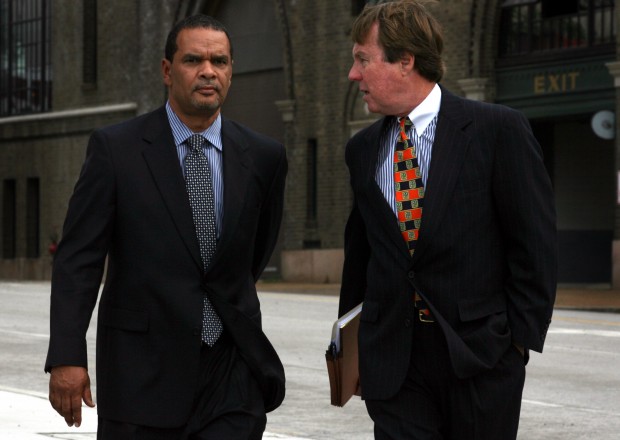 ST. LOUIS • Charges against a St. Louis man who was serving a 25-year prison sentence were formally dismissed Tuesday because his conviction hung on the word of discredited police officers.
U.S. District Judge Carol E. Jackson approved a Nov. 30 motion by prosecutors to dismiss the case against Michael James Holmes, 52.
The case against Holmes was spiked by Bobby Lee Garrett and Shell Sharp, two former St. Louis police officers who hit the news in late 2008 and 2009.
Garrett is finishing a 28-month prison sentence for theft of government property, conspiracy to commit wire fraud, making false statements and misapplication of government funds. Garrett stole money, planted drugs and made a false arrest to cover his crimes.
Prosecutors began dropping cases involving Sharp after a federal public defender accused him of lying to obtain search warrants. In an interview with the Post-Dispatch last year, Sharp denied those claims and said he was the victim of a departmental "witch hunt."
At Holmes' 2006 trial, Sharp testified that he saw Holmes drop a bag while fleeing from police searching a house in the 5800 block of Cates Avenue in 2003. He also spoke about watching Holmes after an informant had tipped him about Holmes' alleged drug activity.
Garrett testified about a 1995 search and arrest of Holmes that doubled the mandatory minimum that he faced on the 2003 case from ten to 20 years.
In 1995, Holmes filed a complaint accusing Garrett of planting the drugs and entered an Alford plea, maintaining his innocence but conceding that authorities had enough evidence to convict.
And he always said he was innocent in the 2003 case, telling Jackson at sentencing, "Before God and before this court, I am innocent. I have done nothing," according to a transcript.
After being convicted at trial and sentenced to 20 years for crack possession and five years more for possession of a firearm in furtherance of a drug trafficking crime, Holmes appealed but lost in 2007.
He filed another appeal in 2008, and Jackson appointed Welby to represent him.
In an interview earlier this year, U.S. Attorney Richard Callahan said that prosecutors opposed Holmes' motion because they believed that they had enough corroborating evidence without the testimony of Garrett and Sharp. But a September ruling by Jackson that the evidence was unusable because it had not been presented at trial meant they would have to re-try the case.
"We're now back ... as if we're making a fresh charging decision," Callahan said. And in the meantime, the drug evidence had been destroyed and authorities were no longer willing to have Sharp or Garrett testify. Although another officer was present, he didn't see Sharp find and seize the drug evidence.
That's when prosecutors asked for dismissal of the case.
"I think Mr. Holmes is having a good day," said Holmes' lawyer, Steve Welby.
Holmes, who has been out on bond since October, declined an interview request passed through Welby.
Neither federal nor state prosecutors could provide a total number of cases affected by Sharp or Garrett, as well as other former officers whose credibility has been called into question in recent years.
"I think the one thing it shows is that the system does work," said Welby. "The feds went after Garrett and they discredited Sharp and the people who maintained their innocence were able to obtain ... their freedom."