ST. LOUIS • A chimney top set sail one night from a historic building in the 1900 block of Bremen Avenue and crash-landed with a solid thud.
The three-story vacant building also rains insulation, rock tiles and bricks, said Rhonda Spencer, who has rented a home next door since 2010. She described a range of drumbeat sounds from the cascade of debris in the area.
Pointing across Hyde Park from her front doorstep, she said a roof collapse rumbled like a thunderclap. And a corner building roared when it smashed into the road.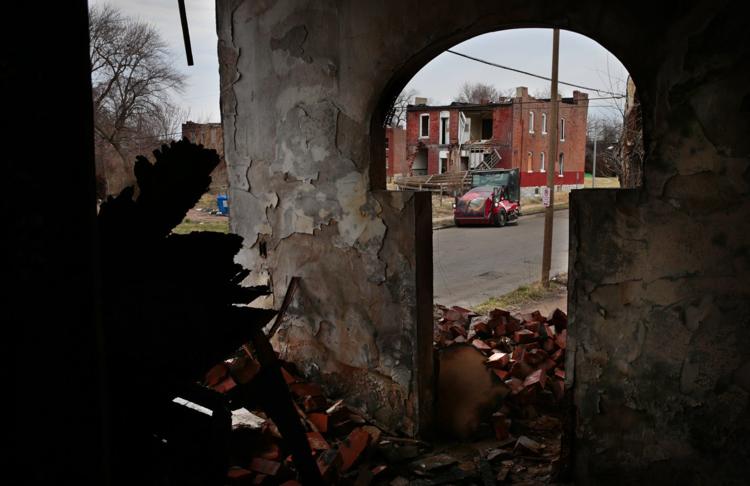 "This one sounded like an explosion," said Spencer, 37.
Thousands of crumbling buildings like these are reminders that St. Louis is a shell of what it once was, particularly on the North Side. Population has fallen to about 309,000 today from nearly 857,000 in 1950.
Because bricks last so long, rebuilding often seems like a possibility; however, the city's list of vacant structures has nearly doubled since the Great Recession ended in 2009.
City officials said that there were 7,100 vacant buildings and that 4,000 of them should be razed for not being structurally sound. They expect to soon have $3 million over the next fiscal year, an increase from $2 million currently, to speed up demolitions. That amount does not include millions of dollars the Metropolitan St. Louis Sewer District is spending to clear abandoned buildings for green space and private investors.
"Even if we get $3 million, it's not going to matter. We need more," said Todd Waelterman, director of city operations. "It's a big priority of the mayor to get these down."
This month, in a report titled "Resilient St. Louis," Mayor Lyda Krewson's administration identified abandoned property as one of the biggest challenges because it blights neighborhoods, poses a public safety risk and drains public resources. While there's always interest in historic properties, nearly half of city's land bank inventory has never received a purchase offer.
Soulard and Lafayette Square serve as powerful examples of historic preservation realized on the grand scale, but many other areas have been waiting so long for developers that falling bricks are part of the backdrop.
Krewson, who was elected to her first term as mayor in 2017, supports more demolition, and other leaders have stepped up.
Former 3rd Ward Alderman Freeman Bosley Sr., 83, held off wrecking crews as much as he could for more than three decades. He sees unclaimed value, such as a jazz club and outdoor restaurants around Hyde Park one day like in the Central West End.
"It's kind of hard to continue on that path when you have all this deterioration around," said his son Brandon, who now represents the ward.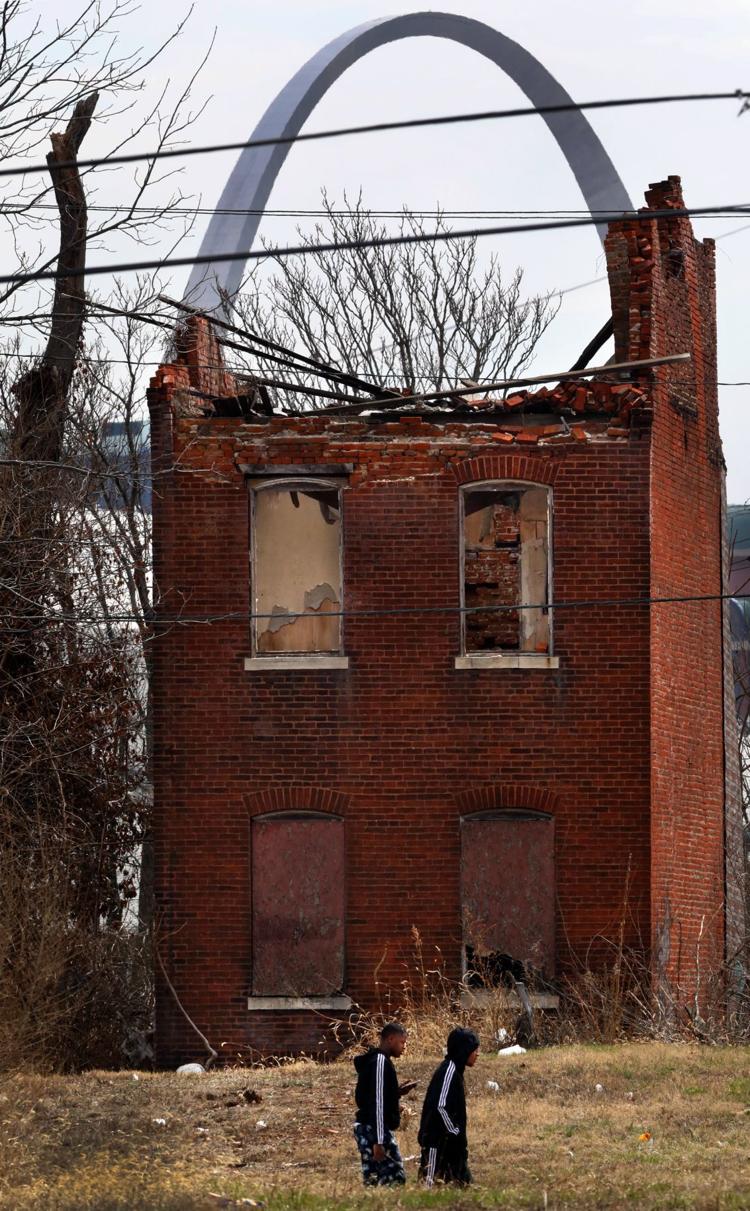 There are success stories of buildings saved in the area and also one of the highest concentrations of abandoned structures — about 950.
The unthinkable happened a few weeks ago, when the sound of a city-contracted demolition team caught the senior Bosley off guard. He immediately contacted his son, who recalled the conversation this way: "What the hell is going on down the street? Who told them to tear that building down?"
Brandon Bosley, 30, supported the removal of the building on Blair Avenue that faced the park. It had large holes of destruction and bordered Kare A Lot Child Development.
"We are really happy," Tinika Long-Steele, who runs the day care business, said of the cleanup. "The bricks were literally falling off the building, and there's children walking past here every day."
Brandon Bosley said a community planning meeting would be held at 10 a.m. March 31 at Herbert Hoover Boys and Girls Club to discuss demolition. He said he wanted residents to help come up with a comprehensive plan to address which buildings should be removed.
He supports focusing on homes that have already fallen down, as well as those that are fire risks and nests for crime.
"When we get rid of that crime, it will bring value to the area," he said.
Better enforcement
Putting more money into the city's strained building demolition isn't the only tactic St. Louis leaders are pursuing to dent the inventory of vacant property.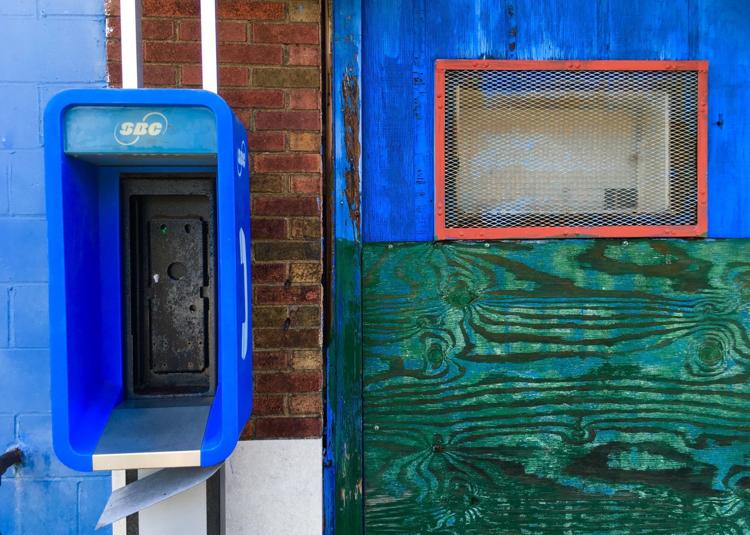 "There's a bunch of buildings that need to be torn down, but there's a bunch of buildings that need to be stabilized and put back into use as well," said Kevin McKinney, executive director of the St. Louis Association of Community Organizations, a nonprofit coalition of neighborhood groups in the city.
That group backed a measure on the April 2017 ballot that would have instituted a small raise in property taxes to finance building stabilization and renovation — buying a little more time for the many historic structures waiting for new owners.
The owner of a $200,000 house would have paid about $22 more annually so the city could issue up to $40 million in general obligation bonds for abandoned property stabilization, not exceeding $6 million annually.
By paying for some of the repairs, prospective buyers wouldn't have to take out as much in loans, hopefully making it easier for new owners to finance the last of the rehab. A majority of voters supported the measure, though not enough to clear the city charter threshold of two-thirds approval for bond issuance.
A hearing on the lawsuit was held Monday in St. Louis Circuit Court, and Judge Michael Stelzer is considering the city's motion to rule in its favor.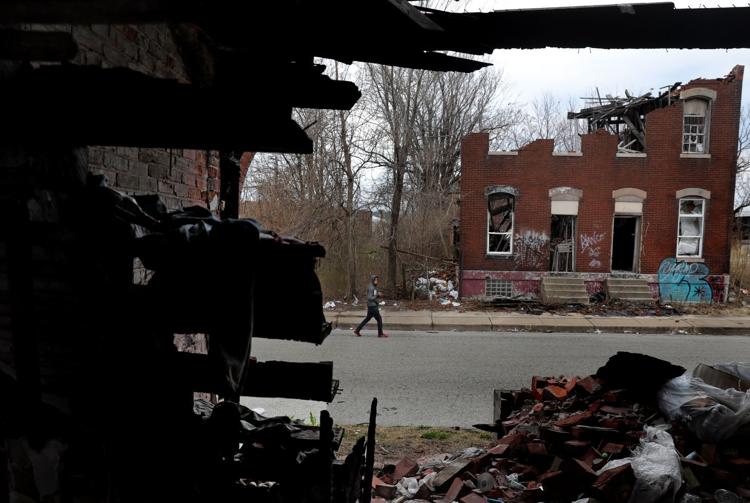 The city is also putting money into legal efforts to fight vacancy. Just last month, the St. Louis Development Corp. appropriated $100,000 to help fund a new lawyer at the region's premier nonprofit legal clinic, Legal Services of Eastern Missouri, to help clear title issues so it's easier for the city to sell properties. Legal Services would also work with community development organizations to tackle vacant problem properties.
The city, the Missouri Department of Conservation and neighborhood groups have identified clusters of properties to demolish, many owned by the city's land bank.
The groups are working with the city and MSD to keep the newly vacant lots looking nice, hopefully adding an amenity to the neighborhood while accomplishing MSD's goal of producing more land where rainfall can drain naturally instead of running into the sewer system.
"We've done nothing at random," said Don Roe, St. Louis planning director. "Ultimately we're moving most of this into green space that needs to be maintained."
With reasonable resources for demolition and revitalization, city building commissioner Frank Oswald said it might take five to 10 years to whittle 7,100 vacant structures to 3,000, which he described as a manageable level.
He said there were 85 demolition contractors certified with the city, up from about half a dozen 25 years ago. The average cost is about $8,000 per structure. The city brings down about 125 buildings a year; private landowners demolish about 250.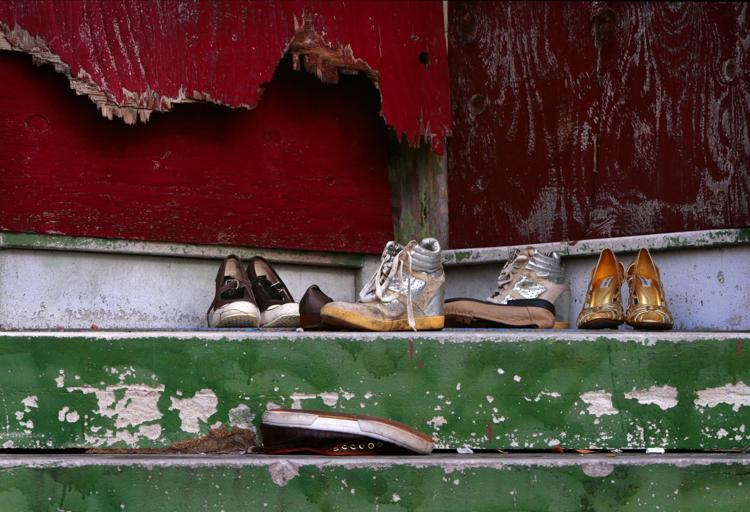 "I'd like to think we will be getting a handle on it as the economy continues to stabilize and we get more and more development," Oswald said. "That's why it's important to keep the buildings that are ones you can possibly renovate boarded and secured, so they are not dangerous to the neighborhood."
He said the city would do a better job enforcing the vacant building ordinance.
The city just established a Web-based data system for inspectors to more consistently upgrade records and ensure required fees are assessed in a timely manner. This fall, fines will be attached to annual tax bills, rather than to liens.
In addition to better data, he said the city would work with aldermen, police and area residents to identify the worst vacant buildings and come up with plans with city problem property attorneys to better respond.
"The idea is to force people to do something with these buildings besides sit and speculate," he said. "The cost of owning a vacant building is going to go up substantially."
Erasing history
Residents of Hamilton Heights remember when businesses were thriving on Dr. Martin Luther King Drive and would like them to once more. The neighborhood illustrates the challenges at play with demolition.
There are vacant buildings in every direction.
"We ran people out of this building and now they are living down there," said Solomon Craighead, a driver for Signature Demolition and Trucking, waiting for a load of rubble to haul off from the remains of three buildings.
Jeffrey Boyd, who oversees the area as 22nd Ward alderman, likes to preserve things.
"There are times stuff is so far gone, there's nothing you can do," he said.
The three storefronts recently being torn down had residences on top. The vacant historic buildings were damaged by fire.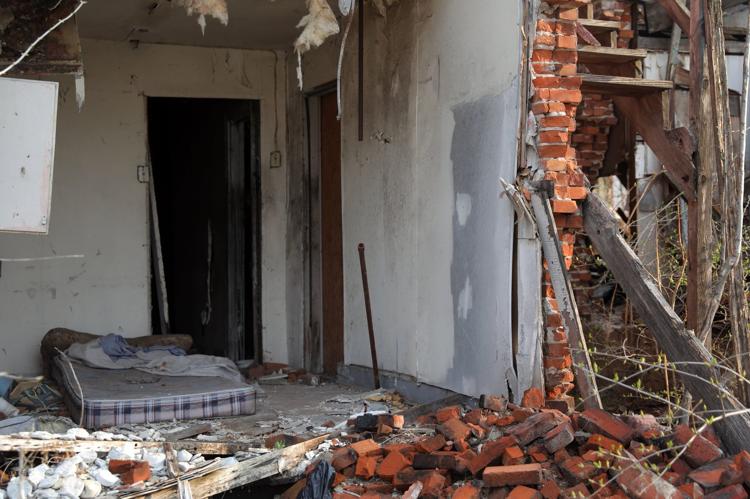 "We deal with homelessness over here quite a bit," he said. "In the winter time, when it starts getting cold, buildings start going up in smoke."
A few blocks away, at 5872 Minerva Avenue, Hempstead Elementary School sits empty and exposed. After nearly a century of service, it closed in 2003, then caught fire in 2014, possibly from lightning. Boyd said he hoped the public school system would remove the giant "eyesore" that was once a work of art designed by architect William Ittner.
Nearby resident Mark Grady said the fire weighed heavily on him. He and his wife refurbished a large brick home 12 years ago in the 5800 block of Romaine Place. Because of the empty lots along Minerva, the crumbling school can be seen from their property. They just put up a new wooden fence around a large side yard.
"What's wrong with believing in a community?" Grady said. "They are supposed to be coming through, uplifting the neighborhood. I clean up where I stay, but I can't control everybody else."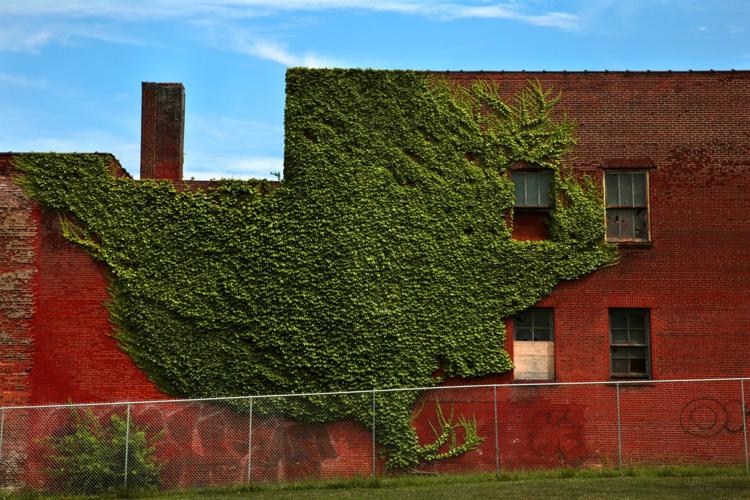 Boyd said he rebuilt a home that had only the walls left. He's currently turning a large building into an event space. Wiping away old structures, he said, erases history.
"You have to see beyond the bad," Boyd said.
He said the city was trying to shore up one property he particularly liked.
"Unfortunately, bricks are falling," he said. "We need to hurry up."
Vacant, crumbling properties balloon to 7,000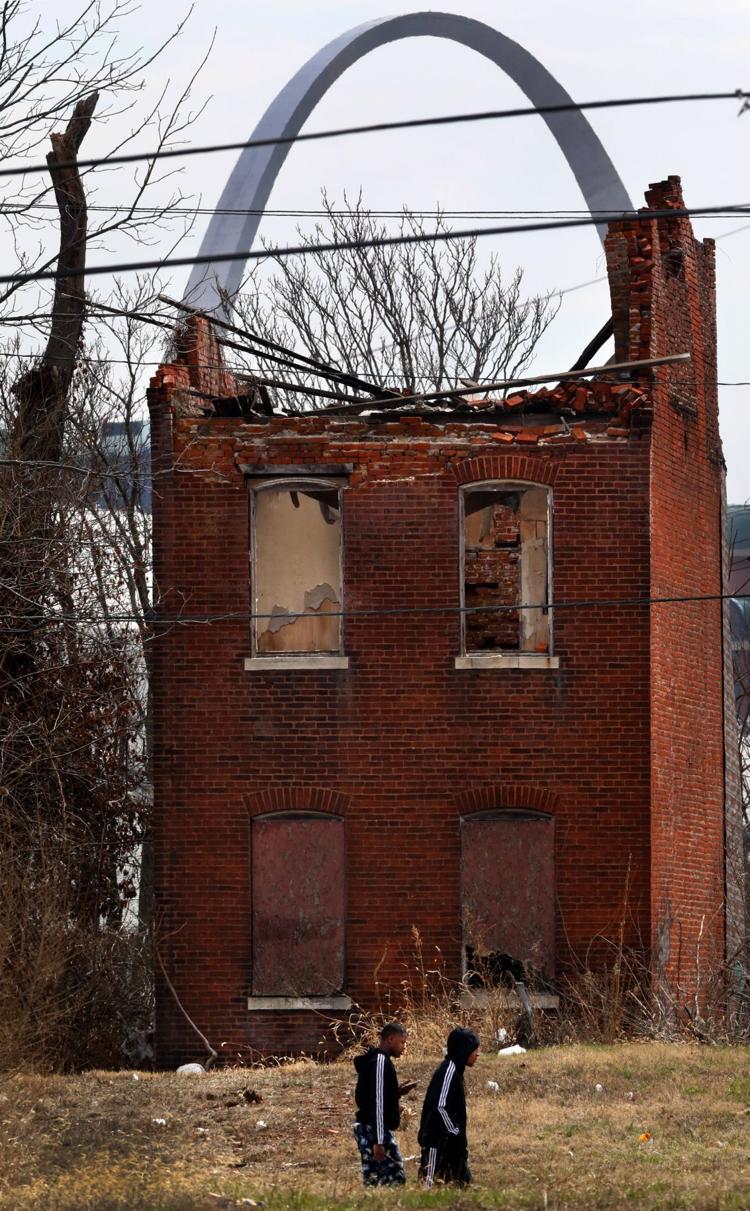 Vacant, crumbling properties balloon to 7,000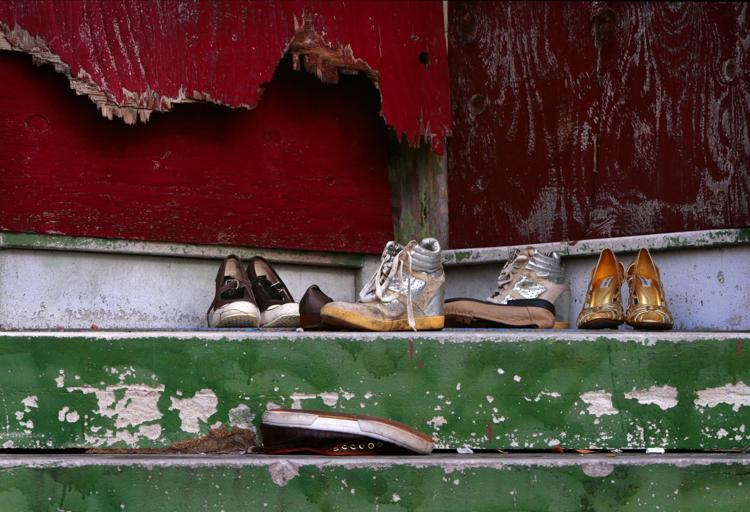 Vacant, crumbling properties balloon to 7,000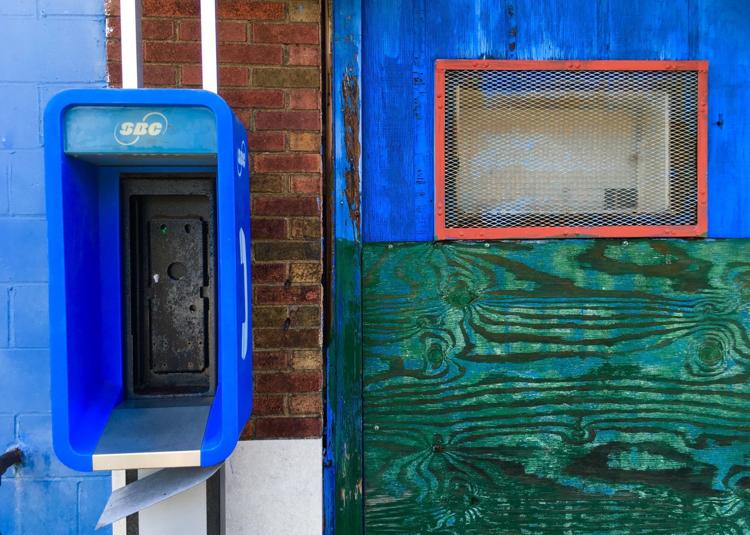 Vacant, crumbling properties balloon to 7,100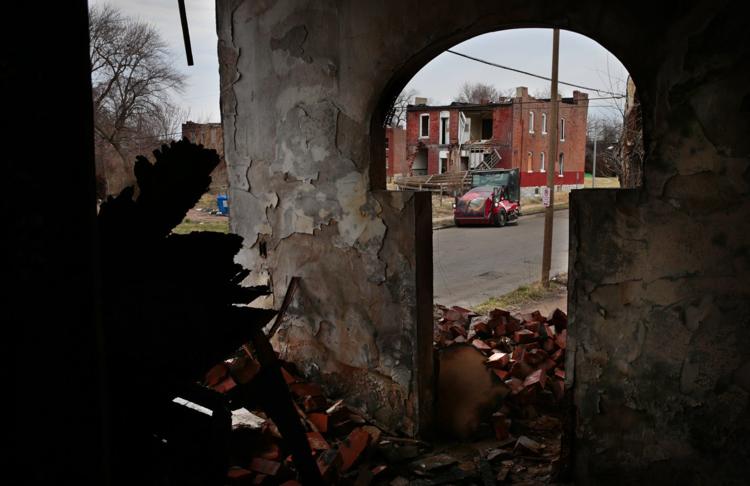 Vacant, crumbling properties balloon to 7,100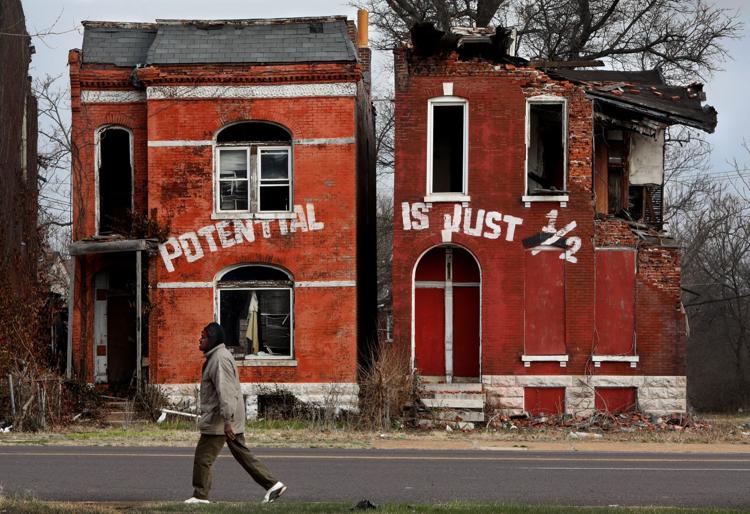 Vacant houses in Old North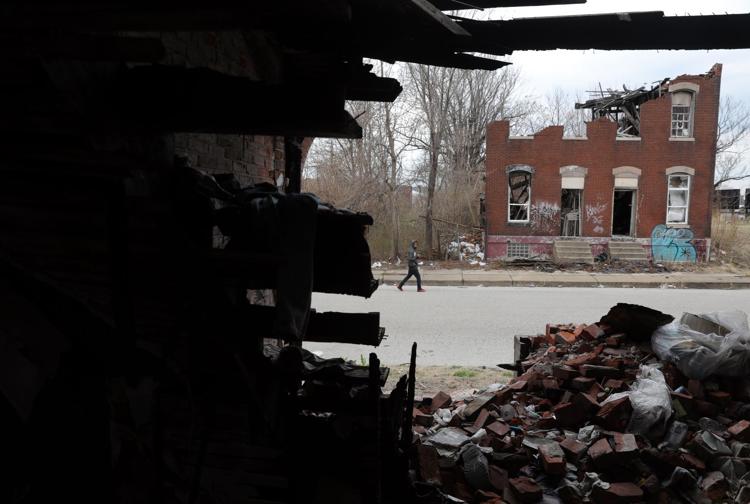 Falling bricks in Hyde Park
Squatters in vacant building