WEST ALTON • Scott Rayfield, 49, has a taste for wild game and the many fish that he catches. Last week, standing on the rocky bank of the Mississippi River below the Melvin Price Locks and Dam, he lived up to the writing on his shirt: "fillet and release."
With ease, he cast a heavy line 60 yards or more until a giant hook and handmade sinker splashed into the middle of the river. He jerked the line a few times and soon snagged into the flesh of a paddlefish, or spoonbill, whose ancestry predates the dinosaurs.
Rayfield, unsure how big it was, yelled after R.J. Hynes, 28, who was having a tough first day, to grab the gaff.
"Hook him right in the gut and pull," Rayfield said as he drew the catch closer to land.
The paddlefish turned out to be about 20 pounds and a little over 4 feet long, measuring from the tip of its flat snout to tail. It was a small one, but it whetted Rayfield's appetite.
"I think there are a few fish here today," he said, eager to cast again.
Fly fishing beneath a majestic mountain range this is not. Snagging, as it is called, is a bare-knuckle sport done here just up stream from a refinery and power plant. Anglers, many of whom seem as stout as the primitive fish, don't rely on bait or lures. They yank bare treble hooks through the murky water, hoping one of the sharp points will randomly lodge into the side of a paddlefish.
When that happens, they wrangle the slippery gray beasts to the bank with grit and strong fishing rods.
Excitement over the annual tradition, which is in season, can be intoxicating and addictive. The fish vary greatly in size. The Missouri state record weighed 139 pounds, 4 ounces. Somebody pulled it out of Table Rock Lake in 2002.
Stories of man-size fish keep the mystery of the catch alive. Ignoring diet, absence of teeth and the long snout, paddlefish resemble sharks. They are boneless, scaleless and, fishermen say, quite delicious.
The fish are native to the Show-Me State and mainly found in the Mississippi, Missouri and Osage rivers, as well as large bodies of water. The paddlefish is Missouri's official "aquatic animal," not to be confused with the state fish — the channel cat.
Hynes had heard Rayfield tell stories about many of his huge catches and the rare ones that got away. On this day last week, Rayfield finally enticed Hynes to come along and try near the dam, about 20 miles upriver from St. Louis.
But Hynes didn't have the cadence needed to snag. The 10-foot-long fishing rod and open-face reel didn't feel right in his hands. He kept hooking into rocks and who knows what else on the bottom of the river. He spent most of the time retying line and listening to Rayfield, who kept shouting to cast farther out.
Rayfield, who works at Mississippi Lime Co., and Hynes, who works at a salvage yard, are neighbors near Ste. Genevieve. They also share an unlikely bond: Hynes survived a fatal wreck coming home from school when he was a teenager. One of Rayfield's sons, also in the vehicle, did not.
At one point, when Rayfield had another fish on the line, he yelled over to Hynes with a kind offer.
"You want to reel this one in?" Rayfield asked.
Hynes laughed, spit tobacco juice on the rocks.
"No," he said. "I catch my own fish."
Paddlefish are some of the oldest fish around. Fossil records date the species back 300 million to 400 million years. The fish is named after its distinctive snout, or rostrum, which makes up about a third of its length. Scientists still aren't sure what the snout does.
In the past decade or so, invasive big head and silver carp, instead of paddlefish, have been getting hooked at the end of snagging lines in increasing numbers and sizes. Last week, fishermen here caught carp left and right. Somebody took one home that appeared bigger than a fourth-grade child.
Both paddlefish and the carp are plankton eaters.
"There could be potential problems to paddlefish because they are consuming the same things," said Quinton Phelps, a fish scientist at Southeast Missouri State University.
Paddlefish cover a lot of water. One that was tagged last year downriver from Memphis on the Mississippi was recently caught hundreds of miles away near Kansas City on the Missouri River.
Chris Morrow, supervisor of the Missouri Department of Conservation's regional office in St. Louis, said male and female paddlefish try to swim upstream to historic spawning areas every spring. Unless the river is at flood stage or gates are open, the fish tend to bunch up below dams.
"That's why people go there at Alton and Chain of Rocks, because those are the upstream barriers in this area," Morrow said.
The most popular spot in the state to snag paddlefish is the Lake of the Ozarks, below Truman Dam, an area where the fish are mainly stocked. Anglers travel long distances because of the abundance of fish and the bag limit compared with other states, said Mark Morgan, an associate professor in the School of Natural Resources at the University of Missouri-Columbia who has studied the social and cultural aspects of the topic.
According to a survey of more than 400 people snagging there, most of them were middle-aged men from rural areas.
"There's a certain look to the trout angler. It's all about new stuff," Morgan said, whereas snagging tends to attract "regular good ol' boys. They aren't into the social status. The gear is not so important."
Especially below Melvin Price Locks and Dam, where most anglers don't use boats, nor electronic fish finders. They heave their hooks out as far as they can from the bank.
Many of them are mesmerized by the mystery of what's out in the water to catch. And they like the taste of paddlefish, which aren't bottom feeders.
"They are probably the best-tasting fish you'll ever get out of the river with the exception of walleye," said Robert Acker, 48, of Alton, who has been taking a break from driving a big rig since a rollover accident.
He said he'd been snagging nearly every day for the past month. In Missouri, the current season ends April 30, or May 15 along the Mississippi River.
"The only time I don't come is when my back won't let me do it," he said.
People fishing quickly brushed off comments that suggest snagging isn't sport.
"Let them try and see," said Bill Bowser, 62, of Florissant, who retreated to drink beer after an hour of losing hooks and wearing his arm out.
There are spectators. Students from McCluer High School who briefly stopped by during a field trip were speechless at the sight of the fish and the rugged catching method.
Joseph Clemons, 73, a retired landscaper from St. Louis, watched from a chair and sometimes tied hooks for a few rookies. He doesn't snag anymore. Instead, he gets the carp that nobody wants. He cuts them into pieces and buries them in his garden as fertilizer. Last year, he said he had bumper crops of cucumbers and tomatoes.
"I just sit out and wait," he said. "So far I have two."
On his first day of snagging, Hynes lost about 20 treble hooks and as many half-pound lead sinkers.
Rayfield, who made the sinkers by melting wheel weights gleaned from the salvage yard, assured him that it was fine. They had plenty of tackle.
Hynes got a little better at casting and eventually a spark of promise: one round fish scale stuck on the tip of a hook barb.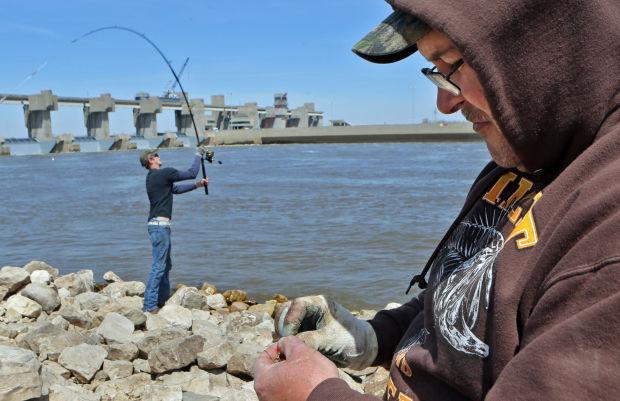 Rayfield told him to use a file to sharpen the hook tips.
"If he'd listen to me, he'd catch more fish," Rayfield said.
Finally, Hynes' luck turned.
"All right, first fish," he said, reeling it in.
No gaff needed to drag the fish ashore. It was only a small silver carp.
When he landed a paddlefish, it was way below the minimum size limit and needed to be released.
Almost at quitting time, Hynes finally snagged something worth keeping.
As he pulled it in, he must have not kept the rod tip up like Rayfield had coached him to. Near the bank, the paddlefish rolled free and swam back into the deep, hook-filled stretch of river.