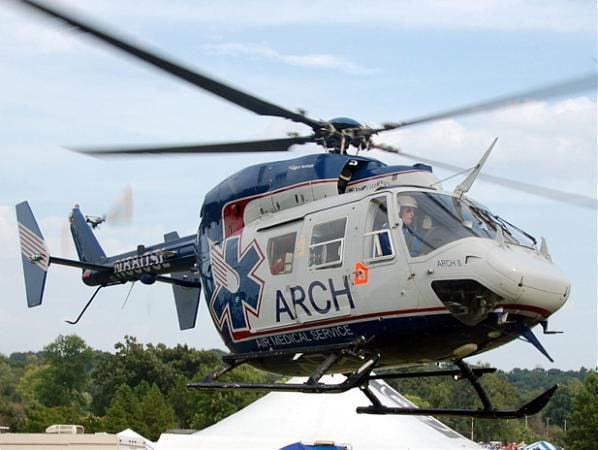 After reports of hefty medical bills and pressure from lawmakers, Anthem health insurance now covers emergency air ambulance services from the two main companies that airlift injured and sick people to St. Louis hospitals.
An agreement between Anthem and Air Methods, owners of ARCH Air Medical Service in St. Louis, covers plan holders in Missouri, Indiana, Kentucky, Ohio and Wisconsin and became effective Aug. 15. Anthem has also partnered with O'Fallon, Mo.-based Air Evac Lifeteam for customers in Missouri and Kentucky, effective July 1.
The family has been caught in the middle of a billing practice that can have devastating financial consequences for patients. What the family …
Before the agreements, Anthem Blue Cross Blue Shield of Missouri, one of the state's largest insurers, had no contracts with in-network air ambulance providers.
That affected people such as Dan and Melissa Millheim, who received a bill of more than $32,000 in 2016 after their young son, Ben, fractured his skull in a fall while camping in rural Missouri. The Millheims were insured by Anthem Blue Cross Blue Shield, which paid $11,787 of the $44,232 total for the airlift from Air Evac Lifeteam to a St. Louis hospital.
Air Evac Lifeteam operates 13 helicopters and one airplane in Missouri and 12 helicopters in Southern Illinois, according to CEO Seth Myers.
Steve Gorman, Air Methods CEO, said the Colorado-based company will work with other insurance companies to improve coverage of air ambulance transport. The company airlifts 70,000 people each year to hospitals nationwide. A company spokeswoman said she did not have patient numbers for ARCH Air Medical Service, which has a helipad base near Highway 40 (Interstate 64) and Jefferson Avenue in St. Louis.
SSM Health Cardinal Glennon Children's Hospital, where Ben was taken, said it received about 700 patients annually via air ambulances.
Colin Drozdowski, senior vice president at Anthem, said in a statement that agreements with air ambulance companies created "a simpler and more affordable health care experience for those we have the privilege to serve."
In some cases, families have faced bills of tens of thousands of dollars for having an injured relative flown to a hospital by helicopter. 
A lack of in-network air ambulance providers has left families with insurance bills of $27,000 to $51,000 after a family member was airlifted to a hospital, a Post-Dispatch investigation found.
The agreements between Anthem and the air ambulance companies "mean more patients will have access to these lifesaving services without having to worry if their insurer will cover the cost," said Carter Johnson, a spokeswoman for Save Our Air Medical Resources, a consortium of patients' groups and air ambulance providers. "Air medical providers are focused on taking patients out of the middle, so that they can focus on their recovery, which is why providers go in-network when they find good partners."
The group is critical of insurance providers and supports federal legislation that would increase Medicare reimbursement for air ambulance services among other reforms.
That proposed bill "addresses the root cause of the billing issue, the chronic underfunding of Medicare," Johnson said.
The legislation would force air ambulances to clearly separate the medical costs from the transportation costs on a patient's bills. Her bill …
"It's absurd to expect consumers to worry about price-shopping and in-network services when they need an air ambulance," the senator said in a statement Thursday. "I strongly urge other air ambulance providers and health insurers to follow suit to make sure Missourians have affordable access to these life-saving services without having to worry about an astronomical bill after the fact."Read more • A boy, a fractured skull and a $32,000 air ambulance bill