Prominent black St. Louis politicians, entrepreneurs and entertainers are the subjects of portraits decorating boarded-up doors and windows of blighted buildings in St. Louis.
"Through the Beyond the Walls mural program, we have looked at different individuals who have contributed to the advancement of the community," said James Clark, vice president of community outreach at Better Family Life.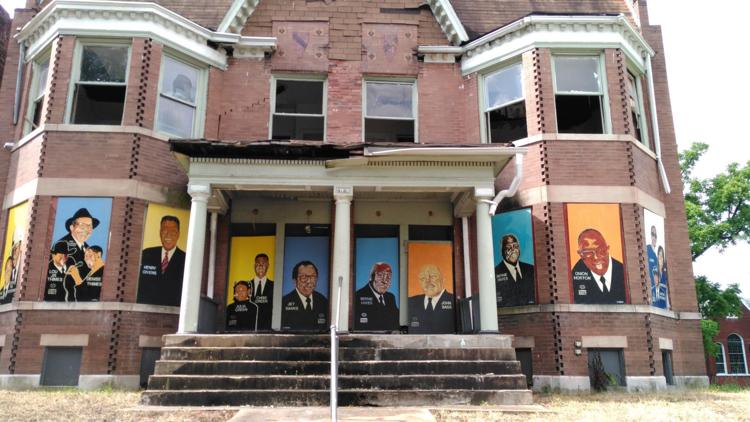 In addition to honoring community heroes, Clark said the paintings are intended to beautify the neighborhood and "raise the esteem and deliver hope to individuals and families whose lives have been marginalized."
Clark said the nonprofit plans to expand the project to more vacant properties on North Skinker Parkway. 
For one resident, the neighborhood needs more than paintings to restore properties in the community.
"The murals are better than the ugly boarded up houses, but to be honest, I would much prefer the city to tear them all down and build better housing or rehab them and sell them to members of the same community," Kim Boyd said.
But she said the paintings have sparked conversation with her teenage daughter who asked her about Larry Hughes, a subject of one of the artworks. 
"That part is good because it helps to bring awareness to those people, which in turn can help to inspire the next generation," Boyd told the Post-Dispatch.
Clark, of Better Family Life, said the project is "lighting a spark" that could eventually create more development and attract potential investors to the community that could "increase property value, lower insurance rates and start a renaissance."
It has caught the attention of some on social media:
Better Family Life also plans to host the St. Louis Metropolitan Area Gun Violence Summit on July 23, 30 and Aug. 6. Clark, who organized the summit, said the event is intended to give people from all sides of the gun violence issue a platform to talk about solutions to reducing gun violence. The nonprofit hosted its first gun violence panel June 9.
Clark said the two initiatives are only a portion of the organization's daily efforts to deescalate violence in the neighborhood and provide residents with access to food, clothing, employment, drug rehabilitation programs and financial literacy resources.
Be the first to know
Get local news delivered to your inbox!