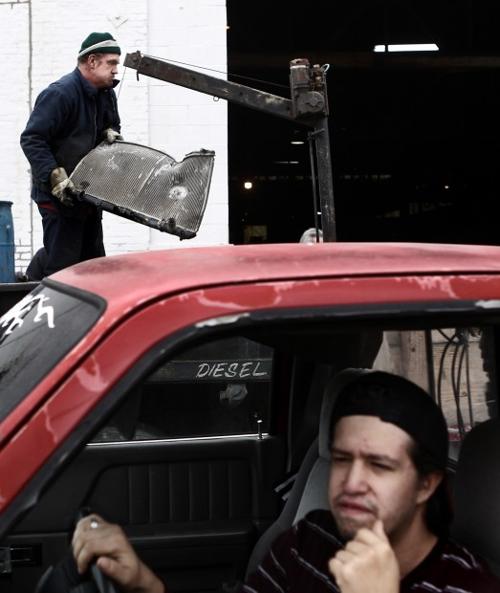 ST. LOUIS • The city's scrap yards are pushing back against legislation that would change the way they do business.
About 20 owners and workers from those yards were at City Hall on Thursday to meet with police and Alderman Donna Baringer, who introduced the bill this month calling for the changes.
While most of the hourlong discussion was cordial, scrap dealers protested parts of the proposal they said would pile on paperwork and hurt their legitimate sales.
The ordinance would force scrap yards to stop dealing in cash and to computerize records of what they buy and from whom. They could only accept air-conditioner coils from certified technicians and could lose their business license if they violate the ordinance.
Richard Becker of Becker Iron & Metal, on Prescott Avenue, said the bill, as it is written now, "is so suppressive to the industry it's ridiculous."
It is the first item — requiring scrap dealers to pay their customers by a mailed check — that is causing the most consternation. But that's the one element police say is a must if the city wants to curb scrap metal thefts that are costing property owners thousands in repairs and driving rehabbers out of St. Louis.
Since 2010, the city has seen more than $6 million in scrap metal thefts, $1.5 million of that since March. Police say drug addicts who steal scrap and sell it to support their daily habits would lose interest without the immediate payout of cash.
Capt. Dan Howard, among those pushing the new law, said he will only consider it a success if it includes the mailed check provision. Howard said he would, however, listen to scrap dealers' concerns about other points of the proposal.
"They are the experts in their field just like we're the experts in our field," he said. "Of course, there's going to be some sort of compromise."
The meeting was the first time Baringer had both police and scrap dealers at the table. She said there is a chance to change the language of the bill as it moves through the public safety committee, but she wants police support for anything scrap dealers request.
A committee hearing could be scheduled as early as next week. There is a push to get something passed before aldermen break at the end of July, even if it is a pared down bill that avoids the more controversial issue of payment. Baringer said she could always reintroduce that aspect in September.
Stuart Block of Cash's Scrap Metal & Iron, on North Broadway, said he wants to see repercussions for the scrap yards that are known to regularly take in stolen metal. But he worried that businesses doing the right thing would also be hurt unless changes are adopted in other municipalities surrounding St. Louis.
Get local news delivered to your inbox!
Subscribe to our Daily Headlines newsletter.