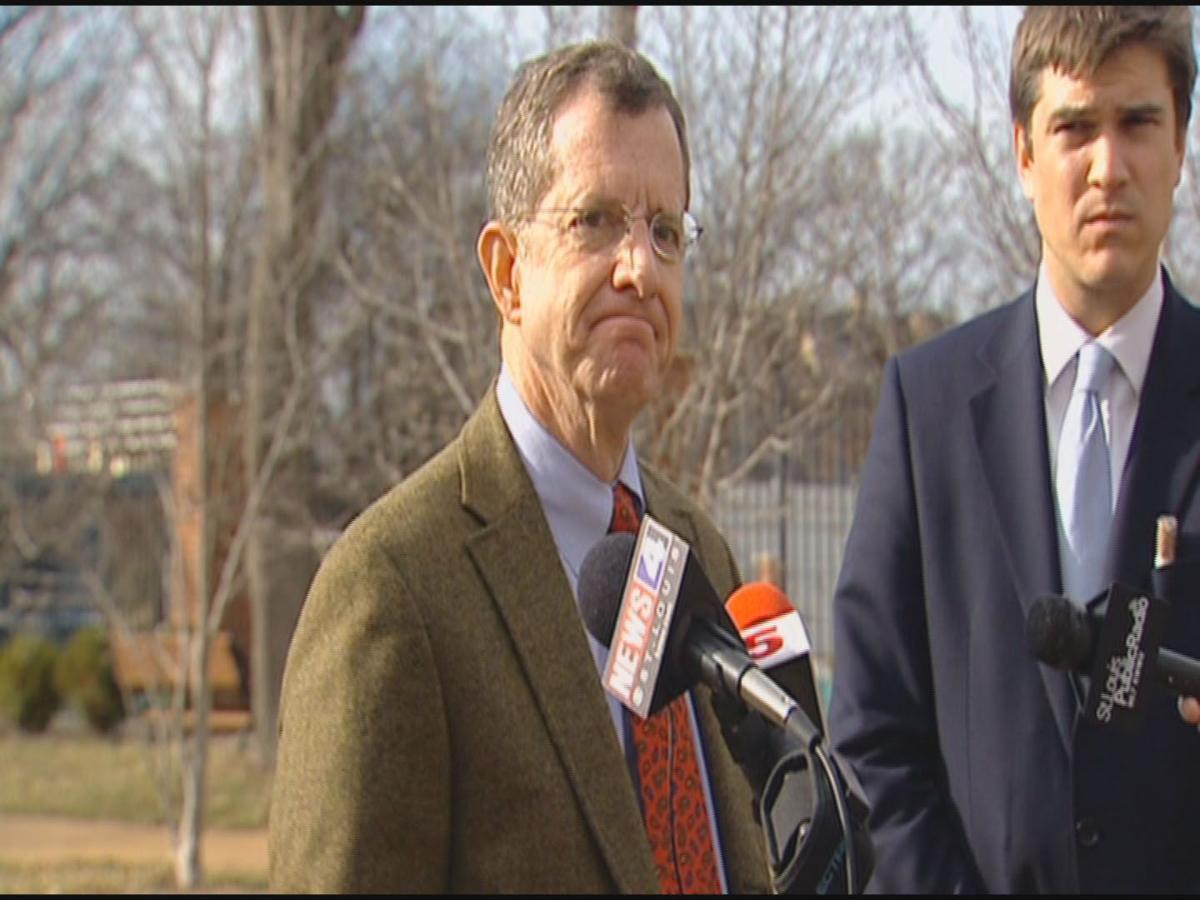 CLAYTON • Arthur Gallagher used to enjoy strolling down the street every morning, getting a cup of java and a newspaper, and smoking a cigar in Concordia Park, near his home in the DeMun neighborhood.
"It's one of life's simple pleasures,'' said Gallagher, 55, a retired vineyard owner from Napa, Calif., who moved to Clayton about three years ago.
That pleasure ended on Jan. 1, when Clayton's ban on smoking in parks went into effect.
On Thursday, while puffing on cigars on the sidewalk abutting Shaw Park near downtown Clayton, Gallagher and his legal team announced they had filed a suit challenging Clayton's ordinance. The suit, filed Wednesday in U.S. District Court, argues that the ban denies Gallagher his constitutional rights. In specific, it cites the 14th Amendment's due process and equal protection clauses.
Gallagher's lawyers are W. Bevis Schock and Hugh A. Eastwood, assisted by Washington University law graduate Russell Anhalt.
The suit contends that smoking is a "fundamental right" that's "part and parcel of ancient American history, traditions and customs." Schock mentioned American Indian peace pipes as an example.
The suit also argues that the ban discriminates against smokers, shows an irrational dislike of smokers and is arbitrary and capricious. It says the ban violates the Missouri Constitution's guarantee of the "pursuit of happiness."
The suit names as defendants the city of Clayton and Mayor Linda Goldstein, City Manager Craig Owens, Parks Director Patty DeForrest and Police Chief Thomas J. Byrne.
Goldstein, a strong advocate of anti-smoking laws, defended the ordinance. She said nearly 500 communities around the U.S. had banned smoking in public parks.
She said community response has been positive.
City Attorney Kevin O'Keefe said the ordinance addressed "litter and unhealthy conduct on property owned by the city. The legal basis for the ordinance is strong and straightforward. ..."
O'Keefe noted that the suit was prefaced by the musings of comedian Groucho Marx, a cigar lover. That, O'Keefe said, "is telling evidence of the merits of the case."
Eastwood said the Groucho Marx reference was added to mock the city of Clayton.
Many at Shaw Park Thursday afternoon were unaware of the ban, and some thought it silly.
Clayton resident Jim Harper, who was practicing a form of karate in the park, said he didn't mind the smoking, as long as he's not able to smell it. "It's over the top banning it," said Harper, a nonsmoker. "You're outside. As long as you're not downwind."
John Saleeby, a Clayton resident, was pushing a child on a swing in a playground. He was unaware of the ban.
"It's a park. It's outdoors," he said. He added: "I don't smoke - except for maybe the occasional cigar - but this is ridiculous."
Clayton enacted an indoor smoking ban on July 1. The outdoor ordinance bars lighting up in parks, on playgrounds and all other city-owned or leased facilities. That includes city-owned parking garages and lots.
The law allows smoking on sidewalks, streets and alleys. Penalties are up to a $1,000 fine and 90 days in jail.
Bill Hannegan, an advocate for smokers' rights who is paying some of the legal fees for this suit, said he was "glad to see it got filed. If that's successful, that would help put a stop to it across the country. It was just passed in New York City. There's no rational basis for it - and you're pushing smokers onto the sidewalks and they get in people's way."
On the other side, Stacy Reliford, field government relations director for the American Cancer Society here, said the agency strongly supported Clayton's outdoor ban.
Reliford also cited an opinion by a national group of public health lawyers, the Minnesota-based Tobacco Control Legal Consortium.
That says for smokers "there is no protected right under the due process clause of the Constitution, and smokers are not a protected category of people under the equal protection clause," Reliford said.