ST. LOUIS — Artists who work with the nonprofit group Faces Not Forgotten all receive the same advice: Focus on the eyes.
It was more than 10 years ago that Christine Ilewski founded the St. Louis-area organization that creates hand-painted portraits for families that have lost children to gun violence. Artists have completed more than 300 portraits of those killed across the country, including more than 60 from St. Louis, most age 20 and younger.
"It's the eyes where you get the emotion," said Ilewski, a college art instructor who lives in Alton. "That's where you can connect that this was someone who had so many years in front of them. They were going to have families, go to college, start careers."
The demand for portraits by Faces Not Forgotten won't likely wane, as over the past year gun violence has surged in large cities nationwide. In St. Louis alone, there have been 22 victims of homicide since January 2020 who were 17 years old or younger.
"The numbers are staggering," Ilewski said. The portraits aim to give those lives the attention they deserve, she said.
"Historically portraits have been reserved for people like kings, dignitaries and bank presidents," she said. "To do a formal portrait, we think it elevates a life. It gives it the respect and value it deserves. It says, this life matters. Each child has a name and a life and a personality and a soul that is gone."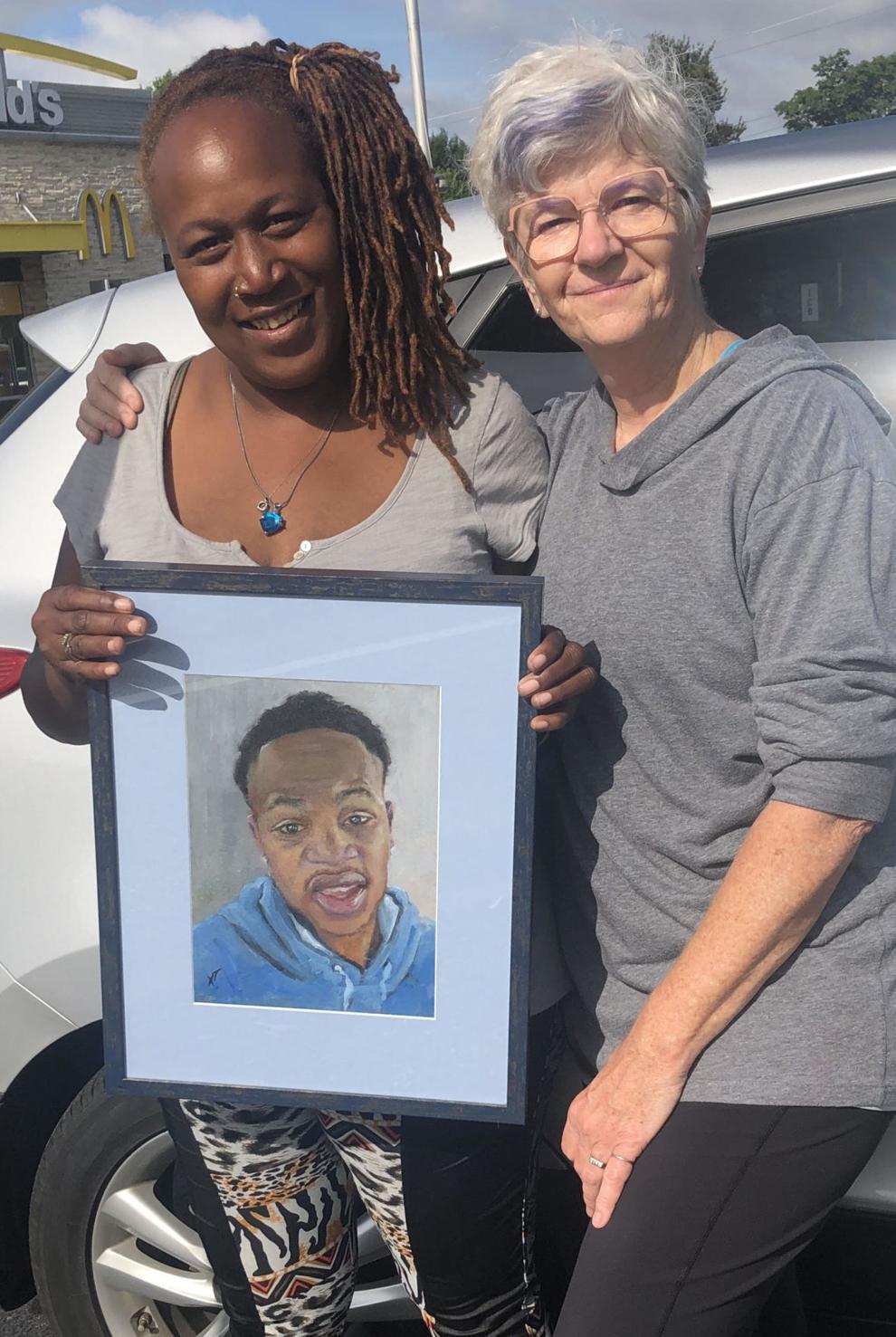 Skyla Pawnell keeps the Faces Not Forgotten portrait of her son, Aaron Prayer, in her East St. Louis living room.
Prayer was 21 when he was killed in a drive-by shooting outside the Alpha Plaza apartment complex in that city in June 2018. Pawnell said she was told after her son's death that he had helped get a nearby toddler out of harm's way as he was hit.
Prayer had a daughter who is now 5, his mother said.
His death has never been solved, but Pawnell said that it was a meaningful portrait of her son, who she said played several sports in high school and was considered a "pretty boy."
"After you lose a child, you have to always cherish your loved one and keep their name alive," she said. "But here there's someone else who's spending all this time cherishing them, too, putting all this work into a painting."
Soon after her son's death, Pawnell started a group for the families of victims, Families Against Gun Violence, and recommended Faces Not Forgotten to about a half-dozen others who lost children in shootings.
In St. Louis, another mother, Valerie Dent, was gifted portraits of her sons, James and Steven Dent, ages 34 and 25. They were shot while coming home from work Sept. 4, 2014, not far from their mother's home in the city's West End neighborhood.
Dent remembers the day she picked up the portraits at a meet-up with Ilewski in Forest Park, about a year after her sons died.
"It was breathtaking," she said. "I still get teary eyed when I think of it."
She hung the paintings near the entry in her home, and gave a copy of James Dent's portrait to his son as a way to remember his father.
Dent now heads STL Mothers in Charge and has recommended at least six other mothers to the organization.
"It's so much more personal, more meaningful than a photograph," she said.
Faces Not Forgotten never reaches out to families directly, but counts on mothers like Pawnell and Dent to spread the word. Families may submit a request for a portrait online.
When they're approved, families are matched with an artist who may live elsewhere in the country or even abroad. Volunteer painters have included art students at North Park University in Chicago and Central Visual & Performing Arts High School in St. Louis.
"I check out the artist's work to make sure they are capable," Ilewski said. "We're all volunteers, we just provide artists with a small stipend to cover their supplies."
Ilewski started Faces Not Forgotten as a way to cope with her own grief, she said.
A close family friend, the Rev. Lawrence Rosebaugh, was murdered in 2009 in Guatemala when he and a group of priests were attacked by masked men. He was living in the country to work with elderly homeless people and children with HIV.
"Just before he died I had been emailing him about children in Guatemala being killed," Ilewski said. "So after his death I thought focusing on bringing attention to violence against children would be a way to honor him."
Ilewski completed the first Faces Not Forgotten portrait after hearing about 16-year-old William Jenkins, who was killed while working at a fast-food restaurant in 1997 in Virginia.
She used to paint all the portraits herself, but eventually expanded the effort, though every painting remains focused on the person's face surrounded by flowers similar to a funeral wreath.
The families receive the original painting and then the nonprofit creates high-quality copies on fabric squares that are made into quilts of eight faces. The quilts have been featured in art exhibits around the country.
The organization has also made banners of some portraits for use in protests, including 2019 rallies in Washington in support of stricter gun laws.
So far, eight quilts have featured the faces of young people killed in the St. Louis area. Ilewski said she knows there are likely hundreds of other families who could be included.
"We want to let people know that they can request a portrait if a child was killed this year or 15 years ago," Ilewski said. "Their life still deserves to be honored."
Those who would like to submit the names of victims of gun violence to be painted, or who would like to volunteer or donate to Faces Not Forgotten may contact the group at facesnotforgotten.org.
The organization plans to display quilts at an Art Heals Violence event hosted by the St. Louis Arts Chamber of Commerce in May and June. Visit stlouisartschamberofcommerce.org to learn more.