ST. LOUIS • Religious leaders across denominations spoke out in St. Louis on Wednesday against pending legislation that would allow concealed weapons in places of worship in Missouri without permission of the clergy.
"The bill would broaden Second Amendment rights at the expense of the First Amendment right of religious liberty," said Most Rev. Robert Carlson, archbishop of St. Louis, who presides over some 500,000 Roman Catholics in the region.
Carlson was joined at a press conference by eight religious leaders representing the Jewish, Episcopalian, Methodist, Baptist and Evangelical Lutheran faiths, among others.
The clergy members specified opposition to one bill in particular: House Bill 1936 which would expand the places where concealed weapons are allowed.
The bill has passed two House committee votes along party lines. Republicans voted yes. Democrats voted no. The bill's sponsor, Rep. Jered Taylor, R-Nixa, did not immediately return a request for comment Wednesday. 
The legislation aims to end "gun-free zones" where concealed weapons are restricted, including places of worship, college buildings, public hospitals, voting polls, amusement parks, casinos and bars. 
Supporters of the bill argue that the gun-free areas create an opportunity for shooters in public places and that some attacks could be prevented if bystanders or victims were carrying a weapon.
But the members of the clergy gathered Wednesday argued the bill is an attack on religious liberty. 
Under current law, a person must get permission from a member of the clergy at a religious institution in order to carry a weapon into the place of worship. The new law would allow for the legal carry of a concealed weapon unless a sign banning weapons is prominently displayed.
The sign must be at least 11-by-14 inches with writing that is at least one-inch tall, according to the bill.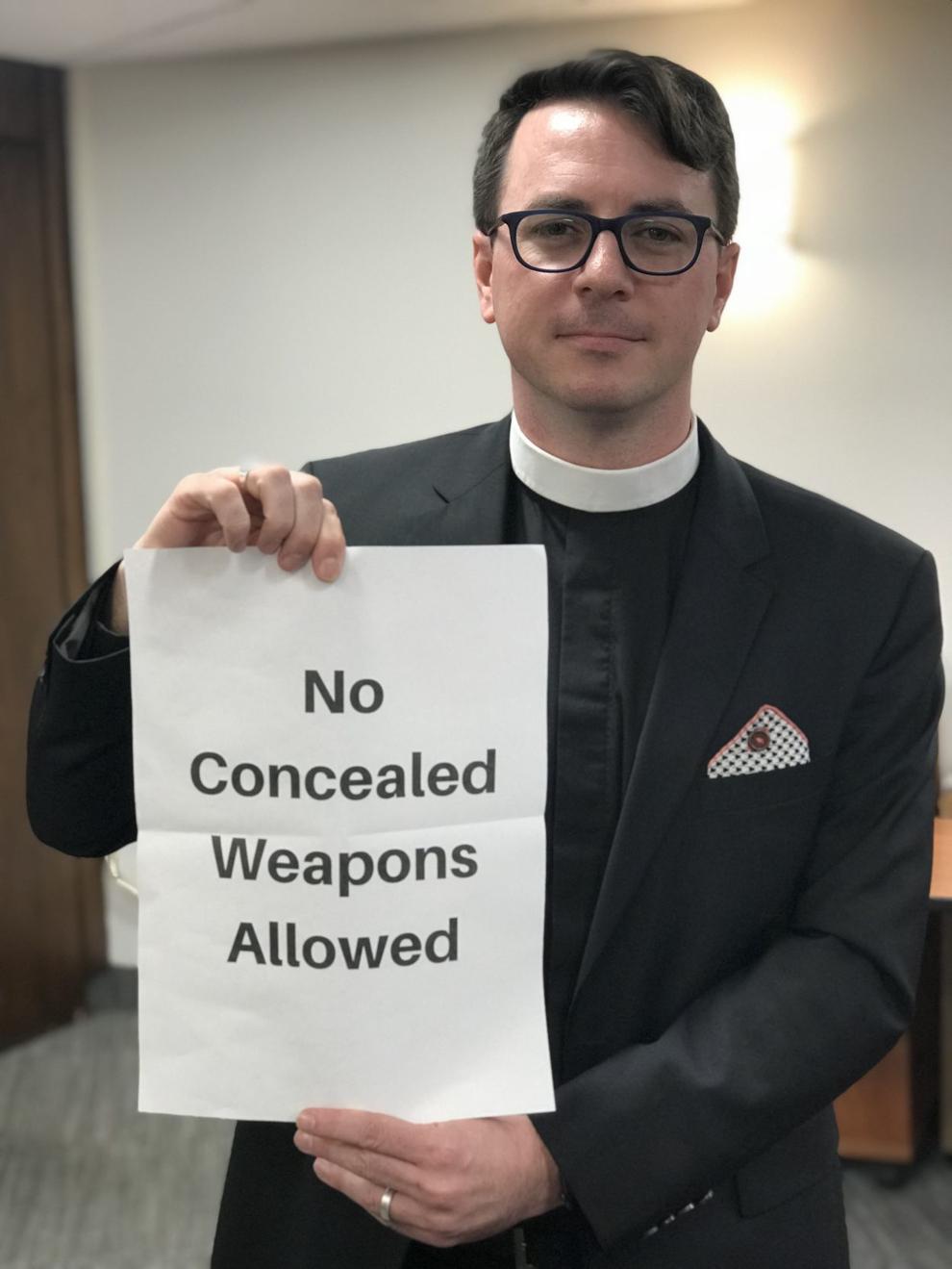 The group of religious leaders called the sign requirement within a sacred space "highly offensive" and said they were never consulted by lawmakers about the legislation. 
"To ignore the religious community, I think, was a terrible mistake," Carlson said.
Carlson said the archdiocese would be active in fighting the law, should the bill pass. 
"We would not be above lawsuits or other actions to prevent the bill from going into effect," he said. 
The group of religious leaders also added that the Legislature should consider other measures to respond to gun violence, including banning "bump stocks" that allow for the rapid fire of semi-automatic weapons, improving mental health care, limiting high-capacity ammunition magazines and strengthening background checks for gun buyers.
Among the speakers at Wednesday's event were Rabbi Brigitte Rosenberg of the St. Louis Rabbinical Association, Rt. Rev. George Wayne Smith of the Episcopal Diocese of Missouri, Rev. Bob Farr of The United Methodist Church in Missouri and Pastor Charles Norris of the St. Louis Metropolitan Clergy Coalition.