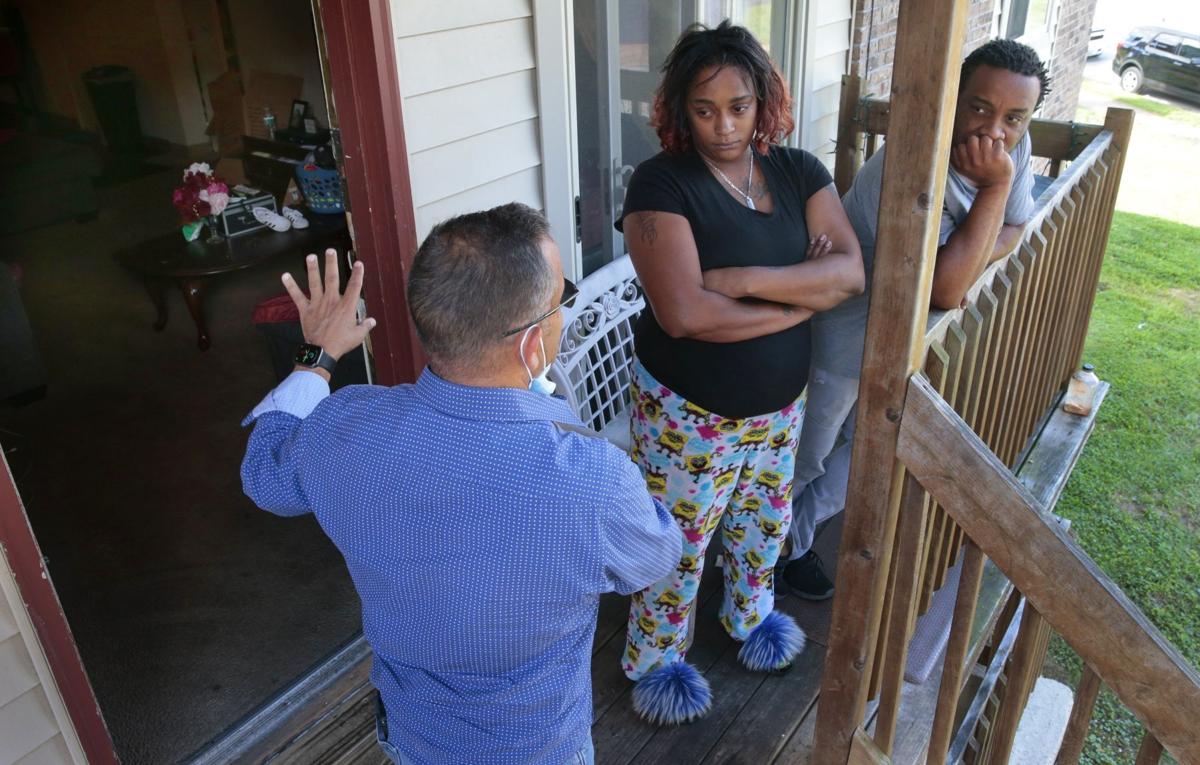 FERGUSON — An attorney for an apartment complex where dozens of residents received notices last weekend telling them they had three days to pay past-due rent or vacate the premises said the property manager made a mistake with the type of letter issued and that the owner has paused evictions there.
Some tenants at Pleasant View Gardens — the complex formerly known as Canfield Green, where Michael Brown was fatally shot by a Ferguson police officer in 2014 — reported receiving the notices despite being current on their rent.
Social service agencies, Ferguson officials and even U.S. Rep. Cori Bush's office have gotten involved, trying to help tenants apply for some of the more than $300 million of federal emergency rental assistance available locally.
Matthew Chase, an attorney who handles eviction cases and represents the new owner of the Ferguson complex, said the letters distributed to some tenants by the property management company are "3-day pay or quit" letters common in other states but not Missouri. The new owner, an affiliate of the New Jersey-based Aria Legacy Group, is relatively new to Missouri, he added. And he acknowledged that some of the notices tallying past-due bills were sent erroneously.
But the majority of the tenants that received notices are behind on rent, Chase said, after the owner spent the past couple of months sending them information on how to apply for federal rental assistance.
"Even though a couple of them were in error, most of them were correct," he said of the late rent notices.
Aria Legacy Group purchased the property in April and rebranded it, promising to repair the complex and add amenities, including a dog park and a business center.
"Nobody has sunk money like this into that property for a very long time, if ever," Chase said.
About 50 to 55 tenants have had eviction proceedings filed against them since the new owners took over. Chase said those cases were only filed after months of trying to get tenants to fill out and apply for rental assistance. The owner has been working with the nonprofit St. Louis Mediation Project, Chase said, which is helping Missouri administer and distribute its rental assistance money.
"This company is one of the ones that has really been working with them," Chase said. "The ones that get filed are the ones that ignore everybody."
Regardless, Chase said the owner has asked to pause evictions for now after several days of media attention, including several sheriff orders set for Monday. He said there's still time to apply for federal money, and the owner is willing to work with tenants.
As for residents reporting deteriorating housing, Chase said the new owner asked all residents to report issues with their apartments. Some didn't, or maybe they had reported to the prior owners and not to the new ownership group. It takes time and money to catch up on the deferred maintenance at the property, he said.
"We need partnership, my clients need partnership with the tenants," Chase said.
He said there's still time to sign up for rental assistance and to communicate with the landlord about any issues. He said some tenants simply avoid the office if they are behind, or think they no longer have to pay rent because of some 18 months of eviction moratoriums due to the pandemic.
"That is the terrible outcome of all these moratoriums," Chase said. "They are training people to take advantage of the system."
Rachel Rice of the Post-Dispatch contributed to this report.