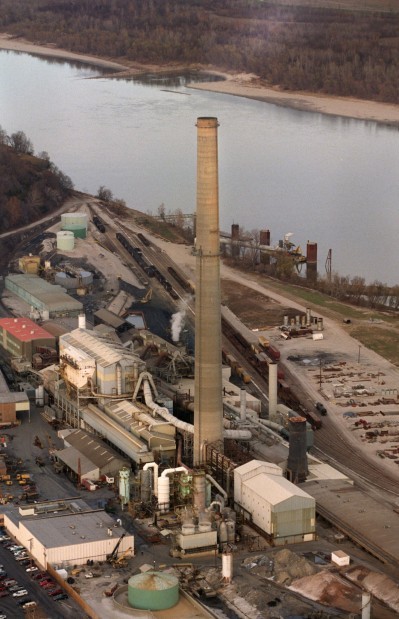 Herculaneum • Doe Run Co. will close its lead smelter in Herculaneum in three years and will pay $65 million to correct violations of environmental laws at 10 of its lead processing facilities in southeast Missouri, the company and the U.S. Environmental Protection Agency said Friday.
Environmentalists, who have called attention to the dangers of lead poisoning, heralded the news while local officials worried what the future holds for Herculaneum, the Jefferson County town that has relied on the smelter for jobs and tax money for more than 100 years.
The company said it will end operations at the lead smelter, the only primary lead smelter in the United States, by Dec. 31, 2013.
The EPA said the company "made a business decision" to shut down the smelter instead of installing pollution control technologies needed to reduce sulfur dioxide and lead emissions as required by the Clean Air Act.
Doe Run must establish financial assurance trust funds, at an estimated cost of $28 million to $33 million, for the cleanup of Herculaneum and other active or former mining and milling facilities, the EPA said.
In addition, the company must pay a $7 million civil penalty for violating a series of environmental laws. Doe Run said half of that will go to schools in Iron, Reynolds, Jefferson and Washington counties.
It was not clear Friday how many jobs could be affected by the closure. The company hopes to build a plant for a more environmentally friendly lead-producing technology. That technology relies on a wet chemical process that would essentially replace the heat-based smelting.
The company says the new process would help it improve overall recovery rates of lead while decreasing pollution.
It's possible that the new plant will be built in Herculaneum, across the street from the current smelter, said Jerry Pyatt, Doe Run's chief operating officer. The company is studying cost projections and locations. Other places being considered are Ironton and a "location outside of the United States," Pyatt said. He hopes to have a decision by the end of this year.
Pyatt said 270 people work at the Herculaneum plant, many of whom could retain jobs if the new plant goes there. If it doesn't, Pyatt said, only a few employees will remain to carry out duties such as supervising remediation in Herculaneum.
Pyatt said local officials have been lobbying hard to keep the company in Herculanuem.
"They really want to keep the jobs and the tax base there," Pyatt said.
It's not surprising — the plant paid $933,000 last year in property taxes.
City Administrator Jim Kasten said Friday he was worried about potential job losses and the crushing financial blow, especially to the school district, that the company's departure would cause.
"This is a big deal, and how we're going to counteract these things, I don't know at this point," he said.
Doe Run contributes 11 percent of the local revenue for the Dunklin School District, which includes Herculaneum, said Superintendent Stan Stratton.
The loss of that income would "force a heavier burden on our taxpayers," Stratton said. The district's annual budget, including state and federal money, is about $13 million.
The effects go further. Doe Run uses about half the water the city contracts to buy. Kasten estimated that when smelting stops, the average household's water bill would increase by $30 to $40 a month.
"If Doe Run's not buying it, someone's got to," Kasten said.
Others had happier reactions to the news. Kathleen Logan Smith of the Missouri Coalition for the Environment said Friday that families in lead-contaminated towns can "begin to prepare for a cleaner future." She added that it was nice to see Doe Run take the issue seriously.
"I just think it's going to help everybody in Missouri," Logan Smith said. "It's going to be better for our reputation across the board."
Lead is a neurotoxin that interrupts normal brain development and has been linked to behavioral problems in children. Adults can tolerate higher lead levels than children but still can suffer health problems.
Another significant development is Doe Run's commitment to improve truck-washing facilities and to test soil along hauling routes, Logan Smith said. Rural roads and highways between Doe Run's mines, mills and smelter will be tested to determine the level of lead contamination.
In early 2007, the EPA found high concentrations of lead in dust collected on roads near Doe Run's Herculaneum smelter; trucks leaving mines in Reynolds, Iron and Dent counties have at times been coated with lead. Spills of lead ore and concentrate also have occurred in the mining district and have not always been cleaned to acceptable levels, the EPA said.
Tests conducted last year of 372 properties within a mile of the Herculaneum lead smelter found 129 properties contained lead at levels beyond the EPA's allowable limit of 400 parts per million. Of those, 104 properties had already undergone EPA-ordered soil remediation in the last nine years.
Jack and Leslie Warden lived about three blocks from the Herculaneum smelter for 16 years but moved to Festus after accepting a buyout from Doe Run six years ago. They filed a successful lawsuit with Logan Smith's group that prompted the EPA to adopt tougher air quality standards for lead in 2008.
The new standard is 10 times more stringent than the old standard for lead. It was the first time the agency revised airborne levels of lead since 1978, when the metal was phased out of gasoline.
When the new rules were announced, Jefferson County was one of two places in the nation that didn't meet the old standard. The EPA identified Doe Run as the primary local source of that pollutant.
Leslie Warden said Friday that she hopes the company is tightly regulated until the smelter closes in 2013 and said something should have been done much sooner to protect residents of Herculaneum.
"I can't throw my trash on my neighbor and get away with it," she said. "And they shouldn't be able to, either."
Ken Leiser of the Post-Dispatch contributed to this report.