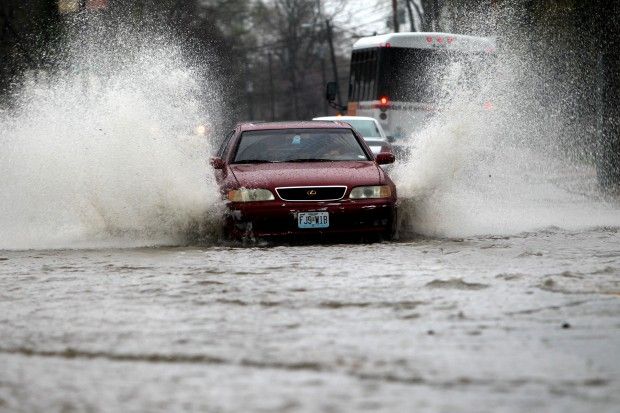 The state's highest court ruled that a stormwater charge implemented and later withdrawn by the St. Louis Metropolitan Sewer District was instead a tax that violated Missouri's constitution.
In a 6-0 decision handed down Tuesday, the Missouri Supreme Court upheld two previous court decisions that said MSD should have sought voter approval before initiating the stormwater charge.
"A tax by any other name remains a tax," the 52-page opinion said. "It cannot be transformed into a user fee by adept packaging any more than a zoologist can transform a horse into a zebra with a bucket of paint. Here, no matter how many stripes MSD paints on it, the stormwater user charge is not a user fee."
The Supreme Court appeal was a last-ditch legal attempt by MSD to address a $60 million-a-year stormwater budget shortfall. Now, the district must find another way to raise money and figure out a way to sell it to voters.
MSD spokesman Lance LeComb said the district would do just that. But a solution will take time.
"In the near term it's a negative for our community because there are a lot of people who suffer from stormwater problems," he said.
The so-called impervious fee implemented by MSD in 2008 was set at 12 cents per 100 square feet of rooftop, driveway, patio or other impervious area on each parcel, or about $3 a month for the typical residential customer. The charge was to be gradually increased over seven years to 29 cents, or $7.25 a month.
But months after the charge was implemented, Chesterfield physician William Zweig filed a lawsuit claiming the charge violated Missouri's Hancock Amendment. Two other residents later joined as plaintiffs.
A circuit court agreed with Zweig in July 2010, prompting MSD to withdraw the charge and revert to its former funding sources — various taxes put in place before the Hancock Amendment was enacted in 1980. There also is a flat fee of 24 cents per month implemented in 1988.
Together, the flat fee and taxes bring in about $26 million a year for stormwater needs — less than a third of the $80 million-plus needed to address a growing backlog of projects.
Zweig's attorney, Richard Hardcastle, said the Supreme Court case was always about how MSD generated revenue, not the need for more money.
Hardcastle said Tuesday's opinion made a clear distinction between a tax, which benefits everyone, and a user fee charged for a specific service.
"The stormwater user charge is a fee for a service that cannot be measured by MSD in any shape or form," he said.
Stormwater, or urban runoff, contributes to a variety of problems that include eroding creek banks that devour yards and the lack of storm sewers or other infrastructure in areas such as Cool Valley and Lemay lead to flooded streets, yards and basements.
Rainwater and melting snow also carry sediment, pet waste and chemicals into waterways — a main reason why segments of almost every St. Louis-area creek and river is already considered "impaired."
For now, MSD officials say they can meet environmental regulations for stormwater across their service area. They can also pay for maintenance of pipes, manholes, concrete channels and keep inlets free of tree limbs and debris in the city and parts of central county where the district collects more tax revenue.
But in areas such as west St. Louis County, where residents pay only a 1.8-cent tax, MSD can't afford even basic maintenance. And investments in new stormwater sewers to alleviate flooding or repair eroding creek banks is out of the question.
Without additional revenue, MSD officials say, it will be harder to afford even basic maintenance in the city of St. Louis and parts of north St. Louis County in years to come.
The court itself sympathized with the need for money to address stormwater runoff and all the problems it causes. But, justices said, under the Hancock Amendment, the decision about how to raise money to solve the problems "belongs to the voters."
MSD officials have long known that they may have to find alternative funding. And whatever funding path they choose, such as a tax, will almost certainly involve a vote.
They know raising taxes would be a tough sell given the sluggish economy and sharp increases in sewer rates required to fund $4.7 billion in sewer improvements over the next two decades. Voters already approved last year a $945 million bond issue to help finance sewer improvements.
The nature of stormwater problems, too, makes it challenging to get a tax passed. Though everyone contributes to runoff, relatively few people are victims of flooding or have backyards eaten away by erosion.
Generating revenue through a tax also limits where the money is spent and requires homeowners and businesses to pick up the slack for tax-exempt organizations.
"This problem has been here for decades and it needs to get figured out," LeComb said. "At the end of the day we want it to be equitable, for those who uses the services to pay for the services and to be fair for everyone."
Tuesday's opinion also upheld the appellate court's decision that MSD isn't required to refund $90 million that was collected from ratepayers while the stormwater charge was in effect.
The Supreme Court also remanded the case back to the trial court solely to decide plaintiffs motion for appellate fees and costs.