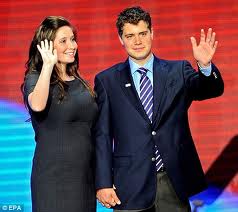 UPDATED, 12:05 p.m. with additional details from student committee president and Student Union Treasury minutes.
ST. LOUIS • Bristol Palin might be coming to Washington University next month as the keynote speaker at the college's Sexual Responsibility Week.
The panel's topic: abstinence. It will also include representatives from the Catholic Student Center on campus, Missouri Right to Life, and Planned Parenthood, said Scott Elman, president of the Student Health Advisory Commitee at Washington University.
Elman confirmed Wednesday that the university had approved Palin's appearance on a panel. However, Elman said, no contracts have been signed, and she has not yet agreed to come. 
"We're expecting it to happen very soon," Elman said late Wednesday morning.
Elman said the students group has been talking with Single Source Speakers. Bristol Palin has a contract with that company for speaking engagements.
Elman wouldn't divulge how much Palin would be paid by the university, but Palin reportedly will command between $15,000 and $30,000 per speaking engagement. Elman wouldn't say if any of the other panelists would be paid.
The Washington University money comes from a student activity fee fund.
"The main topic of Bristol's speech pertains to abstinence in a college setting," Elman said.
"Bristol is now an official speaker for abstinence." Elman said. "Basically her viewpoint is she didn't take part in abstinence. She was a victim of teen pregnancy. Realizing the hardships of that, she wished it had been talked about more."
"We're not pushing abstinence down the throats," Elman said. "We're hoping with this balanced panel we will be presenting all sides."
The panel featuring Palin would be free. It is tentatively set for 7 p.m. on Feb. 7 in Graham Chapel. Elman said he hopes most of those who come are students but understands that outsiders might want to come, too. He said organizers haven't hashed out the details yet on that.
Palin is the daughter of Sarah Palin, former governor of Alaska and former GOP vice presidential candidate. Bristol Palin became pregnant at 17 and was not married to the baby's father, Levi Johnston. She is now a single mom to a 2-year-old boy named Tripp.
According to minutes from the Treasury's meeting Tuesday night, the decision to spend the $20,000 wasn't unanimous. At first, the vote was five in favor, five against and two not taking sides. After more discussion, it passed 7-4. Discussion included whether Palin attends college; the possibility of finding a cheaper speaker; and the belief that her big name would be a draw to campus.
The payment to Palin also apparently would cover the trip for her two agents, according to the Treasury minutes.
The panel discussion on Feb. 7 would include a 25-minute speech by Bristol Palin, an hour-long panel discussion and a 30-minute session for questions from the audience.
The annual Sexual Responsibility Week usually falls around Valentine's Day. The Student Health Advisory Committee and other student groups host a week-long series of programs.
The committee's website says the programs are aimed at giving students "a fresh look at sexual health and encouraging them to make conscious decisions regarding their sexual lifestyle."
The Palin appearance would be only one of the many programs offered during Sexual Responsibility Week on campus, from Feb. 7-12.
Other programs include Lee Harrington, a transgender speaker talking about kinky communities; professors on campus talking about the "hookup culture;" and a passion party hosted by an expert on sex toys showing safe ways to use the devices. Another program will teach tactics to defend against rape and assault.
Last year, programs included "The Gay Marriage Debate," "Burlesque Dancing," and "Sexploration on College Campuses."