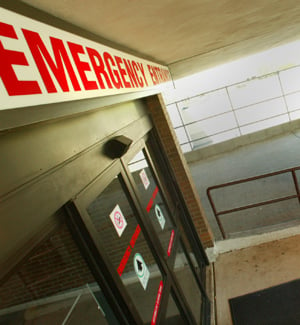 Hospital errors kill more people every year than car crashes, diabetes or pneumonia, according to federal government estimates.
But Missouri hospitals don't want people to know when and where these mistakes happen - and no law requires them to tell. They say patients are safer when hospitals can share that information among themselves without anyone pointing fingers.
"Focusing on systems of blame and punishment rather than analysis and improvement are counterproductive to improving patient safety," said Michael R. Dunaway, a vice president in the St. Louis Metropolitan Hospital Council, in a letter to the Post-Dispatch.
Advocates for transparency, though, question whether patients are safer.
"People want public accountability," said Louise Probst, director of the St. Louis Area Business Health Coalition. "I don't know what's holding us back."
Missouri hospitals have opposed legislation that would release information about serious errors. The state is among a minority of states that don't track errors.
The Post-Dispatch recently asked St. Louis-area hospital executives whether they favored more transparency, similar to systems adopted in other states, including Illinois.
More than three dozen hospitals signed Dunaway's response.
The lack of transparency and accountability surrounding medical errors was a subject in a Post-Dispatch investigation last year into patient safety.
There are no conclusive data on whether public reporting affects medical mistakes. States that have increased transparency say they do think their patients are safer - and certainly better informed.
Dunaway said requiring hospitals to publicly report serious errors would create an atmosphere in which health care workers and institutions could feel uncomfortable owning up to mistakes.
The argument was hard to understand for patients such as Charles Koetting, 72, of Valley Park, a semiretired salesman who says he's able to keep active today because of a successful open-heart surgery at DePaul Health Center in 2009.
"I can't understand that the hospital says they'd take better care of you if they knew they weren't going to be held accountable if they made a mistake," said Koetting, asked for his perspective as a patient. "That doesn't make sense to me."
After the Post-Dispatch revealed last summer the suffocation of a 16-year-old psychiatric patient and a surgery in which the wrong kidney was removed from another patient at DePaul, executives from DePaul and SSM said in a letter that "it is time for our industry and our community to develop a responsible system for public reporting of adverse events as other states have done."
Yet seven SSM hospitals signed the joint statement opposing public reporting.
Asked to clarify his company's position, SSM chief executive Jim Sanger said the priority should be maintaining a culture where hospital workers could examine errors without blame or punishment.
"SSM Health Care is more than willing to participate in a public reporting system of adverse events. But such a system cannot impede the reporting of such events in the hospital environment. We will work with (other Missouri hospitals) to build more public transparency that will truly advance patient safety."
Other states say they've established fair systems for reporting serious errors.
Illinois recently expanded its public report cards on hospitals. Patients can discover, for example, that 17 of 13,082 patients who had procedures at Memorial Hospital in Belleville experienced an accidental puncture or laceration in 2009, a rate close to the state average. Information is available for each hospital on such things as foreign objects left in patients' bodies after surgery (38 instances statewide in 2009), birth traumas, post-surgery hemorrhages, respiratory failures and hip fractures.
"If consumers are informed, they will be able to ask questions of their health care providers to receive the best health care possible," said Kelly Jakubek, spokeswoman for the Illinois Department of Public Health.
In Minnesota, the president of the state hospital association, Lawrence Massa, said he initially was skeptical that transparency could reduce errors but now believes patients are safer.
"What gets measured, gets improved," said Massa. "We do believe it has made our hospitals safer because it's so top of mind, it's out there."
Minnesota has released information on medical errors since 2003. Hospitals are required by state law to report any of 28 serious events to the health department.
Every January, the department releases a report outlining the numbers of incidents by hospital along with the outcomes. The number of reported errors increased at first but has since leveled off.
Massa said public reporting had not had an impact on malpractice lawsuits, another concern of Missouri hospital executives. "If it's a really egregious adverse event, there's going to be a lawsuit anyway," Massa said.
The data collection has allowed Minnesota to issue public safety alerts on particularly dangerous events or trends.
For example, hospitals were alerted about an increase in medical sponges left inside women after deliveries.
The annual reviews and safety alerts have made a difference, said Diane Rydrych of the Minnesota Department of Health.
She points to the state's record of more than a year without a patient death from falling in a hospital. The number of pressure ulcers and foreign objects left in patients' bodies during surgery also have dropped.
"It's important to have a public report listing individual hospitals because it does hold people's feet to the fire a little bit," Rydrych said. "If there's a number attached to your facility you have to answer to it and you have to talk about it."
Public reporting in Minnesota has not created an atmosphere of blame, Rydrych said. Consumers understand that hospitals aren't simply "good" or "bad." Most hospitals in Minnesota have reported serious errors, she said.
"Mayo (Clinic) is one of the best hospitals in the world, and these things happen there too," Rydrych said. "We try and send the message that patients shouldn't use the report to compare hospital A and hospital B, they should be asking what are you doing to make sure X doesn't happen to me."
Despite some states' efforts to track errors that injure or kill patients, no one knows exactly how often they happen nationally.
The national Institute of Medicine estimated in 1999 that nearly 100,000 Americans die each year from preventable medical mistakes. Late last year, the Office of Inspector General for the U.S. Department of Health and Human Services said 180,000 Medicare recipients died each year from hospital mistakes.
Congress called for public or private organizations to collect and analyze data on errors. Under the law, hospital error reporting is voluntary and confidential.
In Missouri, hospitals can anonymously report medical mistakes to the private Center for Patient Safety in Jefferson City. The center was founded in 2005 by the hospitals and doctors associations, and receives funding from the industry.
Missouri's Medicaid insurance program expects participating hospitals to report errors to the center. The information is to be shared among hospitals, but no regulators have access to the data collected.
Andrew Rehfeld, a political scientist at Washington University, said transparency wasn't always necessary as long as regulators had the information to do their job.
For instance, restaurant patrons don't need to see how the kitchen works. But they do want health inspections.
He said reports on errors alone wouldn't give patients a full picture of hospital safety. "What I do want to know is that someone in government has access to that information and can regulate and hold them to account," he said. "There is too much secrecy protection if they are not revealing these actions (to regulators) and they happen on a regular basis."
Missouri's patient-safety center plans to release the first-ever data on medical errors by year's end. But it won't include hospital names.
Since the center started collecting data in mid-2010, 30 of 150 hospitals statewide have reported 300 serious medical errors including infections acquired in the facility, said Becky Miller, the center's director.
"We expect by the end of the year we will have several thousand events reported to us," Miller said.
Margaret Donnelly, director of the Missouri Department of Health and Senior Services, would not answer a question about whether the state supported a system of public reporting. She said Missouri did provide some transparency by making hospital inspection reports available upon request.
Sen. Rob Schaaf, R-St. Joseph, vice chairman of the health committee, is sponsoring bills that would give consumers greater transparency on the costs of medical services. Schaaf said he also supported open reporting of medical errors.
"We have to legislate (hospitals) to do it," Schaaf said. "They don't want to be held accountable."