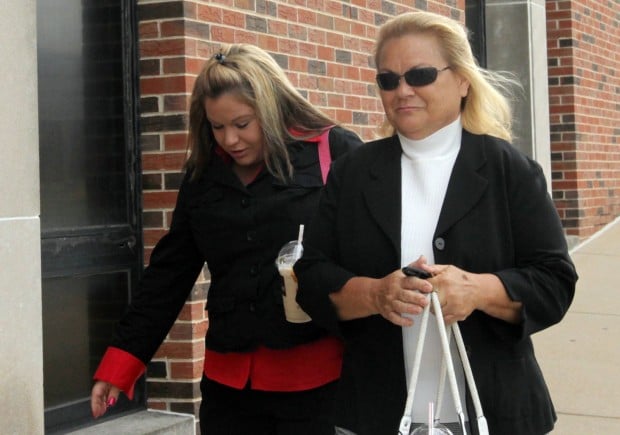 HILLSBORO • The dog handler who left eight show dogs inside a hot van, causing seven of them to die, was sentenced Thursday to two years' probation.
Mary Wild also must serve 80 hours of community service at the Jefferson County animal control center, as well as write a 750-word essay on how heat affects dogs and what she should have done to care for them properly.
Judge Raymond Dickhaner handed down the sentence in Jefferson County Circuit Court. He said he would leave the matter of restitution to the civil courts. He did not order Wild to avoid work with dogs but said she must inform clients of her conviction.
Wild was paid to handle dogs at shows.
Dickhaner found Wild guilty last month of eight counts of misdemeanor animal abuse. He said he did not believe that Wild intended to hurt the show dogs.
She had faced up to eight years in jail and a fine of $8,000.
Wild left the dogs in a van parked in the driveway of her Arnold home last summer, after returning from a dog show in Iowa.
Five of the dogs — three golden retrievers, a Dalmatian and a Malamute — were dead when they arrived at Laura Ivan's veterinarian office in House Springs. The other two, an Akita named Jersey and a Siberian husky named Cinder, were barely alive.
Jersey, one of the top-ranked Akitas in the country, had seizures and died of a heart attack the next day. Cinder survived. A veterinarian testified the dogs died of heat exposure. Authorities say the temperature in the van could have reached 120 degrees. Many of the dogs had thick coats.
Wild read a statement Thursday apologizing for the dogs' deaths. She said she will live with the memory forever.
Wild had support in court, including Scott Thibodeaux, who owned the Malamute that died.
"I view this as an unintentional, tragic accident," he said.
Thibodeaux, of Defiance, said he would not hesitate to trust Wild with caring for his dogs in the future.
Dorothy Everett, a retired American Kennel Club judge who lives in High Ridge, attended the trial and sentencing. She believes Wild will be sanctioned by the club.
"Most handlers do take much better care of animals in their care," said Everett, 67.
Efforts to reach someone at the American Kennel Club on Thursday were not successful.
Wild took the stand in her trial last month and said she had to leave the dogs in the van because the garage at the house of her mother and stepfather, where she lives, was too hot. The show dogs could not join the family's seven Malamutes in the backyard because the Malamutes don't like other dogs, she said.
She said she couldn't put them in the basement because her mom didn't want to hear them barking.
Wild slept that night inside the air-conditioned house with her own two Chihuahuas, she said. She put six fans in the van and said she left a sliding door open and rolled down the windows.
Get local news delivered to your inbox!
Subscribe to our Daily Headlines newsletter.