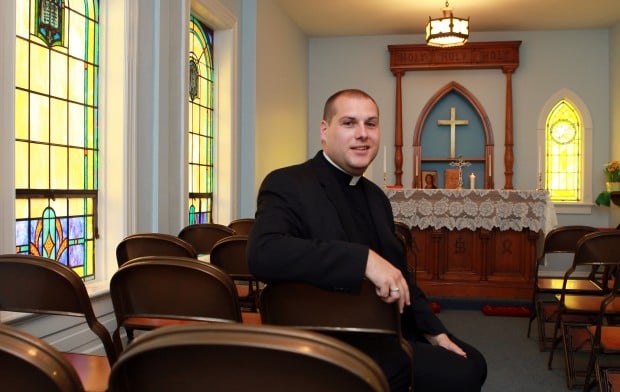 That the St. Louis Cathedral Basilica sits directly across Lindell Boulevard from his desk is an ironic twist in the winding path of the Rev. Phillip Lichtenwalter.
He is the new leader of a small independent Catholic church that opened last Sunday as an alternative to the Roman variety.
His pastoral role is volunteer. Lichtenwalter earns a living as a night doorman at Towne House Apartments in the Central West End. Only glass doors separate his view of the green-domed cathedral and a sign out front that he claims has a misleading slogan: "The Catholic Church welcomes you."
"All aren't welcome there. It doesn't welcome me," said Lichtenwalter, 31, who is openly in a homosexual relationship. "No matter how loving and how fruitful (my relationship) is, they would still consider me intrinsically disordered."
The Catechism of the Catholic Church says homosexual acts are "contrary to the natural law" and "under no circumstances can they be approved."
Although Lichtenwalter's St. Catherine of Siena American National Catholic Church welcomes all, it is not a gay church, he said.
"We are a local expression of the inclusive nature of God's love," he said.
It joins the roster of independent Catholic churches in Creve Coeur and Webster Groves that share a similar motto.
St. Catherine church meets at 1 p.m. Sunday in the side chapel of St. John's Episcopal Church, at 3664 Arsenal Street. It's the size of a small studio apartment. Lichtenwalter said he was pleased with the turnout last weekend: seven people, including his parents and partner.
Connie Butler, 62, who filled one of 20 or so folding chairs, said she left the service "feeling very good."
"I haven't done that in a long time," said Butler, who used to attend Most Sacred Heart in Eureka.
A lifelong Catholic, she started looking for other options after her husband died in 2005. She said a priest visited him at home a few times when he was ill.
"It felt like to me that he couldn't wait to get out of the house," she said of the priest, who has moved to another parish. "He did not respond the way I thought he should respond."
Lichtenwalter said others in attendance last Sunday didn't want to comment, in fear of retribution.
Though the church loosely follows traditions of Roman Catholic Mass, it does not follow the leadership of Pope Benedict XVI or the local authority of St. Louis Archbishop Robert Carlson.
St. Catherine is the sixth American National Catholic Church parish to open since the denomination was founded in 2008. Women are allowed to be priests. Annulments aren't needed. Communion is offered to anyone.
Bishop George Lucey, of New Jersey, who leads the national organization, said the services might not be for everybody, but he wants the churches to be a "viable alternative."
"Hopefully, by its existence, it will give balance to the Roman Catholic structure," Lucey said.
The Roman Catholic bishop of Trenton, N.J., David O'Connell, recently scorned one of the new parishes, Our Lady of Guadalupe. It was formed in West Long Branch, N.J., by people who were discouraged about the consolidation of three churches in the diocese.
"No Catholic church is independent," O'Connell told The Associated Press in June. "This group and the individuals leading or promoting it are schismatics who refuse to acknowledge — or worse, reject — the unity of the Roman Catholic Church and its leadership and laws."
Lichtenwalter's efforts in St. Louis will likely draw ire.
Even while growing up in Lincoln, Ill., he said, he had always wanted to be a priest. In high school, people called him "father." The Roman Catholic Diocese of Peoria, Ill., sponsored him as a seminarian. But he was kicked out after two years because, he said, he was accused of lying about his sexuality during the entrance interview.
He finished an undergraduate degree in philosophy and later studied as a Dominican brother. After three years, he no longer felt called to the single life of being a friar.
He earned a master's degree from the Aquinas Institute of Theology in St. Louis in 2008. He tested the waters for a few months at the North American Old Catholic Church, another independent group, which ordained Lichtenwalter as a deacon. He was a deacon intern for seven months at St. Stanislaus Kostka Catholic Church, which wasn't a good fit, either.
Now at St. Catherine, he said, "I finally feel at home."
He's scheduled to be ordained a priest in November by the American National Catholic Church. He assured that he'll pastor his flock, no matter the size, "as long as they show up."