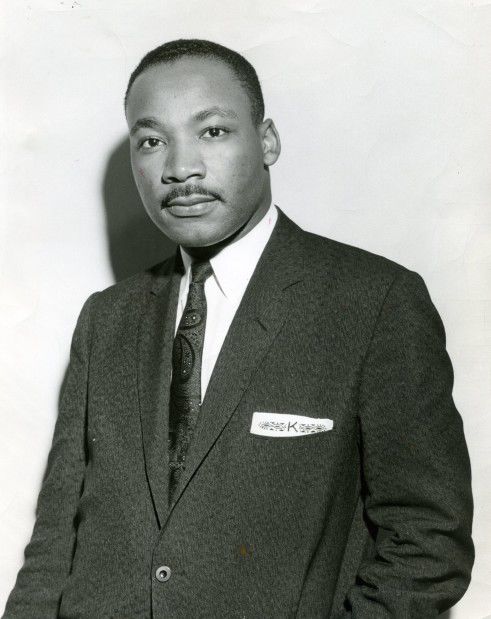 What would the Rev. Dr. Martin Luther King Jr. do if he were alive today?
He would "speak truth to those who did not want to hear," says Terrence Freeman.
And in doing so, King would be prompting opposition as he did a half century ago. "He would not have been silent," said Freeman. Perhaps as a result, "he would not have been as revered as he is today."
Freeman is a professor of engineering science at St. Louis Community College. He was the keynote speaker Sunday at the college's celebration of King's birthday, an annual tradition for more than 20 years.
The event of speeches, interpretive dance and gospel music drew about 150 people to the college theater at the Florissant Valley campus.
King, who was murdered in 1968, would have been 85 today. Freeman drew excerpts from King's speeches and actions to speculate about how he would have viewed events today.
In 1957, King denounced the "contrivances" being used in the South to keep blacks from voting. Today, he would be campaigning against "voter suppression," said Freeman.
That's the term used by those opposed to efforts across the country to require government-issued photo identification for voting. Advocates say it will prevent vote fraud. But those without such identification, usually a drivers license, tend to be poor, old or disabled.
King denounced those who would "take the necessities of the many" to preserve "luxuries for the few." When he died, he was organizing a "Poor People's Campaign." That would have guided his view on today's arguments over income inequality. He would have been campaigning against poverty, said Freeman.
King preached nonviolence in the civil rights movement. He would have spoken out as strongly about today's neighborhood violence as he did about the killing of children in church bombings long ago, said Freeman.
That same philosophy of nonviolence might have turned him against the wars in Iraq and Afghanistan, Freeman speculated.
King wouldn't have been satisfied with simply talking. "He would have called for action," said Freeman.