FERGUSON • About 30 adults had just started watching Mel Gibson's "Passion of the Christ," a movie about Jesus' crucifixion, when one of the church elders received a text from his wife.
"There's a tornado at Lambert heading your way," the phone said. The group at Ferguson Christian Church scrambled downstairs, joining five children who former children's minister Joni Bellinger was tending to.
"It wasn't a minute before we started feeling the pressure," Bellinger said. "Our ears were popping. Everything started flying — brooms, shattered glass . . . Everyone talks about that train sound. It was just a 'Boom! Boom! Boom!' I've never experienced such pressure."
The children cried and the adults huddled around them. Just like that, it was over.
"We all hugged and thanked God that we're all alive," Bellinger recalled on Saturday, talking with a reporter from the church, at Royal and Elizabeth avenues.
The tornado ripped off the roof, from the trusses to the sanctuary. Ceiling panels lay scattered across the pews, where the adults had been sitting just before they took shelter. Rain poured down on the broken glass that covered the floor. The only thing that remained standing in the auditorium was the silver cross.
Bellinger said they feel grateful.
"We're the church, not the building. These things are all replaceable," she said, while guessing that the church will pretty much have to be built anew.
There were similar stories across the path of the storm, from north St. Louis County to southern Illinois.
On debris-strewn Rose Acres Drive in Maryland Heights, Ryan Rush, 30, walked door-to-door seeking business for a crew with chainsaws from his landscaping company. 
With scores of trees snapped like toothpicks, business was booming. According to preliminary estimates, the city by far saw the most damage, with 1169 homes hevaily impacted.
Rush saw cosmic significance in the Good Friday tornado.
"I'm not all that religious, but I'm beginning to wonder if all these tornadoes aren't a sign of the 'End Times,' " Rush said. "Maybe God is using Mother Nature to end the world."
Where Rush saw divine retribution, Maryland Heights Police Capt. Scott Will saw God's mercy.
"We've got about 200-plus homes in the city that were hit and some of them extremely damaged, and all we had were three minors injuries," Will said. "I think you could call that some kind of miracle."
Lyle Bergman, 51, and his girlfriend, Debbie Bendsen, 49, just made it to the basement of their home in the 2000 block of Rose Acres went the power went out and the walls started shaking.
"I could feel the incredible suction above me and I pretty well figured the roof was coming off," Bergman said.
When the roaring stopped, the couple, uninjured, walked up the stairs, where they were pelted with rain pouring through two gaping holes in the roof.
In Bridgeton along Beaverton Drive, just southeast of Interstates 70 and 270, rows of large new homes were destroyed or heavily damaged.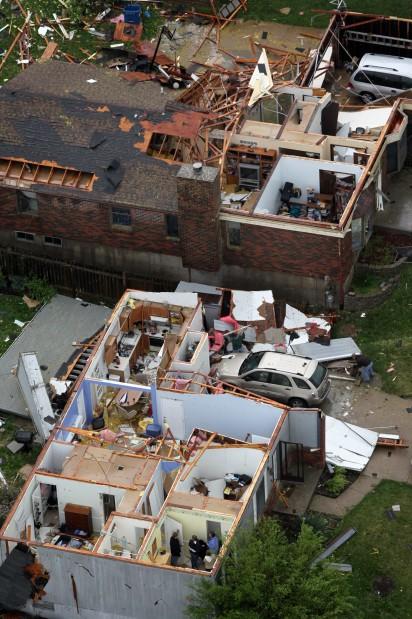 Ron Henderson, a retired former St. Louis police chief and federal marshal downtown, went down to his basement with his wife when TV reports warned of a tornado only minutes away.
"We got to the basement when it hit. Ron pushed me onto the floor and covered me," Peggy Henderson said. Her husband added, "Our ears popped. I could hear glass shattering. When it was over, I went up the stairs. I said, 'Baby, there ain't no upstairs.'"
After the storm, Ron Henderson stood on the fully exposed floor of their bedroom, which looked more like a cluttered patio. Only a few sections of interior walls remained of what had been a two-story house. Shattered wood, drywall and insulation lay in piles above the foundation and all around the yard.
"God rode shotgun for us tonight," he said.
All around them, homes were leveled or severely damaged. Neighbor Dave Koenig still had the structure of a two-story home, although exterior walls were stripped away, exposing skeletal joists and studs on the upper floor. Koenig said disagreed with the trypical characterization of a tornado's sound.
"It didn't sound like a train. It sounded like a tank driving through my home," he said.
Henderson said he was grateful for the TV weather broadcasts. "I know a lot of us complain about programs being interrupted, but I believe those reports saved us all," Henderson said.
Residents of Long Road in Bridgeton, just north of Interstate 70, were clearing debris, carrying damaged material out of homes and commiserating with neighbors Saturday morning.
Diana Votaw, 57, said she considered herself lucky despite the damage to her roof and the uprooted tree in her front yard. She pointed out that a nearby home on Avery Lane had collapsed.
Votaw, a United Pentecostal Church missionary, said she felt "very blessed" that the storm had spared her life.
On Friday night she was sitting in her living room, looking out at the backyard when what she assumes was a tornado swooped onto her property. "The whole area lit up - it was like a ball of fire," she said.
She ducked down behind a nearby counter.
"I said Jesus!" she recalled, explaining it was a prayer for help, not a cry of surprise. The next thing she knew "it went over my house. It passed me by."
Votaw, who lives corner of FeeFee and Long roads, was spared some of the damage that wrecked the rest of her neighborhood.
There were downed trees and scattered pieces of metal all down Long Road. Some homes have holes in their roofs, others have windows knocked out. One home collapsed entirely, crushing a Pontiac Grand Prix that was parked in the driveway.
Votaw said the damage was worse than what she experienced after a typhoon in Taiwan several years ago.
Her next door neighbor, Joyce Pusateri; 64, said from where she hid in the laundry room, she could smell the wood from trees being felled.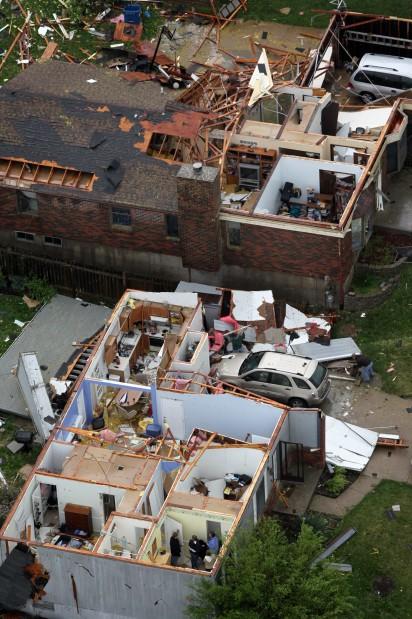 "It sounded like the aftermath of a bomb," said Pusateri, who watched as insulation from her neighbors homes flew through her windows.
Back in Ferguson, large trees and shattered utility poles lay along and across Chambers Road. At the corner of Ballman Avenue and Chambers, Malinda Hendrix said she was watching the storm from her front porch when the winds suddenly began blowing hard. "It was like, 'woo, woo woo.'" Hendrix said.
She and a friend, Eddie Shelton, ran through the garage into the home.
Emerging a few minutes later, they saw a large uprooted tree toppled onto the roof and Shelton's 2001 Dodge, now crushed. "Oh, happy day," Shelton said. "But we're alive."
On Evergreen Boulevard in Berkeley, Wardell Morgan, 48, and his wife, Phyllis, 47, were sitting on the front porch when they heard the tornado sirens. They had heard them many times before, and just earlier in the week. So they ignored them.
They left to get Chinese food and were about a block from their home when a tornado blew through the neighborhood. They raced back home to find the porch they had just been standing on flattened by a large tree.
"You get accustomed to the sirens and you don't pay any attention to them," Wardell Morgan said. "We were definitely, truly lucky. If we had stayed on the porch we would have been in the middle of it."
Power lines are down across a five-square-block area in Berkeley, which was among those hit hardest by the storm. Hundreds of homes have suffered extensive damage, mostly to roofs and siding.
The storm traveled east toward and across the Mississipi River, with tornadoes touching down along the way.
In an unincorporated area of Madison County just north of Granite City, dozens of homes sustained roof or siding damage and some lost garages. There are toppled trees and debris is still strewn about.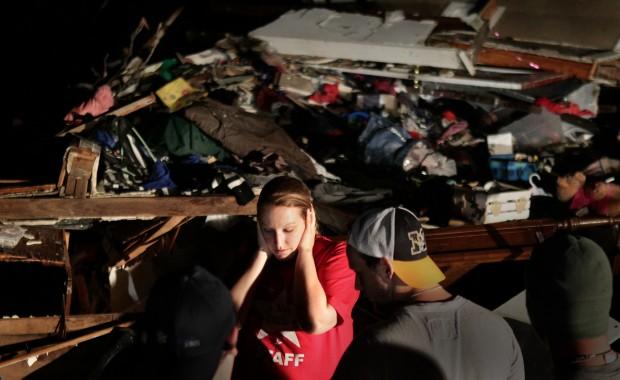 Tammy Milam had just come home from dinner with two of her sons. When they pulled into the garage of their Minerva Street home, their ears started popping. They knew the storm was imminent. They had just made it to the basement when the worst hit.
"It was so quick," Milam said. "The kids were like "I think there was a tornado. It scared me so bad."
A tree fell in her backyard, damaging her above ground pool and deck. There were a couple of holes in the roof. Milam was just relieved nobody was hurt.
"All this can be repaired. Everybody's safe. That's the most important thing," she said.