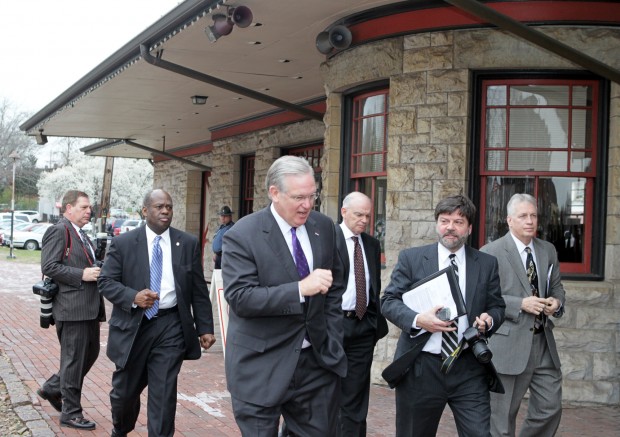 Missouri will seek nearly $1 billion in federal funds for projects aimed at making passenger trains run faster and more reliably through the state.
Gov. Jay Nixon on Tuesday announced the funding application for $373 million in immediate upgrades, including $150 million to replace the Merchant's Bridge near downtown St. Louis and $75 million to buy three new passenger train sets.
The state will seek an additional $600 million to study and begin acquiring property for a separate, future rail corridor between Kansas City and St. Louis. Amtrak trains currently share track with freight railroads.
"The design, planning and construction of this project would create high-paying jobs in communities across Missouri over the next several years and provide the necessary resources to prepare for construction of a dedicated high-speed passenger rail line," Nixon said.
The federal government has given states until April 4 to apply for the funds.
Missouri's application for immediate projects also includes $48.4 million to double-track the line between Lee's Summit and Pleasant Hill, Mo., to help trains run faster and an additional $10 million to double-track the line between Pleasant Hill and Jefferson City.
The application seeks $11 million for a new Jefferson City station; $11.6 million for a "passing siding" in Kingsville, and $19.1 million to replace a bridge in Kansas City. It also includes crossovers and grade-separation projects that will help Amtrak trains stay on schedule.
Missouri so far has received about $37 million in federal funds to upgrade the St. Louis-to-Kansas City rail line.
Get local news delivered to your inbox!
Subscribe to our Daily Headlines newsletter.