ST. LOUIS • Police used a technique called kettling on Sunday night to box in about 100 people at a busy downtown intersection and arrest them for failing to disperse.
But some of those caught in the box made by rows of officers said police overstepped their bounds, using excessive force and chemical spray on people who were not protesting, including residents trying to get home and members of the media. As police closed in from all sides, they struck their batons in unison on the pavement, in a cadence march.
Tony Rice, an activist who goes by Search4Swag on Twitter, said he was shocked by the police behavior.
"It was the most brutal arrest I've ever experienced in my life," Rice said. "I thought I was going to die."
He said he could not lie prone on the ground, as ordered, because he had his bike with him.
Rice said his neck was being pressed against part of his bike, and he told the officers: "I can't breathe. I can't breathe."
Those bused to the jail seemed confused by what was happening, Rice said. Pedestrians were arrested along with legal observers, protesters, a freelance photographer and a doctor, he said.
St. Louis Post-Dispatch reporter Mike Faulk was caught in the kettle Sunday night. A line of bike cops formed across Washington Avenue, east of Tucker Boulevard and police in helmets carrying shields and batons blocked the other three sides of the intersection at Tucker and Washington. Faulk heard the repeated police command, "Move back. Move back." He had nowhere to go.
The police lines moved forward, trapping dozens of people — protesters, journalists, area residents and observers alike. Multiple officers knocked Faulk down, he said, and pinned his limbs to the ground. A firm foot pushed his head into the pavement. Once he was subdued, he recalled, an officer squirted pepper spray in his face.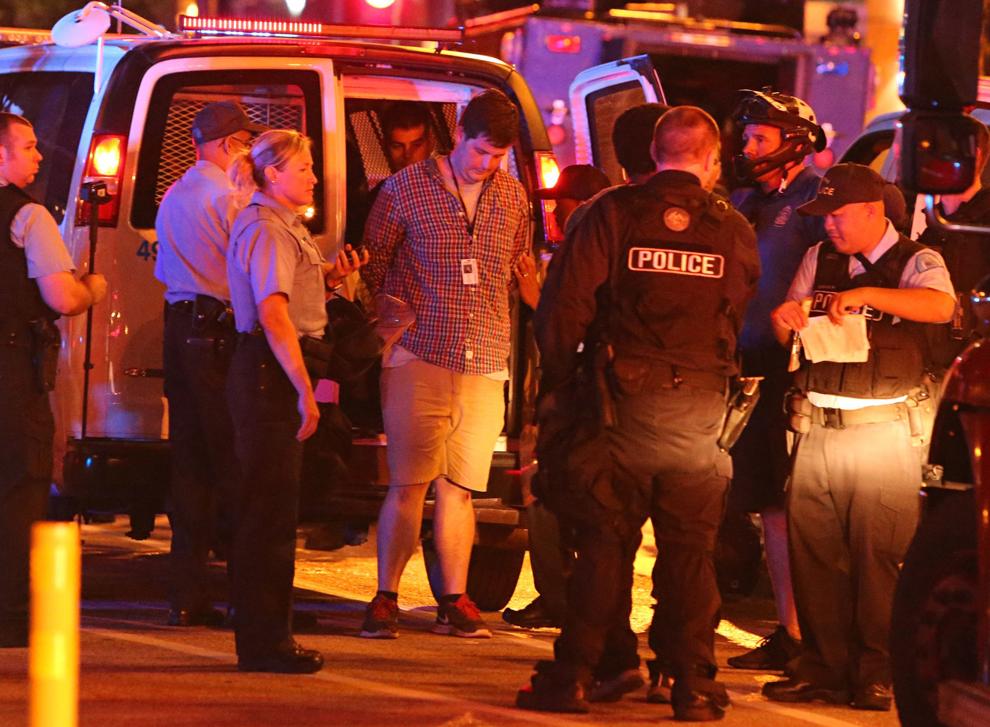 Police loaded Faulk into a van holding about eight others and took him to the city jail on Tucker, a few blocks to the south. He arrived about midnight and was released about 1:30 p.m. Monday after posting a $50 bond. Faulk was charged with failure to disperse, a municipal charge.
Nigel Jernigan, 27, a cook from Jennings, said he came downtown around 9 p.m. Sunday to join others protesting the not-guilty verdict in the case of former St. Louis police Officer Jason Stockley, accused of murdering Anthony Lamar Smith.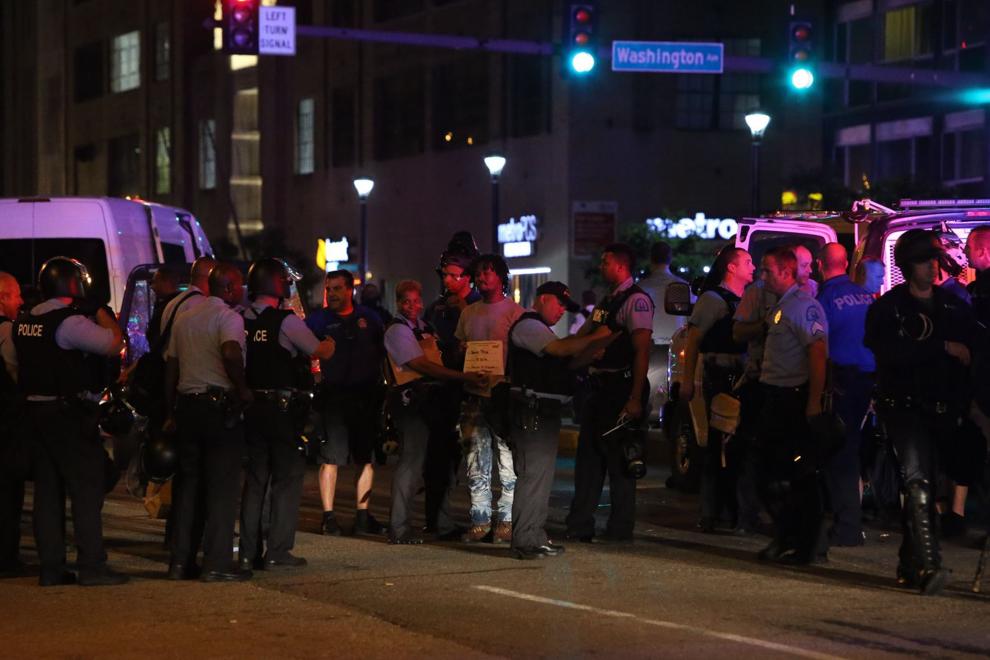 In doing so, he got caught up in the sweep by police. He said he saw officers hit and roughhouse people around him on the ground who wouldn't put their hands behind their backs.
"Most of the people who didn't have their hands behind their backs were making sure they weren't pepper sprayed in the face," he said.
Jernigan said he put his face to the concrete. He said he heard police chant and yell even though the majority of the protesters were already terrified from being cornered and not allowed to leave.
Dellicia Jones, 23, said she and her boyfriend were also caught up in the sweep. She said she hadn't participated in any of the earlier protests but wanted to see what was happening Sunday night.
She and her boyfriend parked on Washington Avenue and joined other people who were mostly standing around and talking, Jones said. After about 30 minutes, police began advancing while banging their batons on the ground in unison.
She and her boyfriend were quickly boxed in. "When we tried to walk one way, they came at us with pepper spray and batons and told us to go the other way," Jones said, but they had nowhere to turn.
Jones said she wasn't treated roughly by the officers who arrested her but she saw others who were hit with pepper spray and some who were slammed to the ground.
She thinks police were too harsh in how they swept in on the protesters.
"It was nowhere near right, at all," Jones said a few hours after she was released from the City Justice Center. She had spent about 15 hours there and was among the many charged with failure to disperse.
Controversial tactic
Kettling has been used across the country as well as in Europe to defuse violent situations, which is how police described their Sunday night actions. After several hours of peaceful protests, which started at police headquarters west of downtown, the group of about 1,000 people moved to the St. Louis University campus and then back to the police station. Then a group peeled off and headed downtown, where several windows of businesses were broken, and concrete planters and trash cans overturned. Police warned protesters several times to disperse, saying it was no longer a peaceful assembly.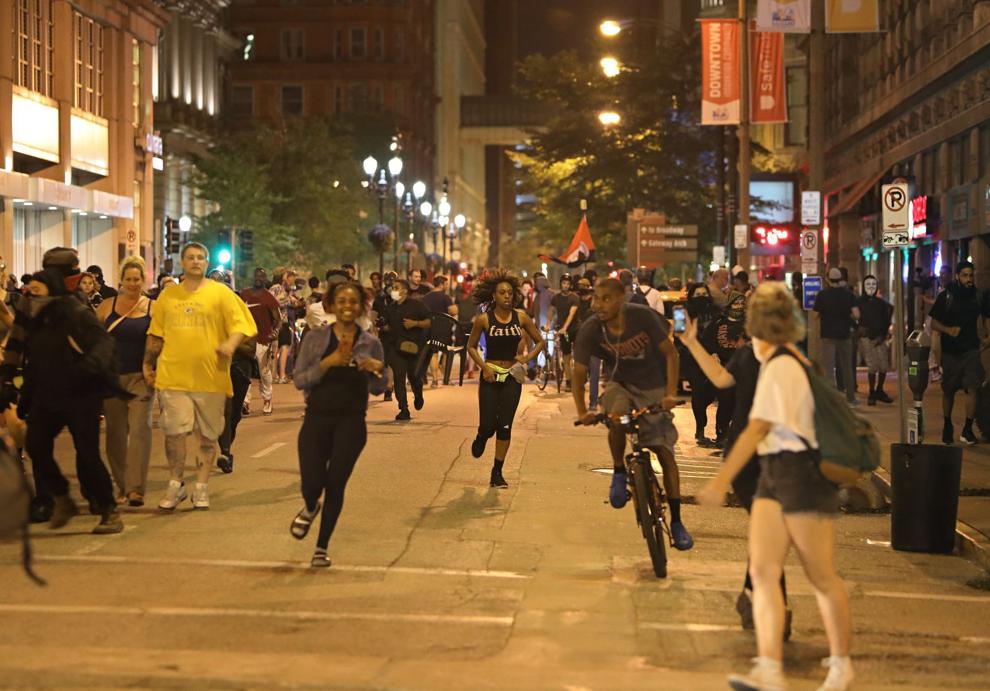 Tony Rothert, legal director of the American Civil Liberties of Missouri, said his office has been busy fielding complaints and been in contact with Mayor Lyda Krewson's office as well as Acting Police Chief Lawrence O'Toole regarding what Rothert called inappropriate police behavior.
"We're exploring whether litigation will be necessary to bring police in line with the Constitution," Rothert said.
He said examples of questionable behavior by police include use of chemical sprays and ordering people to stop recording officers and to delete images they had already taken.
"And then engaging in kettling, which caused people who were doing nothing wrong to be detained and arrested along with those who were breaking the law," Rothert said. "It has been used infamously and does very often bring in journalists, legal observers and innocent bystanders. It was used at the presidential inauguration (in January) in D.C., and in New York during Occupy Wall Street. It's really a military tactic for controlling crowds and controversial because it leads to constitutional violations."
Rothert said he is unaware of it ever being used in St. Louis before Sunday night "and I don't recall it ever happening during Ferguson or any of the other protests of police shootings."
The St. Louis Police Department said the design of the area downtown St. Louis prompted their actions Sunday night.
"The geographical layout of the area, and not a technique, dictated how tactics were deployed," a police spokesman said in a statement Monday.
Police said anyone who wants to make a complaint about officer misconduct can contact the Internal Affairs Division at slmpd.org, 314-444-5652 or in person at Police Headquarters, 1915 Olive Boulevard.
Used in Portland
In November 2014, when it was announced that a grand jury would not indict former Ferguson police Officer Darren Wilson in the shooting death of Michael Brown, protests broke out across the country, including in Portland, Ore., where kettling was used to control a crowd of about 100 demonstrators. Ten people were arrested for disorderly conduct or interfering with police, but prosecutors dismissed the cases.
A citizen review board determined that orders by police brass to have officers corral and arrest the group of protesters was unlawful. The board investigated after about 40 complaints were made to the city's Independent Police Review Division, a part of the city auditor's office.
Constantin Severe, director of the Independent Police Review, said those who complained said there was a "lack of articulation" by officers as to what the demonstrators were doing wrong. And without that component, police were wrong in kettling the group, which makes it impossible for anyone boxed in by police officers to leave, he said.
Severe said that after the findings, the Portland Police Department vowed to use the kettling procedure rarely, and stopped for nearly two years. They resumed the practice after Donald Trump was elected president, which launched several protests in Portland including one in June where kettling was used again.
"Those on the protest side say (kettling) is killing our First Amendment rights," Severe said.
Police say it's an effective way to defuse a volatile situation without resorting to violence. Portland is reviewing police policy on crowd containment, he said.
David Klinger, a criminal justice professor at the University of Missouri-St. Louis, said that kettling serves a lawful purpose when crowds disobey police orders to leave an area. Those who have done nothing wrong should not pick that particular time to try to wage a debate with officers.
"If you are in a crowd and next to a guy that is breaking the law and police say it's an unlawful assembly, you are going to get scooped up if you don't leave," said Klinger, a former Los Angeles police officer.
He said many of those protesting have done so before and know that in a volatile situation, ignoring failures to disperse typically leads to arrest.
"This is no time to play the victim game," Klinger said. "It's time to leave."
Nassim Benchaabane, Robert Patrick, Jesse Bogan and Erin Heffernan, all of the Post-Dispatch, contributed to this report.