FERGUSON • Flip the calendar back to the evening of Sept. 14, 2010, four years before the Michael Brown shooting, and take a seat in the blue-padded chairs here at City Hall.
There was a meeting going on — one that would prove prophetic — about activity brewing on the city's far eastern flank.
Jammed full of high-density apartment complexes, the area stands in stark contrast to the historic downtown, which is the pride of city leaders and families trying to buck the sluggish trend of much of surrounding north St. Louis County.
The apartments came up during the meeting when then-Mayor Brian Fletcher asked for an update on the Responsible Landlord Initiative.
Ferguson, population 21,000, fretted a lot during the recession about foreclosures. Now city officials had a jaw-dropping report in hand that mentioned 385 recommended evictions between January 2008 and June 2010.
"That's a lot of evictions," Fletcher said, according to a transcript of the meeting.
What's more, nearly half of the city's police calls were going to the apartment complexes. Places such as Oakmont Townhomes, Park Ridge Apartments, Northwinds Apartments, Versailles Apartments and Canfield Green, which would gain worldwide attention as the site of Brown's shooting by Ferguson police.
"Those are some really substantial numbers that we need to work on," Fletcher said. "We need to get some police officers talking to the tenants."
City Manager John Shaw agreed: "There's definitely a problem there."
At that time, the council was just beginning to wrestle with issues that would escalate, as a corner of Ferguson already was overtaken by some of the most concentrated poverty in the state. It was a transition largely outside of the council's control — accelerated by trends within subsidized housing that spurred the growth of low-income apartments in select parts of the region.
And yet, in that meeting four years ago and afterward, Ferguson officials tried to push back.
Fletcher, who at the time was earning $350 a month as mayor, asked for better screening of tenants.
A councilman said problem property owners should be the focus. Shaw, who essentially runs the city's operations, said police were already working with the complexes.
Fletcher seemed alarmed by a potential public relations problem swelling on the horizon.
"I don't want to get in a situation like the apartment over in Spanish Lake where every time you turn on the news there's a shooting going on at that apartment complex," he said of an area in unincorporated North County. "We need to cut that off. We've already had some incidents similar to those. It hasn't been as high-profile, but I don't want them to be."
Federal housing officials recognized decades ago that high concentrations of low-income housing are far from ideal. But new policies that emerged have often continued to produce similar results.
Pruitt-Igoe, the high-rise public housing complex in north St. Louis, was physically demolished in the early 1970s, and remains today as an epic example of housing policy failure. The buildings were an amalgam of crime, mismanagement and African-American poverty.
Also in the 1970s, the U.S. government launched new affordable housing policies such as Section 8, a tenant-based program that gives renters vouchers to live where they want, ideally in the broader community.
According to a Post-Dispatch analysis of Section 8 voucher data from the Department of Housing and Urban Development, the number of Section 8 voucher recipients has doubled in St. Louis County since the mid-1990s. That doesn't take into account other rental subsidy programs.
Factoring in all federal programs, there were roughly 13,000 households with subsidized housing in the county last year, including about 7,500 who used Section 8 vouchers, according to HUD estimates. By comparison, in the city of St. Louis, there were nearly 14,900 households living in subsidized units — about 4,700 used vouchers.
The data on Section 8 also show that the subsidies have tended to cluster in lower-income areas. Many inner-ring North County suburbs are disproportionately absorbing the tenants who have flocked to aging apartment complexes.
That includes Ferguson. A census tract that consists of a portion of Oakmont Townhomes and Northwinds Apartments and stretches eastward into unincorporated St. Louis County had more Section 8 renters in 2013 than any tract in the entire state, according to HUD estimates.
Voucher use compared to household income by census tract




Source: 2013 estimates from U.S. Dept. of Housing and Urban Development
In that area, nearly 20 percent of the 5,000 people who lived there were in Section 8 units. More than half of those households had median incomes of less than $10,000; 57 percent were headed by one parent; and 99 percent were African-American.
According to records from the Housing Authority of St. Louis County, three of the top nine recipients of Section 8 payments from June 2011 to June 2014 were the owners of Park Ridge, Northwinds and Oakmont. Currently, more than 200 tenants in those complexes have vouchers.
In three census tracts that jut from the eastern portion of Ferguson into portions of Dellwood, Jennings and unincorporated North County, there were an estimated 745 Section 8 renters. That is more than in all areas of St. Louis County south of Olive Boulevard.
Economics partly explains the concentration of Section 8 in certain neighborhoods. While the vouchers technically can be redeemed for any rental that accepts them, the subsidies are capped. That limits their use in higher-rent areas.
Some say prospective tenants also don't branch out to an area with which they aren't familiar.
"With Section 8 certificates, you can go anywhere, and people don't because they're afraid," said St. Louis County Housing Director Susan Rollins.
The housing authority directs voucher recipients to look for properties listed on socialserve.com. Of hundreds of the site's current listings in the county, nearly all are north of Olive Boulevard. Other online searches turn up comments like "No Section 8" or "Section 8 not accepted."
But the fact that Ferguson's eastern flank has so many subsidized apartment units also owes substantially to actions taken by Congress in the late 1980s to lure the private sector into the affordable housing arena.
That's when the low-income housing tax-credit program began awarding tax credits to developers as incentives for them to build new housing or refurbish old structures.
Developers sell the tax credits to investors, which lowers their debt on the project and allows for cheaper rents. Fourteen states, including Missouri, followed by developing low-income housing programs that replicate the federal policy.
In Ferguson, state and federal tax credits were awarded to refurbish Park Ridge, which has 336 units, as well as Northwinds, the 438-unit complex where Brown lived with his grandmother. The two apartment complexes are among the largest such properties in the St. Louis region.
They don't look like age-old slums. They offer day care, grass, trees and spacious apartments.
Eagle Point Cos., of Portland, Maine, bought Northwinds in 2005 and spent the next two years fixing it up with the help of tax credits.
By design, everyone who lives there must be poor.
In many of these low-income housing projects, at least 40 percent of residents must earn less than 60 percent of area median income. At Northwinds, all residents must be below that threshold.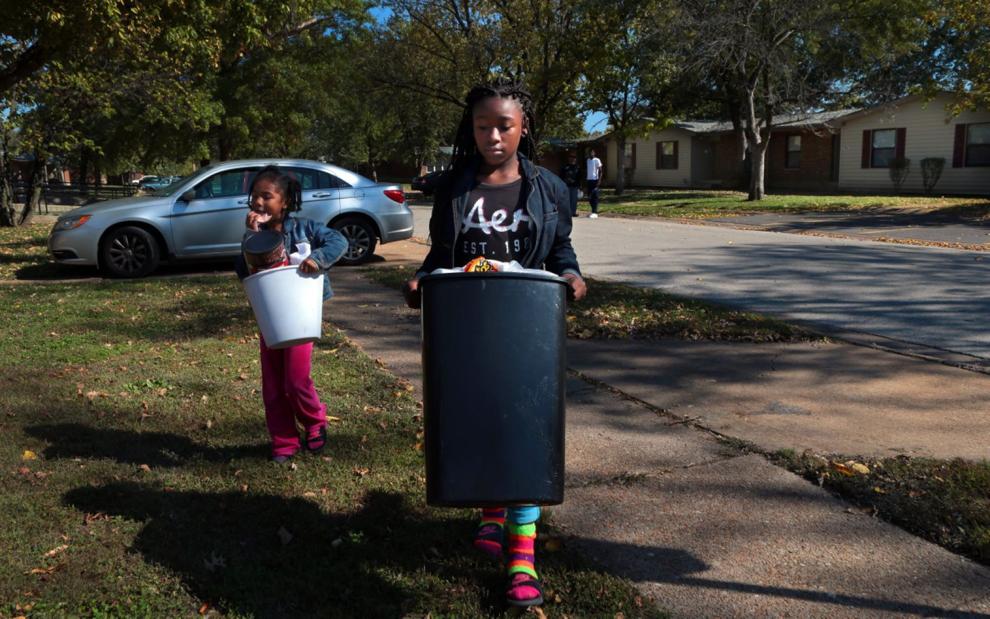 Laura Burns, president of Eagle Point, said the renovation project was originally pitched that way because it wouldn't have been economically feasible otherwise. Developers receive funding based on a sliding scale of tax credits based on the percentage of poor people they commit to serve.
Fletcher, the former mayor, said in a recent interview that he had supported the Northwinds renovation because the apartments needed repair. Communities tend to oppose low-income housing projects that involve new construction in areas with healthy property values.
Fletcher said Eagle Point had a good track record in other parts of the nation.
Not long after the Northwinds project was rolling, Fletcher said he was invited to lunch in Clayton. Investors and housing officials from the county and state wanted Fletcher to support another low-income housing tax-credit project. This time Park Ridge. As at Northwinds, all residents would be low-income.
"At that point, I was definitely against it," Fletcher said. "We certainly didn't mind having some low-income. There is a need. But you don't want to saturate a community."
He said he and the council refused to write letters of support for the project. According to state records, they also did not write formal opposition letters.
"The state just forced it on us," he said. "In hindsight, we probably should have campaigned."
He said some existing residents who made too much money were kicked out.
"I mean, I had residents who were upset," he said. "And they were minority, too. It had nothing to do with black or white in this case. It was about income. I even said, 'Why don't you put it in Wildwood? Why don't you put it in Chesterfield?' I am sure people would love to live there."
He said he was told the project wouldn't be profitable in West County.
Critics have a less-generous view about Ferguson's sincerity in addressing abrupt demographic changes to a suburb that has become predominantly African-American, pointing out lack of diversity in leadership positions and on the police force.
While there is diversity in the older parts of Ferguson, the apartments on the eastern edge of town are filled with African-Americans. Some residents say they feel caged in and targeted by police.
Conrad Egan worked for U.S. Housing and Urban Development in the 1970s and later helped run NHP Inc., one of the largest owners and managers of affordable housing properties in the country. He said the goal of recent low-income housing policy is to spread people out.
"There is no question where you have large amounts of low-income residents, you are going to have low-cost units. That's what they need," he said. "The key is to make sure you do that in a mixed-income kind of way, a scattered site kind of way."
Once the Park Ridge project went through in Ferguson, concern among other Ferguson residents grew.
"It's a strain on the school district," Fletcher said. "It's a strain on the police department because the bulk of our police calls are in this very eastern edge of the city where the apartments are."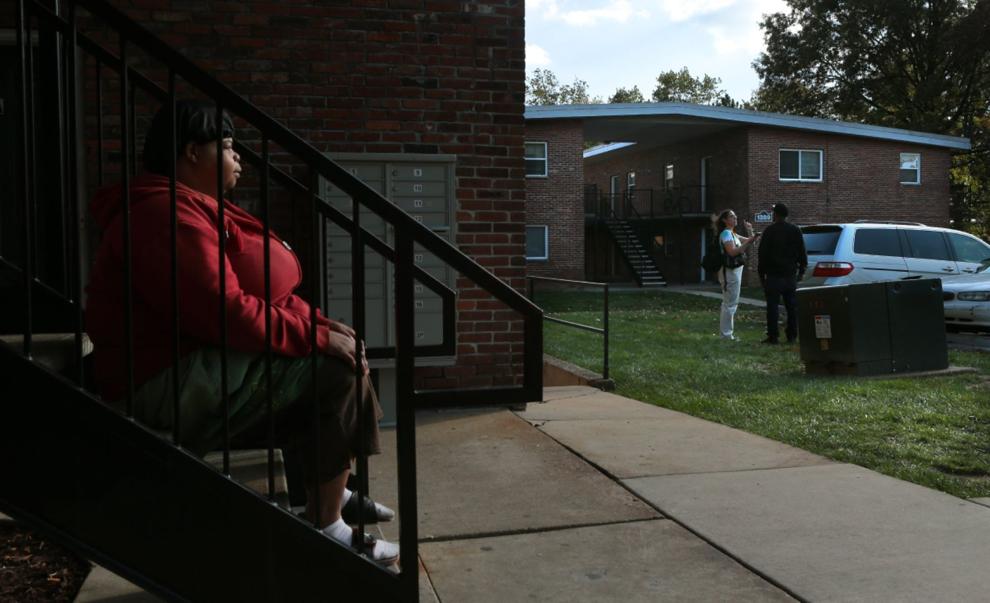 So do recent events. Around 4 p.m. on Oct. 8, somebody opened fire in Park Ridge, killing a man. Police don't believe the man, Robin Poindexter, 52, was the intended target. And just Friday afternoon, federal agents shot at two burglary suspects in a car at the complex as they attempted to arrest them.
Boston Capital Investment Fund owns Park Ridge. It took over the property in July from a local partner that withdrew under financial and legal distress.
Rollins, the county housing director, said she has been trying to start a dialogue with out-of-state owners and ensure they visit their low-income properties.
"I don't think they care," she said. "It's about how do I make the most profit."
Chuck Intravaia, assistant vice president of special assets at Boston Capital, disagreed with that statement.
"We are in the business of tax credits, but the underlying mission is affordable housing," he said, adding that he has personally visited the Park Ridge complex twice.
The Missouri Housing Development Commission both administers the tax-credit programs and inspects properties.
Over a 10-year period, Park Ridge will garner $14.8 million in government incentives, or $44,000 per unit, the commission said. Northwinds will garner $27.9 million, or $63,700 per unit.
Inspections have turned up numerous violations.
According to a 2008 report on Northwinds, the physical condition of the complex had an "unsatisfactory" rating for "numerous major reportable deficiencies." There were also "several major reportable deficiencies" in management and the review of tenant files.
By the time of the next inspection in 2011, the physical condition of apartments improved from "unsatisfactory" to "below average."
Northwinds is undergoing its latest inspection report now.
Eagle Point "prides itself on doing the best job possible to maintain our properties," Burns, president of the company that owns Northwinds, said in a written statement. "We are never satisfied when the inspection process results in negative scores or findings."
Burns said Eagle Point initially invested $13.3 million in construction costs into the $42 million project.
"The collapse of the local economy since 2008 created challenges with a very high, 45 percent turnover rate and a lot of vacant apartments," she said. "But there is no question that if you looked at a picture of these properties before our investment and one after our investment — you would hardly know they were the same structures."
Park Ridge had its last inspection in 2012. Physical condition and maintenance practices were given a "below average" rating. The same for maintaining occupancy.
Kip Stetzler, interim executive director of the Missouri Housing Development Commission, would not be interviewed for this story.
Asked in writing if Park Ridge and Northwinds are an example of how the low-income housing tax-credit program is supposed to work, he said in a prepared statement that "several factors come into play concerning the location of affordable housing. Among those factors are need and the availability of public transportation."
Since the City Council meeting four years ago, leaders in Ferguson have used the limited authority available to them to pressure landlords to maintain their properties — while working with police to enhance patrols.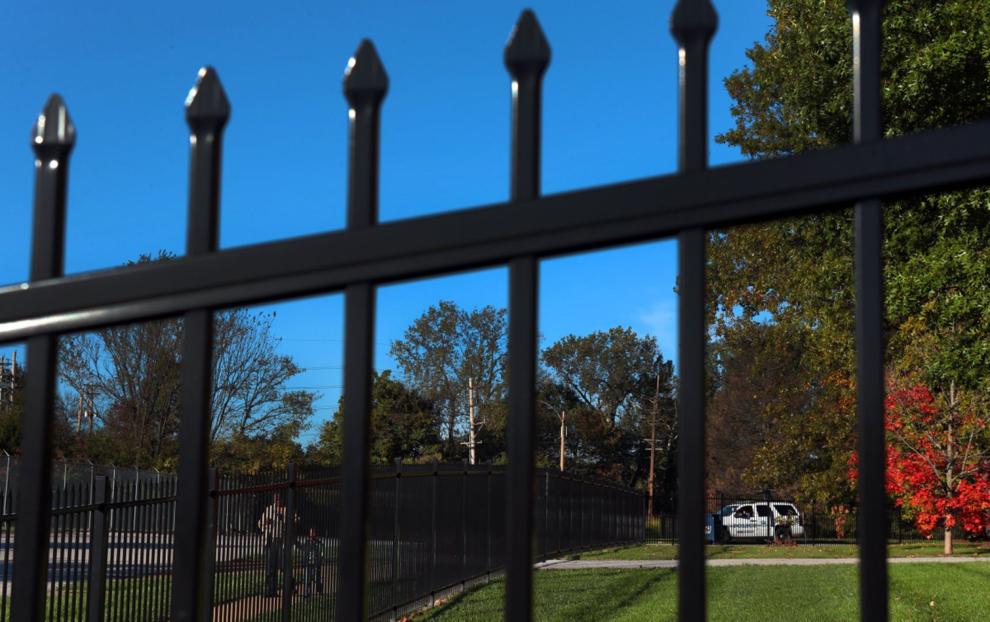 Under the leadership of a new police chief and mayor, arrests jumped 30 percent from 2010 to 2013, so much that the council discussed creating a kiosk to pay ticket fines.
In 2013, both Park Ridge and Northwinds signed new occupancy and licensing agreements with Ferguson that included an updated "security plan" due to "raised concerns" about police calls.
Park Ridge was expected to install a perimeter fence with only two gated access points to the property.
"Initially, we thought it was very firm, but we do see the benefit of having limited access just to people who live there and guests," said Intravaia, of Boston Capital.
Owners also agreed to hire off-duty police for security, or else be billed by the city for scheduling its own officers to do it. Owners agreed to do criminal background checks for all tenants over 18 — not just the head of the household — when they apply for a lease and at renewal. Several scenarios would result in eviction.
Occupancy stickers were to be put on each vehicle, tags given to each visitor whose movements would be accounted for in log books. Owners agreed to share a list of occupants and their license plate numbers, as well as invite police to participate in apartment inspections.
Leases were to be changed to say allowing an unauthorized person to stay in an apartment will result in eviction.
Northwinds agreed to similar measures, as well as added barriers, back gates to limit traffic in and out of the complex and license plate cameras.
Five months before Brown was shot, police invited all the apartment managers to a "meet-and-greet" luncheon at Vincenzo's Ristorante in Ferguson's historic downtown.
More changes were on tap.
Starting July 1, apartment managers had to start paying the city, not independent contractors, to inspect apartments.
"They always find something in a unit," said Valerie Davis, manager of Oakmont Townhomes. "We never get a pass on the first visit."
Every week, the city was sending crime reports to property managers so they knew which tenants were involved.
The last crime report Davis received was dated July 28.
Twelve days later, amid all the added security, the strain on city resources and the calls for service, 28-year-old Ferguson police Officer Darren Wilson drove into Canfield Green.
There, he encountered Brown, 18, walking with a friend in one of the highest concentrated areas of low-income housing in the state of Missouri.
And suddenly the sort of public nightmare that the former mayor feared was about to play out.