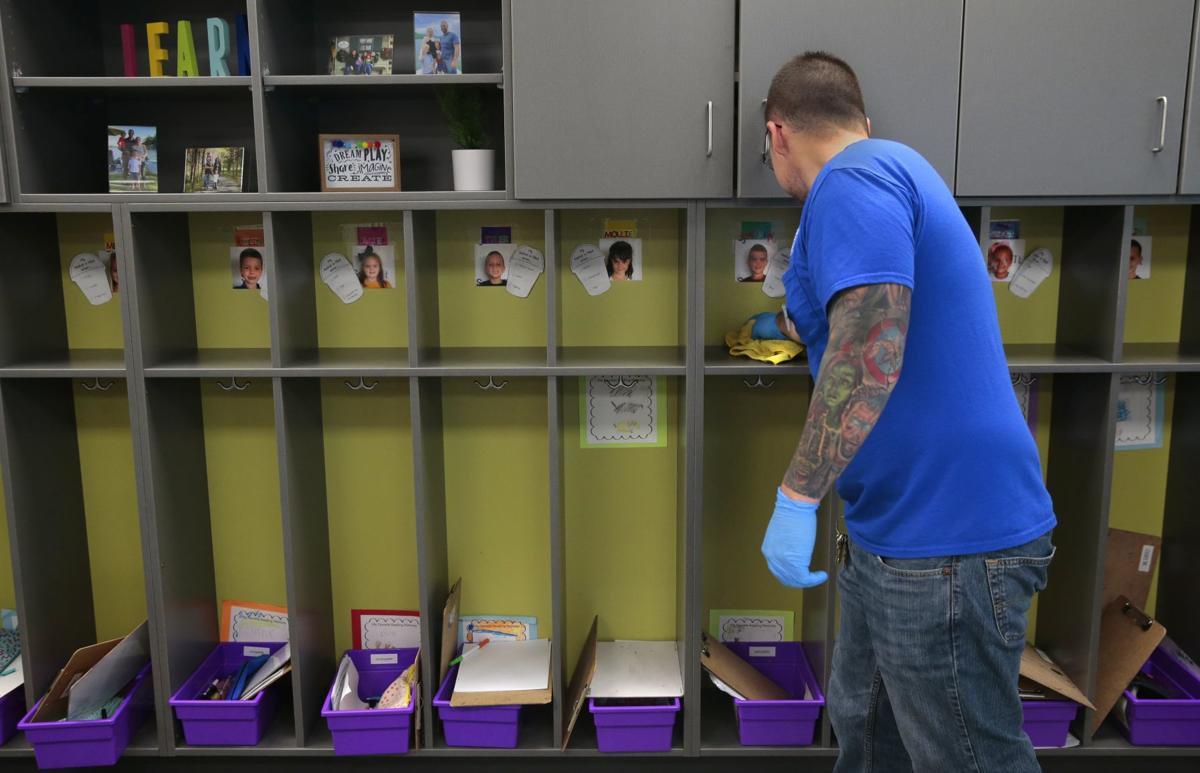 The St. Louis County health department on Thursday recommended schools rely on remote learning this fall, as Missouri set yet another daily record for new cases of the coronavirus by surpassing 2,000 for the first time.
"It's unlikely that the spread of the virus will be sufficiently controlled" for thousands of students and staff to attend full time without risking an outbreak, according to a letter sent Thursday to school leaders from the county health department.
The increase in community spread of COVID-19 is expected to last for several more weeks before any public health benefit is seen from tighter restrictions on crowds and businesses, County Executive Sam Page said at a news conference Thursday.
Missouri added another 2,084 coronavirus cases — a record total that leapfrogs a string of 10 other daily record-setting marks this month, as cases statewide continue to surge, especially over the past couple of weeks.
By comparison, Illinois, which has more than twice Missouri's population, has not topped 2,000 cases in a single day since May 24. Illinois reported 1,772 new confirmed cases Thursday, along with 18 additional deaths, for a total of at least 7,478 fatalities. In addition to record growth in new cases, Missouri also reported 13 additional deaths, bringing the known total of deaths in the state to 1,233.
On Wednesday — when Missouri set a then-record of 1,927 new cases — it was also revealed that the Show Me State joined 20 others designated as a "red zone" for the rapid spread of the virus, according to a newly publicized report from the White House that urged tighter restrictions in transmission hot spots.
In the last three weeks, St. Louis County has accounted for more new cases of the virus than any other county in the state, the report said. Jackson County, which includes Kansas City, has been second, and St. Charles County has contributed the third most.
The recommendation from the St. Louis County health department calls for schools to start the year in "as virtual of an environment as possible." Page said that he will "support any school that is choosing a different pathway" including most private and parochial schools that are planning to offer in-person options for students.
The lack of a clear government mandate leaves a gray area where private schools can stay open and further protect students from falling behind academically or socially, said Renee Racette, a former teacher and principal in St. Louis Public Schools.
"In-person school is going to be superior to a virtual environment. The major difference is the perception of safety," Racette said. "It's truly not safe to be operating schools in person, but for people who can afford it, they can create a structure that meets their needs."
The region's largest district, Rockwood, is one of several that also plan to bring students into classrooms at least two days a week. But nearly 20 other districts across the region have already made plans for an all-virtual start to the school year, including Hazelwood, Ferguson-Florissant and St. Louis Public Schools. The first day of school in most districts is Aug. 24.
Some private schools, including Lutheran North Middle and High School, are seeing an increase in transfer applications from public school families seeking in-person options.
"In response to parent feedback, we are offering both an at-home and a hybrid choice in which students will have the option to be in the school building two days each week," Principal Tim Brackman said. "Our approach is under daily and constant review. We are ready to go all online if necessary."
Page, who has a medical degree, expressed hope that students can return to school buildings at some point this fall, saying that public health measures dropping into place on Friday — such as a 10 p.m. curfew on bars — would help the region improve the "alarming" trajectory of the virus' outbreak. But any improvement, he warned, would not come immediately.
"The level of transmission is continuing to increase and will remain high for several weeks," Page said.
Ultimately, he said that sacrifices and behaviors in response to the pandemic — like wearing masks and practicing social distancing — need to become universally accepted.
"We still have to do more," he said. "These numbers would not be escalating if everyone were adhering to our public health guidelines."
Concerned about COVID-19?
Sign up now to get the most recent coronavirus headlines and other important local and national news sent to your email inbox daily.