HAZELWOOD • Sometimes even Bigfoot gets taken for granted.
Until recently, the beast that started the monster truck craze in the 1970s lived in plain view at one of the busiest intersections in the region, Interstate 270 and North Lindbergh Boulevard. Bigfoot 4x4 world headquarters became a landmark that drew thousands of spectators — especially when its biggest offspring was parked out front on a raised platform.
Bigfoot 5, the blue truck with 10-foot tires, could climb over anything, so it seemed to little boys like Bob Brown. Now 30, one of his regrets from a house fire was losing a family photo taken of him as a child, standing in the shadow of Bigfoot's giant paw.
He got to go inside the garage that day. Somebody awakened another truck, and its screaming engine made him cry.
"I think it was one of my first memories," said Brown, a construction worker from Alton. "I can't believe it's gone."
After three decades in the same habitat, Bigfoot has quietly moved to a low-profile locale in Pacific with more space to roam. Today, the raised platform and garage in Hazelwood sit empty, poised for another car dealership expansion that's coming soon.
Hazelwood spokesman Tim Davidson said city leaders "were sad and disappointed" to hear about the relocation.
"The city of Hazelwood gained the reputation as being the birthplace of Bigfoot, and tourists came from all points of the world to see it on display and go through the museum," he said.
Everything has been moved and the sign lettering taken down, but "Home of Bigfoot" remains sun-stained into the blue metal roof.
"You take things for granted because it's been there so long," said Greg Smith, owner of nearby Dale's Music, another dinosaur in suburban time. "Everything changes, nothing stays the same."
That has been the spirit of Bigfoot ever since Bob Chandler specially ordered a 1974 Ford F-250 through a Ferguson dealership. Apart from companies that used heavy equipment, four-wheel drive vehicles were rare when he got his start.
Chandler pushed his new Ford off road and up river beds and eventually over cars and into the air. Crowds grew bigger, always wanting more from Chandler, who developed the reputation of having a "big foot" on the gas pedal.
As he got bolder, development of better machinery for an increasing fleet of monster trucks was paramount.
"It's a vicious cycle," said Chandler, 74, sitting near a piece of broken axle in his new corner office in Pacific.
Landmark location
Early on, the family business mainly sold parts and serviced four-wheel drives. They left Ferguson in the late 1970s for more space near the airport in Hazelwood, then to the landmark location on North Lindbergh in 1984.
"It got to the point that we were spending so much time working on the Bigfoot trucks that we didn't have any time to do the service work and installation work," Chandler said.
Besides, his first car crunch stunt in a St. Louis County cornfield signaled the future wasn't in parts and service.
He recalled that one of his first big shows in Pontiac, Mich., had 68,000 people packed into an arena, about half of whom stormed the field after Chandler drove over a line of cars and surrounded Bigfoot.
"I couldn't move," Chandler said. "I was up on top of the cars. I actually rolled the windows up and locked the doors because I had no idea what was going to happen."
Around then, he remembers seeing a promoter's eyes turn into dollar signs.
"I got booked all the time from that point on," he said. "That's why we built more trucks."
Today, the Bigfoot family is working on its 22nd monster truck, not including other off-road vehicles like one that runs on electricity and is popular among autistic kids because it's quiet.
Most of the vehicles were built in Hazelwood. Busloads of children and thousands of engine enthusiasts of all stripes stopped by. Bigfoot 5 went down the road with police escort; welders from the shop sometimes fixed trucks for the fire department.
Test runs leading up to Bigfoot's 1999 jump over a 727 airplane were done on formerly empty lots along James S. McDonnell Boulevard; the truck launched a distance of 202 feet that time. Its current record is 214 feet, 8 inches.
"We had good working relations with the whole town," Chandler said. "They are very nice people."
Chandler, who is semi-retired, seems to have a knack for public relations. He's accommodated Jay Leno two times and once got a call about an adventuresome grandmother who wanted to ride in the original Bigfoot for her birthday.
"I said we can do it, bring her over here," Chandler recalled.
The grandmother sat on a chair placed on a pallet, then was raised to Bigfoot's door by forklift. She was driven around the lot in Hazelwood.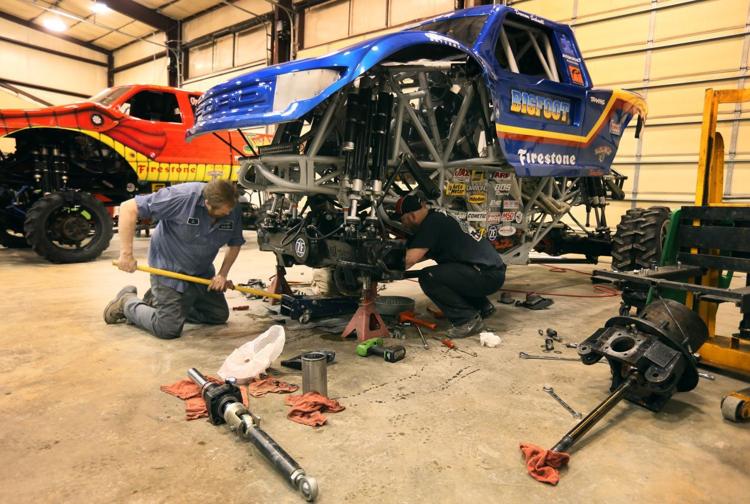 New digs
Bigfoot's new home is in the 2200 block of Rose Lane, nestled into an otherwise nondescript sliver of Pacific. There's more room for all the big tires and trucks. There's a jump in a field that will be used for an open house on April 23.
Chandler said landmark status isn't important because of all the shows, races and exhibitions the trucks go to. He said Bigfoot has performed in 28 countries, appeared in seven movies and a countless number of television specials. It became a popular children's toy.
Still, fans from Kentucky stopped in last week at the new digs on their way to a graduation ceremony at Fort Leonard Wood. The sign-in book listed tourists from a number of different states.
Bigfoot 5, the head-turning truck with 10-foot tires, hasn't showed up yet. It's parked at the International Monster Truck Museum and Hall of Fame in Auburn, Ind., while they settle into the new location.
Chandler said he doesn't want to park Bigfoot 5 on a raised platform anymore. He'll put it behind the security fence when it arrives in Pacific, allow the public to see it up close during regular hours. One time in Hazelwood, police discovered a young man who had climbed up a wheel and was sitting on the hood.
"It has always scared me out in front of the shop," he said. "They could kill themselves. That's way up there."
Apart from the drone of highway traffic, Bigfoot's old stomping grounds are quieter now. Not that the noise from the monster trucks bothered people much who lived in a trailer park hidden behind the lot, said Byron Ora, 36, a resident there who works the graveyard shift at a hotel.
Bigfoot was a landmark for North County, he said. It also was a wonderful way to give directions to his place.
"We are right behind Bigfoot," he told people. "That would get anybody here."
Now, he and many others, are near where Bigfoot used to be.