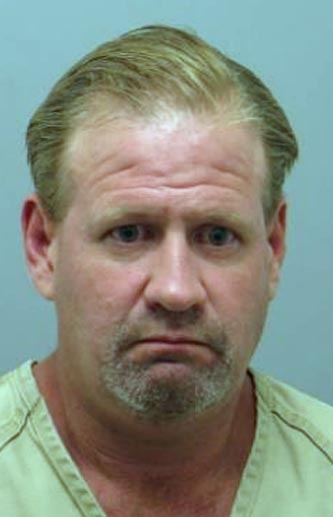 CLAYTON • A fight to avoid a long prison sentence failed Wednesday for the man known as the Boonie Hat Bandit when a St. Louis County jury convicted him of the more serious charges he faced and recommended 15 years in prison on each count.
Donald Keith Giammanco, 46, of Florissant, admitted during his trial this week to robbing 12 banks in 2007 and 2008. He claimed he needed money to pay past due bills after losing his job. But Giammanco insisted he never brought a weapon or threatened to kill anyone while he did it.
Giammanco testified that he thought he was only guilty of second-degree robbery, which would have led to a minimum of 7 years in prison.
Prosecutors insisted Giammanco's crimes deserved more time. That's why they pursued prosecution even after Giammanco pleaded guilty in federal court last year and was sentenced to 6 years and four months in prison.
"There has been a lot of attempt in this case to put sympathy on the side of the bank robber," said Prosecutor Keith Larner. "The real victims here are the bank tellers. They are the ones who said they were scared to death, shaking and thought they were going to die."
The jury sided with prosecutors when they convicted him on seven counts of first-degree robbery and recommended the 15-year sentences. The judge will decide the final amount of prison time Giammanco will serve at a Sept. 10 sentencing hearing.
Larner asked the jury to recommend up to 30 years for Giammanco.
In his closing argument, Larner argued that Giammanco committed first-degree robbery because he threatened the use of a dangerous weapon by putting his hand in his coat. His note to tellers also said to give him money and "everybody goes home safe" or "you'll get out of this alive," Larner said.
"You don't have to have a gun," he said. "He pretended to have a weapon, and that's threatening the use of a dangerous instrument."
Defense attorney Charles Teschner argued that that his client never implied he had a weapon. The tellers only assumed such things because of their own fears.
Giammanco testified in his own defense Wednesday morning saying he robbed St. Louis area banks because he was trying to raise his teenage daughters on his own.
"I wanted to keep my children's lives intact," he said.
Giammanco sometimes wore a military-style hat that earned him his nickname during his 11-month bank robbing spree. He said he went on the spree to finance his daughters' Catholic education and keep his house after he went bust day-trading stocks.
Giammanco's twin 19-year-old daughters testified in the penalty phase of the trial. The defendant fought back tears as the girls described their hardships since his arrest.
Marissa Giammanco told jurors that she began using heroin with her mother after her father was caught.
Both daughters said they were unaware of their father's financial trouble before his arrest. He gave them money when the asked and paid their tuition to private school.
"I didn't want to go to public schools," Marissa Giammanco testified. "People get beat up there every day."
Elise Giammanco said she worked at a retail store to pay bills after their dad went to jail. Both daughters are now enrolled in colleges outside of St. Louis and plan to move away when classes begin later this month.
Elise said she was shocked and dumbfounded when she discovered he robbed banks. She has since forgiven her father.
"He's the only one who really cares about my situation," Elise Giammanco said.
Elise and Marissa Giammanco said they believed the jury's recommendations were fair, and told several of the jurors as much as they left the courthouse.
"It's better than what I thought it was going to be," Elise Giammanco said.
One of the jurors came over to hug Elise Giammanco and told her she was praying for the sisters.
After the jury made its recommendation and Giammanco stood up to leave the courtroom, he turned to the jury.
"Thank you, ladies and gentlemen," he said.
His daughters called out that they loved him.
"I love you, too, girls," he called back.
Patrick M. O'Connell of the Post-Dispatch contributed to this report.
Be the first to know
Get local news delivered to your inbox!