EUREKA • Piles of concrete and rusted pipes litter the hillside, the remains of humble homes and lofty ambitions.
As the wind moves through waist-high grass, wild turkeys dart across abandoned roads. Weeds sprout from cracks in the asphalt. Rusty mailboxes bake in the sun.
For more than a decade, the tiny hamlet of Allenton, south of Interstate 44 and across from Six Flags, was a stumbling block in the path of grander visions.
First, it was supposed to become a mall, then a development featuring hundreds of homes and big box stores.
The group of builders who would eventually plan a $539 million, 1,700-home subdivision, along with 1 million square feet of commercial space, went defunct a couple of years ago, thanks to the recession. Before the project fell apart, the group had bought out 40 property owners and demolished what was left of the hamlet.
Today, it's a ghost town, studded by ripped-up foundations and heaps of brush. The community, it seems, was razed for nothing, and that's what makes it difficult for the people whose families called it home for generations.
"I don't know anybody who wanted to leave," said Albert Brown, who lived in Allenton for 60 years. "We just got pushed out."
Allenton — just a blip on a map that appeared along the railroad at the time of the Civil War — exists only in memories now.
Former residents are scattered throughout the area. Most were bought out of their homes. A couple were forced out through eminent domain. Some have since died.
"I can't talk about it," said Millie Howell, who renovated the community's old schoolhouse nearby and often drives by the rubble. "It will make me cry."
Ron Calzone, chairman of Missouri Citizens for Property Rights, said Allenton is a prime example of what can go wrong when a city subsidizes a private development or authorizes the power of eminent domain.
"Quite often these small towns are way out of their league," he said. "The developers take advantage of them."
But Eureka Mayor Kevin Coffey said the debacle was hard to foresee.
"What happened in the housing market and the retail market was really unprecedented," he said. "It's a market that's never been seen before."
The development was partially funded through $38 million in tax increment financing and a transportation development district that was supposed to pay for major public improvements, such as sewer service and replacing a dilapidated, two-lane bridge with a new seven-lane bridge.
The mayor, who championed the development, still has high hopes for the area and says it wasn't a total failure.
He points to the roughly 200 homes that were built to the east of Allenton, and he says the bank that owns the property in Allenton is still trying to recruit a major commercial developer to recoup the bank's $7 million it cost to assemble the property.
"We have room for at least two major anchor stores," Coffey said. "We are going to do our best to get it rolling as soon as possible."
Allenton began as one of the handful of small railroad stops in what is now west St. Louis County — similar to the hamlets of Grover, Glencoe and Pond, which also never incorporated.
Allenton was platted in 1853 and never got much bigger than roughly 70 framed homes, a post office, a schoolhouse, a church, a service station and a tavern or two.
In 1985, Allenton residents got Eureka to annex the community as a way to solve serious problems with the water supply. The county health department had found that some septic tanks leaked into well water.
A decade later, one developer after another tried to put together deals for shopping centers because of Allenton's proximity to Interstate 44. But they all fell through. Residents grew tired of waiting in limbo, and in 1999, Eureka bought out a handful property owners using its own money.
Then about six years ago, the team of American Heritage Homes, Jones Berra Co. and a couple of other companies proposed the most ambitious plan yet: a shopping center anchored by a Lowe's home improvement store and roughly 1,700 homes.
Coffey said Eureka residents had long asked for a major retailer and complained of having to drive to other cities to shop. He said the development would also have added parks, a recreation center and ball fields.
He acknowledged that Allenton had a few decent homes but said the community was far from idyllic. The siding had fallen off some trailers. Only a few homes had sewer lines. Some residents' septic tanks were 75 years old and were "totally degraded," Coffey said.
"It was legitimate blight," Coffey said.
Plus, the 40 or so property owners that were bought out received much more for their homes than they otherwise would have.
Dave Clark received $330,000 for the property where he ran his motorcycle repair business. The city used eminent domain to force him to sell his land. Clark said the money wasn't enough to pay off his mortgage and buy another place. He now leases a building in Eureka about three miles away.
"Things turned out rotten for us," he said, adding, "It was all for nothing."
Brown, who moved to Union, didn't want to disclose what he was paid for his three-bedroom cedar home on Allenton's Main Street. He did say it was much more than he could have ever sold it for on the open market.
"But you know, money ain't everything," he said.
Brown had owned the property for more than 40 years.
The most prominent critic of the project was Randy George, superintendent of the Meramec Valley School District, who argued that the $38 million in tax increment financing would divert money from the schools. TIFs allow developers to pay for projects using a portion of the tax dollars generated by the development.
The district also argued that the project would bring 400 new students into the schools — a more than 10 percent increase in enrollment — without providing the money to cope with the influx.
"I'm not sure you will find a school district who wouldn't be opposed to a residential TIF," George said.
The district unsuccessfully sued the city over the financing deal. A few people argue that although the district lost in court, it essentially helped kill the project by delaying it long enough for the recession to take hold.
City officials said it became clear that the deal was in trouble by late 2007, when American Heritage Homes, the area's eighth-largest home builder and one of the partners in the Allenton project, went bankrupt.
Sean Flower, former president of American Heritage Homes, did not return phone calls seeking comment.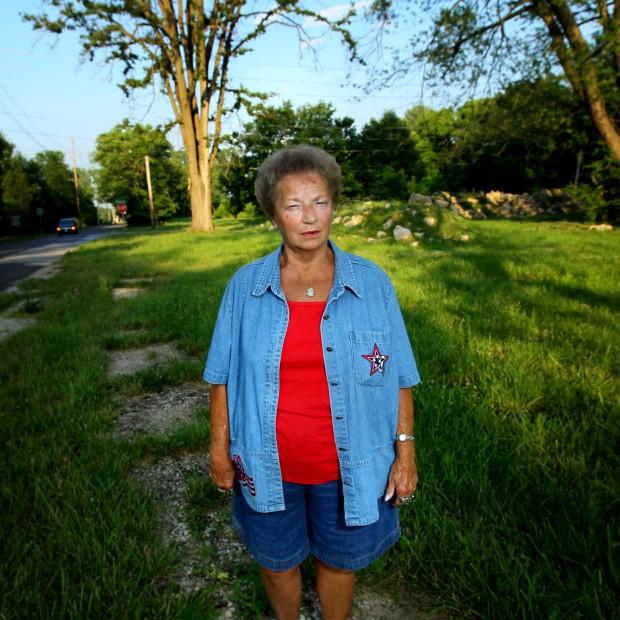 Janet Delmain, 71, ran a barbershop along Main Street for nearly 40 years. She lived in the back of a bright blue bungalow with white shutters and used the living room to cut her neighbors' hair.
She now lives in a subdivision near Lake St. Clair. She's happy in her new home. But when she talks about the place where she grew up, the nerve is still raw.
Delmain couldn't stand the developers knocking on her door, trying to persuade her to sell by saying her property wasn't worth much. She felt insulted.
"I said, 'If it's so damn bad, why do you want it?'" she recalled.
A couple of weeks ago, she was grocery shopping in Union when the man behind her offered her his cart. She turned around to see Albert Brown, to whom she hadn't spoken in months. Tears welled up in her eyes as she hugged him.
"It was such a small community," she said. "You just had this closeness."