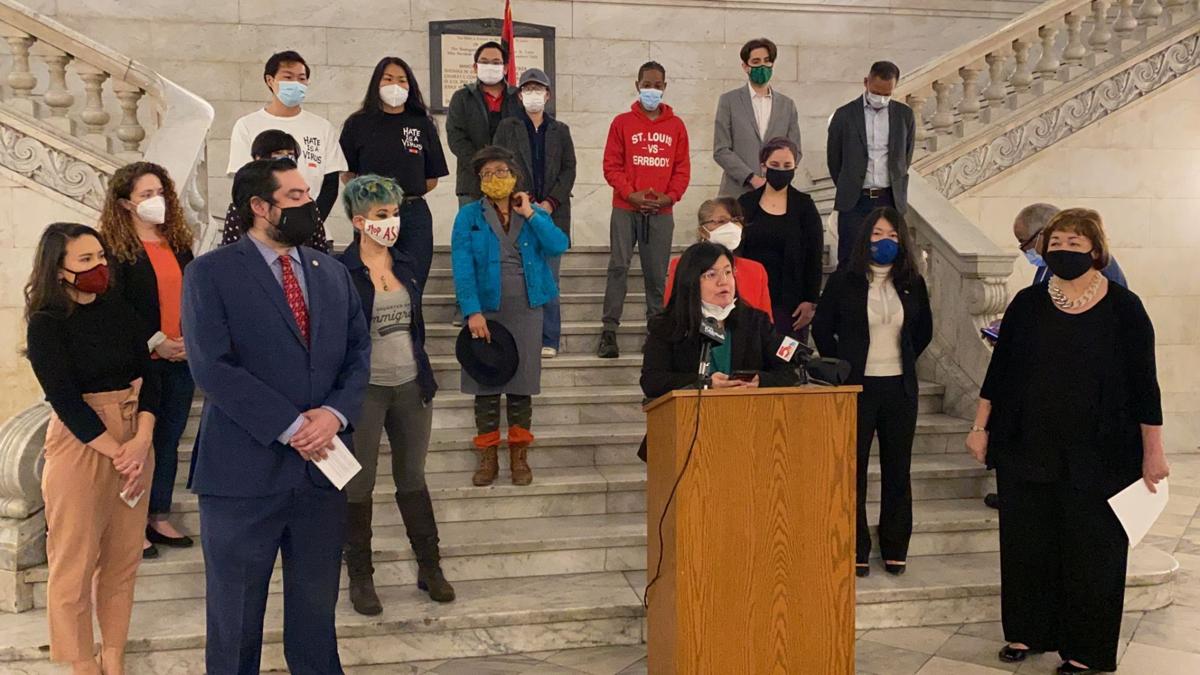 ST. LOUIS — More than two dozen elected officials and civic leaders gathered in City Hall on Friday to mourn a mass shooting in Atlanta that killed eight people, six of them women of Asian descent, and speak out against a steep rise in anti-Asian bigotry since the coronavirus entered the United States last year.
Between March 2020 and Feb. 8, more than 3,795 incidents of hate, discrimination and violence against Asian Americans and Pacific Islanders have been reported to Stop AAPI Hate, a coalition of Asian American advocacy groups, fueled by public rhetoric that sought to falsely blame Asians for the virus.
But that rhetoric, which includes phrases like "China virus" spread publicly by former President Donald Trump, follows a history of anti-Asian bigotry in the U.S. that has long gone unreported, said Caroline Fan, president of the Missouri Asian American Youth Foundation.
"For some of us, this is what we have feared ever since the beginning of the pandemic and the use of racist and xenophobic, hateful speech to describe COVID-19," Fan said.
"For others of us, like some of the parents who are here, they're having to have 'the talk' with their kids for the very first time."
Local hate crime reporting doesn't reflect the year's rise in anti-Asian bigotry, Fan said, because many people of Asian descent have not felt comfortable reporting incidents out of concern of retaliation or a sense of not belonging in the U.S.
"It's been difficult for people to come forward, for people to even talk amongst ourselves about how scared we are," Fan said. "What we're doing here today is breaking the silence."
More than 500 of the incidents of reported anti-Asian hate and violence occurred between January and February alone, said former St. Louis County Associate Circuit Judge Judy Draper, who is also an Honorary General Consul of South Korea.
"Who you are and where you were born is not a sin," said Draper, whose mother is Korean and whose father is Black.
The U.S. has a history of anti-Asian bigotry, from the Chinese Exclusion Act of 1882 to the mass internment of more than 110,000 Japanese Americans during World War II and a rise in Islamophobia and prejudice toward Muslims and South Asian Americans following the 9/11 terrorist attacks, said Anna Crosslin, who helmed the International Institute of St. Louis for 40 years until her retirement this year.
Stop AAPI Hate, a coalition of Asian American advocacy groups, issued a report in August stating that it had received more than 2,500 reports of hate and discrimination across the country across 47 states since the group was founded in March, around the time the COVID-19 outbreak began to seriously worsen in the U.S.
In 1982, a 27-year-old Chinese American, Vincent Chin, was killed in Detroit by two autoworkers angered by jobs losses which they attributed to Japanese manufacturers' growing U.S. market share. The killing spurred protests from Asian Americans nationwide.
"It was a brutal reminder that to most Americans, all Asians look alike," said Crosslin, whose mother immigrated to the U.S. from Japan.
After 27 years growing up in the U.S., Liz Lenivy this week said she felt fear for her family's safety.
"Up until last year I have never truly felt unsafe living in the United States," said Lenivy, an attorney who came to the U.S. at age 3 from Korea, with her mother.
Four of the women killed in the Atlanta area were of Korean descent — "women who fit the same description as my mother, who, for the first time in the 27 years we have lived here, told me she feels afraid to leave her house," Lenivy said.
Alderman Bret Narayan, D-24th Ward, said he plans to introduce a resolution in the Board of Aldermen condemning the rise in hate and violence against Asian Americans and Pacific Islanders and the use of racist rhetoric like "China virus."
"Our words drive our thoughts, and our thoughts drive our actions, and our actions have consequences," said Narayan, whose father immigrated to the U.S. from India.
"Sadly, some of these derogatory statements are coming out of the halls of government power, whether it be city halls like this one, our statehouses, the halls of Congress or even the White House itself," Narayan said Friday. "Now, after more than a year of this rhetoric, there is a body count associated with it. People are living in fear because of it."
The Associated Press contributed to this report.