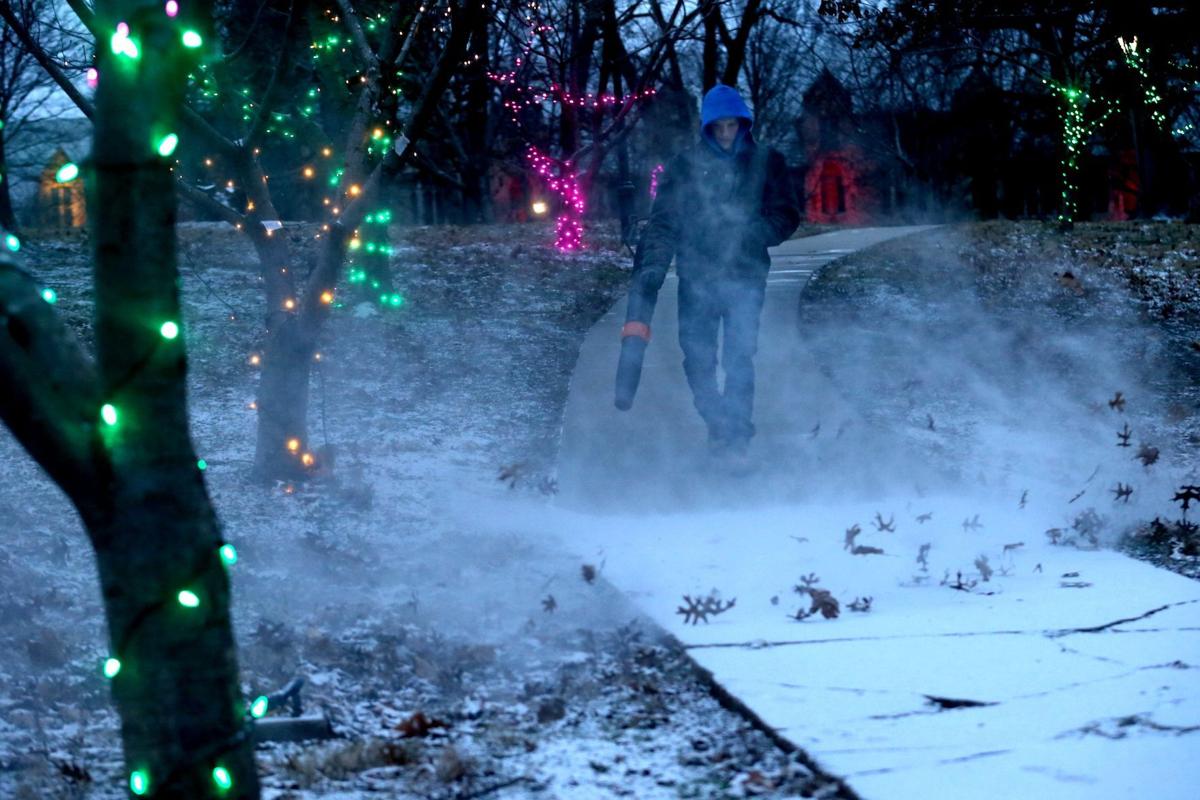 The St. Louis area could see a dusting of snow or even a bit more between Wednesday night and midday Thursday, the National Weather Service of St. Louis said.
The bigger impact is likely to come from frigid temperatures that were expected to drop into the teens Wednesday night and hover there early Thursday before plunging into single digits Thursday night. A blustery wind chill factor could make it feel like it's negative 5 degrees Fahrenheit or even colder, the National Weather Service warned.
Well-below normal temps forecast today thru FRI. Readings likely to run 10-20 degrees 🌡️ below avg day/night. Coldest period tonight-THU. Temps in single digits + strong NW winds 🌬️ = wind chill values -5 to -15F 🥶 for C/NE MO + WC IL. #stlwx #mowx #ilwx #midmowx pic.twitter.com/T5mZ07gdeS

— NWS St. Louis (@NWSStLouis) January 5, 2022
Temperatures are likely to warm a bit on Friday, but remain below normal, the National Weather Service said.
The highest probability of snow — still likely less than an inch, meteorologists believe — will be from parts of central Missouri to the counties south of the immediate St. Louis area, including St. Francois in Missouri and Randolph in Illinois. 
On the roads
Dashing through the snow is only a good idea if you're in a sled, not a vehicle on the roads, transportation officials warned.
Despite the low chance of a significant snowfall, the Missouri Department of Transportation said drivers should be cautious, particularly during the Thursday morning commute. Even a small amount of precipitation when the temperatures are very cold could create some icy conditions. Bridges and overpasses are an even bigger risk, MoDOT officials said.
More snow appears to be on its way in the early hours of tomorrow. Bitter temperatures and precipitation of any kind can create challenges during any sort of commute. If you must commute; leave early, drive slowly, buckle your seat belt, and stay alert. #BUPD pic.twitter.com/YwuQgCu6LH

— MoDOT (@MoDOT) January 5, 2022
Drivers should assemble a "winter weather emergency kit," including a phone charger, blanket, water bottles, nonperishable foods and an ice scraper, among other items, when traveling during cold and icy conditions, transportation officials said.
For those who must be on the road, both Missouri and Illinois' transportation departments suggest checking out online travel condition maps prior to heading out. In Missouri, visit traveler.modot.org, and in Illinois, go to gettingaroundillinois.com.
In the home
For those who are staying inside and off the roads, there are some safety tips that Missouri American Water Co. suggests for when temperatures are forecast to remain below freezing.
To keep pipes from freezing and possibly bursting, allow a small trickle of water to flow from both the hot and cold water faucets, the company said. For those concerned about wasting water, it could be collected and used to water plants or in some other area.
Open the cabinets to expose water pipes to the warmer temperatures in the room, the company said.
Also, be aware of the main water shutoff valve in your residence, so if pipes do freeze and burst, the water flow can be stopped quickly.
Pet safety
When the weather is too cold for people to be outside, the Humane Society of Missouri said, it's also too cold to leave pets outside.
Wipe off wet pets when they come back inside from the cold, and be sure to remove from the paws any chemicals used to melt the snow.