An arctic air mass will plunge much of the Midwest into bitter cold this week, with temperatures expected to drop below zero Tuesday night in St. Louis and wind gusts making it feel even colder.
Monday morning, the temperatures were in the early to mid-40s. The National Weather Service said rain is likely in the afternoon.
But temperatures are expected to have dropped below freezing by the commute home Monday, with wind gusts reaching as high as 30 mph. There's a chance of a small amount of snow as temperatures plunge.
After an overnight low around 8 degrees, St. Louis will struggle to reach the 20s on Tuesday. Tuesday night the area will see temperatures below zero, with wind that could make it feel like -20.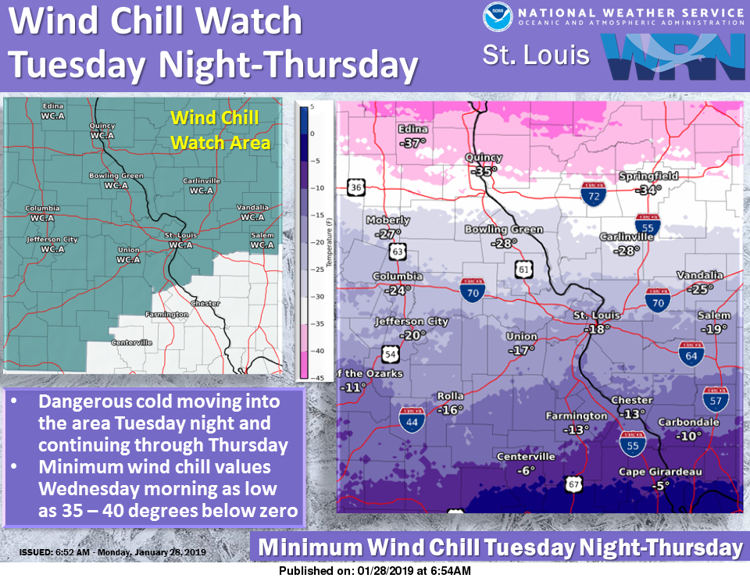 It will be even colder to the north, with wind chill values in northeast Missouri and central Illinois as low as -40, the National Weather Service says. A wind chill watch has been declared for the St. Louis metro area and counties to the north and west.
Forecasters say this is dangerously cold weather, and that frostbite could develop on exposed skin in as little as 10 minutes. 
Temperatures Wednesday aren't expected to make it to the double digits, and the low Wednesday night is predicted to be around zero.
There's no snow accumulation expected during the week, and temperatures should rise back above freezing by Friday afternoon. By Saturday and Sunday, highs are predicted to reach the upper 40s and 50s.
Help in the cold
In the city of St. Louis, when the temperature falls below 20 degrees — or below 25 degrees if there is precipitation — emergency shelters open their doors. A coalition of local church groups, city departments, nonprofit organizations and volunteers shuttle homeless St. Louisans to those shelters.
St. Louis Winter Outreach, a volunteer group, is searching for more volunteers. Anyone interested can get more information on the group's Facebook page.