ST. LOUIS — At a distance, the new Leaf & Co. store in the St. Louis Galleria mall looks like a boutique that sells specialty teas or artisan soap, but a closer look at the subtle leaf in the logo hints at what sets this mall store apart: cannabis.
The shop is one of more than 20 retailers that have opened around St. Louis in the last three years dedicated to the sale of CBD, short for cannabidiol, an active compound in cannabis. CBD can't get you high, but it's become a popular health supplement used in hopes it will treat a laundry list of ailments from arthritis pain to anxiety in dogs. CBD products can also be spotted on the shelves of national chains like Walmart, and at local frozen yogurt shops, gas stations and Dierbergs Markets.
Despite widespread availability, CBD's effectiveness is still largely unstudied by researchers, and the question of whether it is legal to sell is murky.
Nevertheless, consumers like Beth Anderson, 64, swear by CBD products. Anderson, a retired administrative assistant, takes a few drops of CBD oil a day and said it has dramatically reduced her migraines.
"It works better than everything I've ever tried, and I've tried a lot," she said while perusing the inventory of Leaf & Co. The store sells dropper bottles of CBD oils, priced between about $50 and $150, alongside CBD-infused products of all kinds — lotions, lollipops, olive oil and pet treats.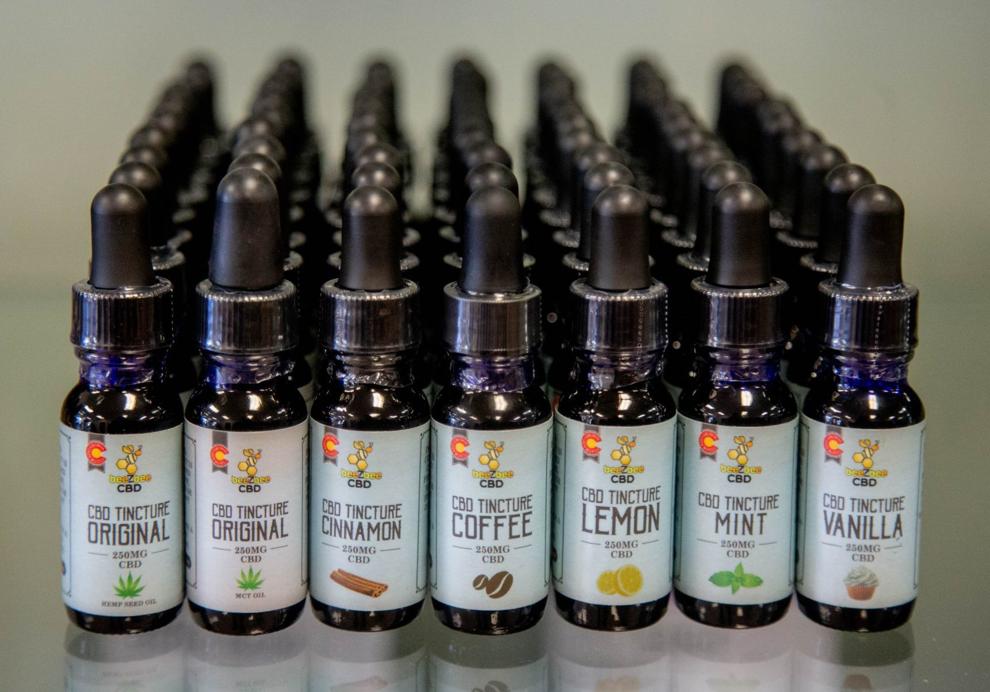 Even as people like Anderson have begun to regularly rely on CBD, science is trying to catch up.
So far, one CBD medication has been approved by the Food and Drug Administration: Epidiolex. The high-dose CBD medication was approved in June 2018 to treat two rare and severe forms of epilepsy. The drug prompted Missouri to allow two growers —Noah's Arc Foundation based in Chesterfield and BeLeaf Co. in Earth City — to legally grow hemp that could be used only for epilepsy patients.
While preliminary studies have indicated CBD shows promise for a number of other medicinal uses, most studies have been small and inconclusive.
"There has been very limited research at this point," said Sandra Leal, a biology professor at Harris-Stowe State University who conducts CBD research on fruit flies with her students. "I worry because it's sometimes sold like it's this panacea. I'm skeptical of that without the evidence. We need more studies."
Leal said without research, questions about proper dosage, long-term effects from continued use, and interactions with other medications remain unanswered.
Most in the CBD industry acknowledge the need for more research, but have high hopes based on testimonials from customers and the long history of the use of cannabis as medicine.
Bridget Boland, a buyer and manager at CBD Canvas Boutique & Dispensary in Maplewood, said proof of the medicinal benefits of marijuana has had to be anecdotal because research on the plant was strictly limited by government regulation.
"It's spread by word of mouth because there was this stigma against cannabinoids," Boland said. "But now that's starting to change. Medical marijuana is coming to Missouri, and people are coming to us to see if CBD can help them too."
Legal uncertainty
CBD still operates in a gray area of the law, and Missouri seller Scott Micke said he had to find that out the hard way.
Micke co-owns four Peace of Mind stores that sell CBD products along with pipes, tie-dyed clothes and novelty items in Festus, Sullivan, Rolla and Park Hills.
On July 24, 2018, three of Micke's stores were raided simultaneously by a police task force that seized electronics, all the CBD products, and a number of glass pipes, amounting to about $100,000 in merchandise, Micke estimated.
Micke, who was at the Sullivan store at the time, told police: "CBD oil is OK to sell in Missouri, my attorney says so," according to court documents.
In November 2018, Micke was charged in Franklin County with felony delivery of a controlled substance. He also was accused in charging documents of selling drug paraphernalia including pipes and products containing CBD oil.
"I still don't understand it," Micke said last week. "I've counted 46 stores that sell CBD in Franklin County. Walmart sells CBD, but I get charged for it? I feel like I was targeted."
Police pointed out in court documents that Micke has a criminal record, including a drug-related felony conviction from 2008.
Earlier this month, a judge dismissed the felony charge against Micke for selling CBD. Though he's gotten most of his inventory back, Micke said he lost money through legal bills and loss of sales.
He started selling CBD products again in his stores.
Still, the central question to Micke's case — is CBD legal? — is surprisingly complicated, said Dan Viets, head of the Missouri Medical Cannabis Industry Association and a longtime advocate for marijuana legalization.
"To me, it's really unclear," Viets said. "A lot of people want to believe it's legal, but we saw that prosecution in Franklin County, and I think the definition of what counts as marijuana in the state is still up for debate in state law."
A 2018 bill passed by the state Legislature exempted industrial hemp containing less than 0.3% of the psychoactive ingredient THC from the definition of marijuana and the state list of controlled substances. But it's not clear if that applies to CBD, which can be derived from either hemp or marijuana.
Carl Rowley, a lawyer specializing in cannabis law at the Thompson Coburn law firm in St. Louis, said he believes the state law clearly legalized CBD derived from hemp-derived with less than 0.3% THC grown in compliance with state law in Missouri. But there are still risks for sellers.
"Everyone has a different level of risk, but I tell people to get in writing a certification about the source of the CBD to prove in any way you can it came from legal hemp," Rowley said.
Beyond state law, CBD faces legal challenges at the federal level, Rowley said.
Like Missouri, Congress passed a 2018 farm bill that distinguished hemp from marijuana, meaning it was no longer a controlled substance if sourced from a licensed grower following state and federal regulations.
But the FDA says putting CBD in food remains illegal, as is making any claim that CBD products have any health value.
More regulation may be on the way. The FDA is conducting an agencywide review of CBD rules and held a public hearing on the topic in May.
Booming business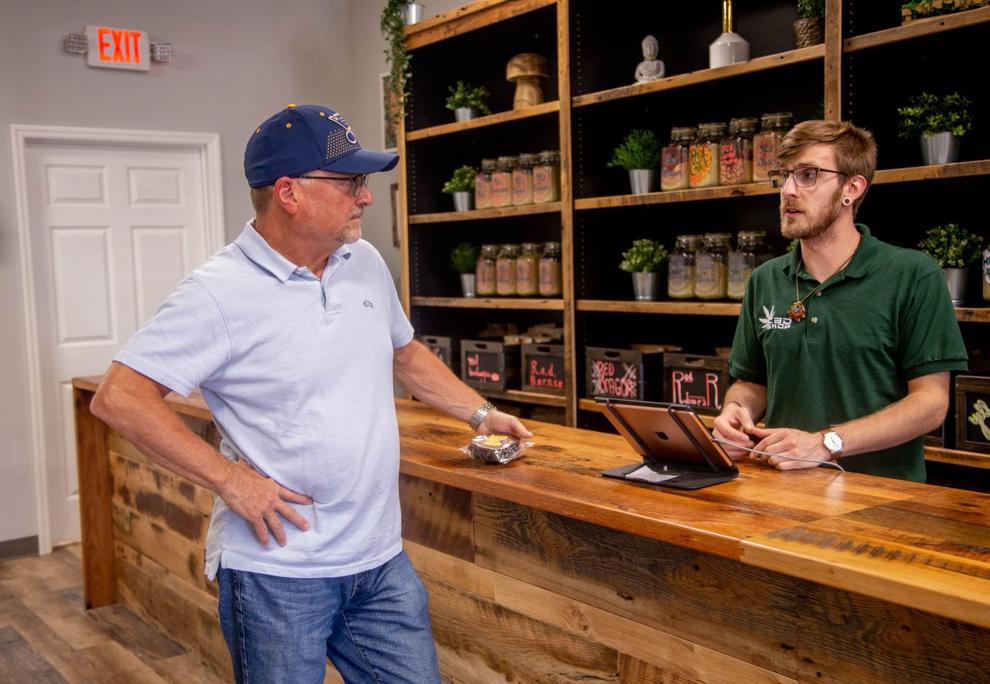 Meanwhile, CBD is readily available in St. Louis.
Dafna Revah and her husband David Palatnik co-own CBD Kratom, one of the area's largest chains that sell CBD. The business has opened 12 stores across the St. Louis area since 2017, including Leaf & Co. in the Galleria.
The couple opened the first location of the store in Chicago after successfully selling CBD products at their other business, Mr. Nice Guy smoke shops in Chicago and on St. Louis' Delmar Boulevard.
"We started to see that there was a different type customer looking for CBD," Revah said. "A lot of them were older than our typical customer and looking for CBD to help with pain, so we wanted to create stores that cater to them."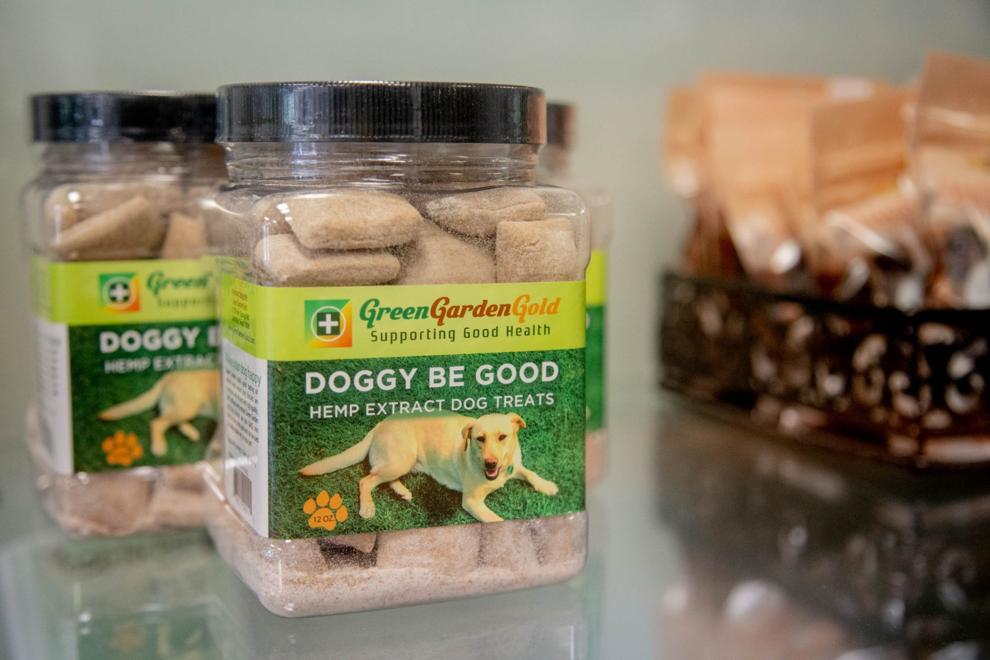 The chain also sells kratom, a powder marketed as a mood booster and alternative to opioids, derived from a tree found in Southeast Asia. Critics say kratom is dangerous. According to local area medical examiners, the substance played a role in at least three deaths in the St. Louis region within the last year, the Post-Dispatch reported last month. Revah said she supports more safety regulations of kratom.
As for CBD, Revah said the demand is huge.
The company expanded quickly, adding more locations here and in Dallas and Los Angeles. They partnered with Bella's Frozen Yogurt on Washington Avenue in downtown St. Louis to sell prepackaged cups of CBD-infused frozen yogurt.
"We still sell 30 to 40 cups of it a week," said Bella's owner Austin Blankenship. "And we get a lot of regulars. I know two people buy it for a family member who is going through chemotherapy. They say the frozen yogurt is one of the only things she's able to eat."
Revah said they've faced no backlash from law enforcement so far.
But other sellers, including Canvas in Maplewood, have faced difficulties with financial institutions because they deal in cannabis.
Last month, credit card processing companies cut the business off, store staff said, requiring them to become cash-only and install an ATM for customers.
Buyer beware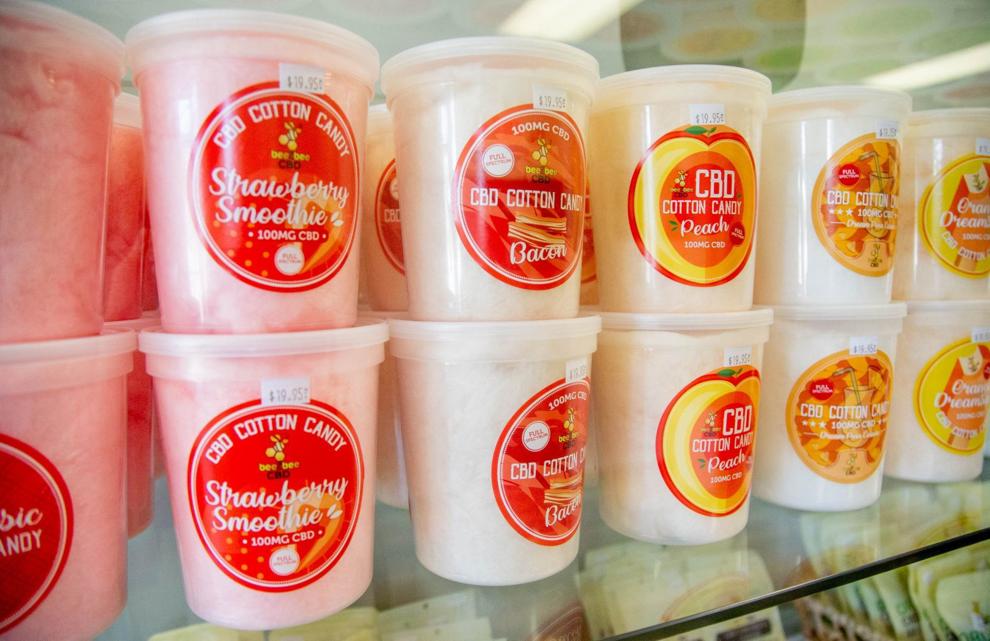 The CBD industry remains largely unregulated.
Revah, of CBD Kratom, recalled finding one product labeled as CBD-infused gummies sold at a gas station. She later discovered they were regular gummies from Sam's Club, repackaged without any actual CBD.
To prevent that kind of trickery, Revah said the CBD Kratom stores test all their products to monitor CBD levels before selling them.
A study published in 2017 in the JAMA medical journal showed that vendors' product labels can be inaccurate. Researchers in the study tested 84 CBD products sold online, finding 26% had less CBD than advertised and 43% had more.
Revah said she hopes that as CBD research and sales continue there will be more quality control.
"It's still a new industry," she said. "And I think it is only going to grow."