UPDATED at 11:15 a.m. with more detail on Ferguson incident, arrests at Muny.
FERGUSON • A day of peaceful commemoration of the second anniversary of Michael Brown's death was marred Tuesday night when gunfire broke out after a protester was struck by a motorist.
After a quiet morning vigil and evening church service, the night turned violent when a car struck a protester standing on West Florissant Avenue.
Others among the roughly 75 protesters began trying to cut off the car, which then reversed direction to try to avoid the crowd, according to several witnesses.
At that point, witnesses said, several protesters pulled out guns and began chasing and firing at the fleeing car.
"I just started screaming, and the bullets started flying, and I started screaming some more," said Heather DeMian, of St. Charles, a regular protester who has been live-streaming Ferguson protests.
It appears the driver did not intentionally strike the protester, according to Ferguson spokesman Jeff Small, who said the woman is being "very, very cooperative" with police.
"Investigators say the woman was simply driving down West Florissant at nighttime, unaware someone was standing in the street, until it was too late to stop before hitting them," Small said in a statement Wednesday morning.
He said there were bullet holes in the woman's car, but no one in the vehicle was injured.
Police arrived at the scene within a minute, Small said. No arrests were made, and the extent of the injuries to the protester who was struck is unknown because the man was taken from the scene in a private vehicle, Small said.
Two people who were shaken up as the crowd fled the gunfire were taken to a hospital by ambulance.
Photos: Chaos erupts briefly as protester hit by car and shots are fired
A peaceful march along West Florissant Avenue erupted into chaos when a protester his hit by a fast oncoming car after the man stepped into the lane of traffic. Witnesses said that shots were fired at the car that hit the protesters. No other pedestrians were hurt. 
Muny protest
Also Tuesday night, the Muny production of "Aida" in Forest Park was disrupted for about 25 minutes by about 40 protesters, according to Muny spokesman Kwofe Coleman.
The protest started in the back of the theater, with banners and chanting. There was no property damage and no injuries, Coleman said.
Coleman said protesters arrived just at the start of the second act. Some climbed onto the scaffolding at the rear of the stage in an area that is off-limits to the public.
Coleman said two protesters in that area were arrested, and two arrests were made outside the theater.
St. Louis police cited a man in his 30s and three women in their 20s for general peace disturbance, trespassing on private property, resisting arrest and failure to obey police officers.
Peaceful service
Earlier Tuesday evening, about 45 people gathered for a short and peaceful memorial service at Wellspring Church in Ferguson, which has held discussions about race since Brown's fatal shooting on Aug. 9, 2014, by then-officer Darren Wilson.
Half a dozen candles sat at the front of the church, as the service began with a slow song played on the keyboard. Leaders of different faiths went to the pulpit to call for peace and an end to the killing of young African-Americans.
"Are you just coming here to remember? Or will you make a pledge to get in the way?" the Rev. Cassandra Gould, of Quinn Chapel AME Church in Jefferson City, asked the congregation.
She said that just remembering, creating hashtags and lamenting the deaths of black and brown children were not enough. People must get out and protest, as they have done at the front doors of police departments and municipal courthouses, she said.
"Because of his blackness, he got in the way," Gould said of Brown, "and until being black does not mean we're getting in the way, people who have privilege need to get in the way."
The 45-minute service ended with attendees joining in the song "Lift Every Voice and Sing."
Tuesday morning, the events started quietly with music in the Canfield Green apartment complex at the spot where Brown was killed just before noon.
Photos: Crowds gather to remember Michael Brown on second anniversary of death
A memorial ceremony and moment of silence was held on the two-year anniversary of Michael Brown Jr.'s death on Canfield Drive in Ferguson
Three children and their grandmother, who goes by the name Momma Fatou, began making music with African drums and shakers in front of a banner for the Michael Brown Chosen for Change Foundation.
As they played, more people began congregating alongside several dozen teddy bears and other stuffed animals piled in a line in the center of Canfield Drive to mark where Brown died.
Organizers with the Michael Brown Chosen for Change Foundation planned about 90 minutes of music, reflections and poetry Tuesday before 4½ minutes of silence. The number of minutes represented the estimated number of hours Brown's body lay on the street in the apartment complex after he was killed.
Brown's shooting by Wilson stirred protests and rioting after various narratives emerged about the circumstances surrounding his shooting. His death sparked an investigation that cleared Wilson of wrongdoing. But it also forced a consent decree between the U.S. Department of Justice and the city of Ferguson, and a national conversation about unfair policing of African-Americans.
Crowd grows
On Tuesday, as the children beat the drums and shook the shakers, the crowd grew into a mix of mostly familiar faces and groups. There were members of the Brown family, including Brown's father, Michael Brown Sr., and Brown's mother, Lezley McSpadden. Michael Brown's tearful grandmother held a poster asking people not to forget her grandson.
Among the public officials and clergy were members of the group WeCopwatch, now a nationwide group that videotapes police actions to maintain accountability — though police were nowhere in sight.
After the children finished with their drums, Momma Fatou, whose given name is Artie Jennings Hamilton, told the crowd that the sound of the drum was a call to act in African culture.
"Today you are here to celebrate the second anniversary of Michael Brown's death by someone in a policeman's outfit who did not have the comfort of this community in his mind," she said.
As the vigil progressed, about 120 people gathered together. One of them, Janice Brown, Brown's cousin, said she and her teenage daughters, a niece and a goddaughter, first made a stop at a nearby memorial stone erected last year.
"We shed some tears there," she said of losing her cousin, whom she called "Mikey Mike."
She said she wants him to be remembered in a positive way. "Even though it was a horrific ordeal, I want his legacy to be a positive legacy and how things are trying to change. We're not totally there yet."
Former state Rep. Betty Thompson said she was there to fight for unity. Over the weekend she had been honored with the Michael Brown Social Justice Award by the Chosen for Change Foundation.
"Not only do we have to fight the crimes of racism and bigotry, we have to fight black-on-black crime," she said.
Thompson said had lost both a son and a grandson to such violence. Both were victims in two separate armed robberies.
"We've got to stop the violence," she said.
Just before noon, several members of the Brown family along with Thompson sat on chairs before the line of stuffed animals.
Michael Brown Sr. spoke briefly about his son.
"My son built families up, opened the eyes of the world and let them know this ain't right," he said. "This color is not a disease. This color is beautiful. Black is beautiful."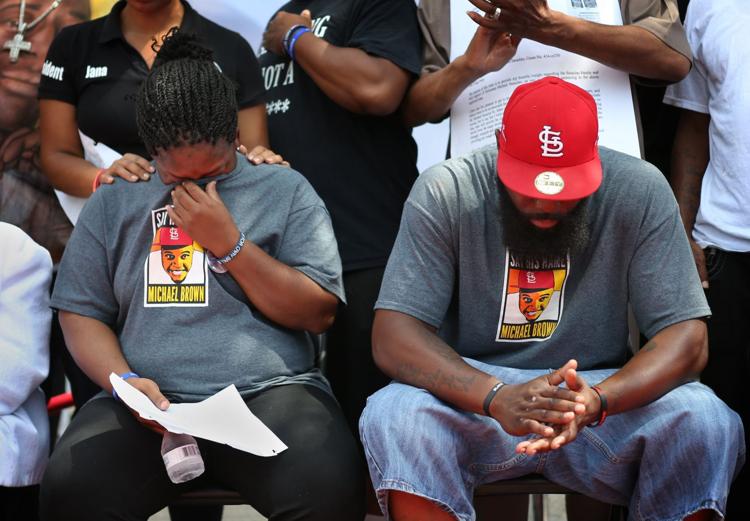 Nassim Benchaabane and Stephen Deere of the Post-Dispatch contributed to this report.
Be the first to know
Get local news delivered to your inbox!