ST. LOUIS • The cameras are perched on light poles throughout the city, trained on alleys that cut through stretches of town long forgotten and filled with piles of trash.
In the Baden neighborhood, on the city's northern border, three of the 100 cameras are mounted in a one-block area just off North Broadway, a dumping ground so popular that a few days after city workers pick up truckloads of garbage, tires, drywall, mattresses and tree limbs, the area looks as if the crews were never there.
The eyes in the sky are part of a full-throttle effort by the city to clean up a mess that has been decades in the making. A trash fee increase approved by the Board of Aldermen last year paid for the cameras and also is funding new trash trucks and overtime for police officers to go after the culprits causing the messes.
The cameras serve as 24-hour watchdogs, locked on problem areas and snapping images with every movement. The photos are downloaded weekly by police.
The cameras have led to 18 guilty pleas this year, including two by Ray Huffman, a contractor from Bonne Terre, Mo., a town about an hour south of St. Louis.
All but three of those who admitted to wrongdoing live outside the city of St. Louis.

"When you've got people from other jurisdictions coming here doing this, we're sick of that," said Matt Moak, a city attorney working on the initiative to stop illegal dumping.
On March 15, just before 7 a.m., Huffman stopped his pickup in an alley near Concord Place in the Baden neighborhood, pulled two stuffed garbage bags from the bed of his truck and tossed them into a dumpster reserved for residential trash.
Four days later, Huffman showed up in the alley again. This time, he was in a pickup with the logo, website and phone number of a south St. Louis contracting company, situated more than eight miles from where he was dumping the trash. In the earlier visit, Huffman was wearing a jacket with the company's name on it.
Too few trucks. Not enough refuse workers. Widespread illegal dumping. Overflowing dumpsters. 'It's unbearable,' says a longtime resident.
Three days before Huffman was first caught in the alley, a camera snapped several images of a black Infiniti SUV pulling a trailer stacked with drywall and other materials from a demolition project. Two men got out and put the debris into a dumpster reserved for residential trash.
In May, the driver of the SUV, Tyrone Black, of Florissant, pleaded guilty to dumping debris, which comes with a $500 fine and 40 hours of community service. A month later, Huffman also admitted guilt and had to pay the same fine for a charge of "prohibited refuse." A third man, David Hawkins, of St. Louis County, was caught in the same block.
Two Fridays ago, Mayor Lyda Krewson sat in the conference room just outside her office, looking at the photos captured by the new cameras. On her laptop, she zoomed in on one of the images, noting the pile of tires, mattresses and an abandoned car on a private lot and the litter dotting the alley.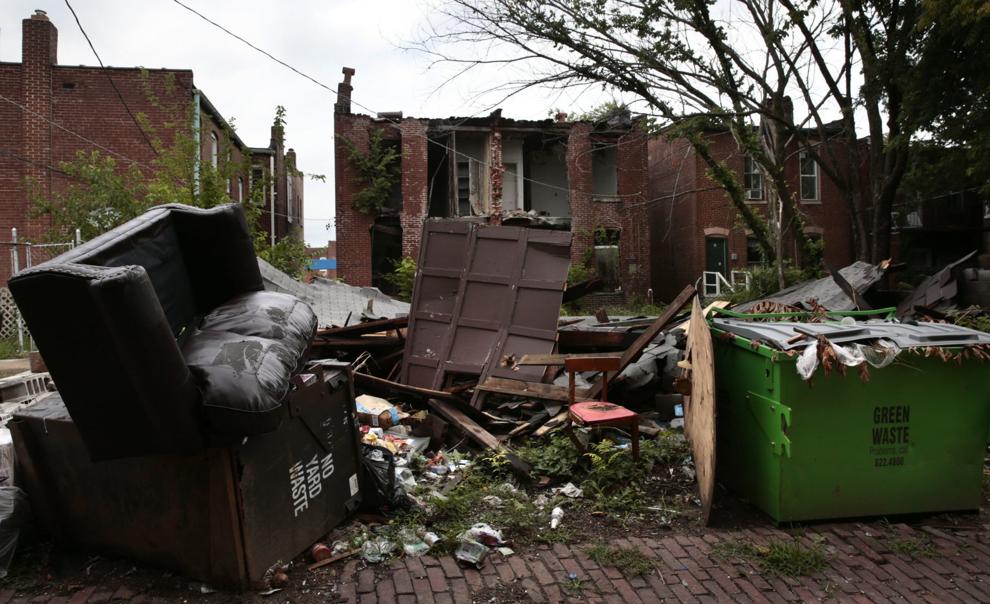 "Trash begets trash," she said. If it looks like a spot that no one cares about, it's ripe for dumping, the mayor said. City leaders have to make St. Louis a less attractive place to discard unwanted items, Krewson said, and the cameras so far are showing that most of those doing the dumping are not from here.
"It does irk me, but I'd be equally irked if a city resident was doing it," Krewson said. Those living here should be helping curb the problem, not exacerbate it, she said. City residents can take a load of unwanted items once a month to one of two St. Louis dump sites for free. The city also offers free bulk item pickup once a month.
"The dumping fee costs the city about $35. To dispatch a loader, workers and truck to clean up the illegal dumping, it could be as high as $1,000, depending on the situation," said Todd Waelterman, the city's director of operations.
In fiscal year 2017, residents dropped off 9,000 tons of refuse at the two city dumps. By comparison, city departments led by the forestry division picked up 22,000 tons of illegally dumped items. That does not include the 52,000 tires that have to be disposed of separately.
'Not nearly enough'
Among those the city's cameras have nabbed is Mardell Woods, a city resident. On June 7, he pulled into an alley behind Martin Luther King Drive, in the city's Wells-Goodfellow neighborhood. His GMC pickup was filled with mattresses and old furniture. In a few minutes, he filled a city yard waste dumpster with the items. About five blocks west, and a few months earlier, Willie Chapman Jr., of St. Louis County, stopped his white GMC pickup on a warm April afternoon and tossed a mattress and box springs near a pile of tires.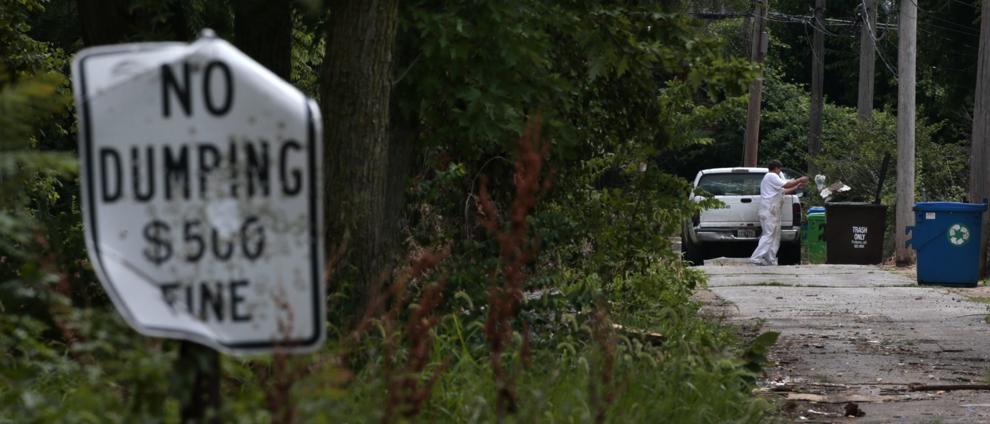 While the city's north side, where vacant buildings and lots are prevalent, is a frequent target, the opposite side of town also is fighting illegal dumping, with cameras in the Gravois Park, Dutchtown and Bevo Mill neighborhoods nabbing culprits.
"This is a step in the right direction, but not nearly enough," said Alderman Cara Spencer, who represents the south city neighborhoods of Gravois Park and Dutchtown. For a city divided into 28 wards, that means roughly 3½ cameras per area, she said.
"I could use 50 of them, and I'm not even exaggerating," Spencer said.
The city's 10-member trash task force is led by police Sgt. Joseph Calabro. He said those who illegally dump are typically contractors working in the city, who see driving down an alley as a cost-effective way to get rid of materials compared with renting a roll-out cart and paying the dumping fees at a landfill.
"They see it as just easier, cheaper and think: 'No one is going to see me.' That's not necessarily true," Calabro said.
The city doesn't deal with commercial waste; instead, it provides businesses with a list of private haulers. The cost of an eight-yard container with weekly pickup can range from $80 to $127 per month.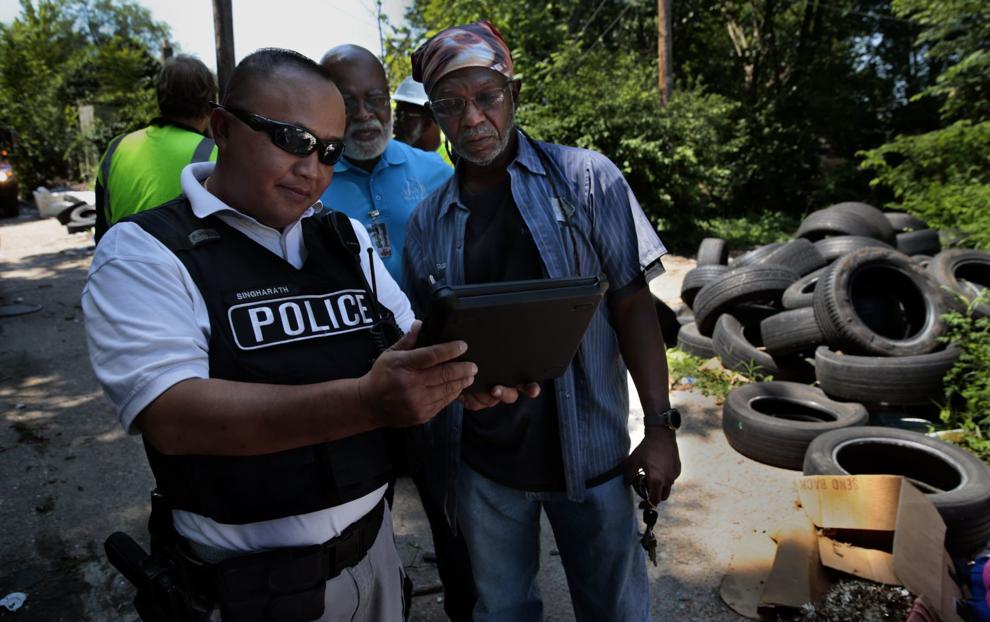 Calabro said the city could put up other barriers to curtail illegal dumping. For example, those seeking a demolition permit would have to show proof that they rented a roll-out dumpster, then show proof that they paid to properly dump the materials before an occupancy permit would be issued.
"I think we have to hold their feet to the fire on that," Calabro said.
Witnesses
Through Aug. 8, the trash task force has issued 121 summonses for dumping and issued 97 warning letters this year.
The city's cameras are a key component, but witnesses also are important, Calabro said. Anyone who provides information to police that leads to a conviction will get a $100 reward. Eight people have been declared eligible for the money, he said.
But getting people to talk can be a challenge, Officer Sisavath Singharath said.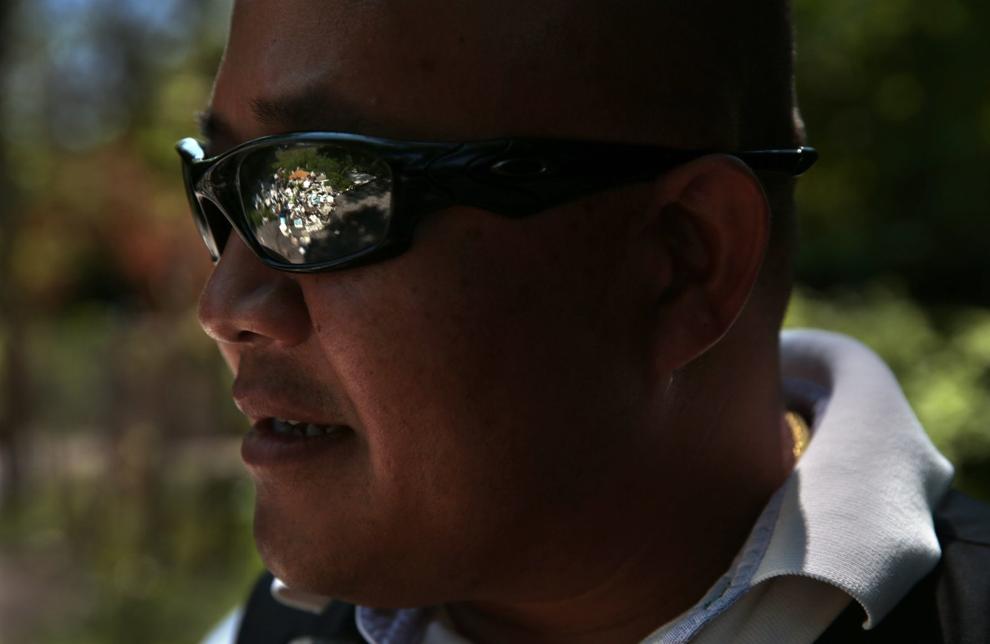 "They are scared. They say: 'Once you leave, I still have to live here,'" Singharath said as he stood near a camera in the Baden neighborhood and downloaded images onto his tablet.
Residents are glad police are around, he said.
"When I first started this, no one waved to me. Now, everybody waves. And they will talk, but they say: 'Not here in the front, meet me out back,'" Singharath said.
Derke Quarles, a Baden resident, took matters into his own hands, fed up with what he said was inaction by the city long before new cameras and a trash task force came around.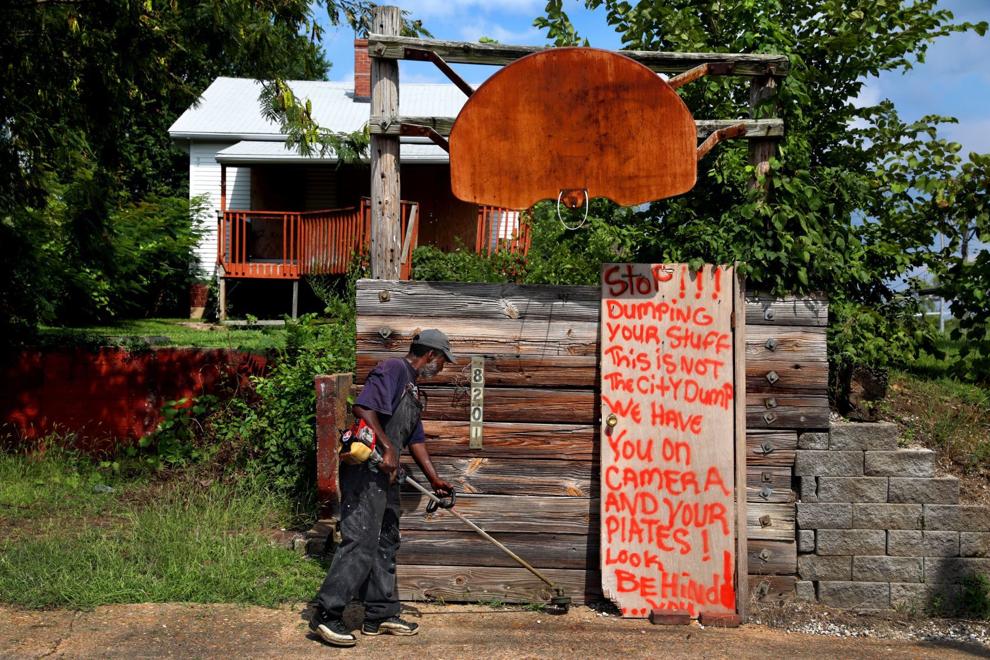 He spray-painted a large wooden sign and propped it up under a rusted basketball goal in the alley behind his house on Frederick Street.
"Stop!!! Dumping Your Stuff. This is Not the City Dump. We Have You On Camera and Your Plates. Look Behind You."
Quarles, 50, has cameras mounted on his house and plans to add some to the alley.
"I call the city, I call the police. They say to get the (license) plate number," Quarles said. But the people who dump know better than to take to the alley with plates on their vehicles, he said. Quarles said that in the more than 20 years he has lived on Frederick, crime has gone up, illegal dumping has persisted and neighbors keep leaving.
"Everybody moved out, but I'm still here," he said. And he isn't going anywhere. "I'm just going to ride it out. I've been here this long."
Not just fines
Quarles is holding out for a neighborhood turnaround, but he has little faith the current illegal dumping initiative by the city will bring long-lasting change. Similar efforts have come and gone. Priorities shift. City leaders change.
For residents in some north St. Louis neighborhoods, wait times to get an issue resolved through the Citizens' Service Bureau can be three tim…
Krewson, who became mayor in April 2017, said cleaning up a city long viewed as a dumping ground would take a "sustained effort."
"Cities in general are not good at long-term planning," she said. "We're living budget year to budget year, administration to administration. We didn't get here overnight, and it's not going to change overnight. But over time, it will if we stick with it, if we have pride in where we live and if we engage everybody in this."
Those caught illegally dumping are issued a summons to appear in municipal court alongside others charged with misdemeanor offenses, such as driving without insurance or riding the MetroLink without a ticket.
Last month, Chau Hien and his wife, Thanh Huynh, were there with an interpreter, who explained to the Fenton couple that they could plead guilty to illegal dumping or ask for a trial. A city attorney told the couple they were seen by a member of the trash task force loading carpet into a city dumpster from a home they were renovating in Dutchtown.
The couple agreed to pay $500 each, as well as do 40 hours of community service apiece. For illegal dumping cases, that is cleaning trash out of alleys.
On July 25, six days after she agreed to plead guilty, Huynh was in an alley in the 3400 block of California Avenue with a trash bag in hand.
Officer Dave Krapf, a member of the trash task force, stood at the front of his patrol car, parked at one end of the alley with lights flashing. Officers take recommendations from aldermen or neighborhood stabilization officers as to where community service work would be valuable, then watch over those doing the litter pickup and report back to the court the hours completed.
Krewson supports dedicating police officers to the task force.
"It's easy to say, 'Well, we're short on police officers. Why are you worrying about trash?'" Because it is something residents have said they want, she said. And the most common complaints to the Citizens' Service Bureau involve trash issues.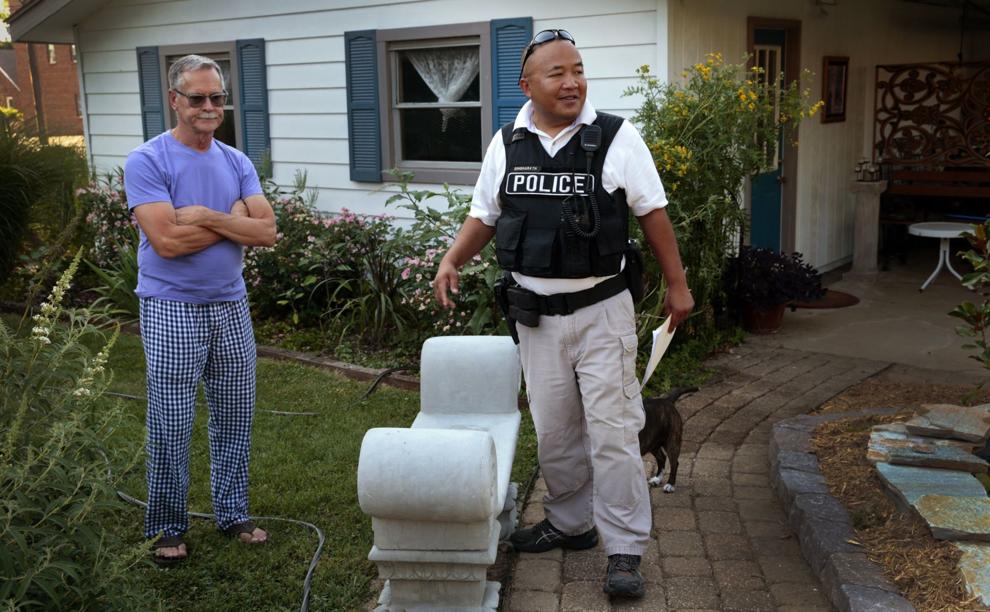 "As mayor, or the police department, you've got to be able to multitask. You've got to try to make progress on a number of fronts," Krewson said.
The mayor, however, was surprised to learn from the Post-Dispatch that police officers were monitoring those fulfilling their community service.
"It doesn't have to be a police officer," she said. Krewson said she would talk with Public Safety Director Jimmie Edwards, who oversees the police department, to come up with another option.
The bottom line is that people want a cleaner city, and that is what they are going to get, Krewson said.
"We are going to do a better job," she said. "We are doing a better job."
Janelle O'Dea of the Post-Dispatch contributed to this report.
Previously, about illegal dumping:
Photos: Police trash task force takes on problem dumpers
Community service picking up trash targets illegal dumpers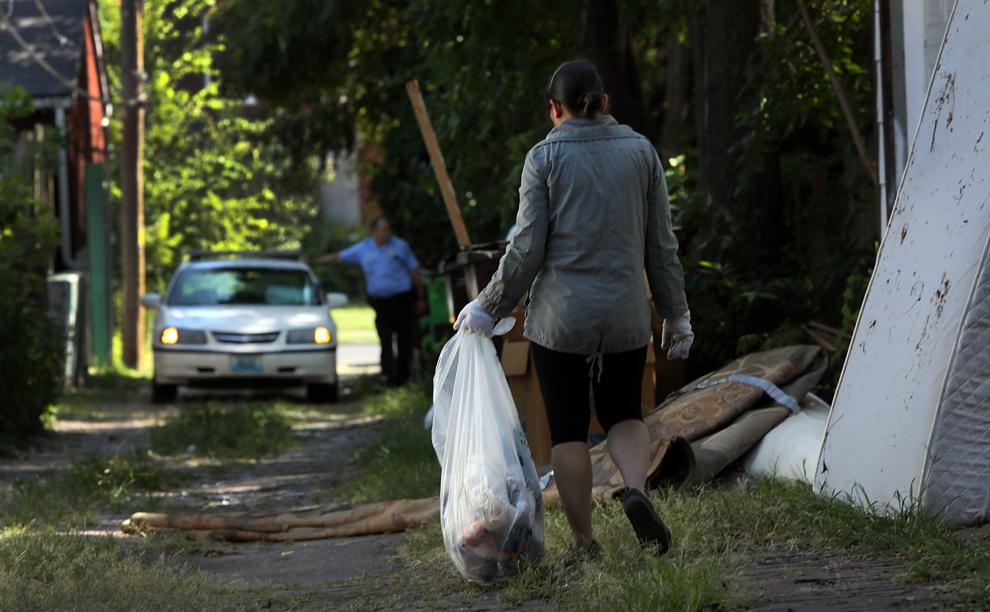 Trash Task Force officers take on dumpers with fines and community service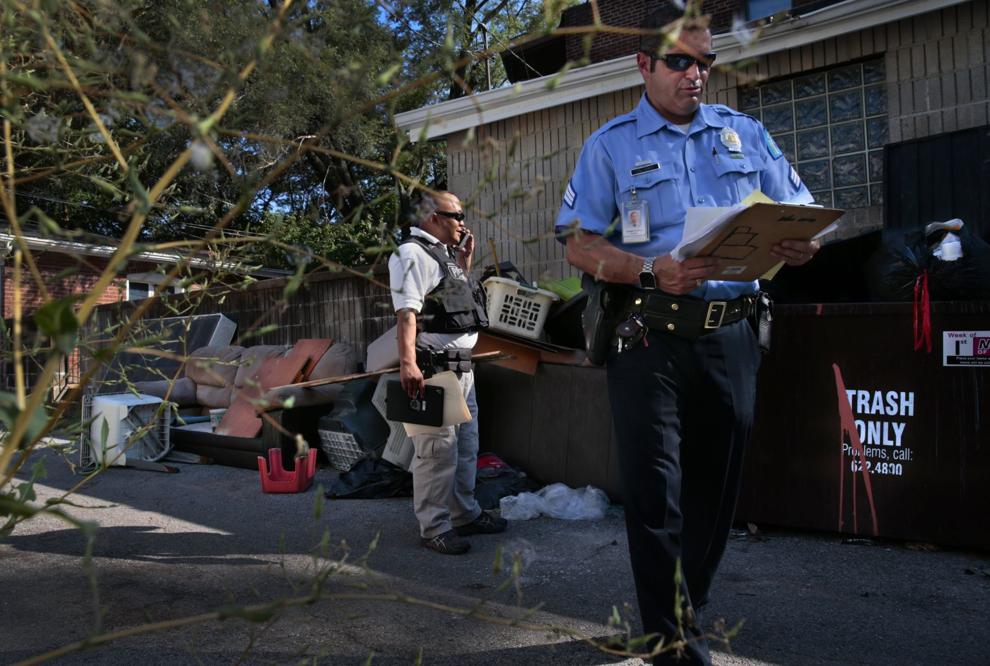 Trash Task Force officers take on dumpers with fines and community service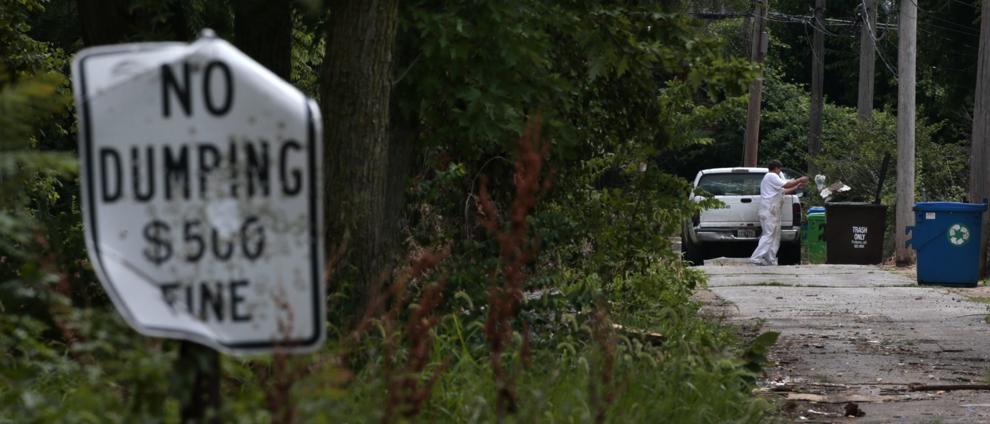 Trash Task Force officers take on dumpers with fines and community service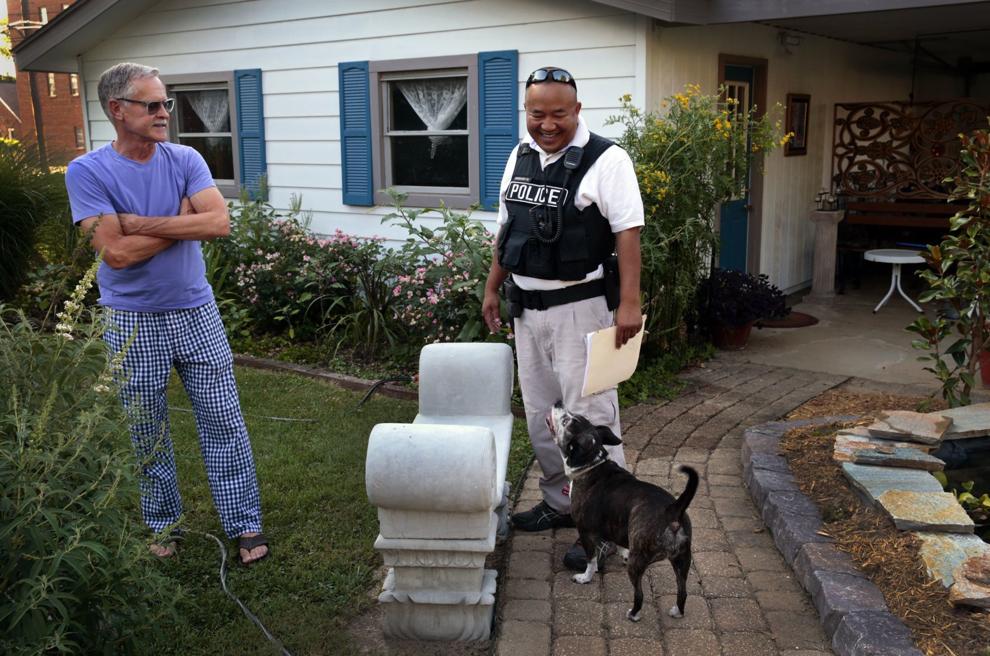 Trash Task Force officers take on dumpers with fines and community service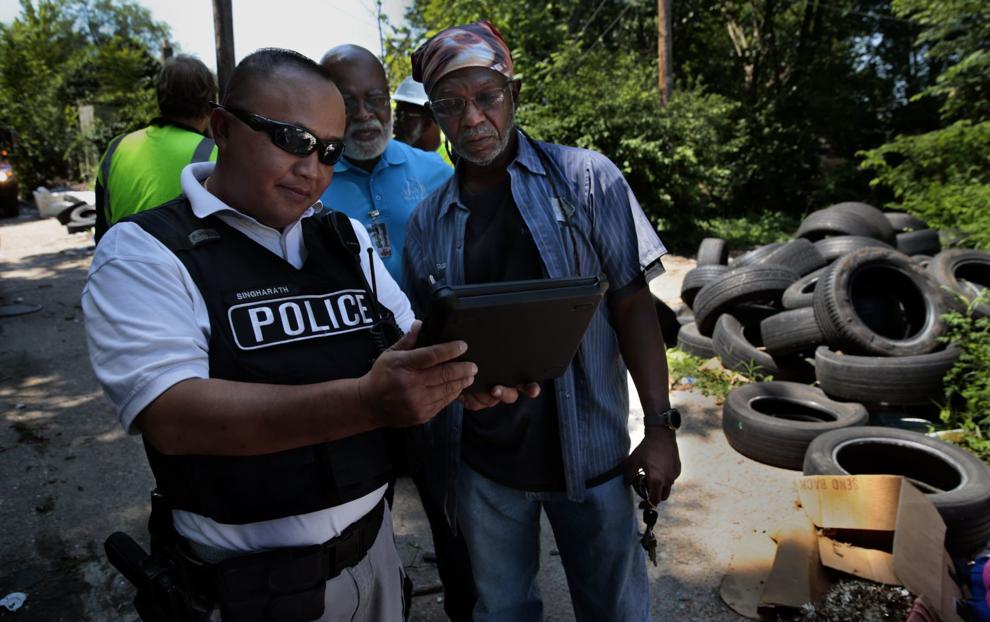 Illegal dumping in St. Louis, on St. Louis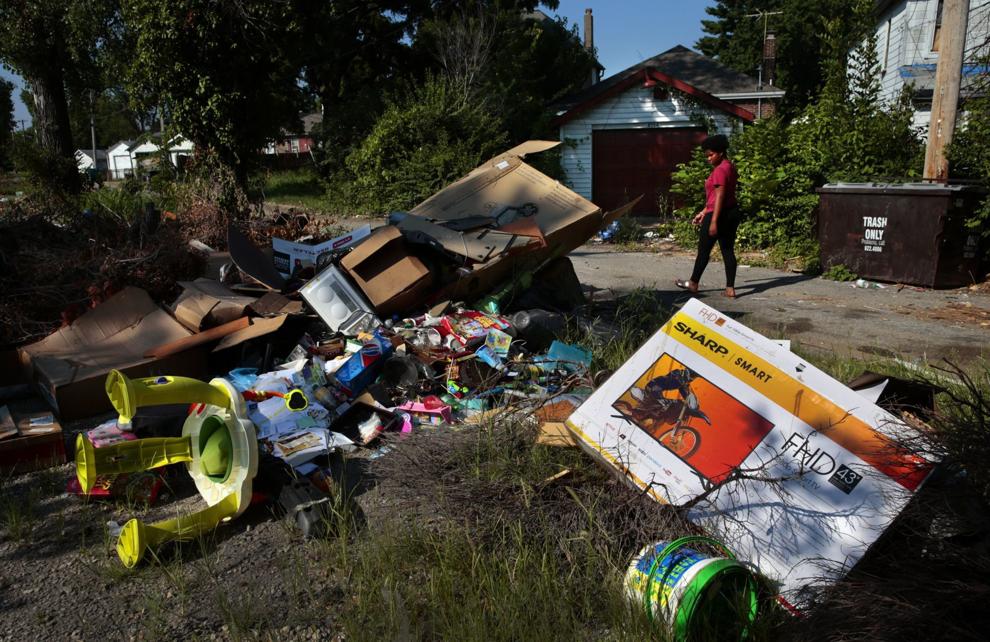 Trash Task Force officers take on dumpers with fines and community service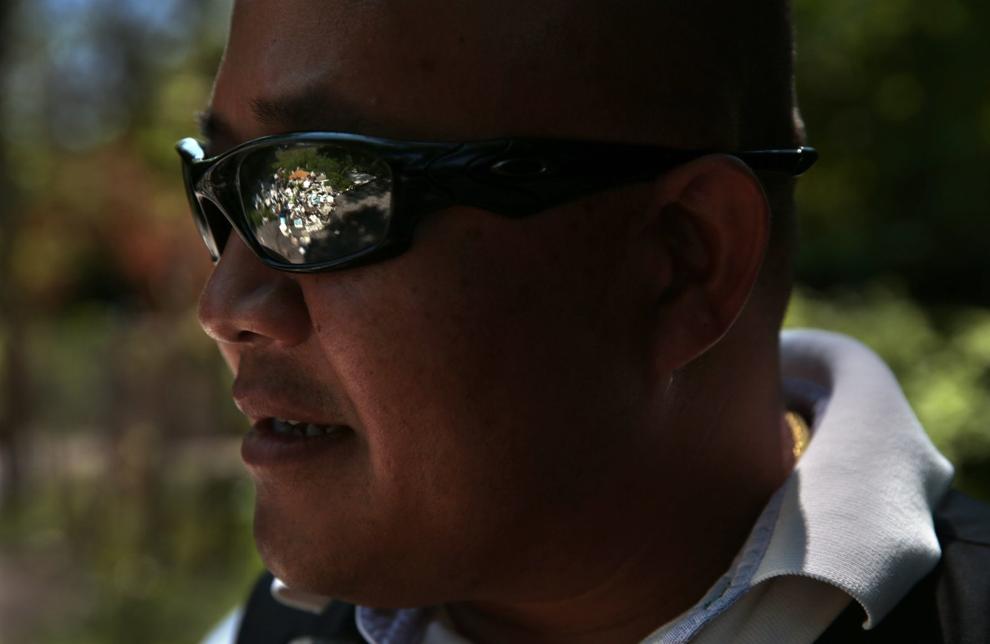 Community service picking up trash targets illegal dumpers