ST. LOUIS • The front door to Grand-U-Buy market is padlocked shut. Down the street, a burned and dilapidated brick home, deemed unsafe years ago, was abruptly bulldozed last week by the city.
In recent days, change is afoot near North Grand Boulevard and Montgomery Street.
And Jason Smith worries his thriving liquor store could be next. An alderman is getting neighbors to sign a petition for the liquor commissioner to close Smith's store.
"I don't want to be shut down," Smith told a reporter. "I raised two daughters, put them through college ... I've put a lot of time, blood, sweat and tears in this place.
"To be closed down by the city because of some guys hanging out, that's not right," Smith said.
As the city pushes to clean up the drug-infested area, it's unclear if Smith's store will be a casualty.
Alderman Brandon Bosley, 3rd Ward, wants all three businesses closed, at least temporarily. He said various departments in city government were brainstorming about what code violations might allow them to force closures. Single mothers with children, he said, are sick of the hordes of men wandering the streets, congregating on the block, drinking and selling drugs nearby.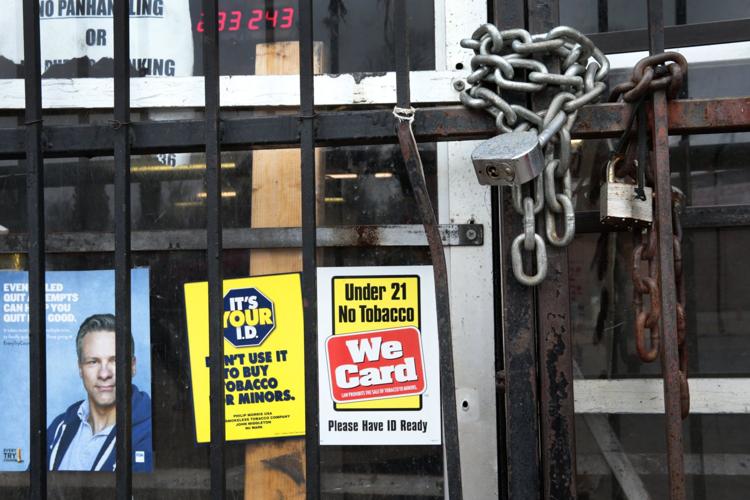 The market owner padlocked his own business Monday. His attorney said he did it, in part, to protect his employees after feeling intimidated when marchers confronted him days earlier; he also wants time to hire security and install surveillance cameras.
The owner, Bajes "Bob" Dugom of Ballwin, has tried to install surveillance cameras on his building but said people threw things at the cameras to break them. At least two of the cameras outside his building looked damaged, with broken wires.
"The unfairness is that his store is the city's scapegoat for a high-crime neighborhood," said Dan Emerson, Dugom's attorney.
13 conditions
Attorneys for St. Louis city have been battling Dugom's store for 18 months. They tried to shut down Grand-U-Buy, at 2501 North Grand, before as a nuisance property. The city said police were called to that address 104 times in a 12-month period for assaults, shootings, drug use, fights and unruly behavior. A hearing officer agreed to shut it down for a year, but a circuit judge said no and told the city to conduct more hearings. The market hired security and pointed to a reduction in police calls.
Last May, the Department of Public Safety's hearing officer, Thomas Yarbrough, laid out 13 conditions for the market to stay open. Among them: stop selling single cigarettes, Nyquil, diet supplements, bath salts and "roses in glass tubes commonly used as pipes"; pick up litter on the property daily; and install surveillance cameras with facial recognition software and relay the video to city detectives to watch.
After appeals were exhausted, Bosley said, the market still hasn't met those conditions. He led a march down the street Feb. 23 and confronted Dugom. It grew heated. Days later, Dugom padlocked his store. Bosley thought the city had forced the closure; it hadn't. The city's building commissioner said Grand-U-Buy had a valid occupancy permit.
Bosley said none of the marchers had threatened or intimated Dugom.
Emerson said cameras should be in place soon, and he doesn't expect the market to reopen until they are. The market also hasn't hired two police officers to work secondary duty, patrolling the property daily from 3 p.m. until close, as the court conditions require. Emerson said he was working to satisfy that, as well. "His security company recently terminated the contract, and he is looking for a new one. That is another reason for the temporary closure."
Bosley said Dugom wasn't aggressive enough in running drug dealers off his property, or cleaning the property. This week, a condom and no fewer than six spent syringes were scattered on the back lot.
Boy shot nearby
For years, this intersection has been one of the city's largest open-air drug markets. Part of the recent crackdown was precipitated by the shooting of a boy, 9, near the market on Feb. 18. The boy, who survived, was shot in the back as he waited with his mother and two young siblings. No arrests have been made, said Schron Jackson, a police spokeswoman.
Police parked a marked — but vacant — "shell" police car with a camera mounted on top in front of the Grand Motel last week, then moved it closer to the liquor store. Detectives, blocks away, monitor what the camera shows. Police Capt. Renee Kriesmann said she had heard good feedback about the camera from district officers and the community. "It plays a part in the many things that we are doing to stabilize this intersection and keep people safe," she said.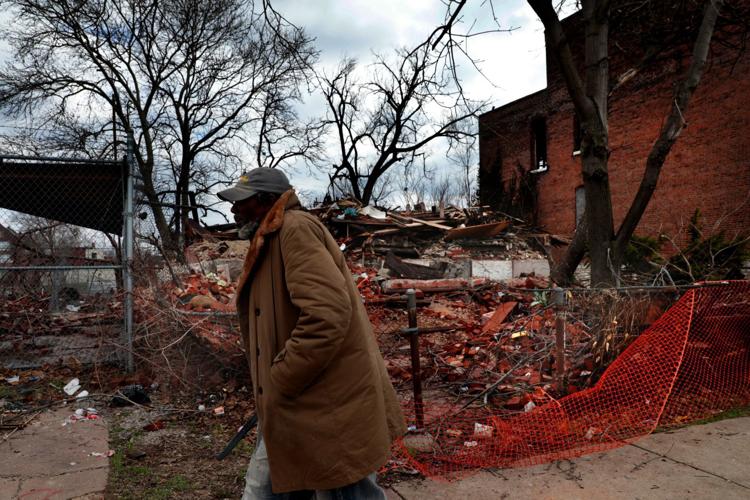 Various city departments met last week to discuss what code violations, from liquor to lighting, could be enforced in the crackdown. For his part, building commissioner Frank Oswald took note of a burned-out home at 2706 North Grand, with two of its side walls gone and clothes spilling onto the ground. It had been condemned by the city years ago. But last week a bulldozer took it down.
Across the city, there are about 7,000 vacant buildings; Oswald said about 4,000 of them should be razed. But his demolition budget of about $1 million "only stretches so much," he said. Bringing this one down cost $8,000 or more.
Navy vet
Smith said he tried to run off people congregating outside his liquor store, which he opened in 1994 with his mother, a retired teacher.
"Hey, get off my property," he shouted Wednesday morning to a group on the sidewalk. They sauntered away.
At 6 feet 3 inches and 310 pounds, Smith said his size helped.
"I had to rough up a few people to get respect of the block, but it's typically, 'Hey!' ... just words," said Smith, a Navy veteran.
"I think it's great the city has finally started to clean up the area," Smith said. "This has been a problem for 20-plus years, and I've been the forefront of saying, 'Hey, can we get some police help down here? Can we get some patrols down here?'"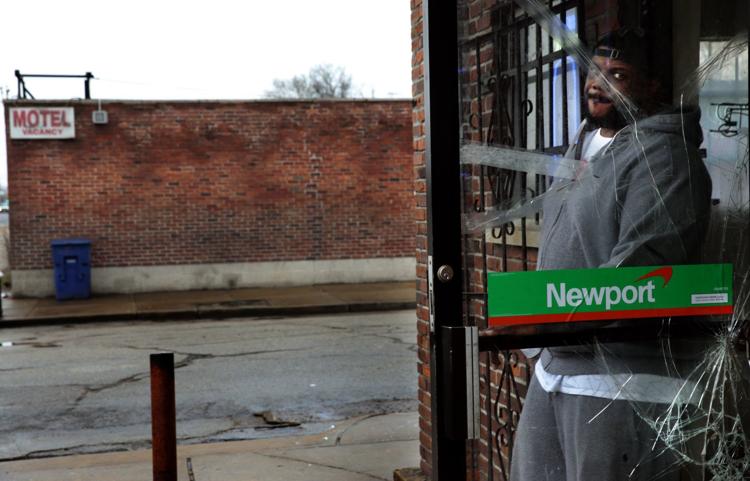 Smith said he invested more than $5,000 for 16 surveillance cameras inside and outside his store. Unlike Dugom, Smith's store is not under any court order to have the video sent directly to the police's Real Time Crime Center. But Smith is offering to share with police anyway, hoping it keeps his business open.
"I have great angles, which is where a lot of drug-selling goes on," Smith said. "The back of the building. In the alley. So I've got something to help the police, if they need it."
Smith said he had heard his business might be next to be targeted by the city, but he hopes not. Of the three businesses mentioned by police and the alderman, the liquor store has the fewest police service calls: just four in the last six months. The motel has had 65; the market 21, Kriesmann said.
Kriesmann said the liquor store was "the most responsible" of the three businesses. Matt Moak of the city's Law Department said, "The problems at this intersection are exacerbated by individuals' access to liquor, but the liquor store itself is not the problem."
City lawyers suggested in 2016 that the three businesses pool resources to install a "mosquito alarm" that emits a sound at high frequency to disperse loiterers. They didn't do that.
A new tone
Bosley said closing the market, motel and liquor store could help reboot that neighborhood.
"Sometimes, you have to rip everything out and put new things in to set a new tone," Bosley said. "If we shut down the motel and liquor store and that whole area, the drug dealers will move away from that intersection."
And if the drug dealers scatter to other corners, it will be up to the next business owner to run them off.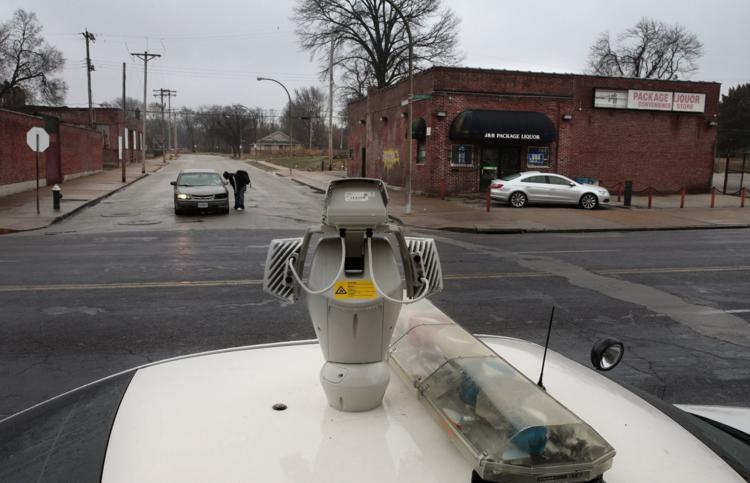 "They'll go toward St. Louis Avenue and up toward Market," Bosley said. "St. Louis Avenue is where you have multiple business owners, and they're not going to play. They won't let you stand outside their businesses selling drugs."
James Clark, whose Better Family Life provides food, clothing and services to people in that neighborhood weekly, said change must include a holistic approach with helping addicts.
"There is no quick fix," he said. "You can shut down the hotel, the store. But that's not going to address the addiction crisis."
Robert Cohen of the Post-Dispatch contributed to this report.
Be the first to know
Get local news delivered to your inbox!