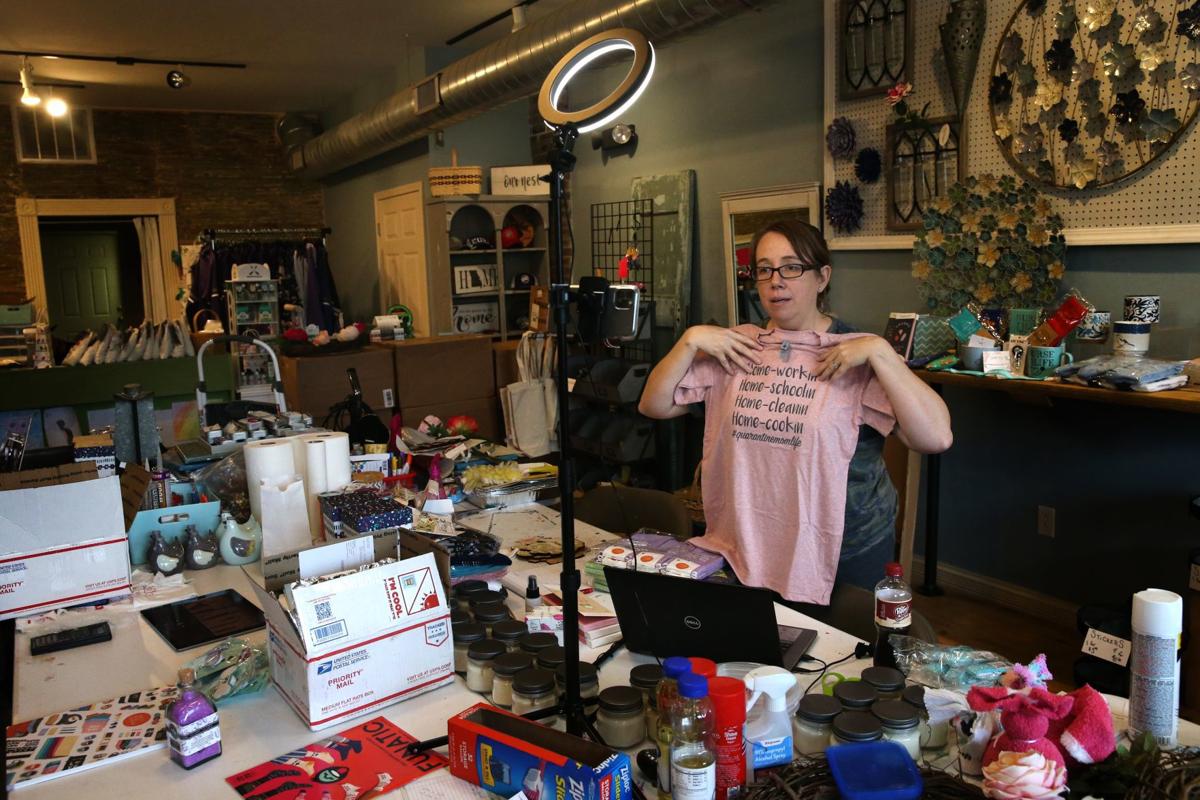 In a letter posted on Facebook, Eureka Mayor Sean Flower said his city would not permit restaurants and most stores to let customers inside until May 15.
The mix of cheers and fears in response to Flower's defiant stance earlier this week illustrated the conflict brewing in the St. Louis area, as businesses across most of the state can reopen on Monday with the expiration of Gov. Mike Parson's emergency order. Parson earlier this week released a blueprint for reopening the state, and the executives of Jefferson and St. Charles counties have said they will follow it.
St. Louis County Executive Sam Page and St. Louis Mayor Lyda Krewson have kept orders in place indefinitely. Page has said he only wants to make the call to reopen the county once, and that making it too soon could invite a second wave of infection. He has said he intends to make public within several days his plan for the county's economy to emerge from the pandemic.
Dr. Alex Garza, head of the St. Louis Metropolitan Pandemic Task Force, said Thursday that a date for reopening wasn't as important as understanding that those responding to the pandemic needed to test more people and trace the contacts of infected people and that everyone needed to practice social distancing and hygiene.
"Yes, we would like to see transmission get as low as possible before we loosen restrictions," Garza said. "But at the end of the day, if we can do all of those other things, those public health measures and personal things to keep transmission low, those are the important things."
The task force said on Thursday that at least 396 area health care workers had caught the coronavirus.
Also on Thursday, three Republican St. Louis County Council members said they had met with Page to pitch a plan to reopen the county by the end of June, in stages, starting next week. Restaurants and stores that are closed under Page's order would be allowed to open on Monday with reduced occupancy, for example.
The Republicans have been at odds with the four Democrats on the council, who voted earlier this week to let the Page administration spend $173.5 million in federal pandemic relief without further council approval. Amid criticism of the council, Chairwoman Lisa Clancy created a special council committee to provide oversight, but the Republicans refused to participate.
"We need a plan, and we thought we would bring forward the plan," Mark Harder, R-7th District, said. "If they choose to go with our plan, great, but if they have their own plan, we hope the administration comes forward with their plan rather quickly."
Tim Fitch, R-3rd District, said he had heard both from constituents who want to get back to work and those who think it's too dangerous. He said the callers in the latter category tend to be those who can afford it.
Doug Moore, a spokesman for Page, said it was "a productive conversation" and that "we will continue to listen to their perspectives." He said Page would release more information on Friday and next week.
In Eureka, experts said that Flower did not have the authority to void Page's order and that any business that defied it could be charged with a crime. In remarks earlier this week, Page warned any business that defied the order to seek "good legal advice."
Some Eureka business owners told the Post-Dispatch on Wednesday they were willing to risk a criminal charge because they were hurting financially and didn't see much risk from the virus spreading in their establishments.
Flower said in his new letter that after telling businesses they could reopen on Monday, he learned that "almost none" of them could make such a quick transition because of layoffs and adjustments that had to be made to adhere to social distancing guidelines. And, he said, most needed time to build inventory and clean.
Flower asked businesses to follow Parson's guidelines to create a plan to open and to work with the city to make sure they were safe to open. And he said the city, fire district and chamber of commerce were working on a fogging and disinfection procedure.
He challenged the county to change its focus from enforcing the stay-at-home order to providing guidance on the steps small businesses should take to reopen — and to pick a date.
New rules in Illinois
Saturday marks the first day that anyone in Illinois over the age of 2 will have to wear a face mask or face-covering in public when they can't maintain at least a 6-foot distance from strangers.
But it also means that "nonessential" stores, many state parks, golf courses, greenhouses and pet groomers can reopen, and fishing, boating and nonelective surgeries will be allowed, with restrictions.
Stores can take online or telephone orders with curbside pickup or delivery.
Pritzker said Thursday that the measures would have to stay in place until at least 14 days after the number of new coronavirus cases in the state peaks. Illinois officials reported 2,563 new cases and 141 new deaths Thursday, for a total of 52,918 cases and 2,355 deaths.
Missouri on Thursday reported 137 new cases of the virus and 11 additional deaths, for a total of 7,562 cases and 329 deaths. St. Louis County reached 3,136 cases and 162 deaths. St. Charles County reported a drop of 13 cases from yesterday as the county switches to a new online reporting portal.
Illinois' stay-at-home order has prompted a handful of lawsuits from those who say that they're too restrictive.
Pritzker has stressed health concerns, and a need to prevent overwhelming the state's health care system, in defending the rules.
Dr. Ngozi Ezike, director of the Illinois Department of Public Health, said that the state conducted 13,200 coronavirus tests in the last 24 hours, for a total of 269,867 so far. She said the state is still working to expand its capacity for testing, which, she said, leads to quick identification, treatment and isolation of an infected person. More readily available testing will allow officials to determine if the close contacts of an infected person are also infected, she said.
Health officials across the country have struggled with a shortage of tests and testing materials for months.
Daily updates on the latest news in the St. Louis business community.