The future of curbside recycling pickup is in question around the St. Louis area following the decision of a major processing center to stop accepting residential recycling.
Resource Management recently informed its customers that it will stop accepting single-stream recyclables as of Oct. 31, and Kirkwood became the first local city to say it will suspend curbside recycling the week before the cutoff — it couldn't find another processor to accept its mixed recyclables.
The decision from Resource Management to halt its single-stream recycling has had a ripple effect, sending its municipal customers scrambling to find other ways to affordably process their materials.
That has meant placing calls to Republic Services, a Phoenix-based waste company that operates the St. Louis region's other major processing center for recyclables in Hazelwood.
"Every hauler, every municipality has been on my phone in the last 10 days," said Brent Batliner, the facility's general manager, explaining that the list of current Resource Management customers he has heard from includes Kirkwood, Brentwood, Maplewood and O'Fallon, Mo. "Every one of them has contacted us looking for options."
But the sheer volume of recycling from those communities cannot get seamlessly pushed over to Republic, putting Batliner in a bind, too. He says the company is evaluating its own options "to find a way to physically move" or divert the product.
"There's 6,800 tons per month is what will be at risk come November," Batliner said. "It's a major undertaking to move this around to plants that already exist."
He warned that a solution is unlikely to come cheap, but hopes that costs will only be a short-term issue as commodity values rebound.
"I need two to three more weeks to come up with a viable solution," Batliner said. "I feel confident we will, but it's not going to be a cheap one."
Costs are climbing
Recycling-processing costs already had been climbing. Resource Management recently started charging Kirkwood $35 per ton for single-stream material dropped off at its facility, more than doubling the previous $15 rate the city had paid.
Kirkwood said it plans to retrofit the Francis Scheidegger Recycling Depository, which opened in the early 1970s, on South Taylor Avenue to accept separated recyclables such as glass, aluminum, tin, certain plastics and paper.
O'Fallon, Mo., also is figuring out its next steps, and the City Council discussed it at a work session Aug. 23.
The city said it had been receiving $6.50 per ton of recyclable material — but in July, O'Fallon began being charged the $35-per-ton fee to drop off the material at Resource Management.
And now it must decide what to do when Resource Management stops taking its recyclables, and could be charged even more.
Jim Wenzara, the city's environmental services superintendent, told the council that he contacted Republic, which estimated the city could have to pay between $85 and $90 a ton, although that number could change.
"That's what it would take to pay to do recycling exactly the way we do it today," he told the council. The city is going to evaluate what can be done, and whether it can continue to offer curbside recycling, which about a third of its residents use.
Until July, the city brought in about $100,000 a year from Resource Management, revenue that helped fund its recycling program, Wenzara said. Now the city could have to pay $630,000, he said.
St. Louis County contracts with four private haulers for single-stream recycling in its unincorporated areas — three take recyclables to Resource Management, and the fourth hauler is Republic, said Kathrina Donegan, an environmental manager at the county's public health department.
"I think the haulers will find a method to continue to recycle," she said.
Other cities — including University City, which uses Republic — won't be affected. St. Louis contracts with Waste Management, although changing world economics have affected costs, said Todd Waelterman, the city's director of operations.
In 2010, Waste Management paid the city about $25 a ton for recyclables. But the last few years, that role has reversed and the city has paid it $16 a ton to take them, he said. Still, the city pays about $35 a ton to dispose of solid waste, meaning that recycling saves it money.
St. Peters has run its own recycling processing center for more than 20 years, said David Kuppler, its group manager of health and environmental services. He said other cities are asking questions about the program in wake of the Resource Management decision.
The city has a dual-stream, rather than single-stream, recycling. Residents sort their recyclables into two bags — one for paper and small pieces of cardboard, the other for containers such as laundry detergents, aluminum and glass.
"Liquid and paper don't go well together," he said, and the system St. Peters uses keeps the paper from getting wet. The city pays people to sort the recyclables, and bales the products to sell — something it can do because it has a low contamination rate.
Last year, the city brought in $780,000 from the sale of its recyclables. Residents pay just $2.31 a month for curbside recycling.
Keeping it clean
To some experts, the predicament in Kirkwood and other places nationwide highlights the pitfalls of single-stream recycling — the widely used system where consumers toss cans, paper, plastic, and all types of recyclable material into a single container, instead of sorting them.
Though intended to make recycling easier, some say the system has come with downsides. Paper streams, for example, can get gummed up by plastic bags, or contaminated by food waste or broken glass.
"Moving towards single-stream recycling is, I think, what got us into this problem," said Elizabeth Royte, an author who has examined waste issues in books such as "Garbage Land" and "Bottlemania." "Contamination rates have been sky high. When we could send it all to China it didn't matter so much, but now we have to deal with our own messes."
Neil Seldman, who focuses on recycling issues for the Institute for Local Self-Reliance, agrees about complications from the single-stream approach, but said there are ways for cities to make their systems more efficient, or look to other strategies for recycling and waste reduction.
He suggested investing in improvements would be warranted, noting that there is still strong demand for recycled paper that's not in "sloppy form" — even in China.
"It's not that the Chinese are not taking paper," Seldman said. "They're just not taking it in its lowest form of value."
A local group is working to reduce the contamination that occurs in single-stream recycling that makes many items in the bin unable to be recycled. Items that shouldn't go into a single-stream recycling bin, but often end up there, include garden hoses, plastic bags and holiday lights.
"Contamination in the bin is something we can all deal with, and is definitely a root cause of the issues we're having," said Jean Ponzi, a member of executive board of the St. Louis-Jefferson Solid Waste Management District and a regional recycling educator.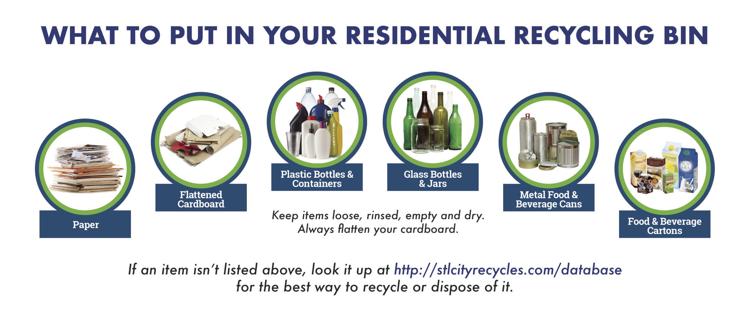 She's also a member of a task force that's part of the OneSTL Materials and Recycling Working Group, which is made up of local organizations and governments working to promote recycling and to spread the message that while recycling markets may be changing, recycling is not going away.
"We want to reassure people that we have a strong team of partners, including recycling companies, that are actively working toward solutions to keep recycling from being disrupted in the St. Louis region," said Dave Berger, task force member and director of the St. Louis-Jefferson Solid Waste Management District, in a statement. "Our region has a diversity of recycling companies, so we're optimistic that the recent loss of processing capacity from Resource Management will be overcome, and that our local recycling industry will remain strong."
A key part of the task force's work is to spread the word about what cannot be recycled — if bottles and containers are not empty and rinsed, or if pizza is stuck on a box, the rest of the paper in a recycling bin can become contaminated and unusable for recycling, according to the group.
Make sure recyclable items are empty. Give them a quick rinse, then get them dry as possible before putting in the bin, Ponzi said.
And if there's a doubt whether an item is recyclable, she said, throw it in the trash.
Pizza boxes? Yes. Starbucks cups? No. Your guide to recycling
We consider ourselves pretty good recyclers around here, but we'll admit that we too were shocked by a few concepts that required just a little rethinking. Debra D. Bass explains the reasoning behind some of the basics, because it might be more compelling than a list of arbitrary-sounding dos and don'ts.
Daily updates on the latest news in the St. Louis business community.